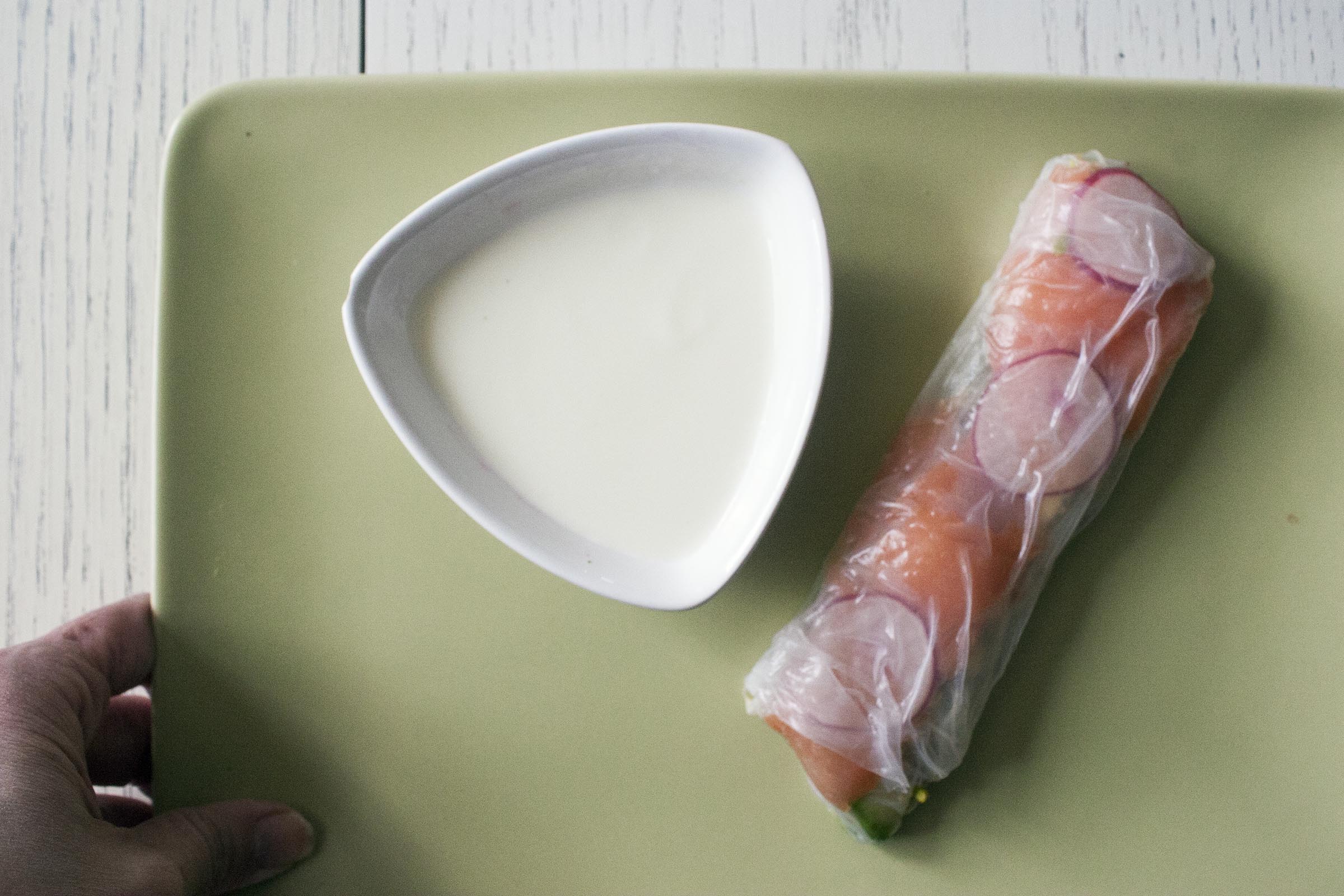 In my last post, I talked a lot about kitchen confidence. So it is coincidentally fitting to follow it up with a post about Summer Rolls, something that used to scare me. Summer Rolls are not hard to make, but they, like sushi, involve a bit of technique to walk away with a picture perfect product. And, frankly, I'm terrible at making sushi.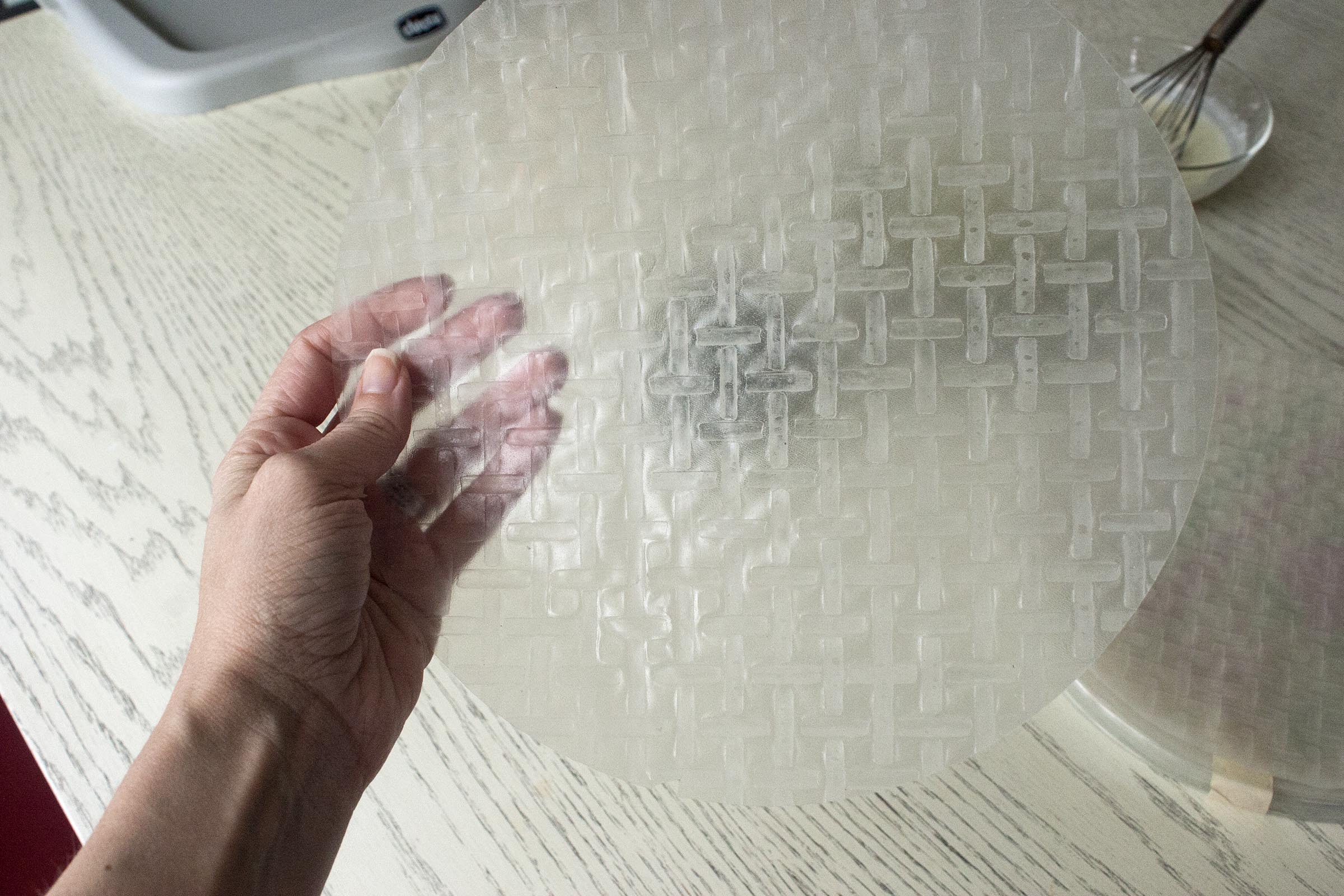 Up until a couple years ago, I had made summer rolls maybe once? The foggy experience didn't leave the best impression on me – I remember the rice paper wrappers sticking to the table, ripping and a lot of other things that makes a person decide that they've had enough. But, then. At work, we were invited to a local library's Maker's Day, with a focus on science. The expectation was that we would prepare a dish that taught the kids something new, but without a stove. I went back and forth between, Well, isn't all cooking science? and This needs to be really cool for them. A coworker of mine, Erin, suggested summer rolls. I declined.
It was fear. I had visions of crowds of people surrounding us while the summer rolls stuck to my hands and ripped. I was sure we wouldn't be able to make them fast enough for the thousands of people who had to have a summer roll on that March Saturday at the local library. I knew it would be a disaster? You see where this is going, right?
After weeks of tossing around other ideas, I stopped letting my fear get the best of me and we agreed to make summer rolls. We'd fill them with hummus and veggies, make a bunch a day ahead (to combat my fear of insurmountable lines) and then assemble the rest on the spot. It was, of course, fine. Better than fine. Maybe some didn't look so perfect and maybe one or two tore, but I think the (maybe) 150 people who attended the event were happy and most were actually surprised to watch the brittle patterned rice paper transform itself into a clear wrap.
Empowered by our successful day, I made 35 rolls a couple months later for Easton's second birthday party (with avocado, peppers, thinly sliced sugar snaps, grated carrots and scallions) and have continued to make them occasionally for dinner. I will say that after making 100 or 35, making eight feels like cheating.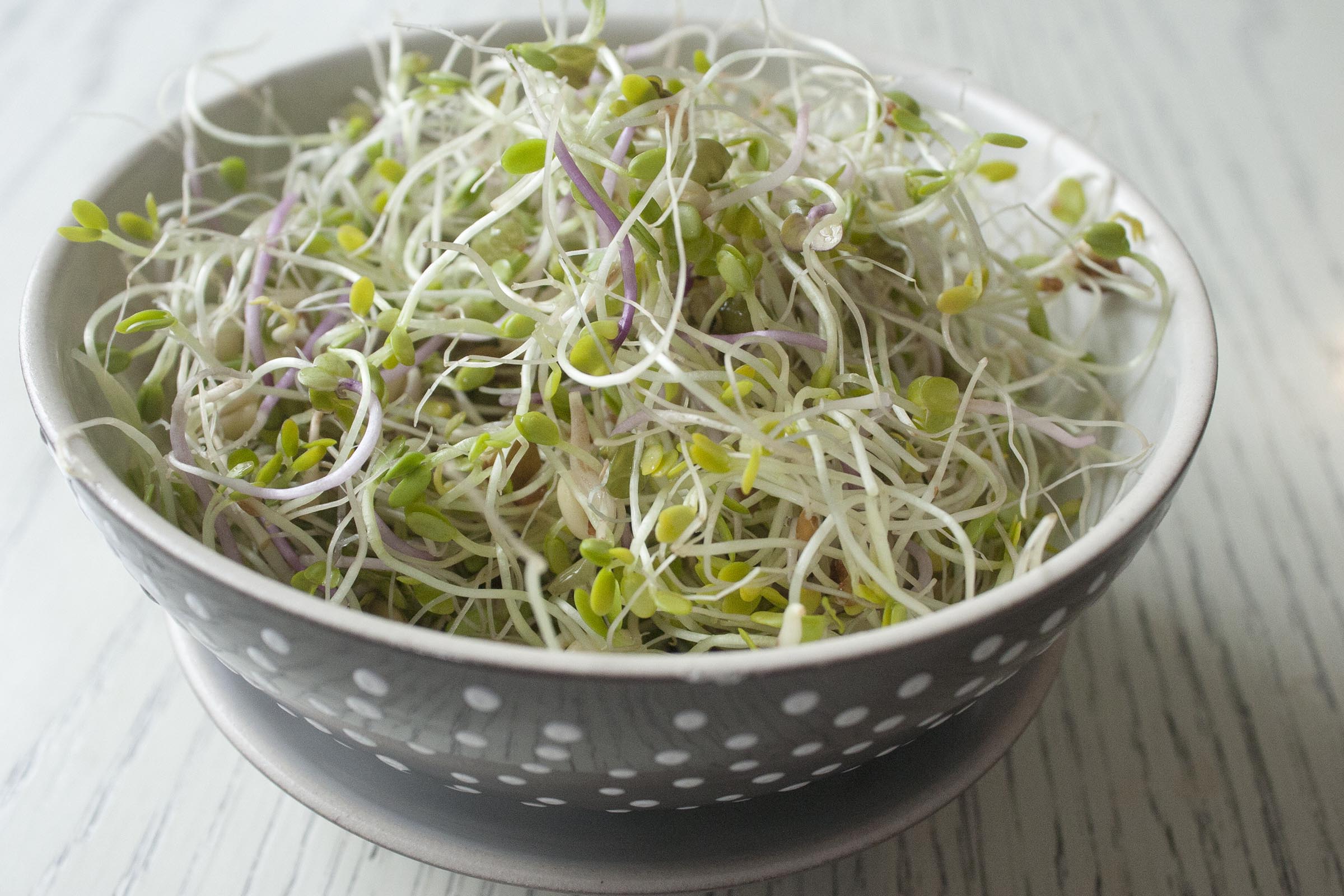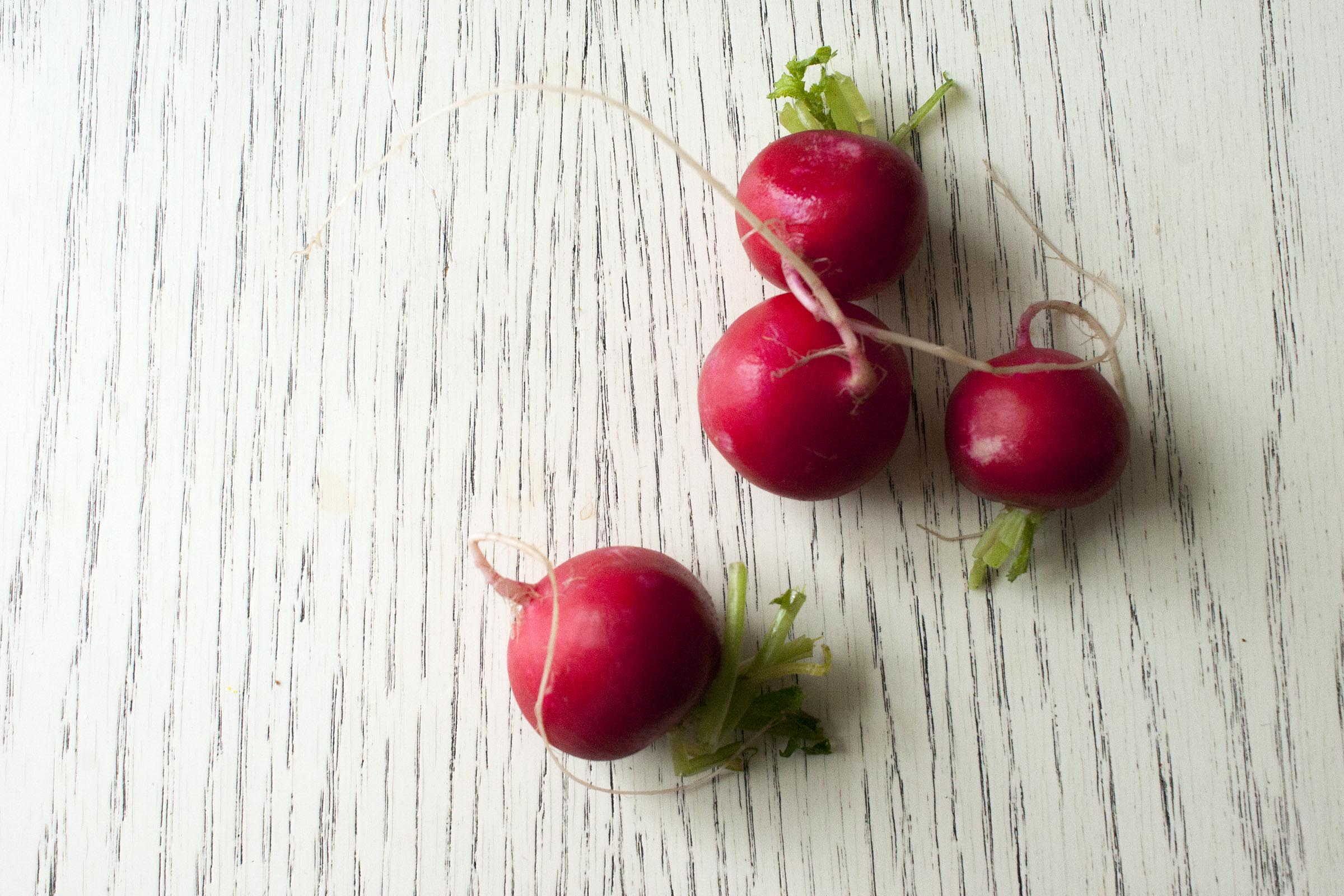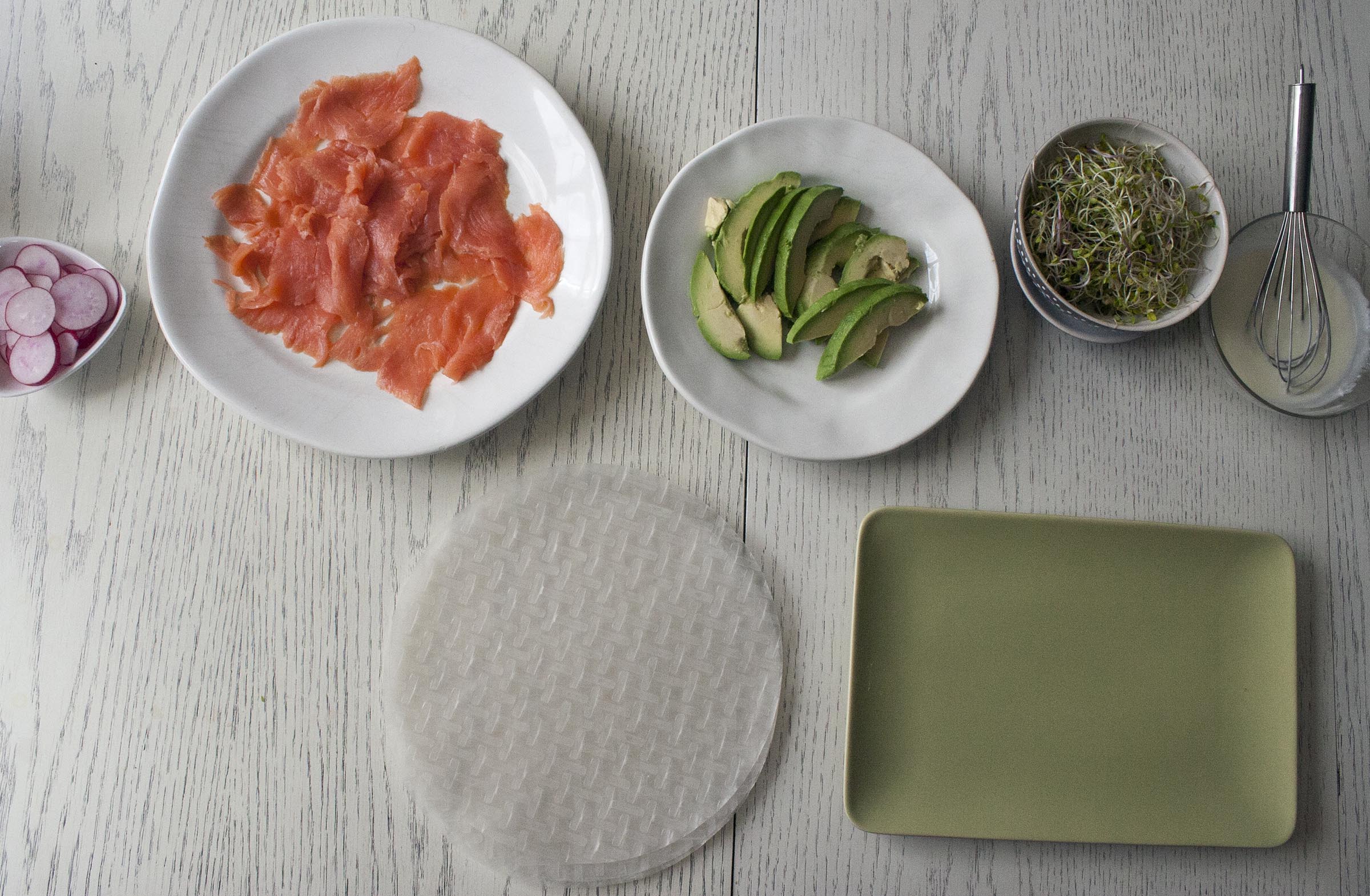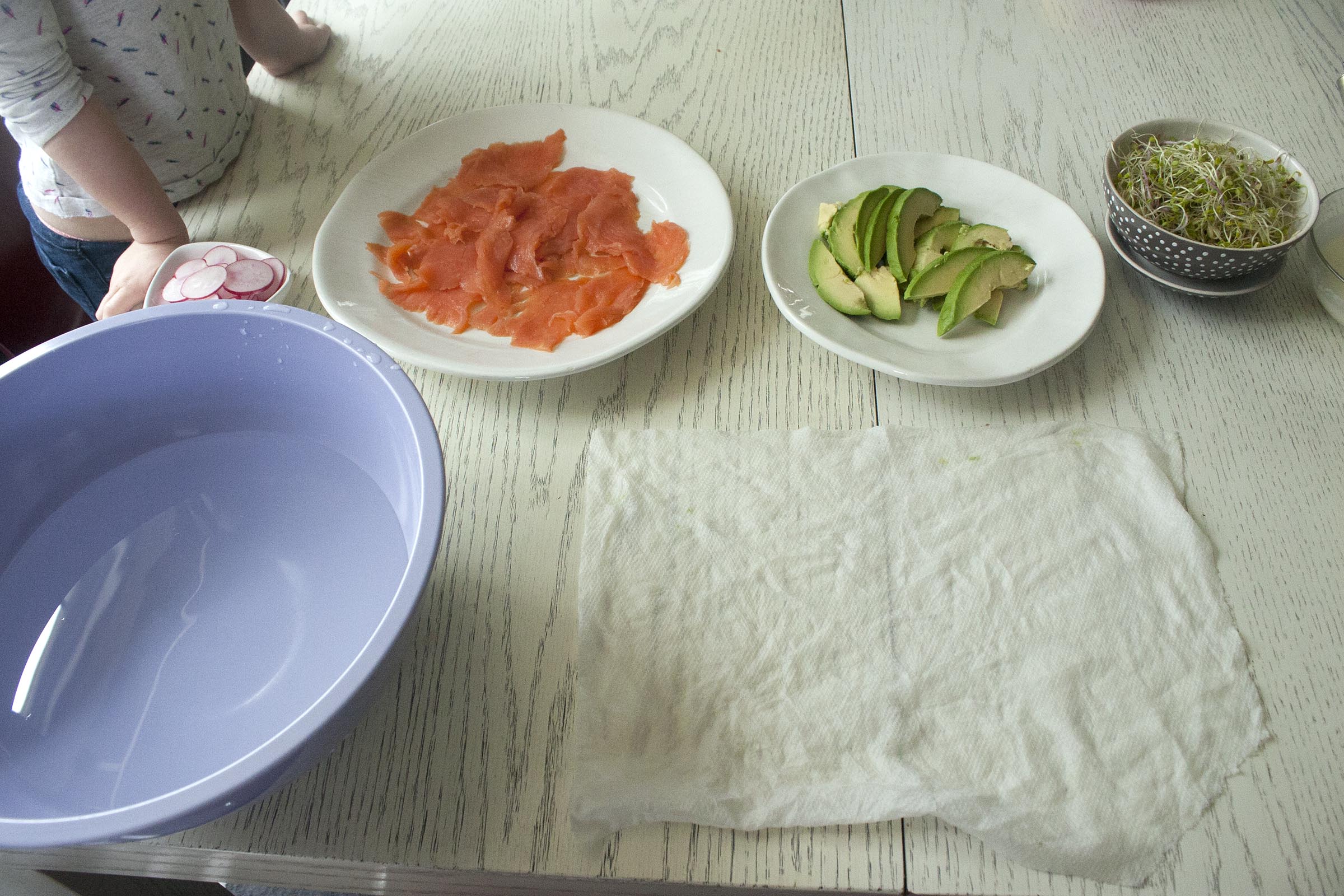 There are a couple tricks to making summer rolls: get everything completely ready and set out in the order you want to add them to the rolls, use wet paper towels and, if like me, your expectations tend to be better than your execution, learn to let go.
The wet paper towels? Miraculously, they don't stick to the rice paper and they are what finally made me come to peace with homemade summer rolls. Take a few, wet them and then squeeze all the water out. Place one on your work surface and another one or two inside the container you plan to store them in, if you're going to make them earlier in the day. If you are double layering, top the the first row with another sheet of wet paper towels.
Typically, you'll find them in restaurants, stuffed with rice noodles, shrimp and veggies. Maybe seared tuna, or grilled chicken. But, there are a million ways to make a sandwich and there are a million ways to fill a summer roll – hummus with shredded carrots and cabbage, tuna salad, seared tofu, and smoked salmon, like we did here. Make sure there is a variety of textures and that if you are using a wet ingredient (like the hummus), you have a crisp buffer (like dry lettuce) to separate the moisture from the rice paper wrapper.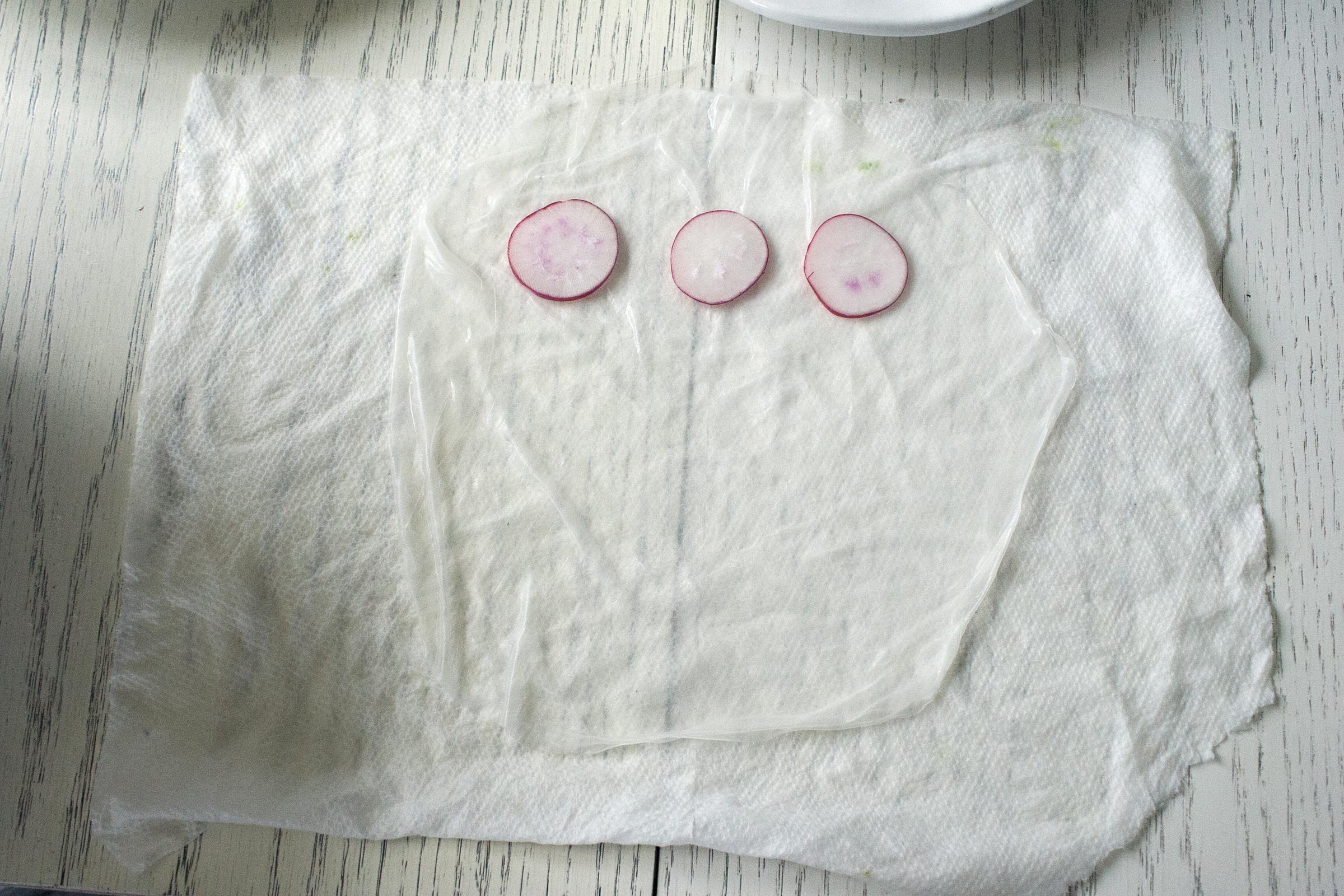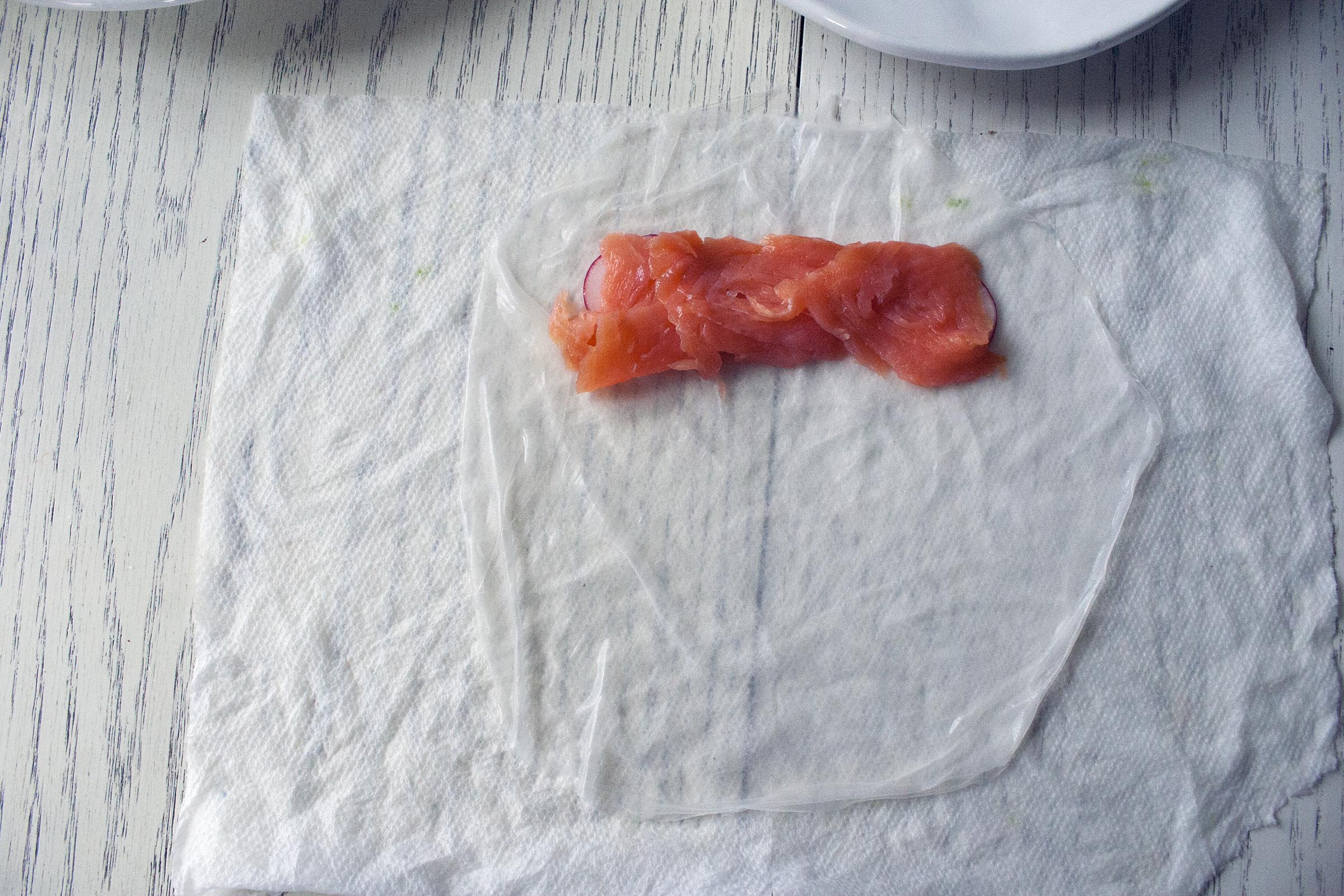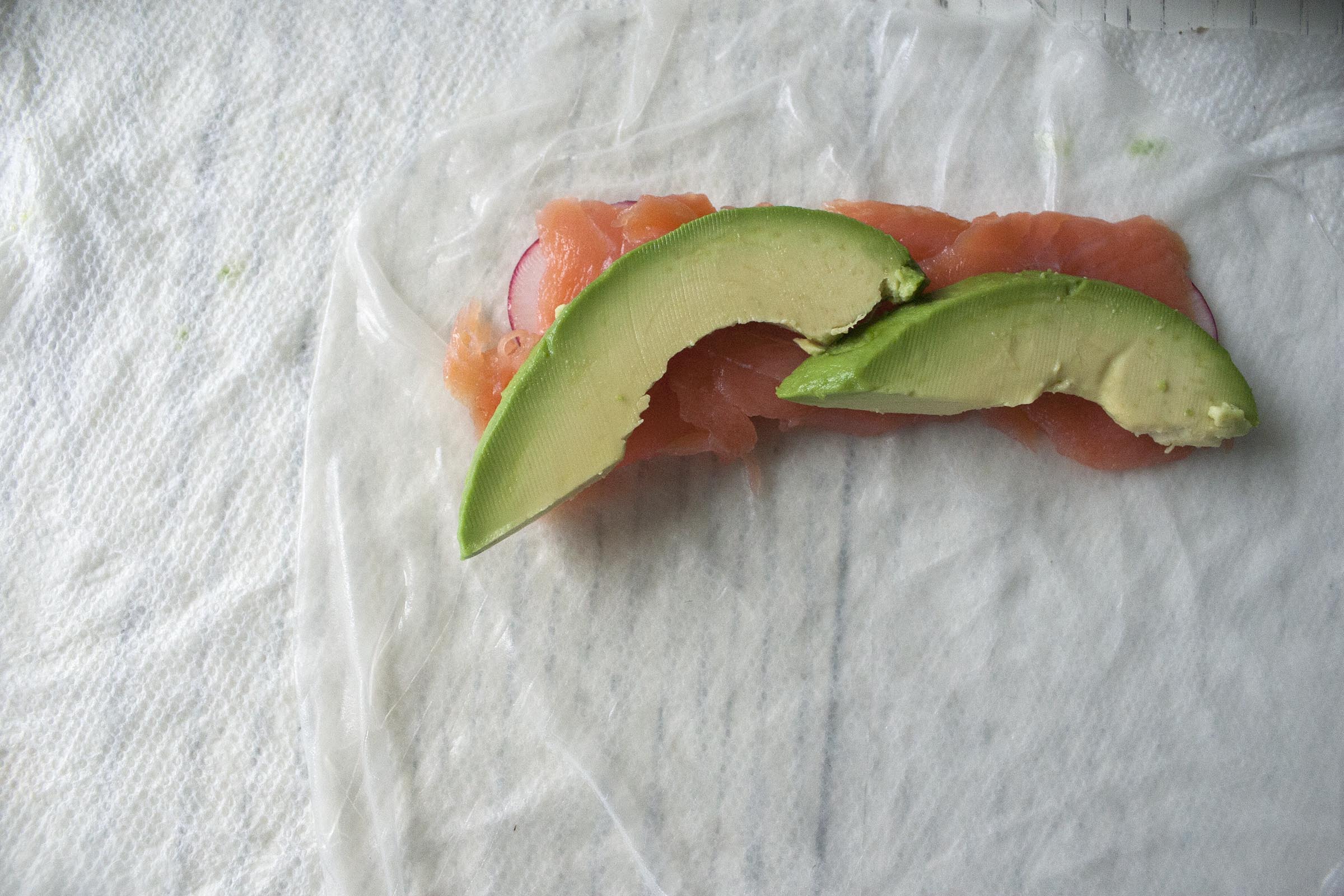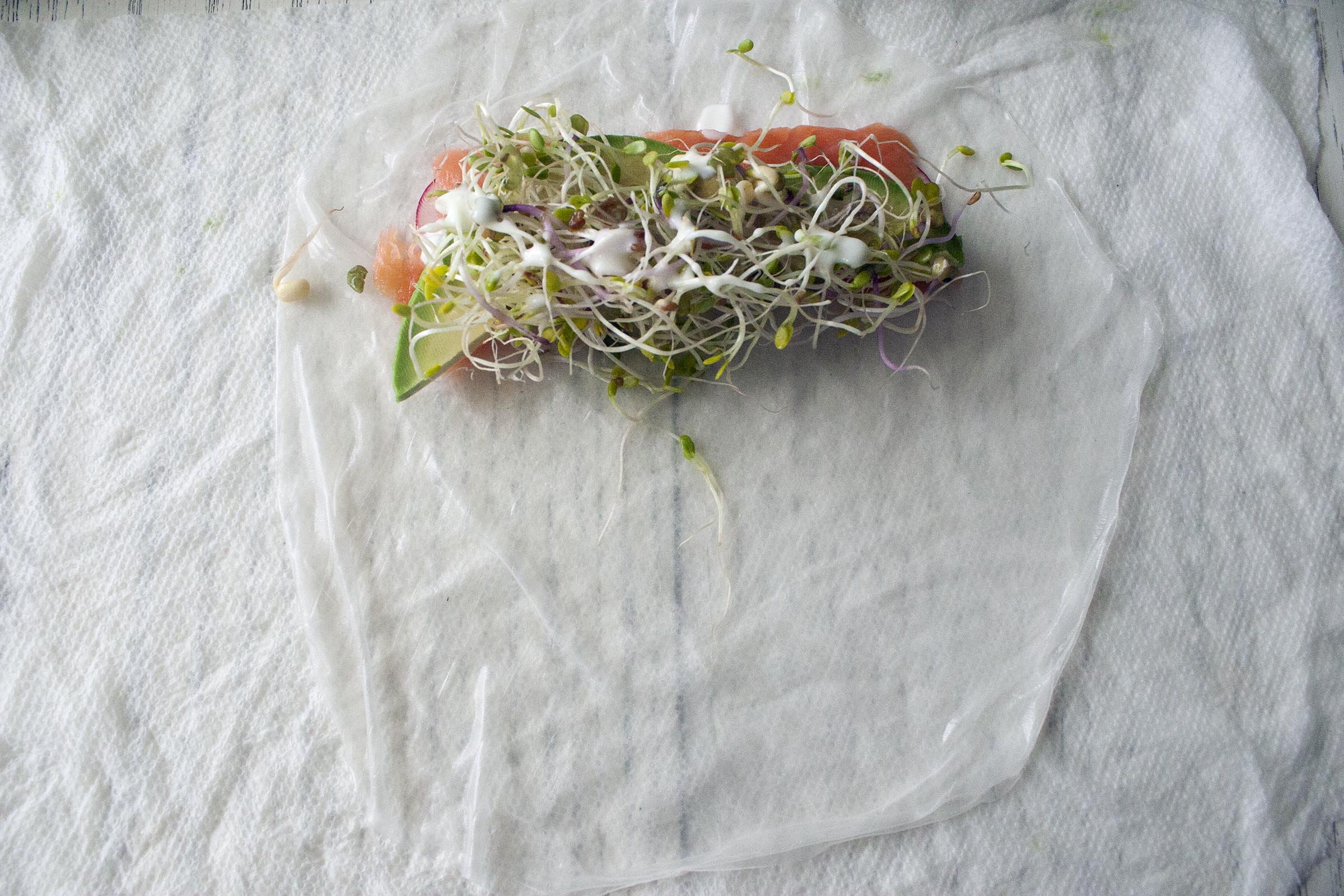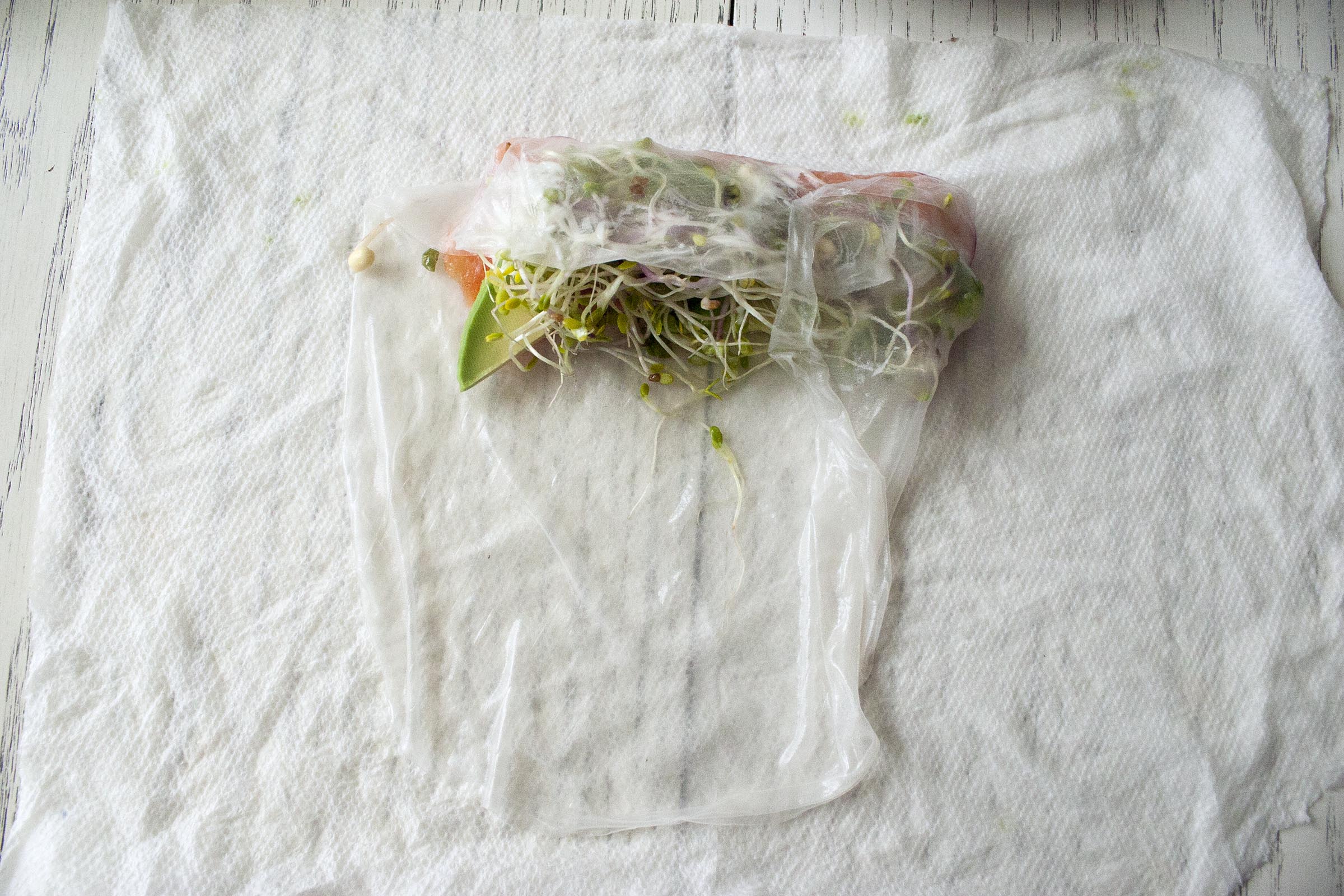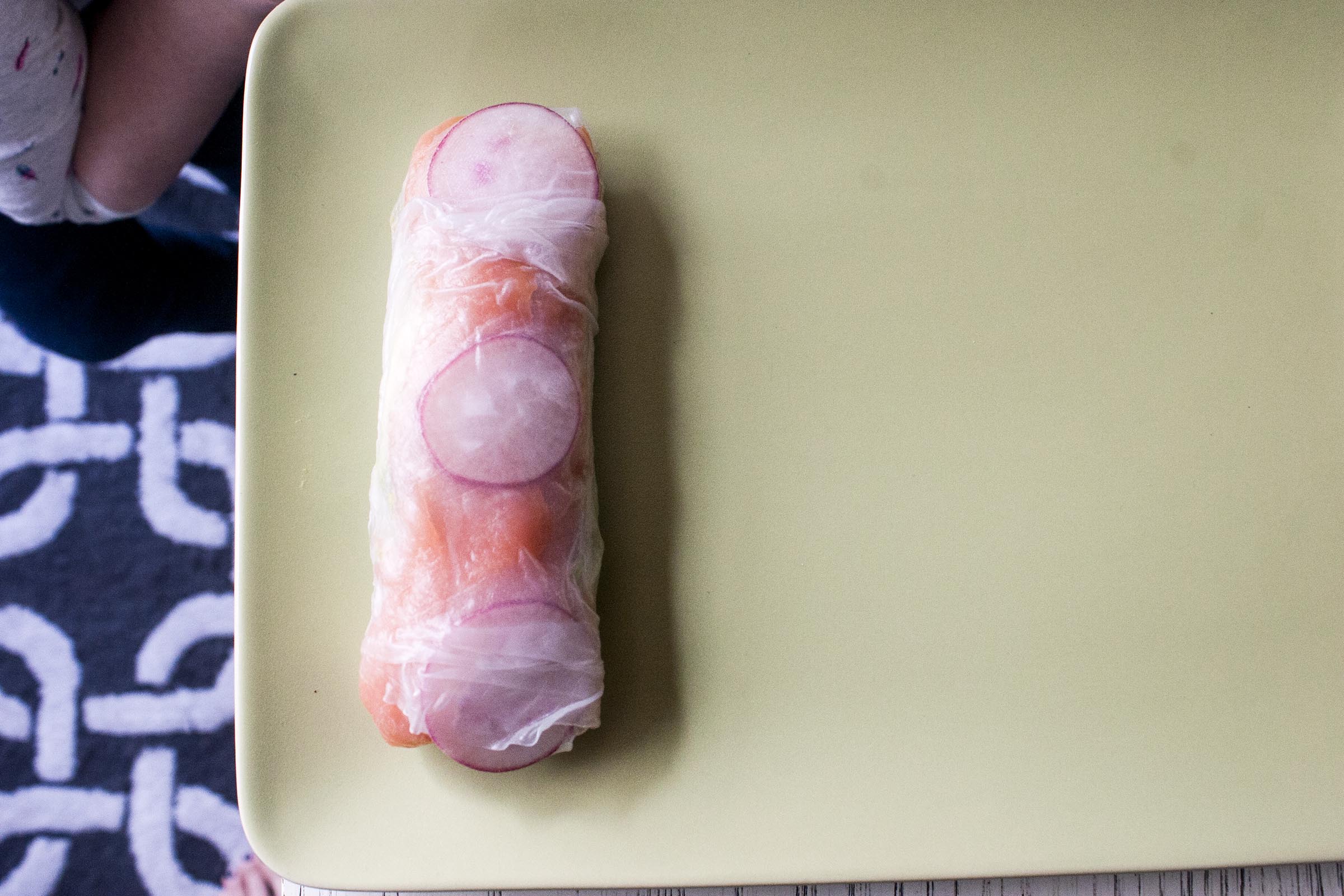 Here, I started with thinly sliced radishes, to add crunch, but also, so that there was something pretty to look at, on top of the roll. Salmon and avocado came next, and then sprouts for more texture and a drizzle of yogurt-lemon sauce. That's it. Roll it up, burrito-style, as best as you can. If you think you can't, look at this picture.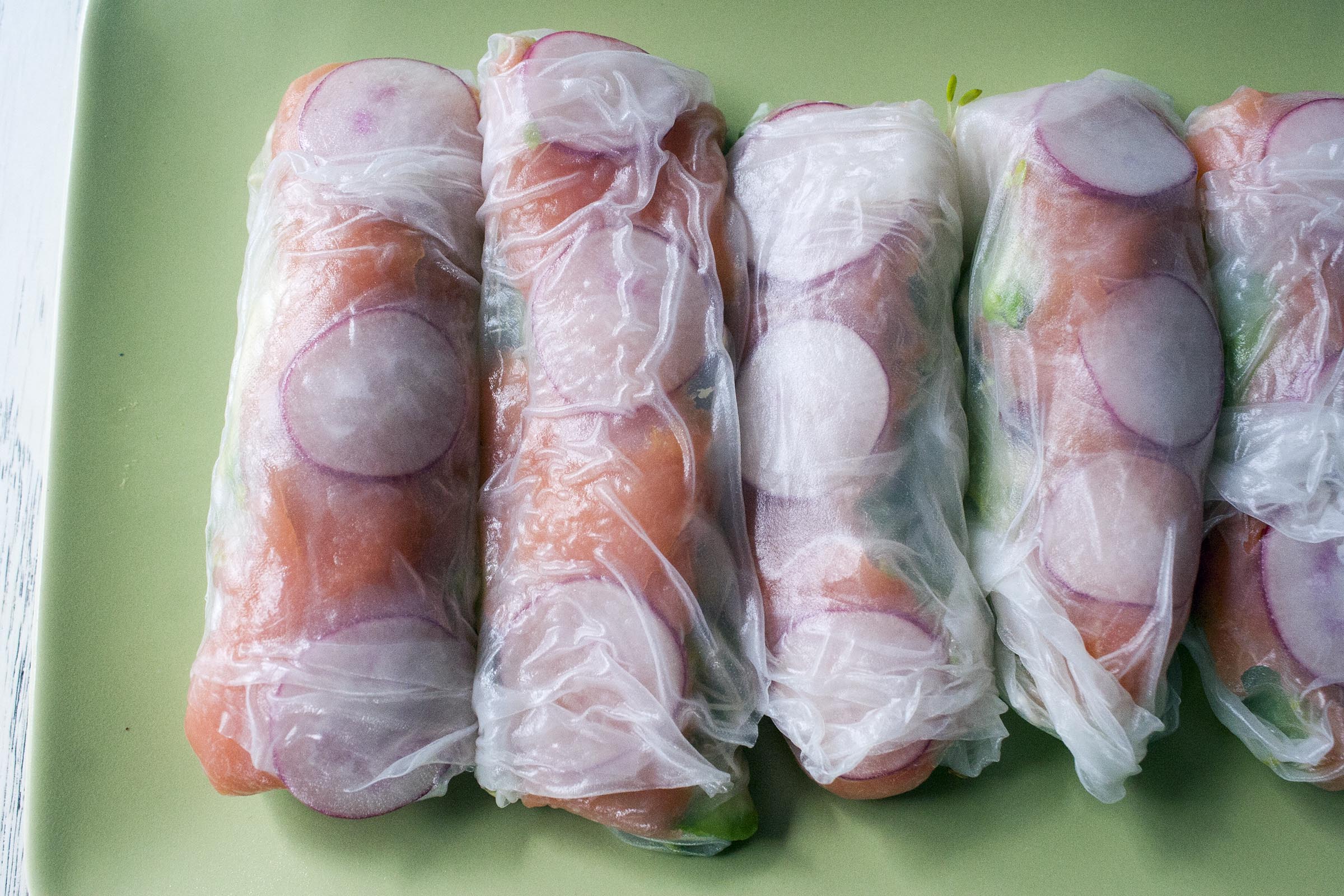 I'm claiming them as individuals – their own snowflakes who don't want to conform to society's standards of perfection.
Also, see this, if you're still not convinced.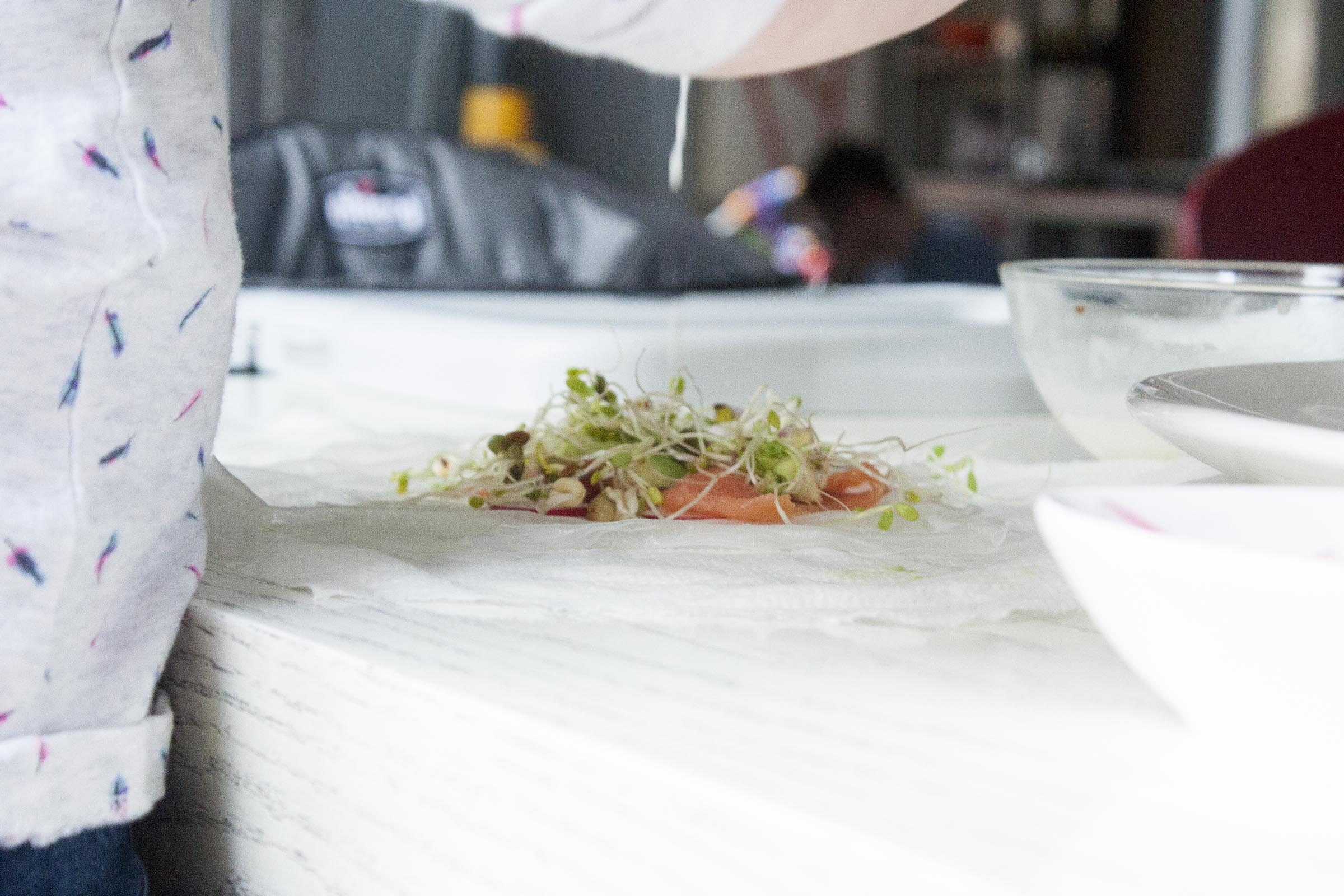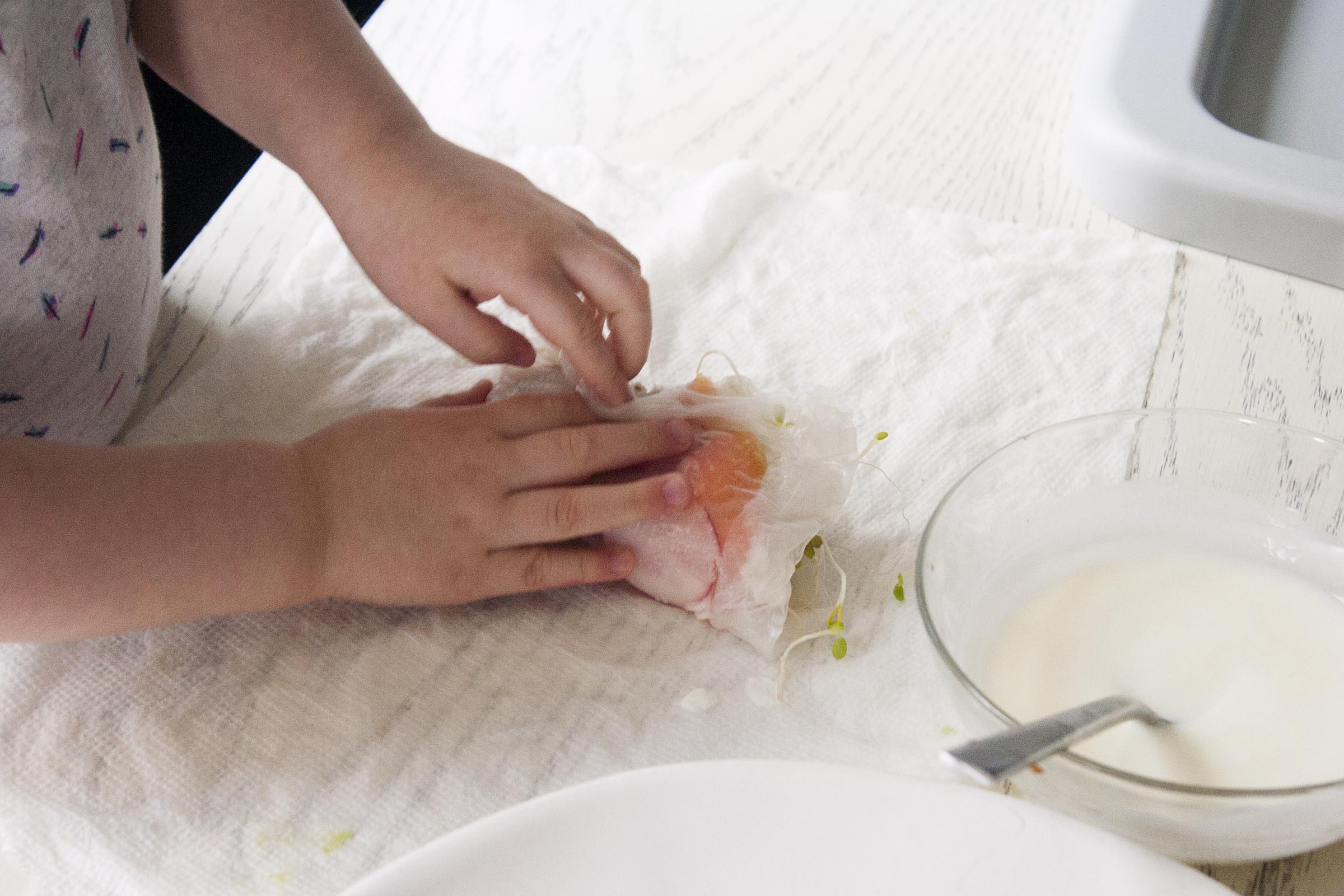 I think we, as adults, make things out to be scary. We know too much, about the world, about ourselves, about how things work. Kids, I'm reminded every day, have no idea. So they may be unbelievably afraid of things like cotton balls, the wind and the dust buster, but they don't know all the pitfalls they can face when trying to wrap up a summer roll. And that is why, when after 10 minutes of begging, I gave Easton a softened wrapper and a few ingredients, went to go tell Larry something and came back in time to see her sitting there, staring at her own rolled up summer wrapper, asking me if she could eat it. She wrapped, she rolled, she ate and she had no idea that it took me over 35 to find that kind of summer roll confidence. I'm kind of wondering what would happen if I handed her a bowl of rice, a bamboo mat and a sheet of nori.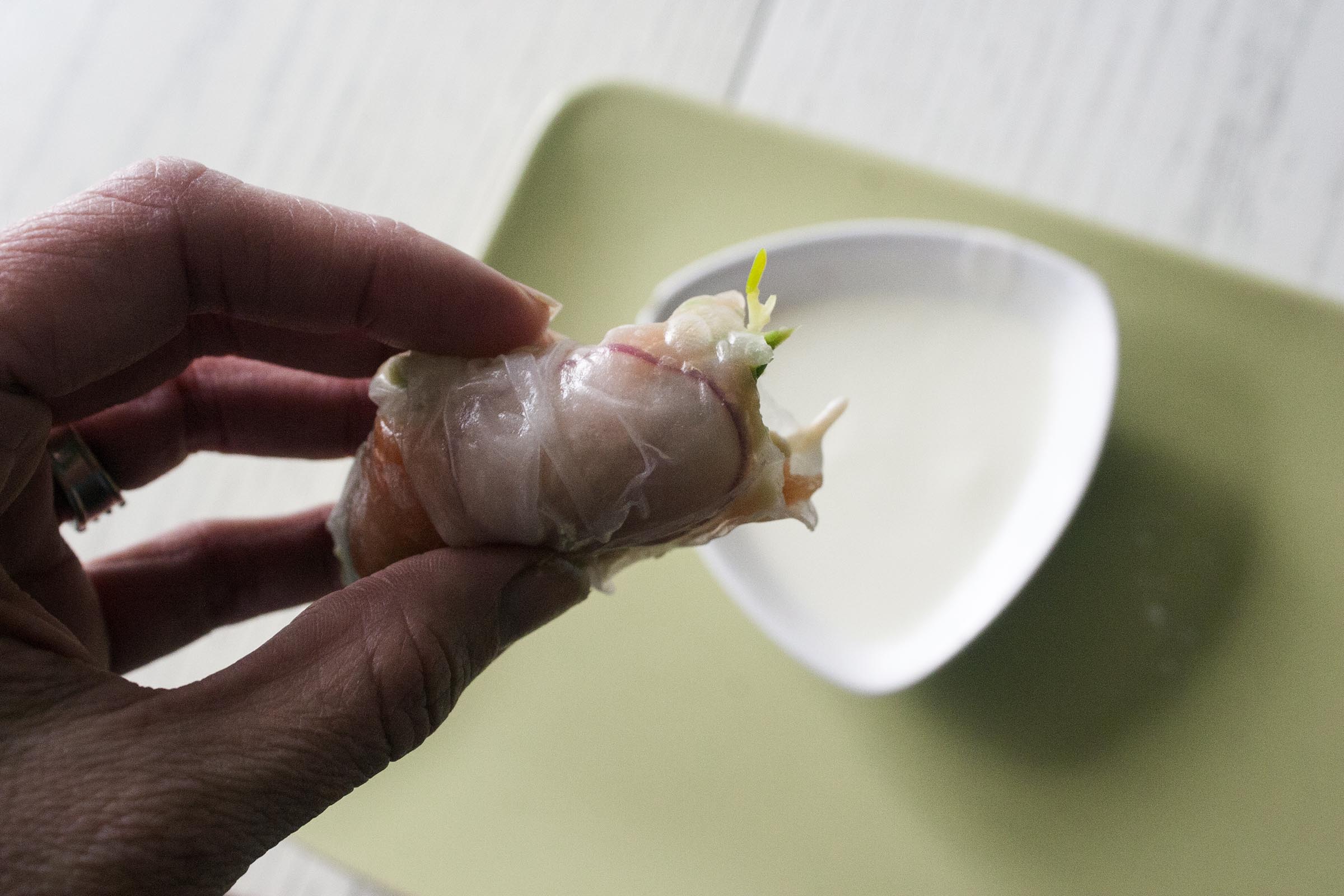 Avocado and Smoked Salmon Summer Rolls
If you're new to making summer rolls, I recommend buying the largest wrappers you can find, to make rolling a bit less precarious. Also, if you can find wrappers that come in a little box, instead of of plastic packaging, it will make storing the remaining wrappers, easier.

If you happen to have chives or scallions in the house, they would be awesome thinly sliced and stirred into the yogurt sauce.

Lastly, I say to use a pie plate for the warm water, but there is a purple bowl in the pictures. Right before making these, I realized that my pie plate was inexplicably missing. I recommend not using a bowl - it makes it a lot harder. If you're only making eight, your water should remain warm throughout, but if you feel like the water has cooled down too much, change out your water before dipping the next wrapper.
What you'll need
½ cup plain yogurt
2 tablespoons lemon juice
pinch kosher salt
24 thin slices radishes (from 3-4 large radishes, washed and trimmed)
8 ounces sliced smoked salmon, cut in half if especially large and separated into individual pieces
1 large ripe or two medium avocados, halved, pitted, peeled and sliced (ideally into 16 slices)
3 ounces assorted sprouts (mine were clover, radish and alfalfa), washed and dried, well
8 large rice paper wrappers, (maybe have a few more ready, just in case)
How you'll make it
In bowl, whisk together yogurt, lemon juice and salt. Taste and adjust seasoning, if desired. The yogurt sauce, which will need to stand up to the smoked salmon and sharp radishes, should be bright and a bit in your face.
On work surface, arrange the radishes, smoked salmon, avocado, sprouts and yogurt sauce, with a spoon, in that order.
Wet a paper towel and squeeze out the excess. Place your paper towel on the work surface. If making a head of time, place a second damp paper towel in the container. Fill a pie plate that fits your wrapper with warm water and place it next to the paper towel.
Gently submerge the rice paper wrapper in the water for about 5 seconds; flip and dip on the other side for about 5 seconds more. The paper will go from frosted and brittle to clear and very soft (almost like saran wrap), very quickly. It may take a few to get the feel of it. As soon as the paper is almost completely softened, transfer to the wet paper towel, as straight and unwrinkled, as possible. (Mine always has wrinkles and is curled up in a spot or two. The less this happens, the nicer looking your finished product will be. Note: I did not say nicer tasting.)
Place three radish slices on the top third of the wrapper, leaving at least an inch of rice paper empty, above them (see picture). Top with approximately 1 ounce of smoked salmon (about 3 slices, for the size mine were), two slices avocado and handful of sprouts and a drizzle of the yogurt sauce.
Roll burrito-style. Fold the top rice paper over as much of the filling as possible; fold the right side of the rice paper over the filling. Using your hands to hold in the filling and pull the wrapper tightly, roll the wrapper once. Fold the left side of the wrapper over the filling. Continue to roll, until sealed. Place on plate or in storage container, radish side-up. Repeat, making sure to leave a small amount of space between summer rolls to prevent sticking. If making them ahead of time, cover with a damp paper towel and the top of your storage container.
Serve remaining yogurt sauce with the summer rolls for dipping.
How to plan ahead
• The salmon can be separated and well wrapped, and the yogurt sauce can be made, one day ahead of time.
• Summer rolls can be made earlier in the day and stored between damp paper towels in the fridge.