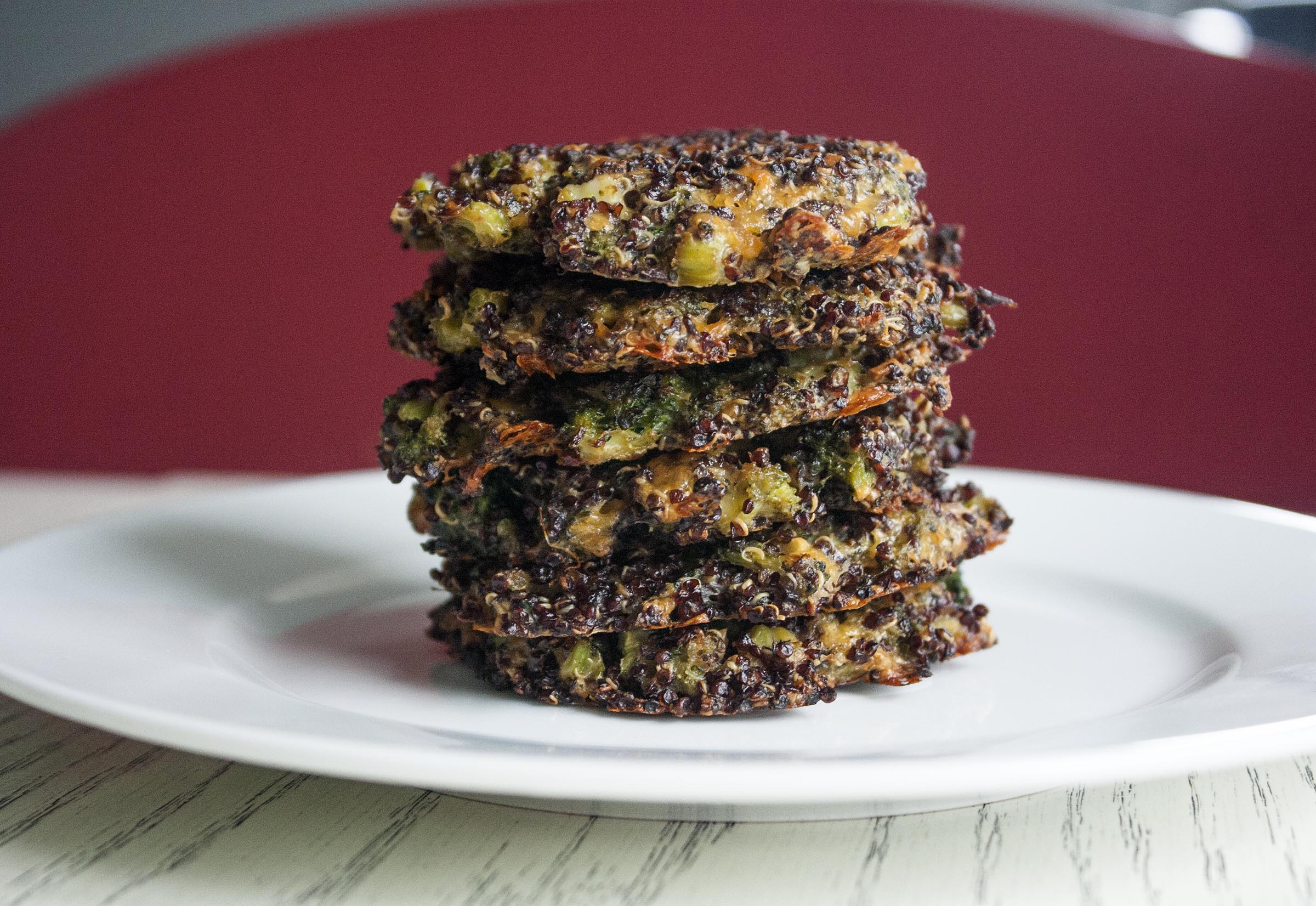 Recently, I put a picture of everyday life up on Instagram – mini frittatas stirred together with ricotta, feta, spinach and garlic – but as I was about to post it, I realized that for all my talk about planning ahead, I haven't done a lot of talking about lunch. Specifically, school lunch. I actually just closed my eyes for a minute after I wrote that.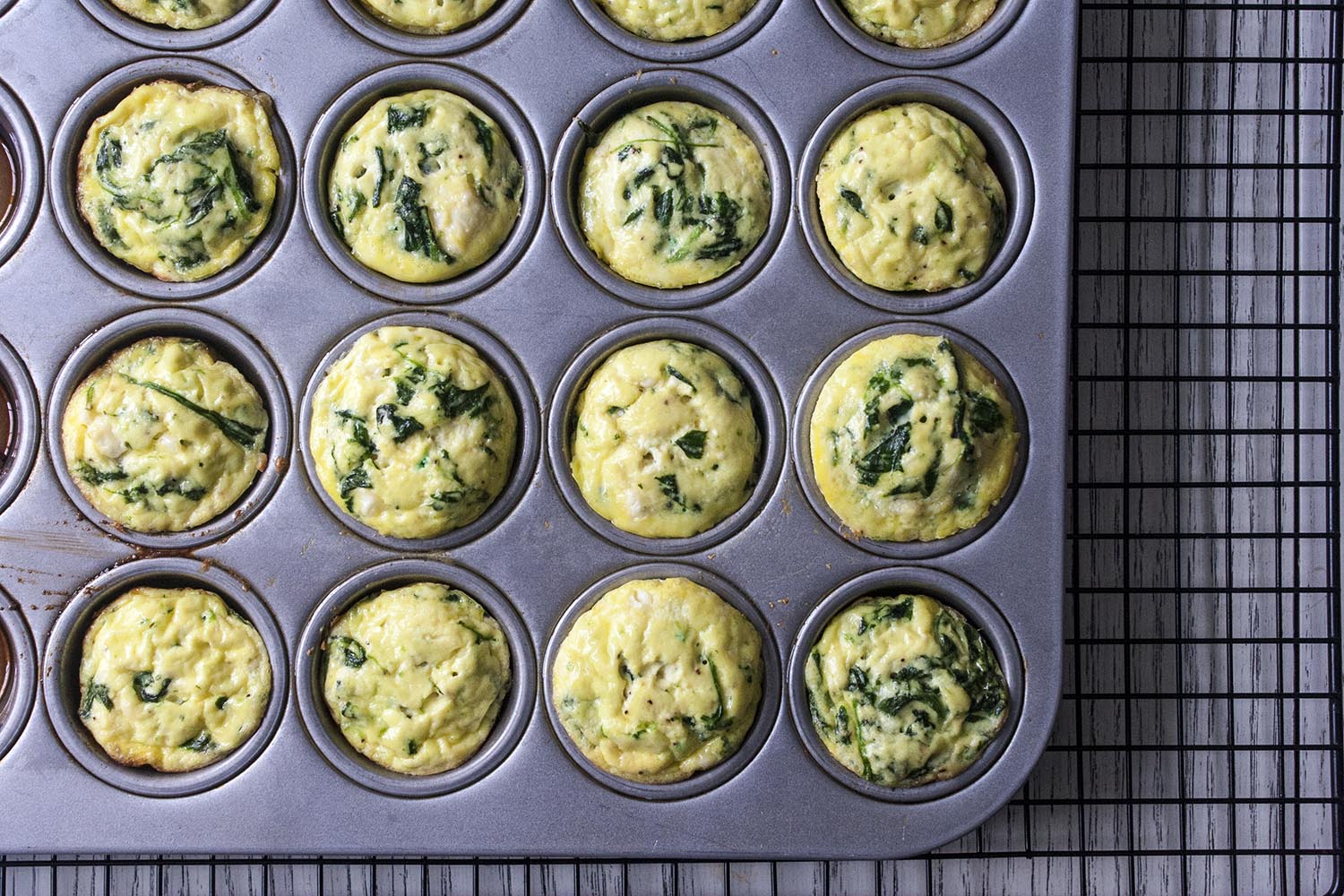 Why? Because school lunch is a lot. It's a ton of work. It's not just throwing things into a bag. It's planning it out, packing – in our case, breakfast, lunch, snack and a cup of milk for Easton and when Reeve is with the sitter, breakfast, lunch, a snack in case she freaks, and a bottle of defrosted breastmilk. It's labeling all of those things with masking tape each night, with her name and the date (per the school's requirement) the content with any allergens (my neurosis, in case other kids attempt to get into Easton's lunch). And, then! It's washing all of those freaking containers every night and packing those freaking bags back up again for the next day. Friday nights, there is a relaxed feeling of peace, that I've only begun to grasp.
I feel this way. Yet, I know I shouldn't. I know we all go through this and that sending in lunch is my choice. I know we've worked our way into a pretty decent pattern and that most days, it's not so much a matter of thinking, but just doing. Most mornings, Easton eats oatmeal or yogurt with fruit (or granola) for breakfast. If it's oatmeal, a big batch is made at the beginning of the week, then portioned out into containers and labeled on Sunday, so that I don't have to think about breakfast again until Easton's Saturday morning, "I'm huuuungry." If it's yogurt, I aim to do the same: one big container, portioned out, topped with fruit (I tend to add the fruit every couple days so that it doesn't turn), or sent in with a small container of granola so that she can do her own sprinkling. (I've been told by her teachers that anyone who tries to help her sprinkle, quickly regrets it.)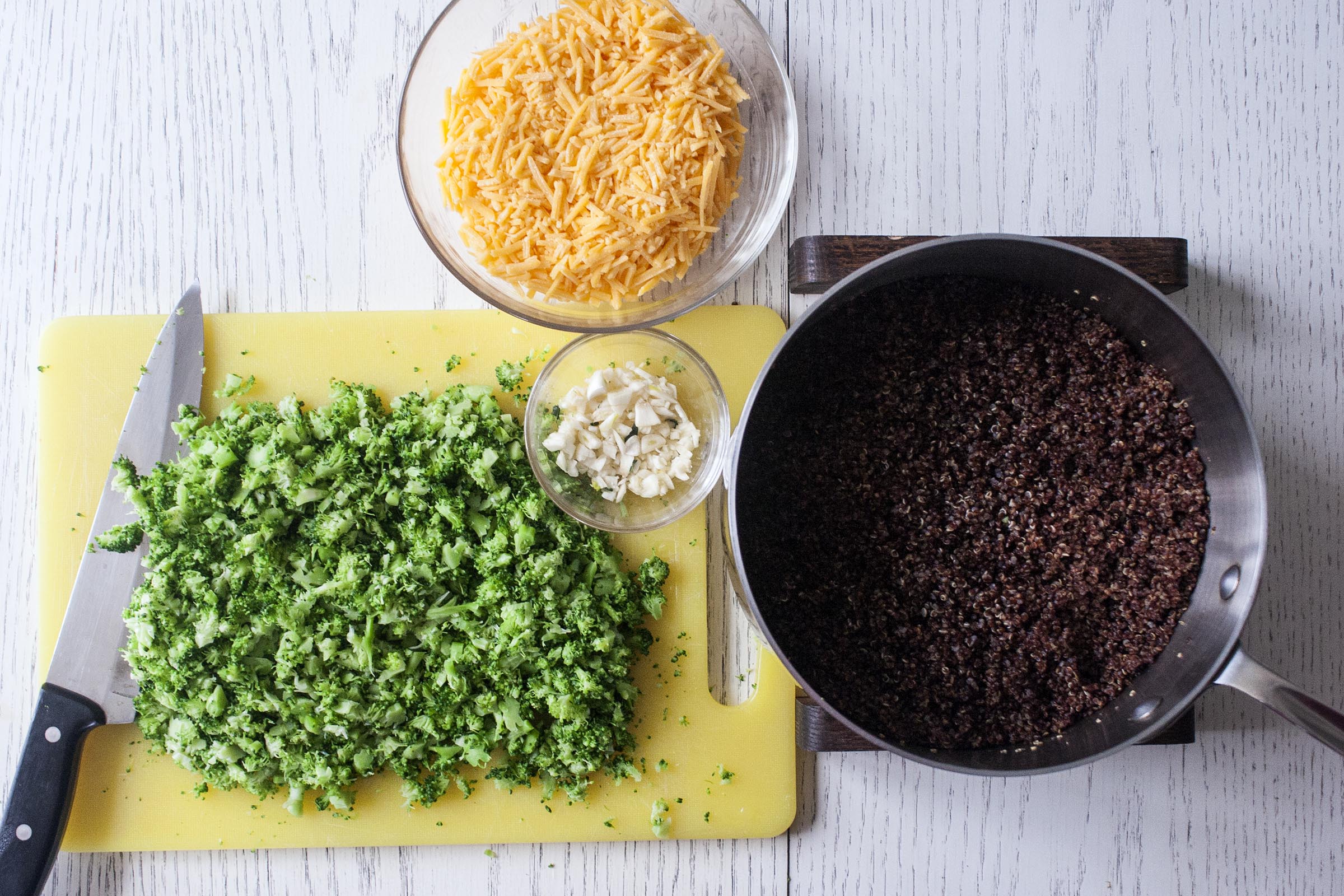 For snack, one of us, often Larry, makes roasted apples on Sunday and again, portions them out into as many snack containers that we have. (If we were smart we'd buy one more set, because midweek, I refill them with the rest of the roasted apples.) If not apples, she gets blueberries, cubed peaches, plums or melon in the summer, grapes (which require halving – I read the other day you should still do this until they're at least five!), a clementine, which I usually peel to save her teacher extra work, but do not separate (see: granola sprinkling), or sometimes, a couple baby bell peppers and a cube of cheese.
But, lunch still always gets me. She attends a nut free school, which I am in complete support of, but, until I started packing her food, I never realized how many nuts I use when cooking. She's often sent in with what we've eaten the night before, so I'm conscious of not putting nuts into my dishes while making them (we've also switched from almondmilk to coconut), or only sprinkling them over the top of our servings, so that hers is safe the next day.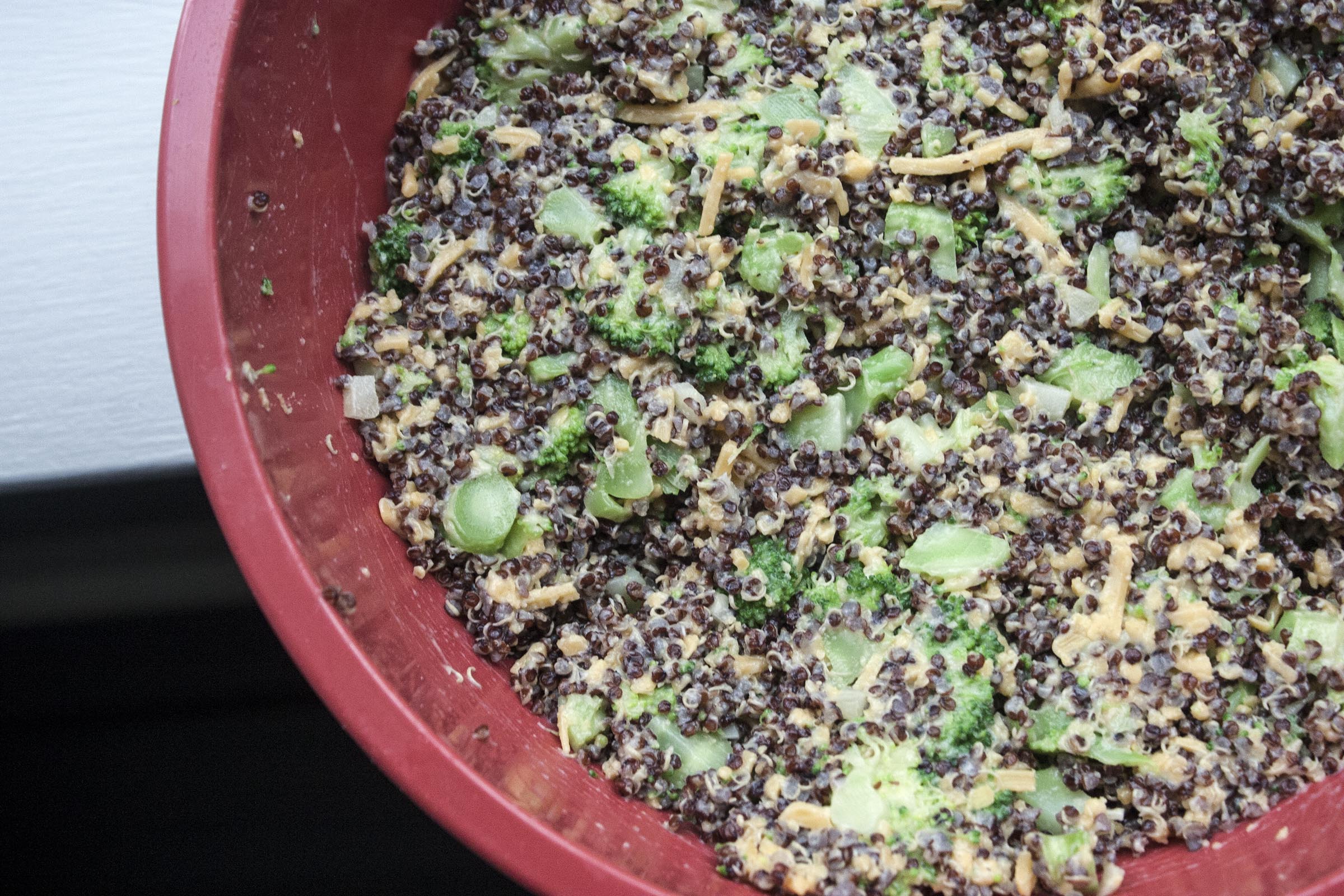 Sometimes, I fill up a LunchBots (she loves rolled up turkey slices (I think it's a novelty to her), a bit of cheese, crackers, cucumbers, sugar snaps, tomatoes and fresh fruit or a date). And on occasion, I randomly have a bit of cream cheese that needs to be used, so I'll sandwich it between bread with apple butter, or sliced green olives (yes, she's a middle aged lady in the 1950s). But, then there are times that I don't have leftovers, and I don't have any of the above in the house. These are the times that I'm grateful for always keeping lunch options in the freezer, like these Broccoli Cheddar Quinoa Cakes.
I think freezer lunches were a natural evolution from cooking and freezing ice cube portions of purees for her when she was a baby. When Easton was small, we didn't eat dinner as a family, so it was much easier to make food specifically for her. When I cooked – soups, this barley risotto, pasta – I made full size amounts, portioned out a bit for her to eat for a few nights and froze the rest. This way, we always had lunch options and because I often wasn't home from work in time for her to have dinner, it was really easy to just pull out a few cubes. Somewhere along the line, she started to eat more and more, and for some reason, I started turning everything into cakes. It just seemed to be a way to always bring all the random ingredients that I wanted to fuse together, into one cohesive dish.
I'm pretty sure that the Broccoli Cheddar Quinoa Cakes, which have taken a permanent residence in our freezer for years, came from having leftover quinoa and broccoli in the fridge, and deciding to capitalize on her love of broccoli (which I'll admit to loving, but also, can I admit I find it a little odd?).
There are a couple components to prepare, and I'll admit I'm happiest to make these the lazy way: over the course of a day or two, but that isn't at all necessary. I find though, that when the quinoa is already cooked and chilling in the fridge, and the broccoli is cooked and cut, the rest is mostly just stirring together in a bowl, which in my mind means I barely had to cook at all.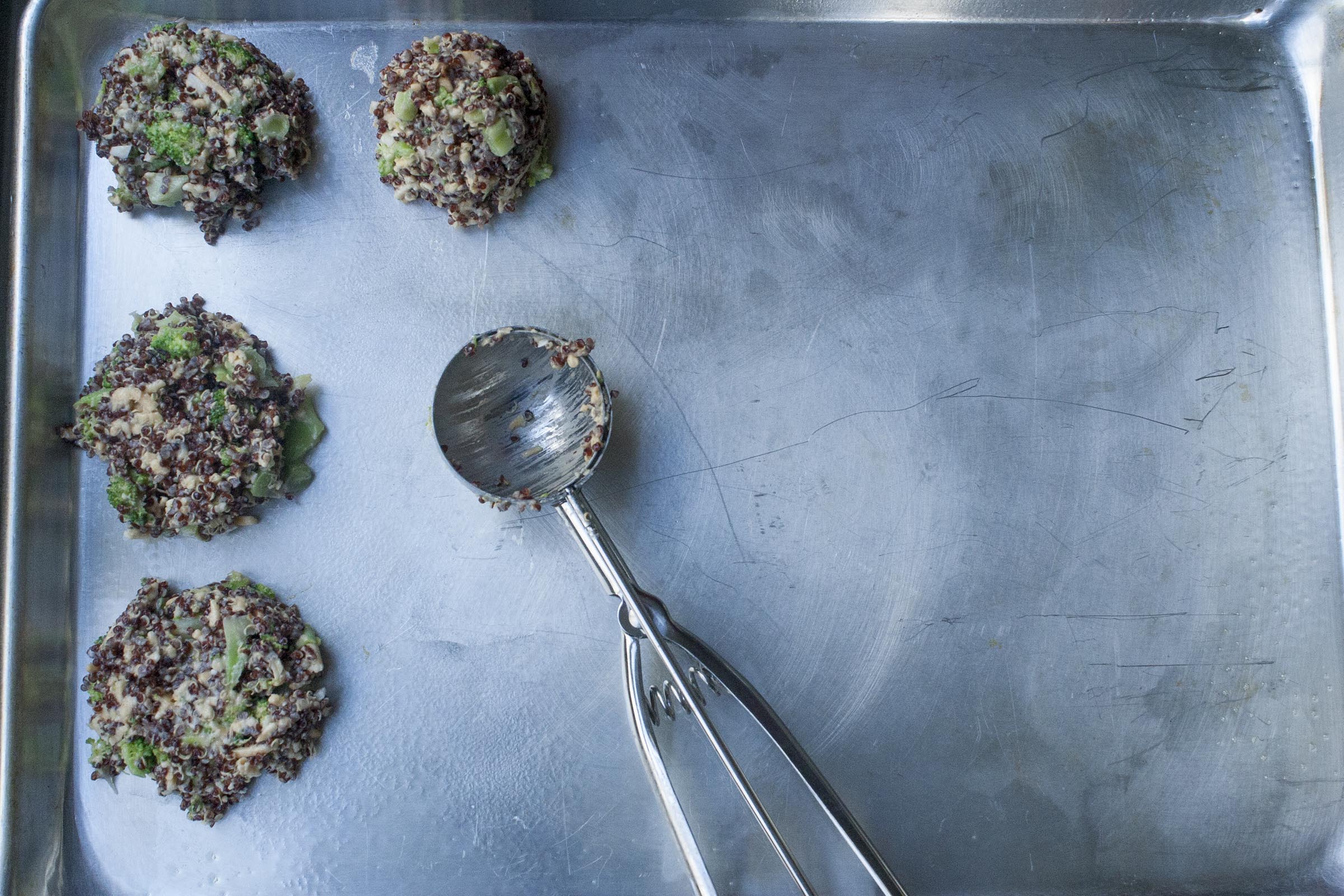 I want to talk about the broccoli for a moment. You'll notice in the recipe, that I call for blanching the florets, or par-cooking them, before chopping and stirring in. Why? It's the same reason that I recommend par-cooking potatoes: the final result will be better. When you blanche broccoli by giving it a quick dunk in salted boiling water and then transferring the florets to ice cold water, it cooks the broccoli slightly and locks in the beautiful green color. This means that the broccoli in your cakes is guaranteed to be tender once baked and the color, while a bit muted, will still boast a green color broccoli would be proud to show off.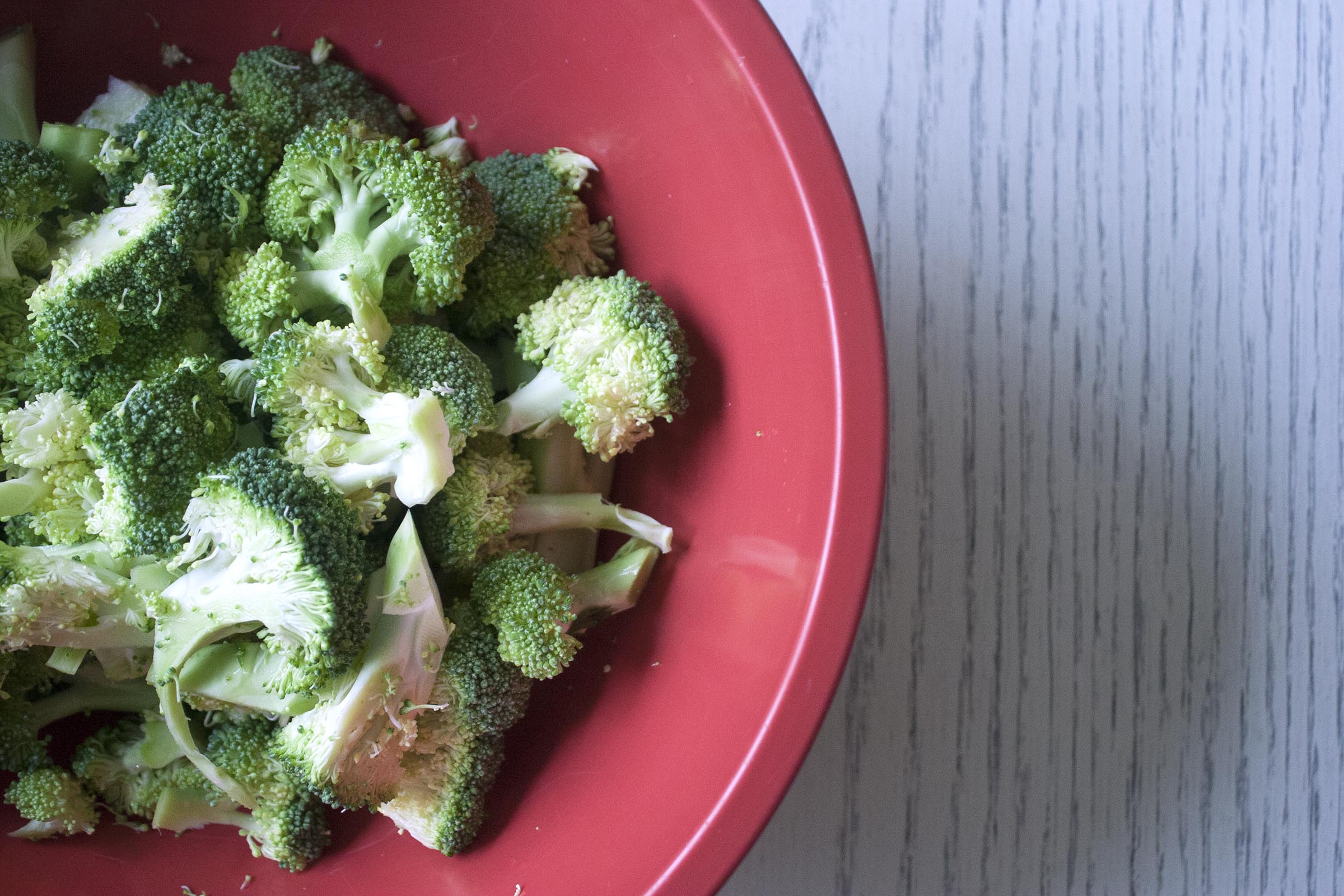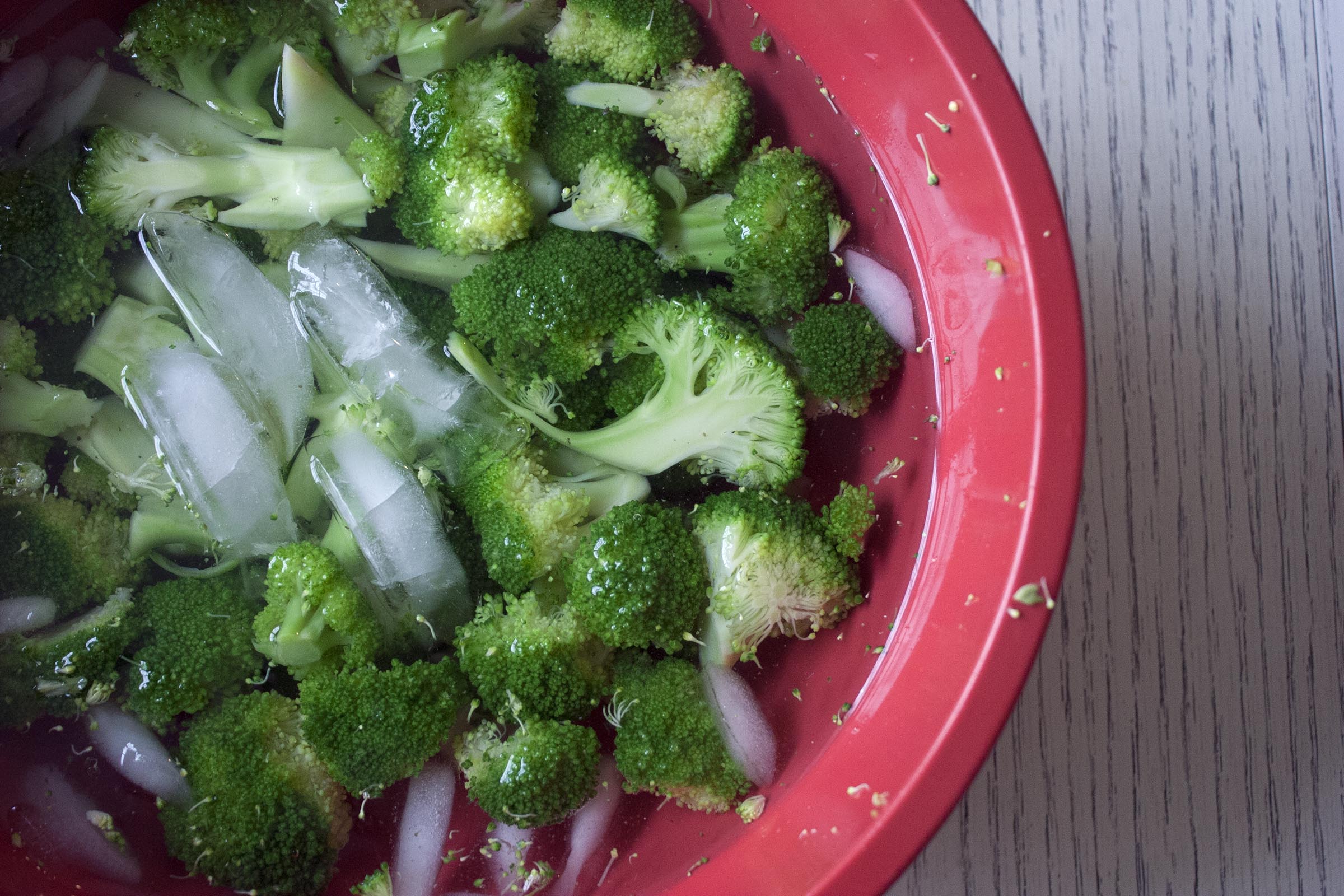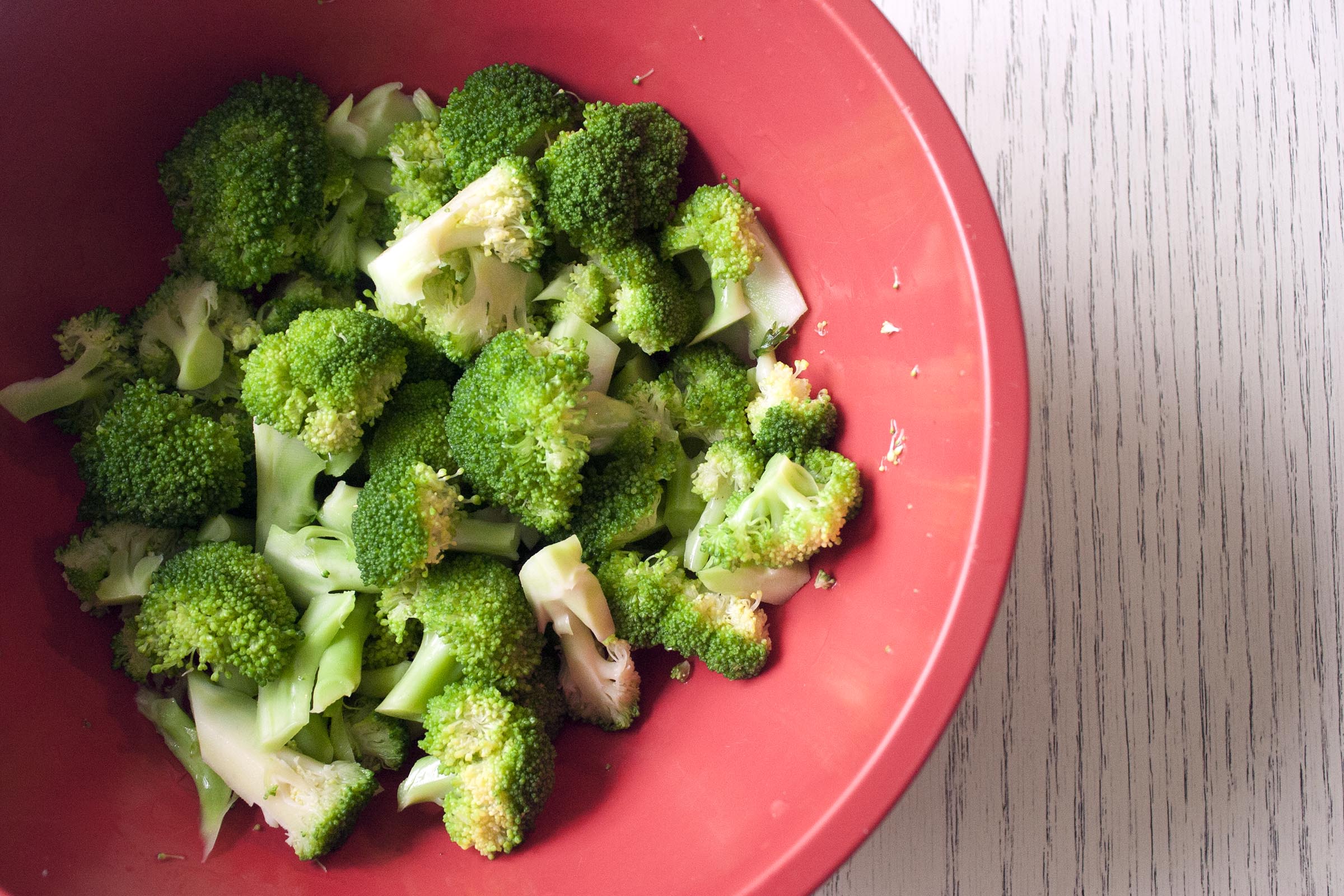 We make these Broccoli Cheddar Quinoa Cakes, instead of just Broccoli Quinoa Cakes for a couple reasons. Here's the one Easton cares about: the flavor. We all know that broccoli and cheddar are meant to live a life together, and these cakes are no exception. The salty, cheesiness makes the broccoli and quinoa feel, well, less like broccoli and quinoa, even though in my book, those aren't things I'd be upset to see show up on my plate. But, also, as they cook and the cheese melts, it helps to hold the cakes together and encourages gorgeous browning, that the cakes are not going to get on their own.
You can eat the cakes for dinner, alongside a salad, which we've done on occasion. But normally, we let them cool, pop 'em in the freezer and then pull two out when we're in need of a last minute lunch. After an overnight stay in the fridge, they're pretty much thawed, and a quick zap in the microwave heats them up, taking care of the rest.
That freezer, I'm telling you, can be your lifeline. Make things, freeze them and thank yourself six weeks from now, when you can't bring yourself to sandwich together another day of peanut butter (or cream cheese) and jelly.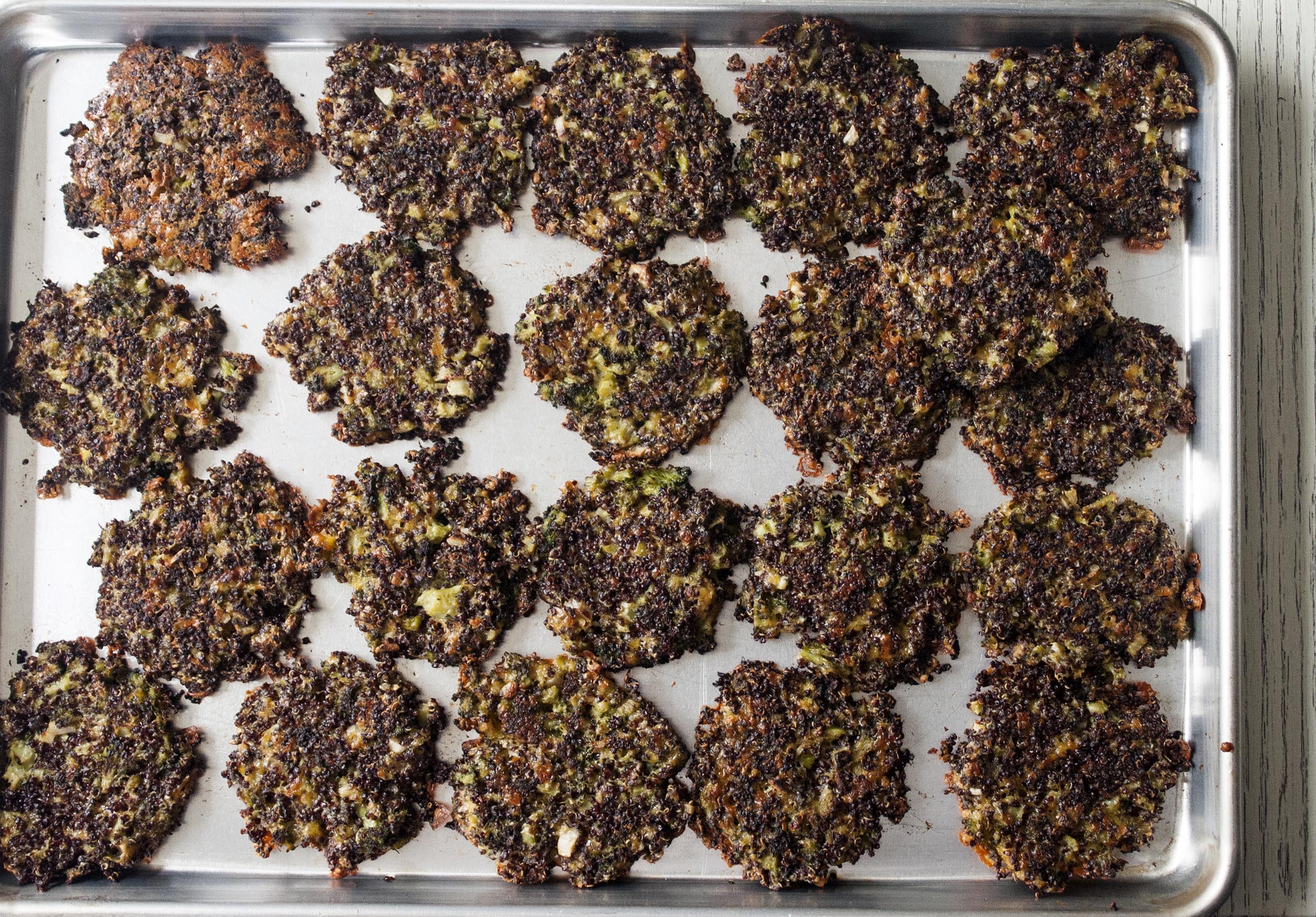 Broccoli Cheddar Quinoa Cakes
This is one of those recipes that I never measure, so when I did, it took a couple tries to get it right. In one trial, I didn't cut the broccoli as finely as I normally do and it was a bit of a pain to portion out the mixture. Make sure to cut the broccoli into small pieces - mostly ¼-inch, at most.

I use a 2 ounce cookie scoop to make sure they're all the same size (but they are not going to the be same shape - don't sweat it) and then press them down gently with the palm of my hand to flatten before baking. But, play around with the size that works for you. It's a bit more work, but they are delicious and extra crispy when made with a large, rounded tablespoon. (Just keep an eye and reduce the cooking time.)
Lastly, I find the mixture easiest to scoop when chilled - so if you have an hour, go for it (I've even left the whole thing overnight). But, if you don't have the time, or the space in your fridge for a bowl, you can scoop and bake them immediately. The mixture will just be a bit more delicate as your portioning it out.
What you'll need
1 cup uncooked quinoa (or 3 cups cooked quinoa)
1¾ teaspoons kosher salt, plus more for the boiling water, divided
12 ounces broccoli florets
2 eggs
3 tablespoons whole wheat flour
½ teaspoon finely cracked black pepper
6 large cloves garlic, peeled and finely chopped
8 ounces sharp cheddar, grated
How you'll make it
In medium saucepot, combine 2 cups water, quinoa and ¼ teaspoon kosher salt. Bring to a boil; stir once. Reduce heat to low; cover. Cook 15 minutes; remove from heat. Let sit 10 minutes more; uncover and fluff quinoa with fork.
Meanwhile, break broccoli into florets. Bring water to boil in a large saucepot; season with kosher salt. Fill a large bowl halfway with cold water and ice cubes. Carefully add broccoli florets to boil water. Cook 30 seconds; immediately use a large slotted spoon/strainer to transfer to the ice water (alternatively drain in a strainer and then transfer immediately to the ice bath). Toss to cool down, then drain water and remove ice cubes. Blot to remove excess liquid.
Finely chop broccoli.
In large bowl, beat eggs; stir in flour, pepper and remaining salt, just to combine. Stir in broccoli and garlic to coat. Add quinoa and cheddar; mix until completely combined. If you have time, chill 1 hour, or overnight. Otherwise, you can bake them right away, the mixture will just be more delicate when portioned out.
When ready to bake, arrange racks to sit in the top and bottom thirds of the oven. Heat oven to 425°F. Coat two baking sheets with cooking spray or use a paper towel to rub a thin layer of olive oil on the bottom. Using a ¼ cup measure or a two ounce cookie scoop, portion out the mixture, leveling it off and pressing it into the scoop, before releasing. Use your palm to flatten them out. I can usually fit 12 of this size, onto a baking pan (four rows of three).
Bake 15 minutes. Remove both pans from oven; coat with cooking spray, olive oil spray, or brush with olive oil. Flip cakes (if you find that they're resisting, let them sit for one minute, then try again). Return the pans to the oven, making sure to reverse them (bottom to top, and left to right). Bake 10-15 minutes more, or until the cakes are cooked through and nicely golden, but not burnt.
They can be served immediately.
To freeze
Let cool completely. Arrange in a single layer on a rimmed sheet pan; transfer to freezer and freeze 2 hours, or until completely frozen. Transfer cakes to a large freezer safe bag. Label with date three months from today. Thaw cakes overnight (in a lunch bag), or defrost in the microwave, to reheat and serve.
How to plan ahead
• The quinoa and broccoli, can be cooked, blanched, cut and cooled, up to two days ahead of time.
• The entire mixture can be made one day ahead of time, before portioning and baking.
• The cakes can be baked, cooled and frozen (see note in recipe) up to three months ahead of time. Thaw overnight or in the microwave.