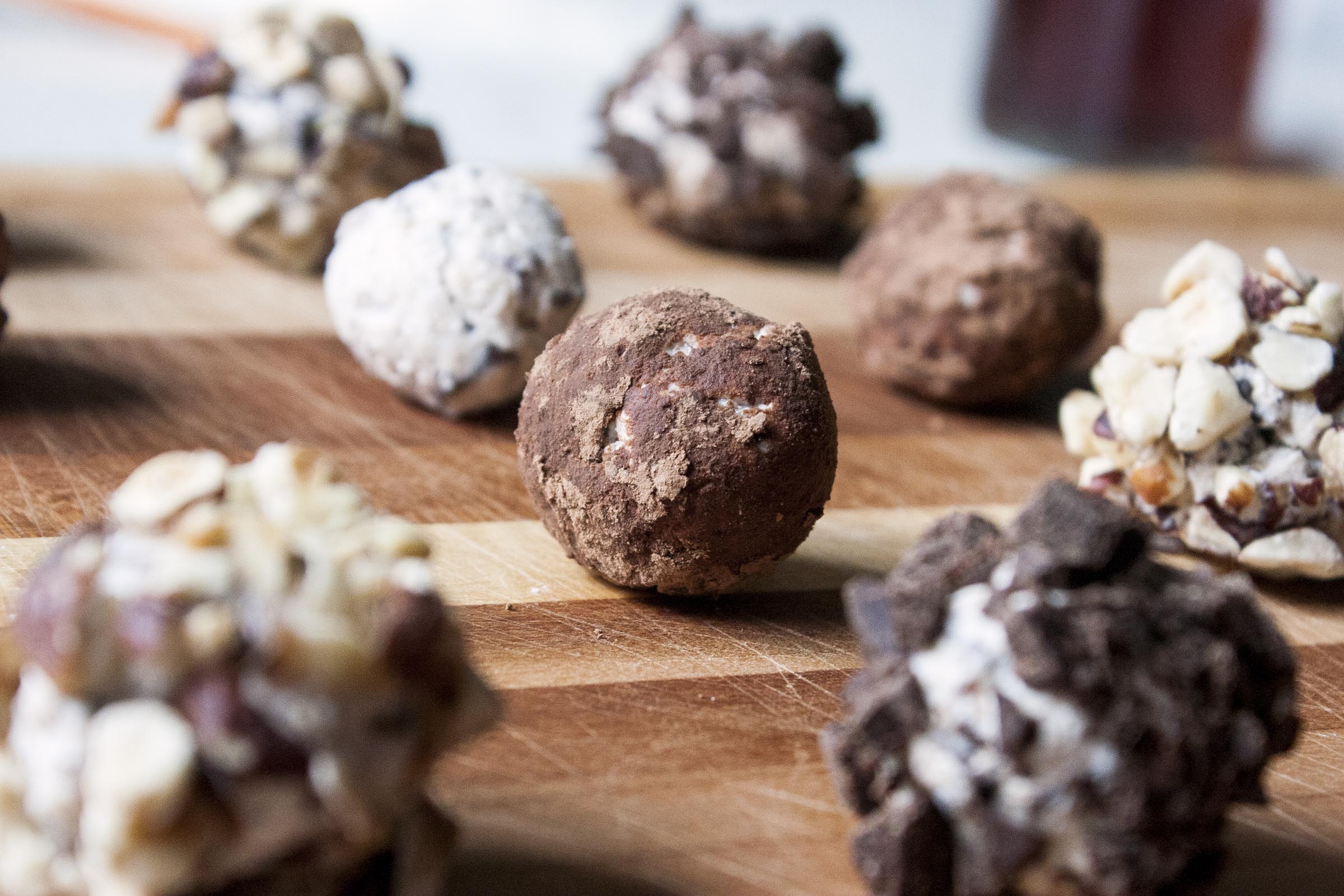 These Chocolate Hazelnut Goat Cheese Truffles were supposed to a bagel spread. For months, it's been in the back of my head — an easy way to bring a homemade touch to a mostly, picked-up-last minute brunch. It seemed like a plan: a couple-ingredients, Nutella-ish mixture, smeared over a bagel, next to fruit and maybe an egg dish.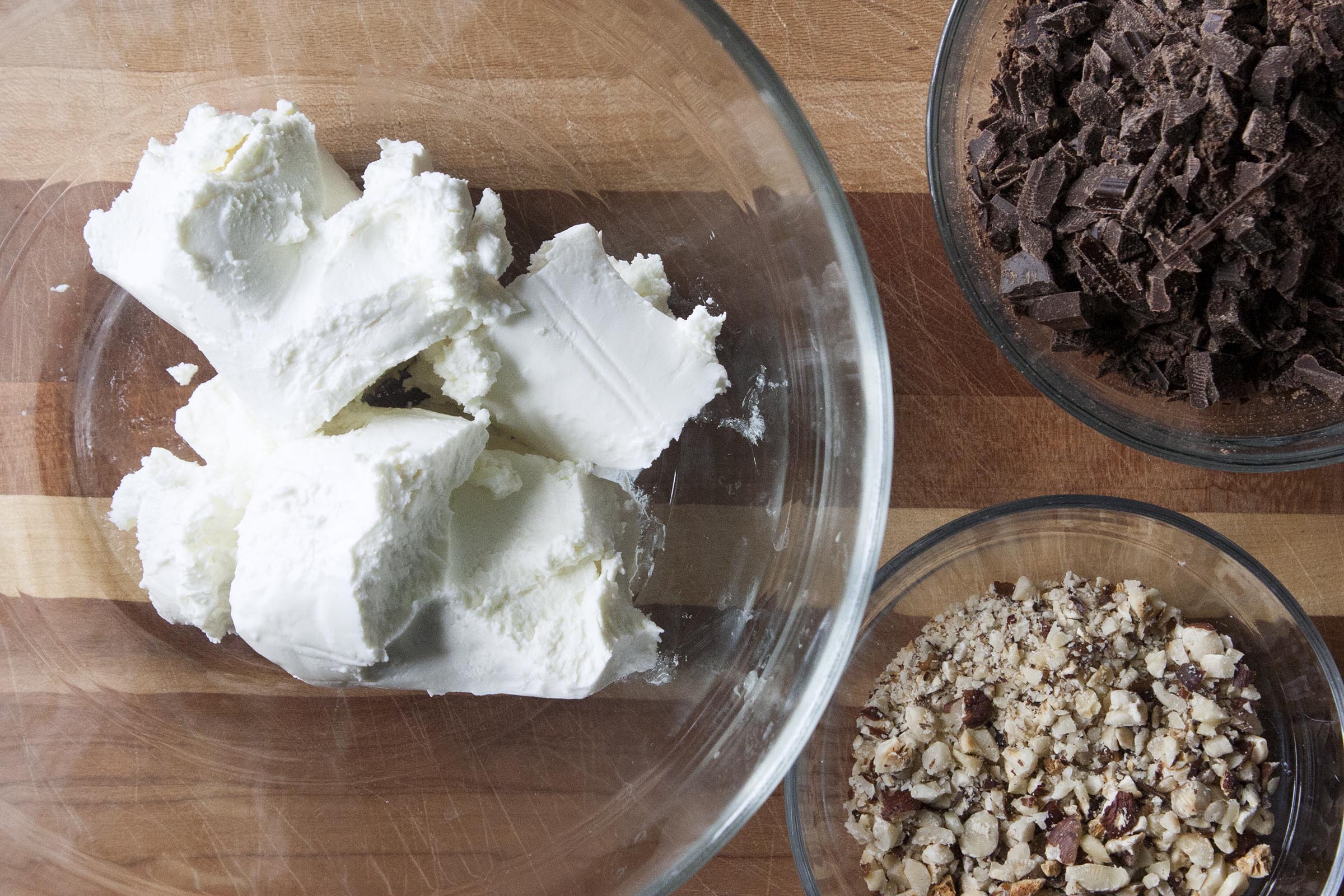 But then, I was dumb. Faced with goat cheese in my fridge that needed to be used, I decided last week to go for it. But, as I was mixing, at 4pm on a Wednesday, I realized what I was doing. Why did I think midweek was a good time to make something intended to be spread over bagels? I obviously didn't have bagels in the house, nor did I plan on buying them the next morning for myself. And, what should have been more pressing: what was I actually going to make for dinner that night?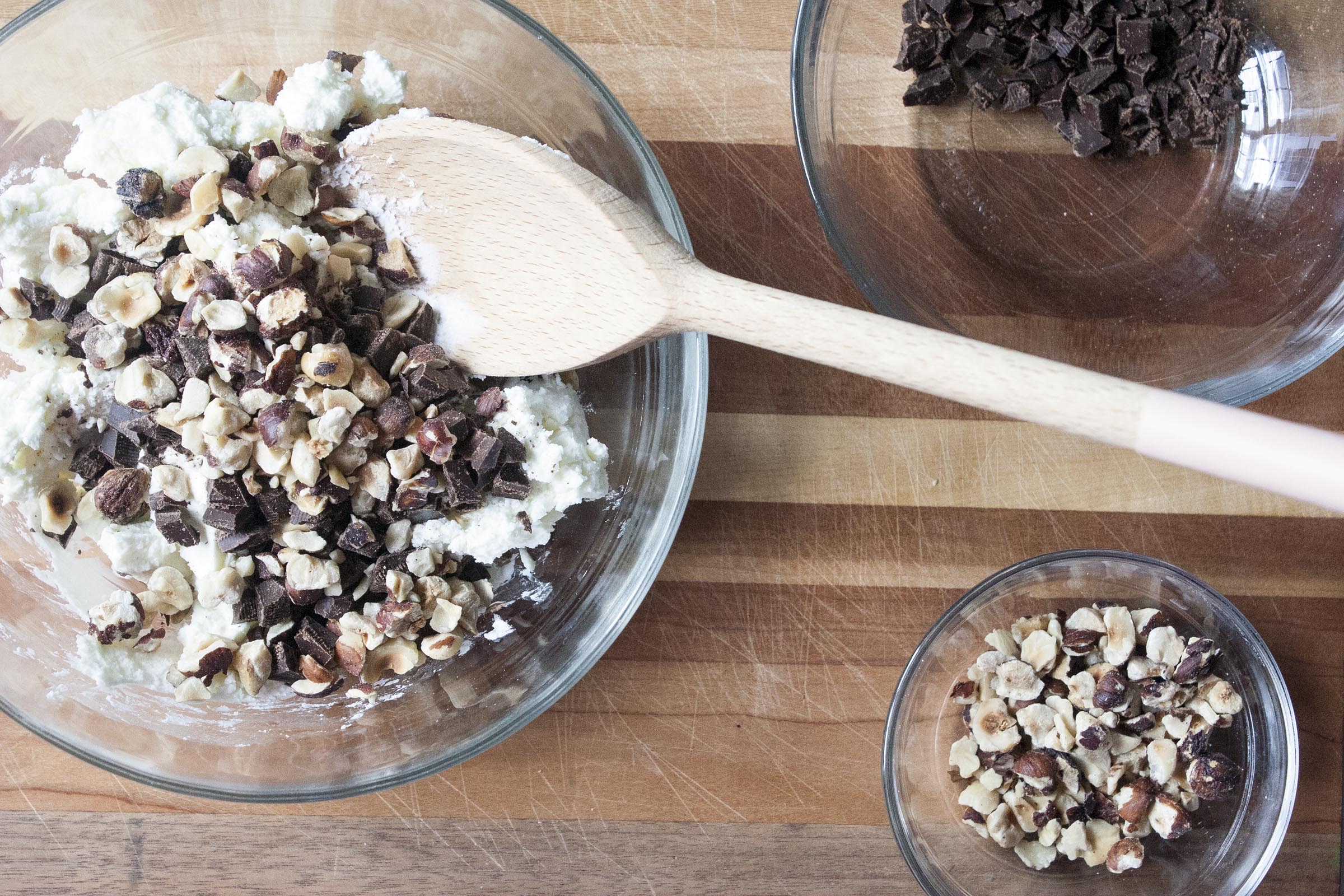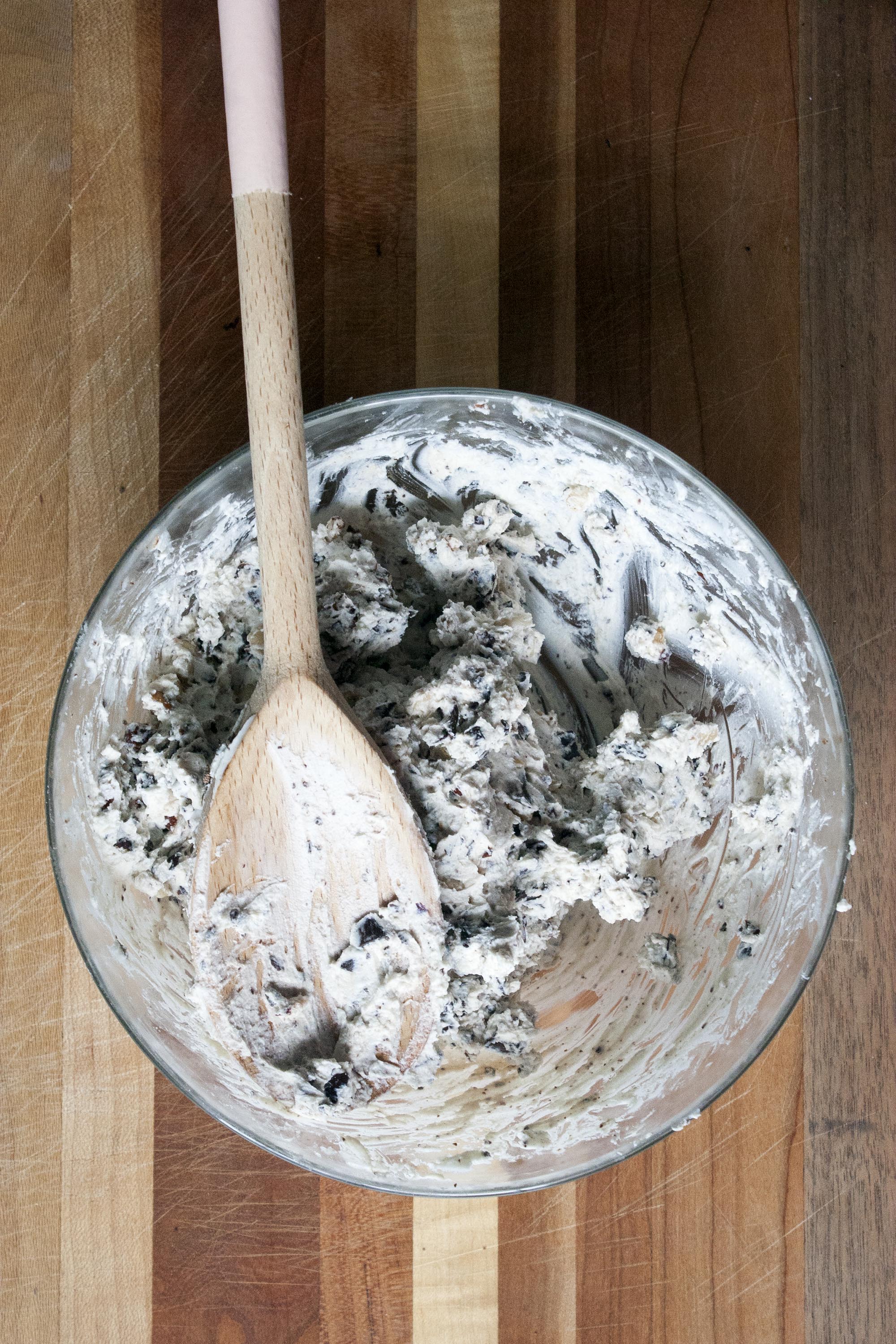 After I stirred everything together: chopped bittersweet chocolate, toasted hazelnut pieces and the soft creamy goat cheese, I noticed how firm it all was and, also, how rough it was, thanks to the shards of mix-ins. I imagined spreading a scoop over a freshly baked bagel and tearing up all of the bread, with those pointy hazelnut pieces. And, then before I really had time to think about my next steps, I stuck my hand in the bowl, grabbed a small piece and rolled it easily into a perfect ball.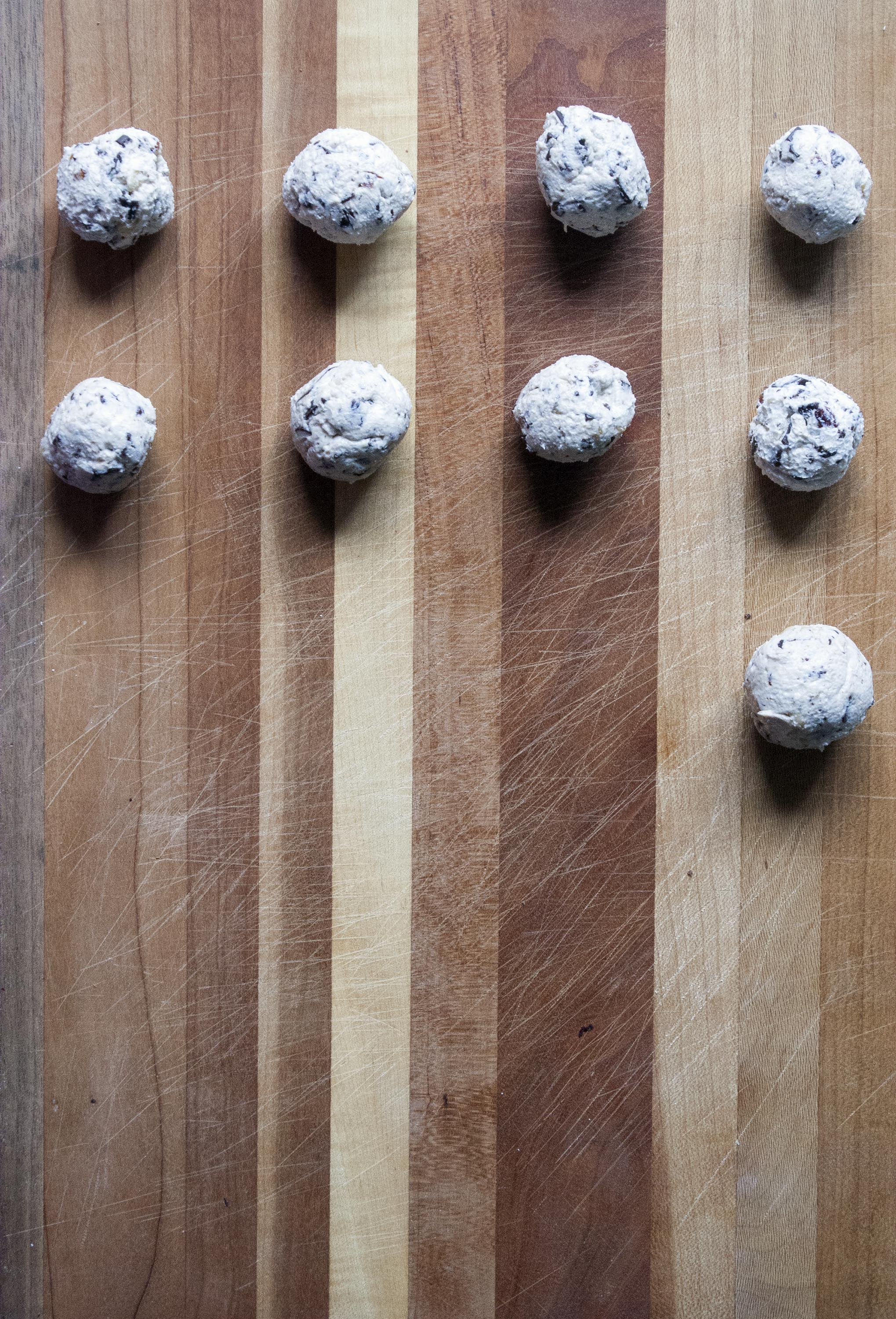 Yes! Little chocolatey, nutty, tangy balls, easily scooped, easily rolled. Once assembled, though, they looked plain, so I sighed a really loud sigh, all alone in the kitchen, toasted more hazelnuts, chopped more chocolate and started rolling. And that's when I realized how much they looked like truffles. That's also when it hit me, why on a Wednesday at 4pm, do I need Chocolate Hazelnut Goat Cheese Truffles?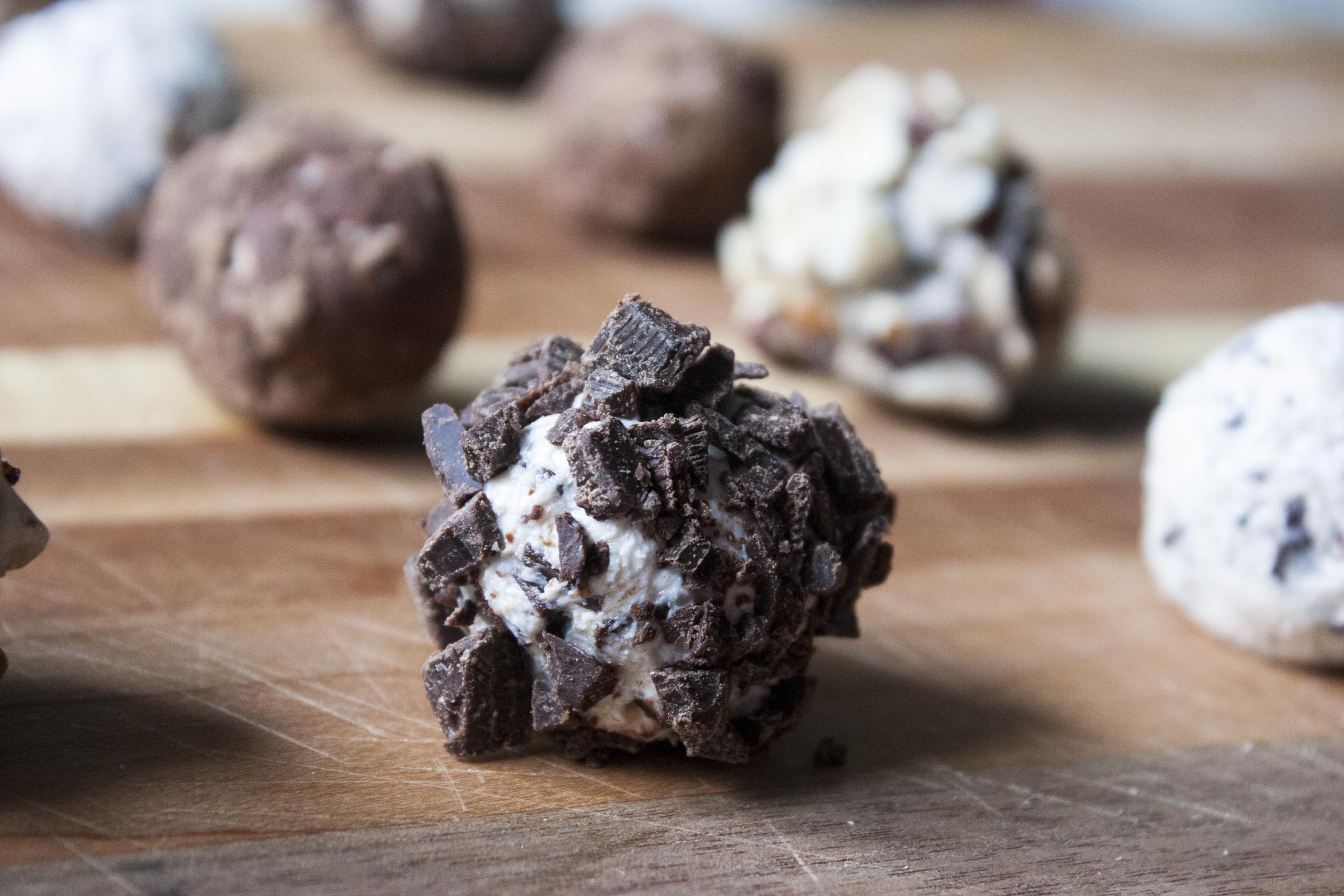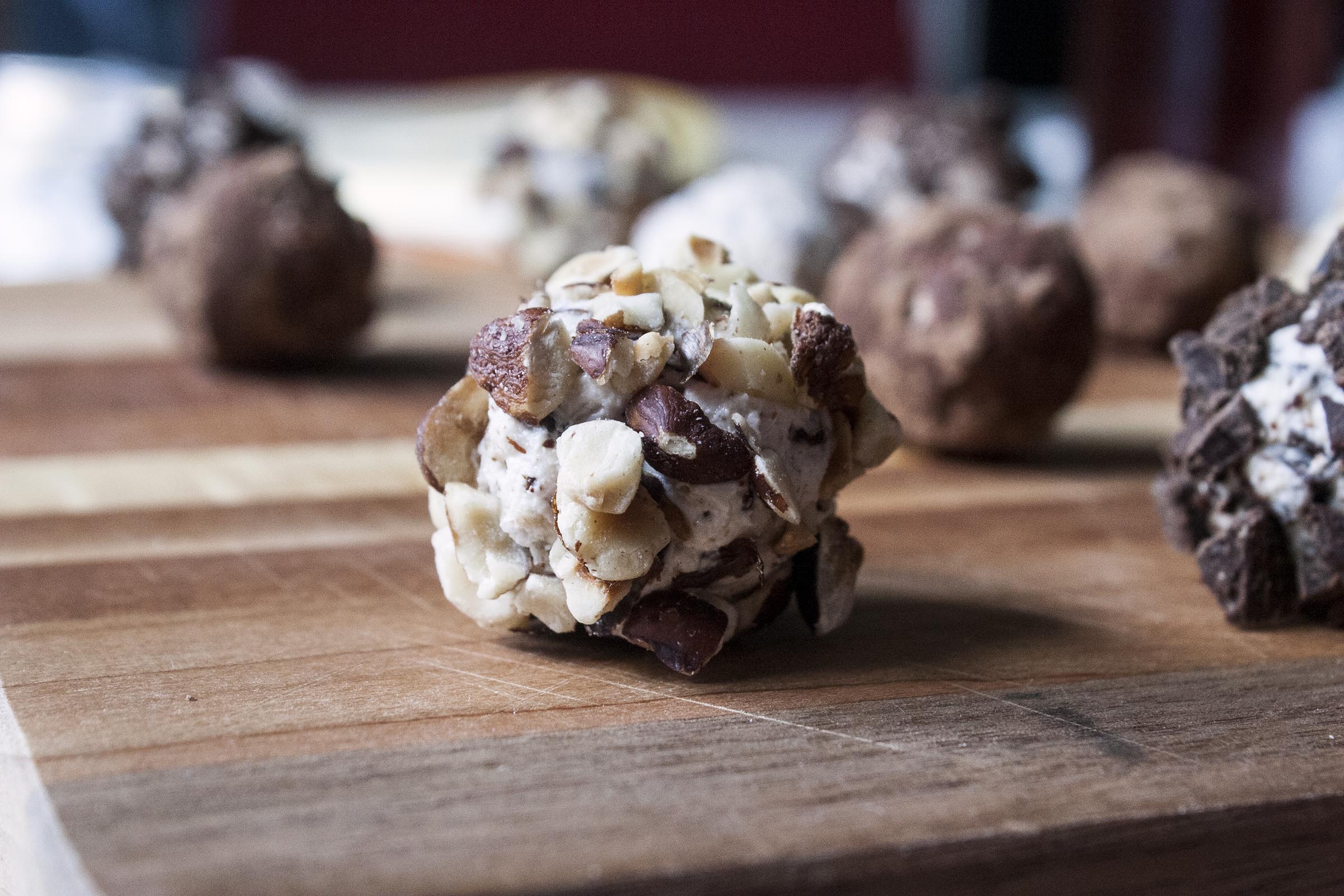 But, it was time to move on. I coated a few more in cocoa powder, left a couple unadorned and tossed all of them into the fridge. The next night, thankfully, I was headed to my sister's for dinner, so I packed them in my bag.
They were OK, but I couldn't quite the shake the feeling that something wasn't right. I wasn't looking for a very sweet mixture, but the bittersweet chocolate was not helping the situation. And, while I wanted hazelnuts to play a big part, the large pieces were overwhelming the entire truffle. Plus, I had added a few sprinkles of kosher salt, which were oddly, really distracting.
I know that when you change a recipe, you're supposed to deal with one thing at a time, but I had a pretty good feeling how to fix these. Instead of adding a couple tablespoons of confectioners' sugar, as I had originally considered, I changed the chocolate to semisweet, and increased the amount. Meanwhile, I kept the hazelnuts the same, but chopped them pretty small. Finally, when I coated this batch, I experimented with a few different options, in addition to the originals: confectioners' sugar and cocoa powder mixed with confectioners' sugar.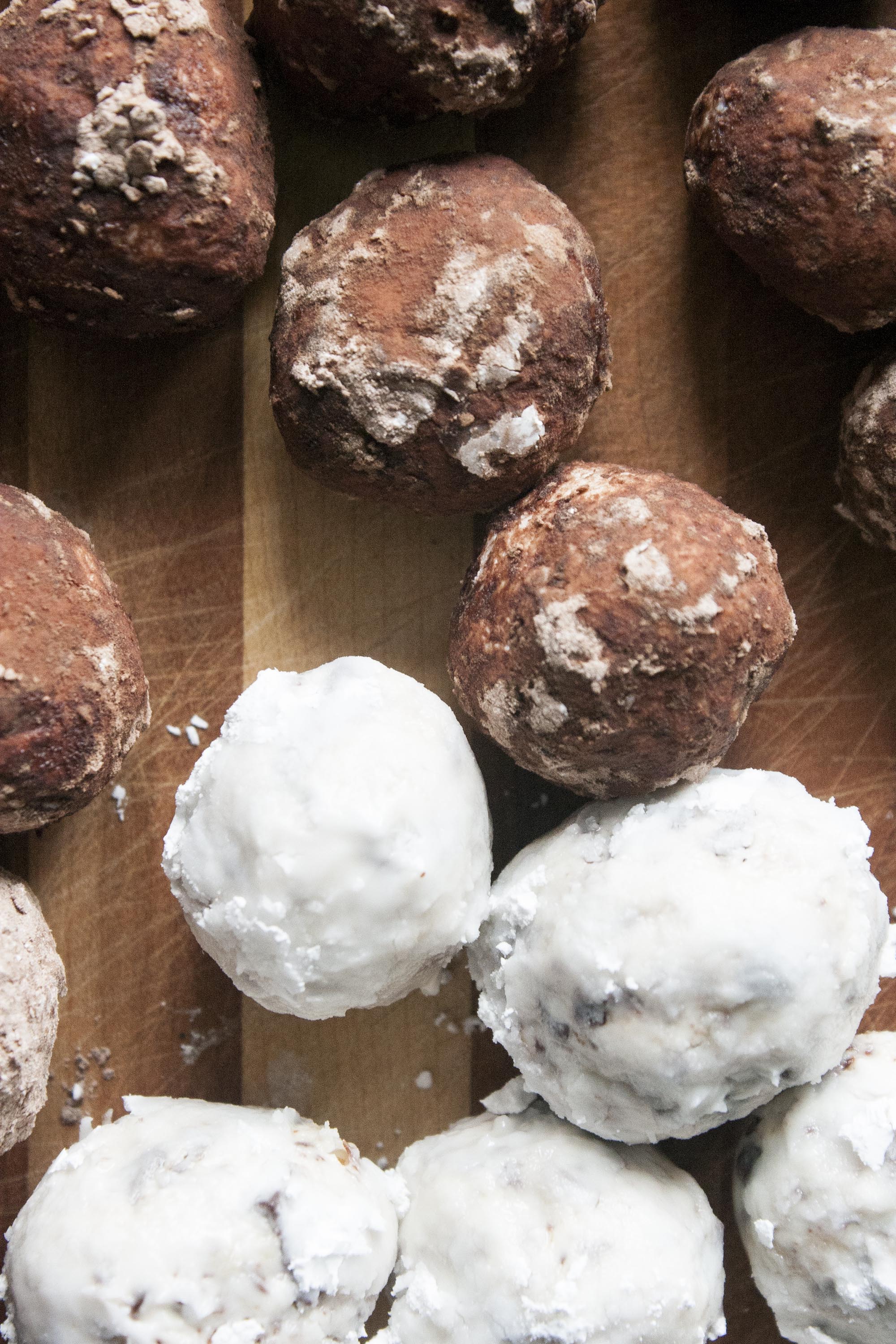 As expected, the moisture from the goat cheese absorbed the first layer, but a second coating did the trick, turning them into little doughnut hole-lookalikes, which could be surprising or disappointing, depending on who you are. They're not incredibly goaty, if that's a worry of yours, but I don't think you'd be able to fool someone who is a proclaimed goat cheese-hater, either.
These are an easy solution when you don't want to turn on your oven to make dessert or are looking for a sweet, but not over the top way to end a meal. Or, you know, you could buy cream cheese and bagels, like most of us do, and put these out on a plate, alongside the fruit and eggs at your next easy brunch, if you, too, are hellbent on serving at least one thing homemade.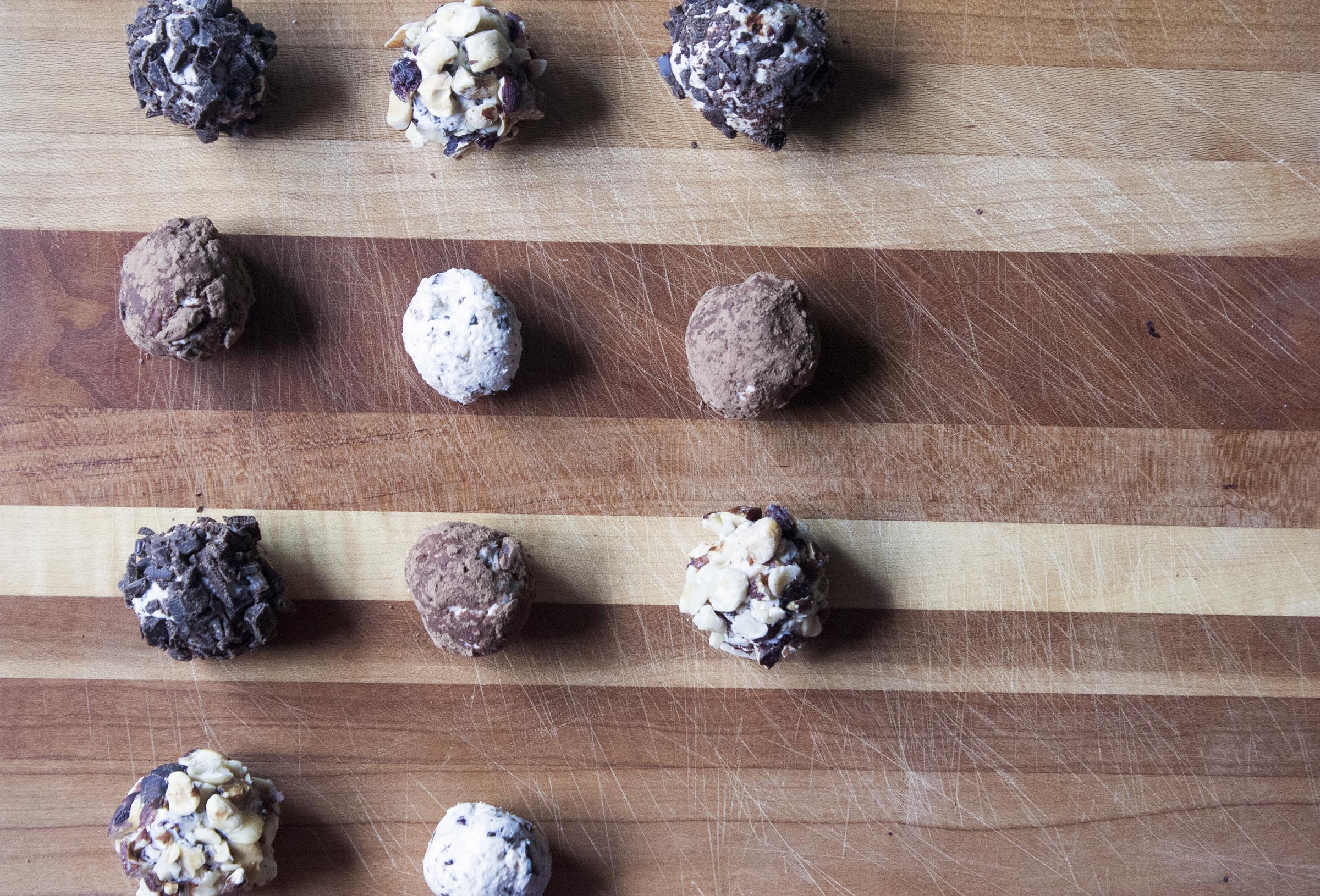 Chocolate Hazelnut Goat Cheese Truffles
To make sure your goat cheese is at room temperature, place it on the counter, at least 30 minutes, and up to one hour, before you plan to make these. Pull out the goat cheese, then toast your hazelnuts and then chop your chocolate.

Lately, I've been toasting my nuts, on a paper plate, in the microwave. Depending on the size and the amount, it takes about 4-5 minutes. I typically start with one minute increments, shaking the plate between each round, and changing to 30 second increments once they begin to change color. The negative: the microwave, if you're against them and this only works on a paper plate. The positive: no dirtying a skillet or sheet pan and no turning on the oven. If you're not a fan of the microwave, you can bake them for 5-6 minutes, on a rimmed sheet pan in a 300°F oven, or until golden and fragrant.

For the coatings, keep in mind that they all react differently. The chopped hazelnuts and chocolate need a bit of help adhering, but once they're on there, they're not going anywhere. The straight confectioners' sugar coating dissolves a bit, even with a second coating, and makes the outside tacky, but the sweet layer is a nice touch. I found that I really loved the confectioners' sugar and cocoa powder blend, which lent a softened, mild bitterness to the truffle.
What you'll need
8 ounce soft goat cheese, at room temperature
1½ teaspoons vanilla extract
1 ounce chopped hazelnuts, toasted and cooled (see note, above)
4 ounces semisweet chocolate


Coating Options (Optional)
Chopped toasted hazelnuts
Chopped semisweet chocolate
Whisked cocoa powder
Whisked or sifted Confectioners' sugar
Whisked or sifted cocoa powder/Confectioners' sugar blend
How you'll make it
Worth repeating from the note above. When making these: set your goat cheese on the counter to soften and come to room temperature, toast your hazelnuts and let cool completely, then chop your chocolate.
In medium bowl, mix together goat cheese and vanilla extract with a wooden spoon. Stir in hazelnuts and and chocolate and mix well to completely combine. Using hands, roll goat cheese mixture into teaspoon-sized balls and place individually on a pan.
To coat:
Place coatings in small mixing bowls. Dip balls in, a couple at a time, and shake, or lightly press, to coat. The hazelnuts and chocolate will need a bit of gentle help to adhere to the truffles. The cocoa powder will easily cover. The two confectioners' sugar options will need to be coated at least twice, a couple minutes apart (coat all of them, then go back around and coat them again).
Transfer to a container; mine were fine touching. Store in the refrigerator for up to four days.
How to plan ahead
• The hazelnuts can be toasted several days ahead of time and kept in a tightly sealed container at room temperature, or up to one month ahead, stored in a tightly sealed container in the freezer.
• The chocolate can be chopped one day ahead of time. Store tightly at room temperature.