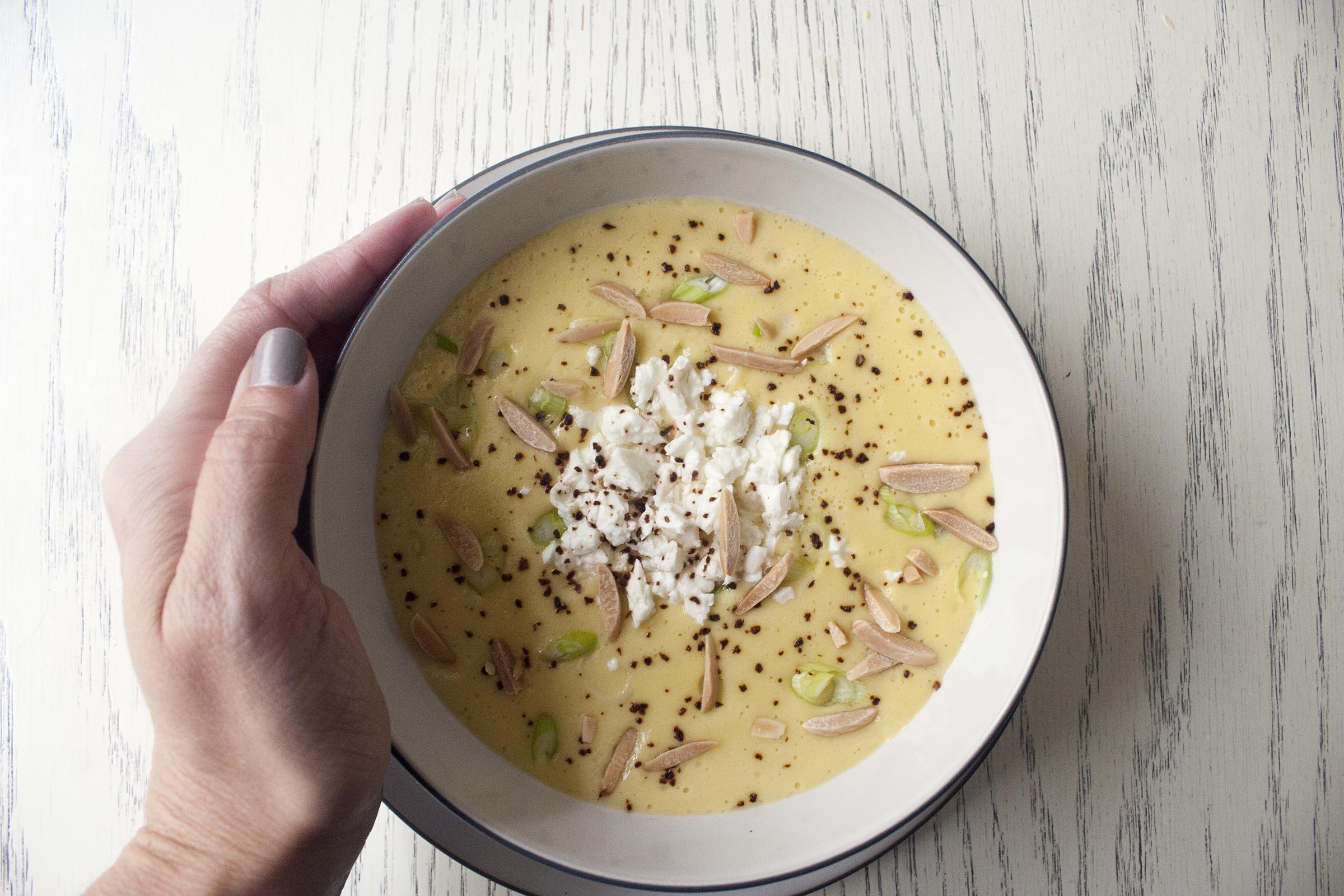 Am I the only one who needs to work hard to control myself around a big pile of corn on the cob? You know the situation: you walk into your grocery store, or at the farmers market, and there they are: three or four giant wooden bins, filled high with cobs. People surround those bins, territorial, needing to find the perfect ears, sometimes gently placing a discarded piece toward the center, other times angrily tossing it right where the next person will pick it up. They're stripping off the husks right there in the store, mostly filling the garbage, but also, adding to that thin layer of silk that inevitably finds its way to the store. I just can't help it. I see them – the corn cobs, the people – and I want in.
Of course, I have circumstances, mostly of the loud, wild-handed 15-month-old variety. You know the slightest amount of attention you need to give to the corn, to maybe check the tops and make sure you're not bringing home duds? That is the amount of time it would take for her to catapult herself out of the cart (Safety belt? Ha! she says. Mom, you definitely need to do better than that), into the pile of corn. Except for in the most dire of circumstances, I do not buy anything these days, that does not allow me to keep one hand on her, at all times. When it comes to shopping with Reeve and buying corn my options are, grab the first four I see and take my chances, skip it, or best yet: hope that Larry's with me.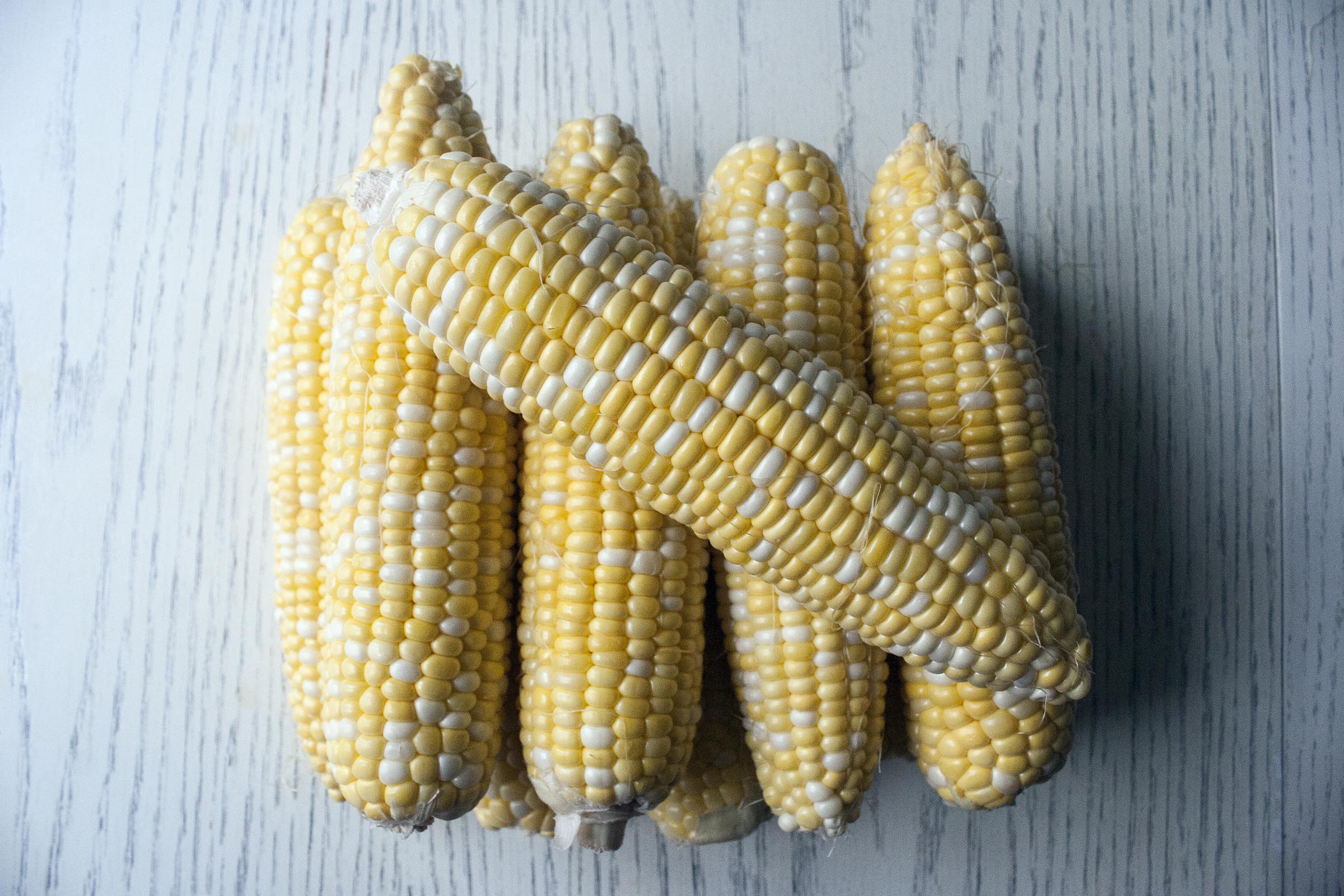 And, that is what I needed for this soup: two adults, so that one of us could fully invest in picking the perfect 10 ears of corn. Because, when your soup is corn, corn stock, onion, garlic and just a bit of butter, your corn better be good.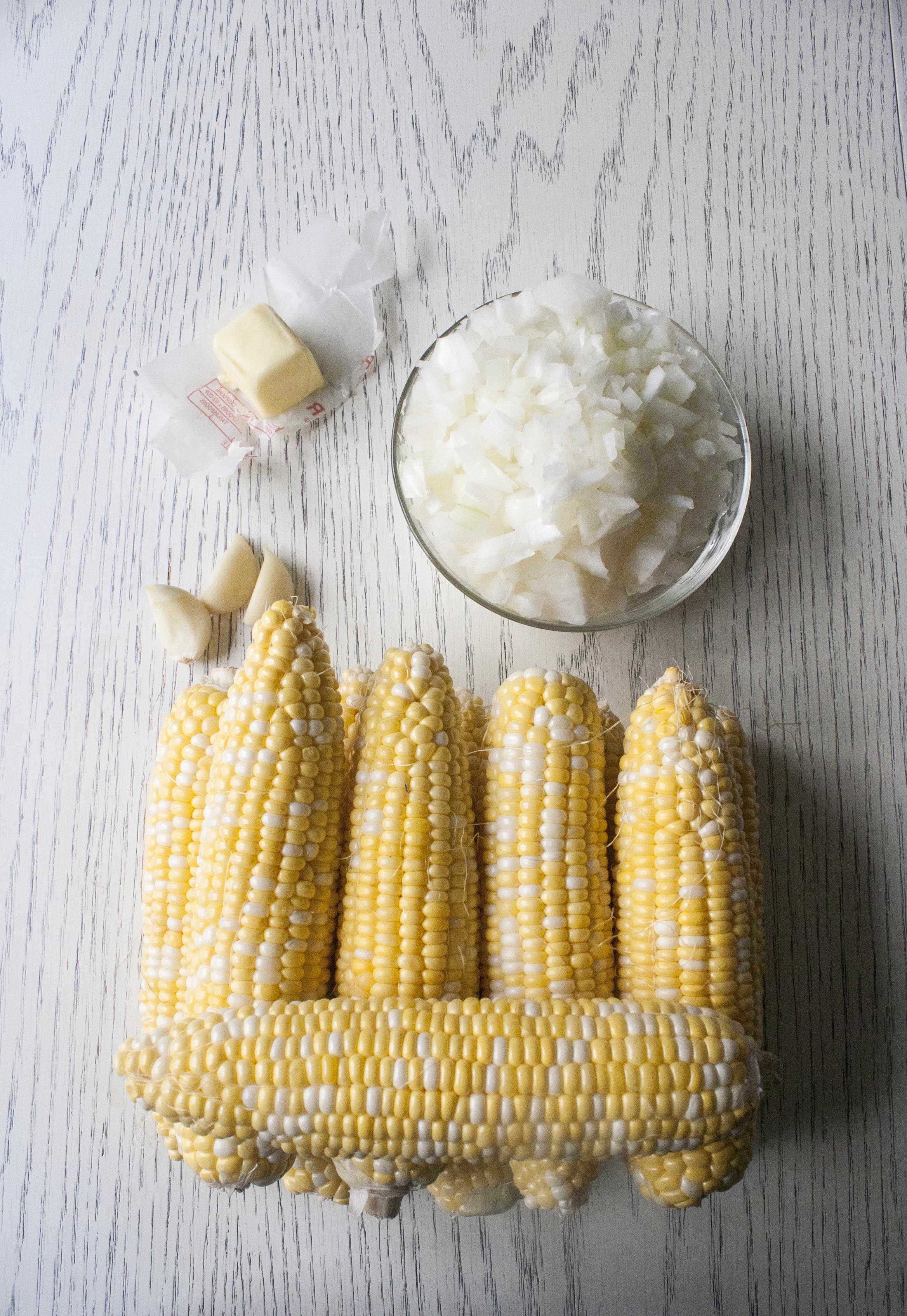 There is one other trick to this creamy corn soup, and it's the reason I almost didn't post the recipe. You can make this soup in a blender, and if you have perfect corn, it will be good. It will not be silky smooth, but the flavors will all be there. It will be a bit brighter yellow, with fine pieces of corn dotted through out. It will be good. To get that silky smooth texture and pale yellow color though, to get that feeling that you're eating a soup made of just the sweetest, freshest corn and cream (even though you're not), you really need a high-powered blender. Don't hate me.
If you're still talking to me, here's what you do: find the best 10 ears of corn that you can, from the store or your farmers market. Cut the kernels off the cob and taste them. Don't hate me for this either, but promise that if you're not crazy about how the corn tastes at this point, you use the kernels for something else and vow to make the soup next week. Seriously, roast them, use them in a salad, sauté them with black beans and onions, make this pesto. But, if you're happy with the corn, make soup.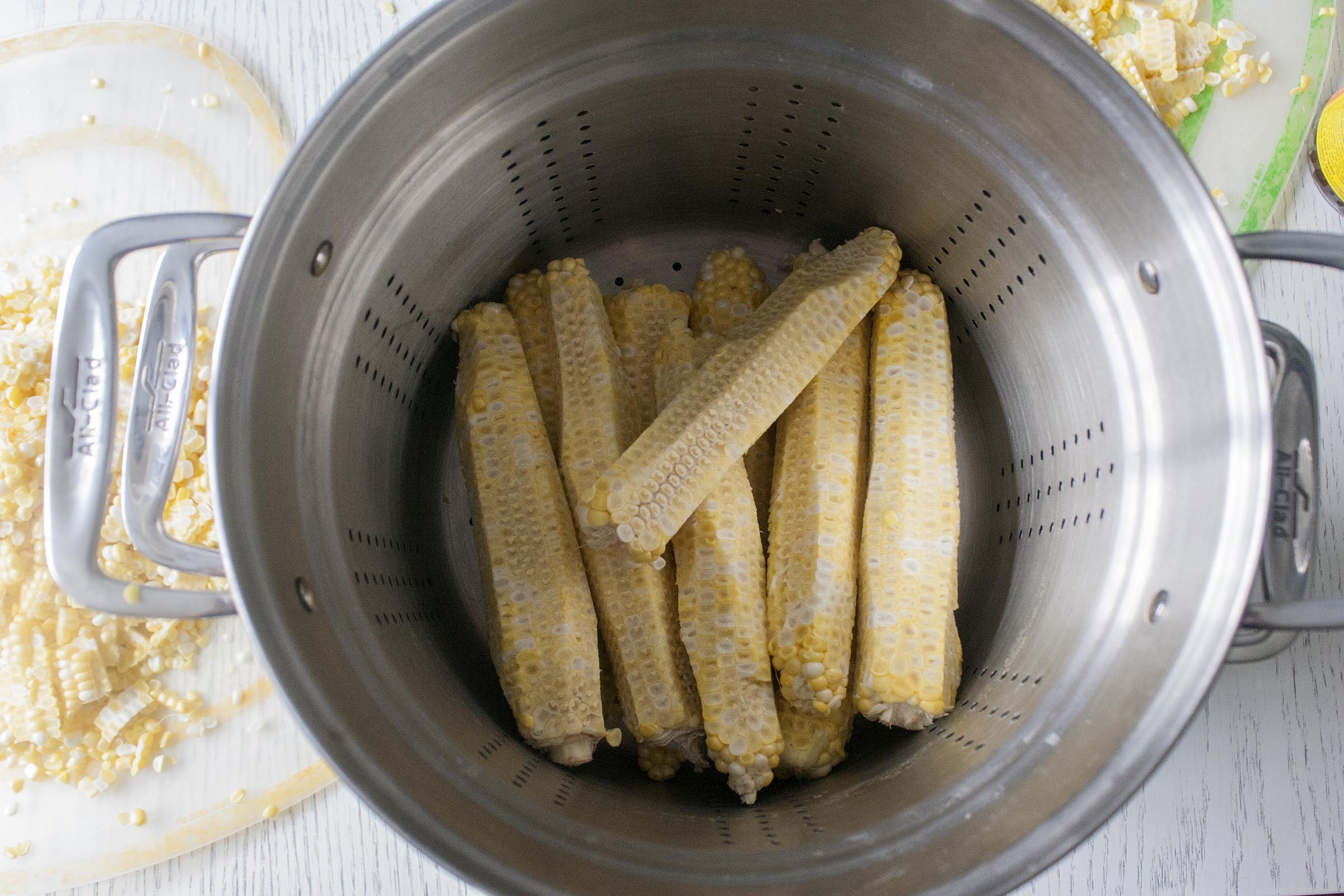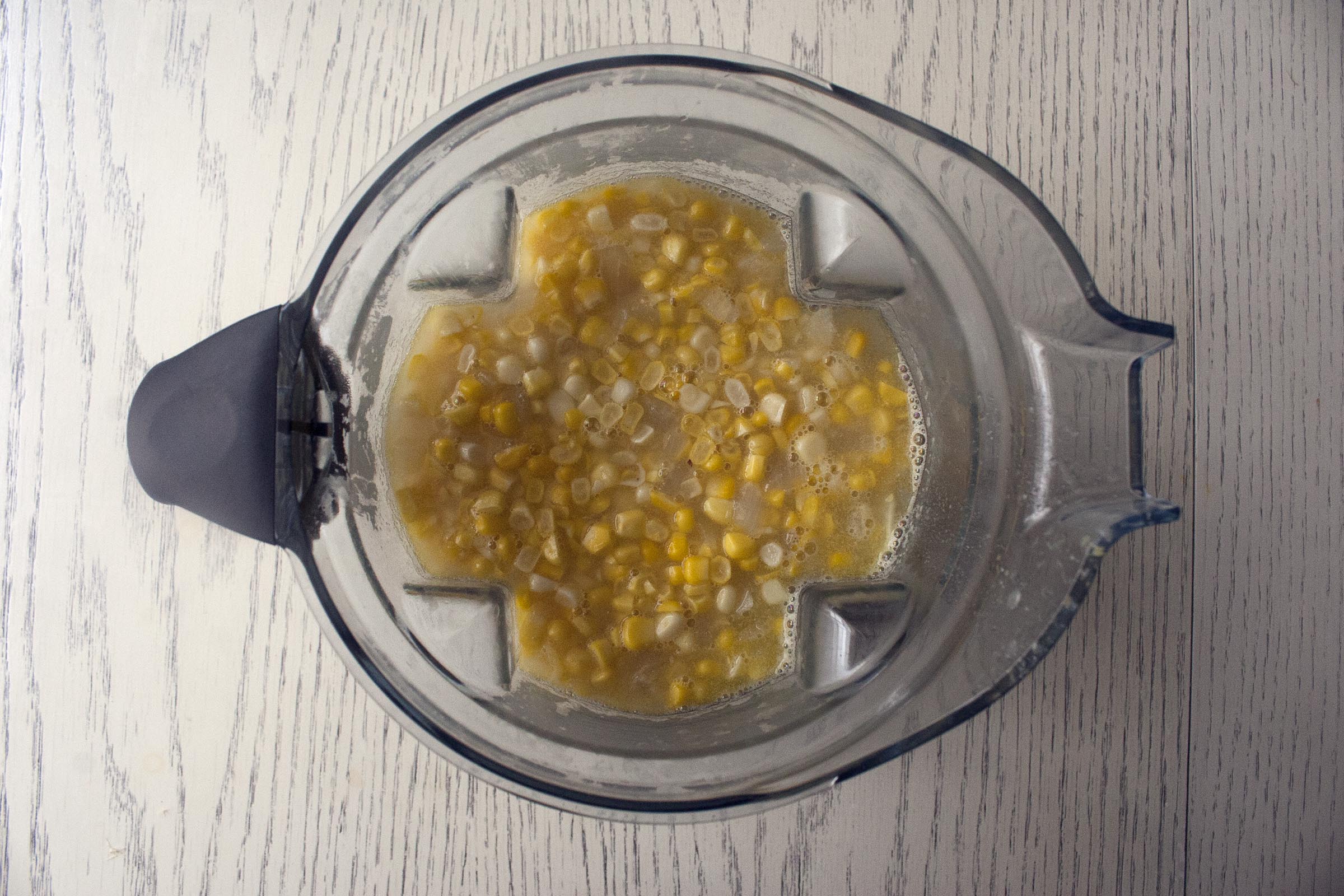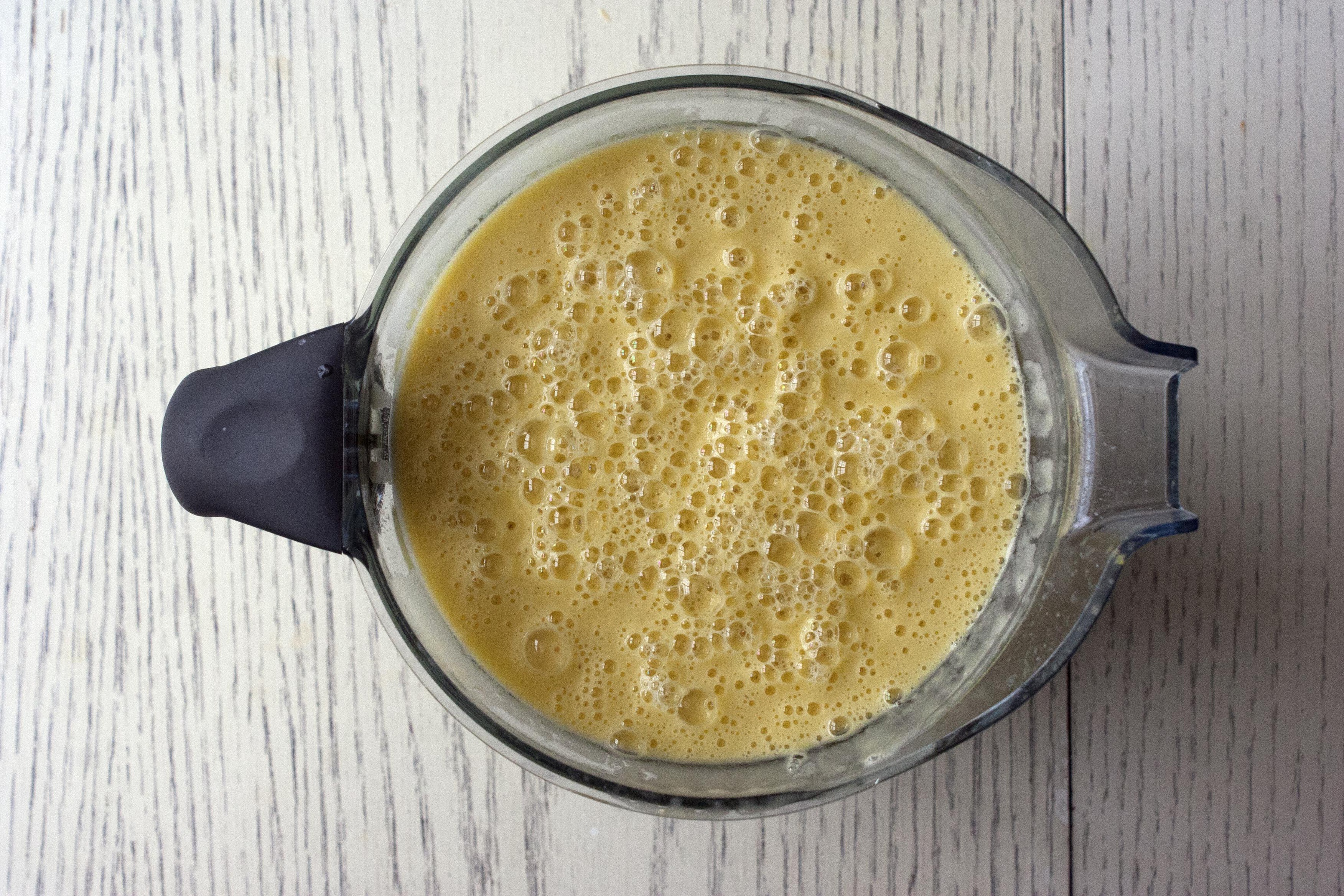 Once your cobs are bare, toss all of them into your biggest saucepot. Cover them with water and bring to a boil. Let the stock simmer as you saute onions, corn and the garlic in a bit of butter. When the stock is ready, add ladlefuls to the corn mixture to cover and simmer until tender. Then puree, and you have your soup. Really, that's it. Serve it hot (which is how I prefer it), or cold (which is definitely how Reeve prefers it and how we recently ate it on a very, very hot night).
If you are like me, and you're drawn to the pile of corn (and if you're not like me and don't have to fend off a curious octopus while grocery shopping), get yourself in there and start grabbing at the corn, with the best of them. This soup can be your reward for getting hit in the head once or twice with a rejected ear.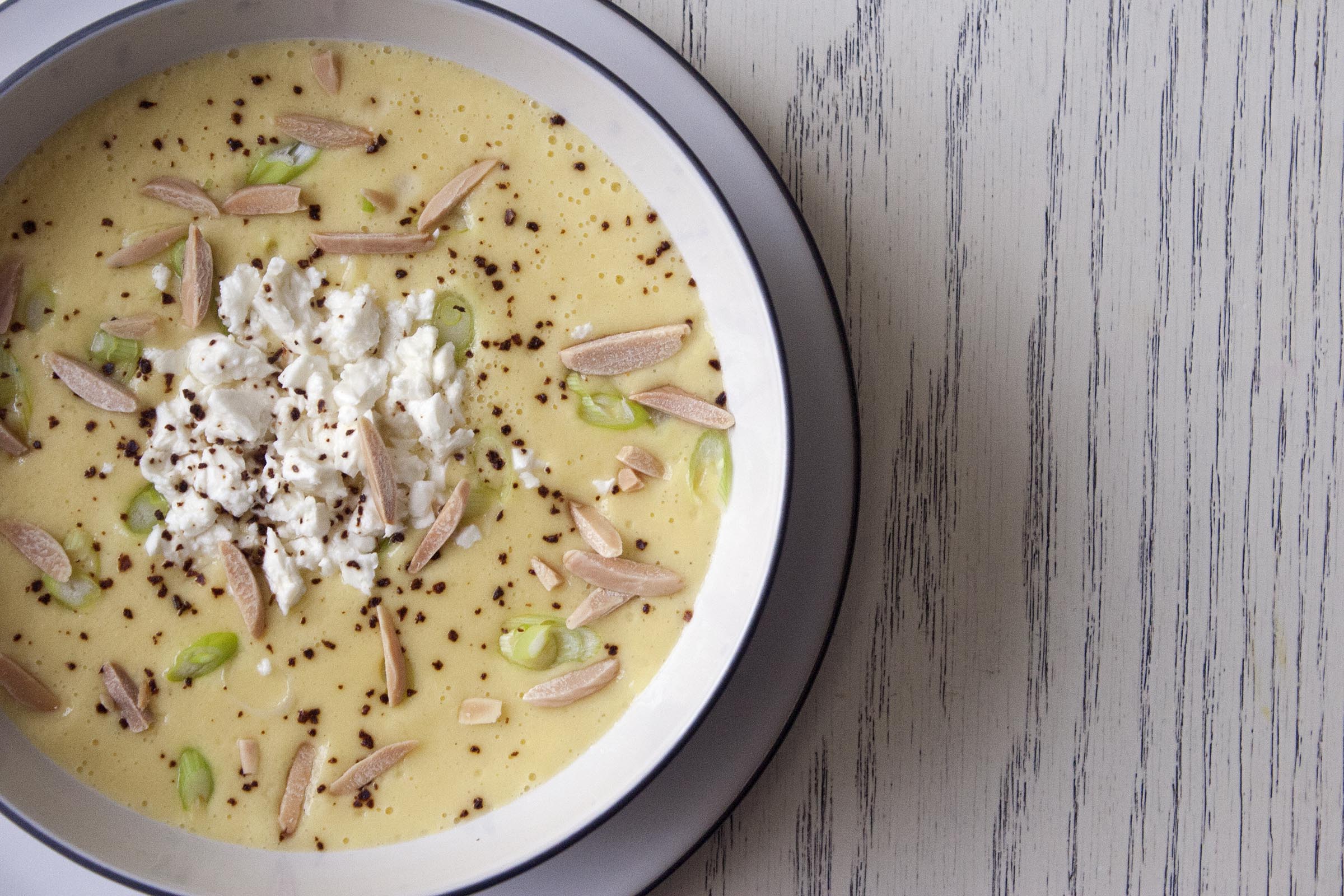 Creamy Corn Soup (Minus the Cream)
I know that people have a lot of fancy ways to cut corn off the cob (
a Bundt pan
for one), but I really think the easiest thing is to place an ear flat down on the board, and to cut the cobs off horizontally, rather than vertically. Yes, a couple pieces of corn end up on the floor, but really, when you're cutting corn, you'll always end up with some on the floor.
This makes a lot of corn stock and you only need 5-6 cups for the soup. Let the stock cool down and store in freezer safe bags, in the freezer. Use it for chowders, risottos, other soups or even, to cook grains.
I was able to fit the entirety of this soup in my Vitamix and blend in one shot, but it was probably a bit riskier than it should have been. I was right at that fill line. Also: remember that whenever you're blending hot liquids, you should let them cool slightly, do not fill too high, and make sure to hold the lid down forcefully with a dishtowel to prevent the pressure from the hot liquid pushing the lid off, burning you and making a mess of your kitchen.
What you'll need
10 ears corn (about 4 pounds)
1 large white onion, peeled
3 cloves garlic, peeled
1 tablespoon unsalted butter
1½ teaspoons kosher salt, divided
cracked black pepper
Toppings Toasted Slivered Almonds, Crumbled Feta Cheese, Aleppo Pepper Flakes and Sliced Scallions. Recommendation: reduce or eliminate the scallions if serving the soup cold.
How you'll make it
On large cutting board, using a sharp knife, cut kernels from the cob. Place cobs in a large sauce pot as you go; transfer kernels to a bowl.
Cover cobs with 2 inches cold water. Place saucepot over high heat; cover and bring to a boil. When the water comes to a boil, uncover and reduce heat to medium-low. The mixture should be at a simmer (you want to see small bubbles popping on the surfaces). Let simmer, uncovered, 45 minutes-1 hour, depending on how much time you have. Using a strainer or tongs, carefully remove the cobs or strain the soup. Discard cobs.
Meanwhile, chop onion and garlic (keep the two separate). In 8 quart sauce pot, melt butter over medium heat. Add onion, 1 teaspoon kosher salt and a couple grinds of black pepper. Cook 10-12 minutes, stirring occasionally, until the onions are completely tender and translucent, but not browned. Add corn kernels, garlic and remaining salt; stir to combine and cook 3 minutes, or until the garlic is fragrant.
When the stock is ready, add 5-6 cups to the pot with the corn (the corn should be covered by about ½-inch to 1-inch of stock, but no more). Bring to a boil; reduce heat to medium-low and simmer 20-30 minutes or until the corn is tender, but not mushy.
Turn off the heat; to blend with an immersion blender, go for it right in the pot. In a blender or high-powered blender, transfer mixture in batches, blending for at least 3 minutes, or until as creamy as possible. (See note, above.) If using a regular blender, you can strain the soup, if desired, but it will be a lot thinner. Repeat blending with remaining soup.
Taste for seasoning and adjust salt or pepper, if necessary. Enjoy hot, or cool completely transfer to the fridge and chill at least 2 hours, to serve cold. Top with toasted slivered almonds, crumbled feta, Aleppo pepper flakes and scallions.
How to plan ahead
• The corn can be cut off the cobs one day ahead of time. Store both the kernels and the cobs covered in the fridge.
• The stock can be made several days ahead of time and stored in the fridge, or up to three months ahead of time and stored in the freezer.
• The soup can be made ahead of time, cooled completely and chilled for up to four days.