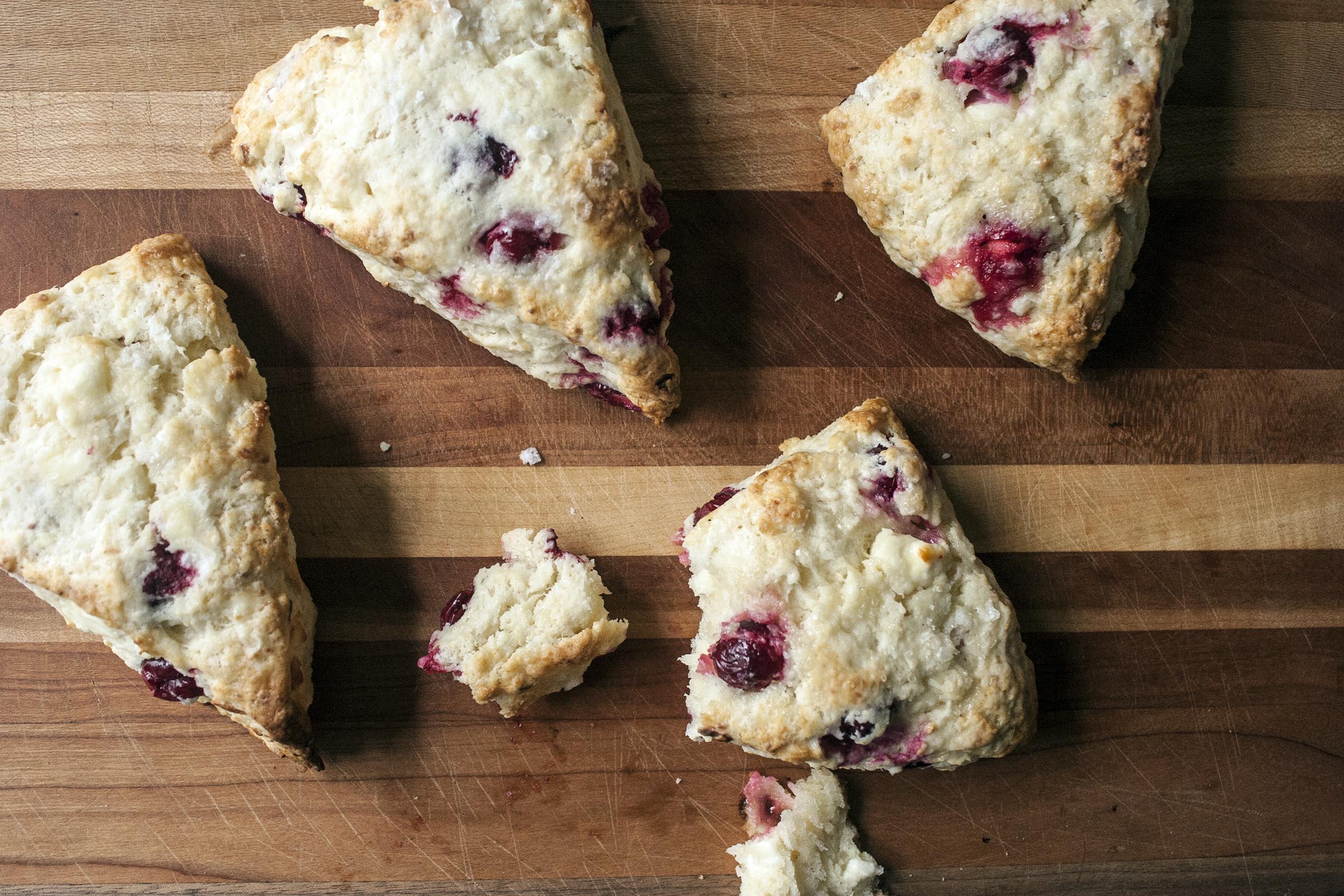 I have a babysitter once a week.
I feel incredibly lucky for our amazing babysitter, and for that one day. As I'm learning, life as a freelancer is weird and unpredictable. Some weeks, I'm not sure how it will be physically possible to get all of my work done between Reeve's daily nap, the girls' bedtime and my one day of help. Others, I stop short of begging for work. Either way, Reeve is a very opinionated, squirmy, on the move 19-month-old, so whether or not I have a ton of projects on my plate, I'm always grateful for the day. That is my day to cram in as much as I can between 9am-3:45pm: mostly work, but sometimes doctor's appointments, quickly running into the store to pick up a prescription, and sometimes, if I'm lucky, a leisurely cup of coffee that I can drink while hot.
Recently, on the way to deal with my eyebrows (once I brought Reeve with me, when she was 12-weeks-old and I prayed that she would sleep. She didn't. And, never again), I realized that I had a few minutes beforehand, to pick up coffee. There is something so freeing about parking the car, unbuckling your seatbelt and just walking into a store, unencumbered. So, I ordered my coffee (usually leaning toward Black & Tan these days), paid and waited.
When I worked full-time, I had a lot of time by myself (not to myself, mind you), and didn't appreciate the moments of just talking with people, drinking coffee and looking around because, you can look around. I didn't realize that when you're with your baby all the time, every moment is spent amusing them, singing to them, talking to them, keeping their shoes/hat/socks on. You're on — always.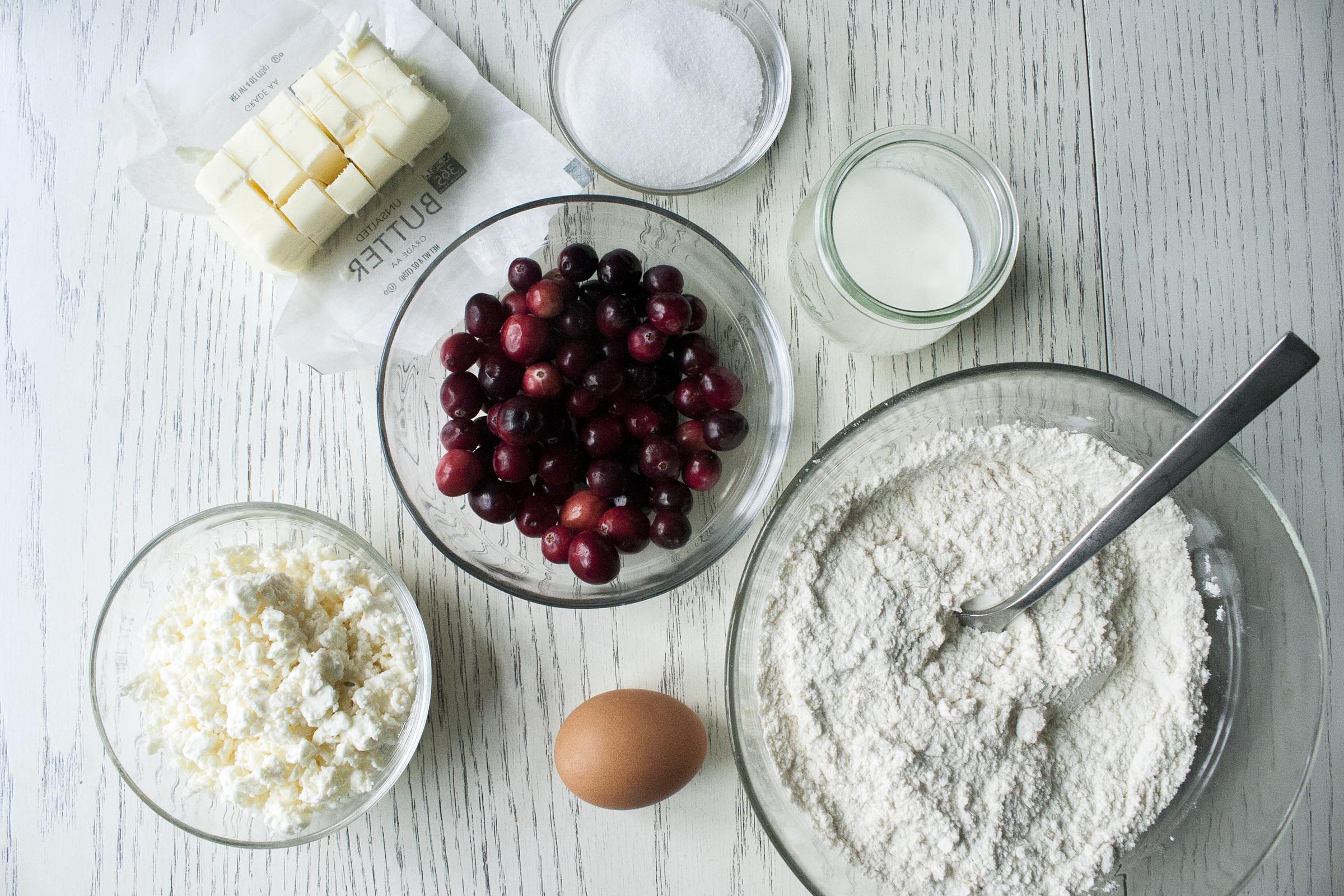 Standing there, at the counter, just able to be for a minute, I casually read the menu for Thanksgiving pies and checked out the homemade pastries — perfectly circular and tall cinnamon buns, crumbly topped peanut butter and jelly bars and mini quiches — in the case. As I was handed my coffee, I noticed another item: feta and cranberry biscuits. I thought about those biscuits as I stirred my almond milk into my cup, walked back to the car and drove to my next stop. Those biscuits were still my head the next day, and even the day after, when I had more than enough things I should have been thinking about.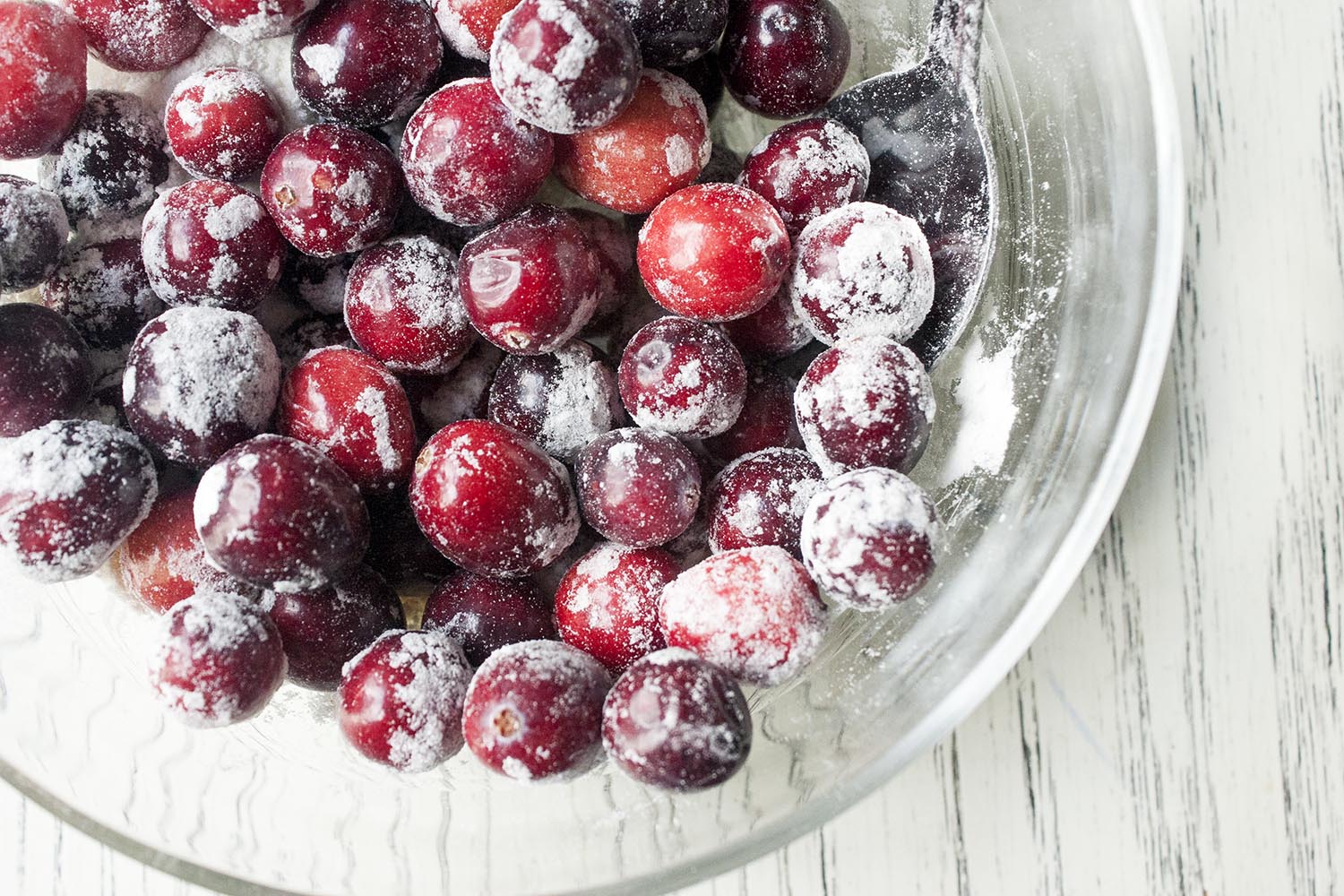 The strange part of my biscuit fascination is this: I've never been crazy about cranberry things. But, this week, I had a cranberry epiphany. It's not the cranberries that are the problem. It's what people usually choose to do with them: dry 'em and turn them into craisins, or pair with them orange, which has never been one of my favorite combinations. But, I love cranberry sauce. And, I vaguely remember a cinnamon cranberry quick bread from my past.
I'm not sure if the cranberries in Booskerdoo's biscuits are dried or fresh, however I became fixated on the idea of creating something at home, using fresh. 'Tis the season, right? But, I needed to be realistic. When it comes to biscuits, I am the ultimate northerner (a descriptor that I never otherwise use to classify myself). I can make an OK biscuit, but you don't come to an (atypical, but still) Jersey girl to get a biscuit.
What I can make, are scones.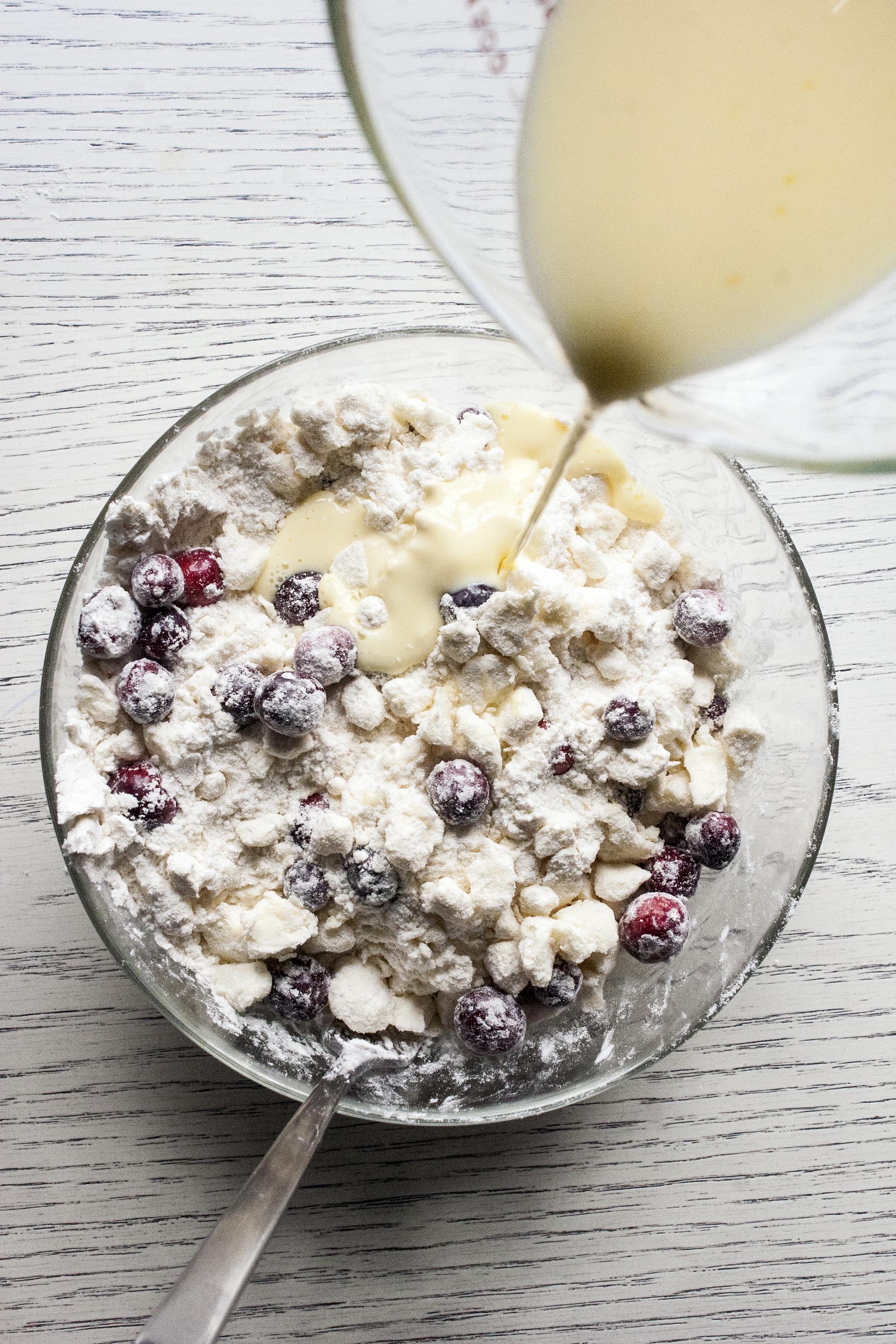 Scones, I think, get a bad rep. They're often found at not-so-great bakeries, where they are kept in the case for a few days, or eaten a day or two after they're made. So often, scones are said to be dry and hard, but really, they can and should be soft and tender on the inside, just crusty on the outside.
There are a few tricks to get them this way: cold, cold butter (and milk and an egg, too), a light hand when stirring, and the one that makes the biggest difference, I think, baking them just before they're meant to be enjoyed. To emphasize, baked just before, not made just before.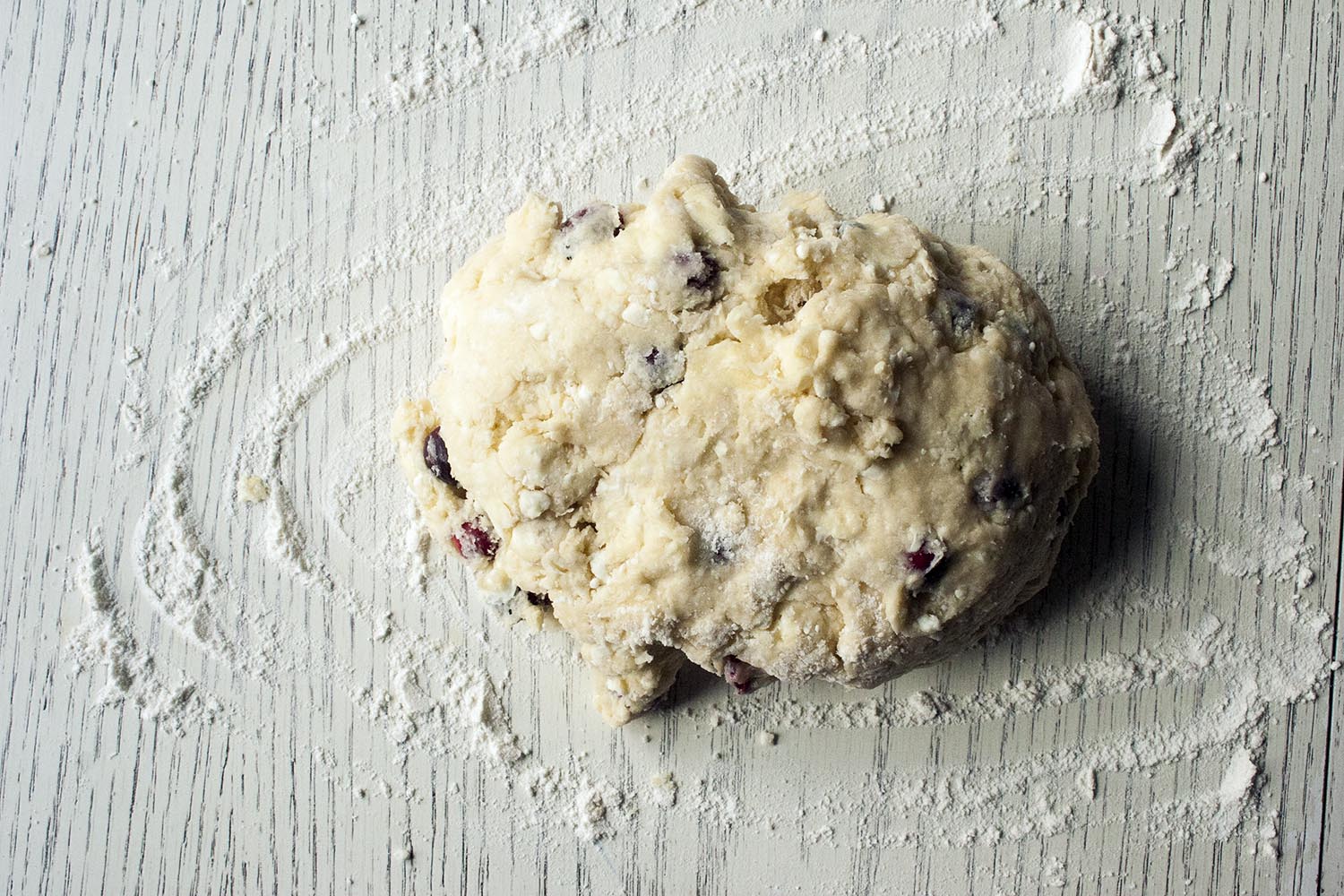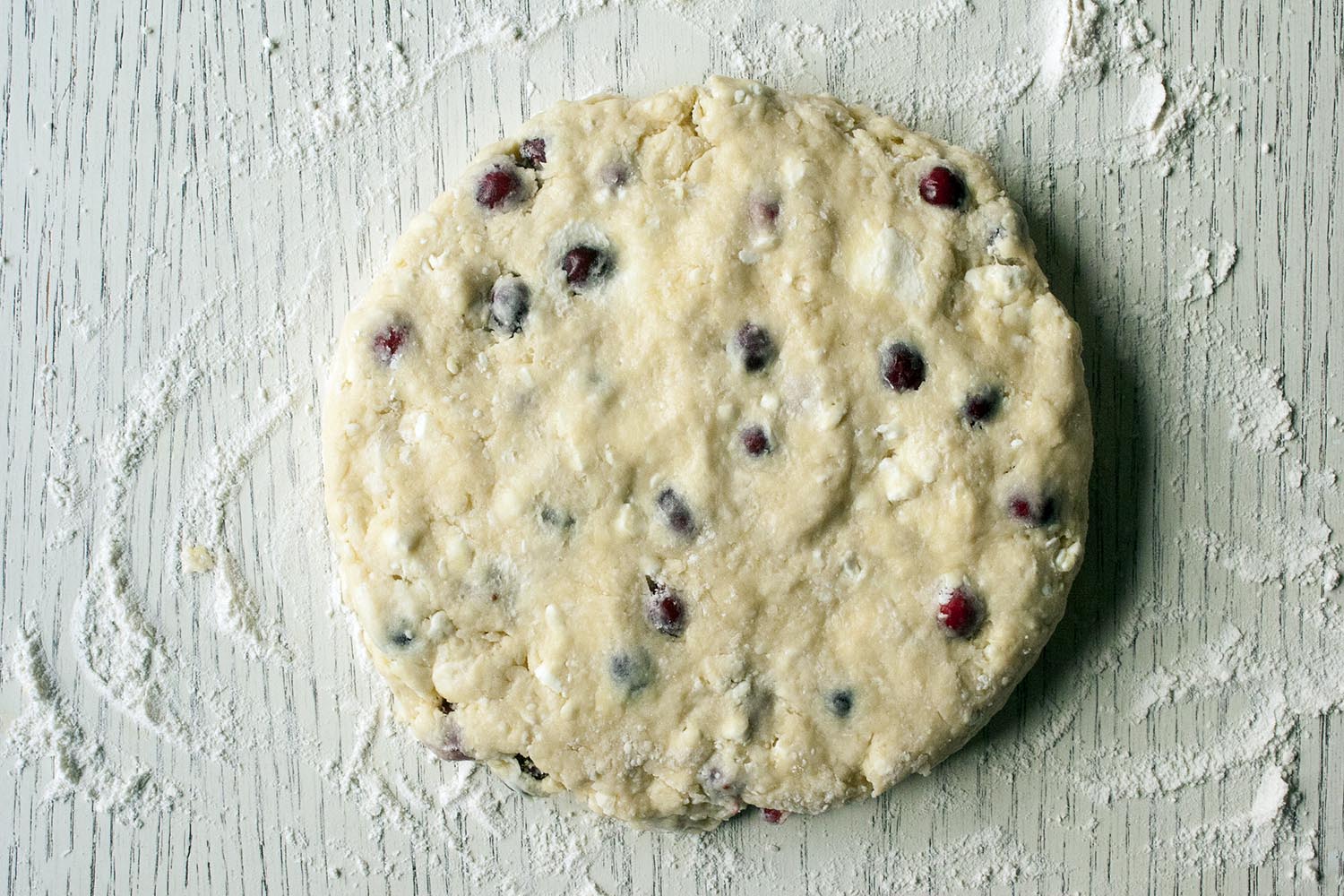 I'm pretty sure the last time I made scones, from flour to warm baked good, in the course of one session, was in culinary school. It is not because they're hard to make, or because they take a long time. It's because they can be blended, shaped, frozen and baked so easily. And, since they are best freshly out of the oven, and often served in the morning, assembling and freezing has always made the most sense to me.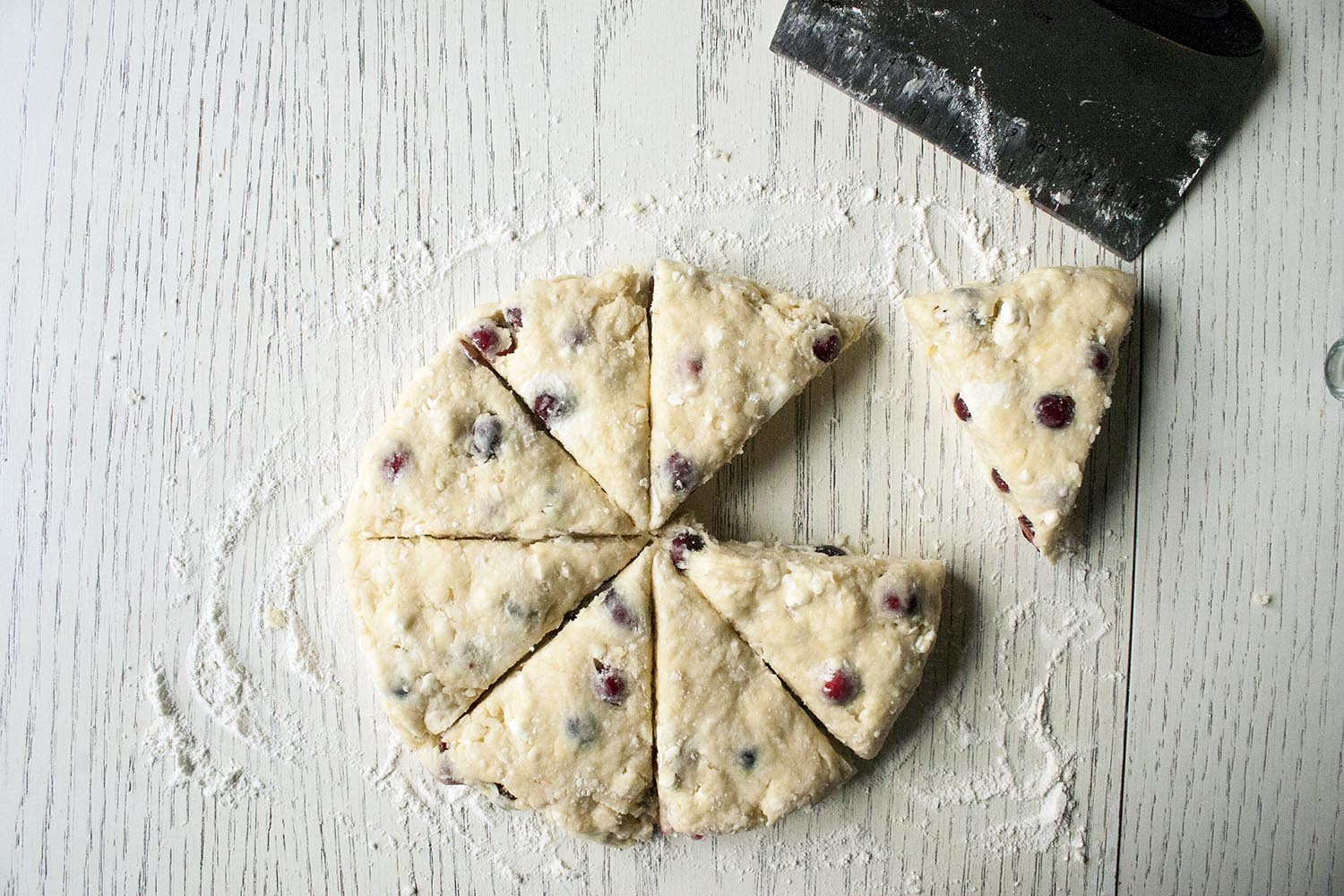 I mention this in the recipe, but scones can absolutely be mixed, formed and baked. Still, if you have the time, giving them a bit of a stay in the fridge or freezer first, will always help your cause: the bits of butter return to cold, helping to create steam in the oven, which results in tender, flaky centers.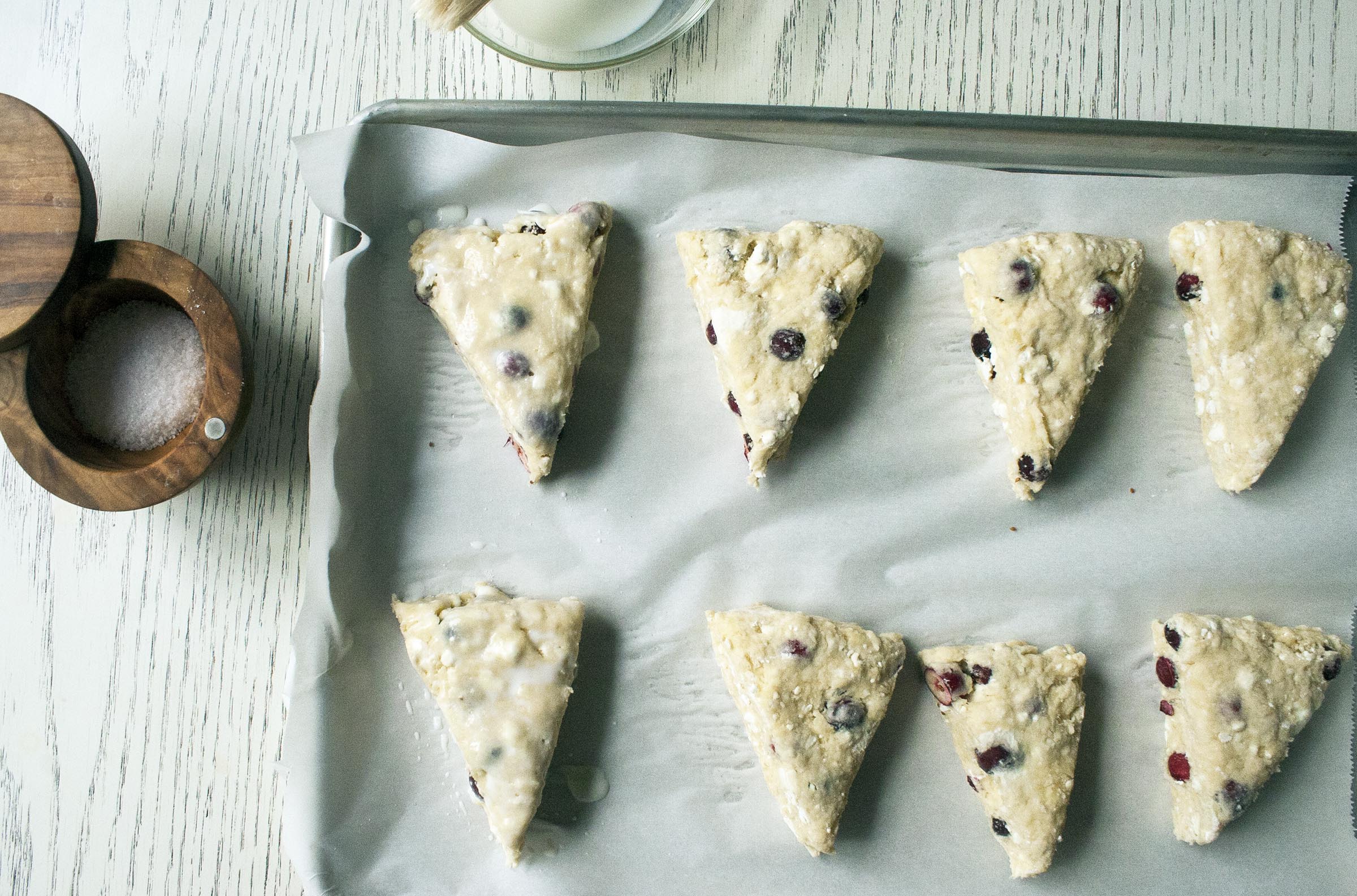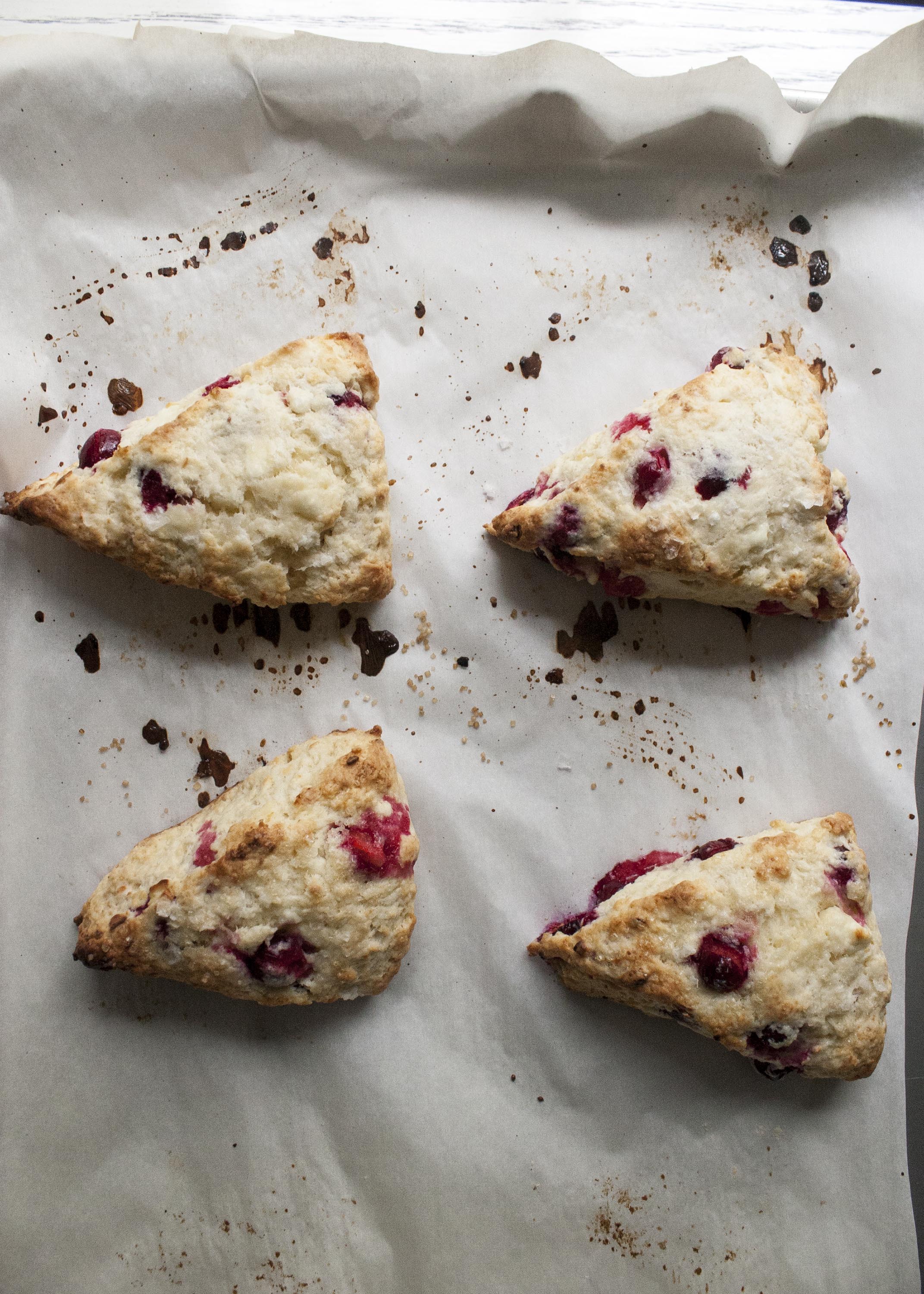 I don't know how these cranberry feta scones — buttery, tender, lightly laced with salty cheese, barely sweet and bursting with unapologetic pops of super tart cranberries — compare to Booskerdoo's biscuits. Really, If I can be honest, I'm not really sure why I didn't buy one of their biscuits while I was there. Probably, it's because my fixation with the cranberry-feta combination didn't accelerate until after I had walked outside into the cold sun, weather that I knew was mine to enjoy, alone. But, also it's because, buying a pastry is not a move I usually make. In those by myself moments, I really crave only two indulgences: a good, hot cup of coffee and endless silence.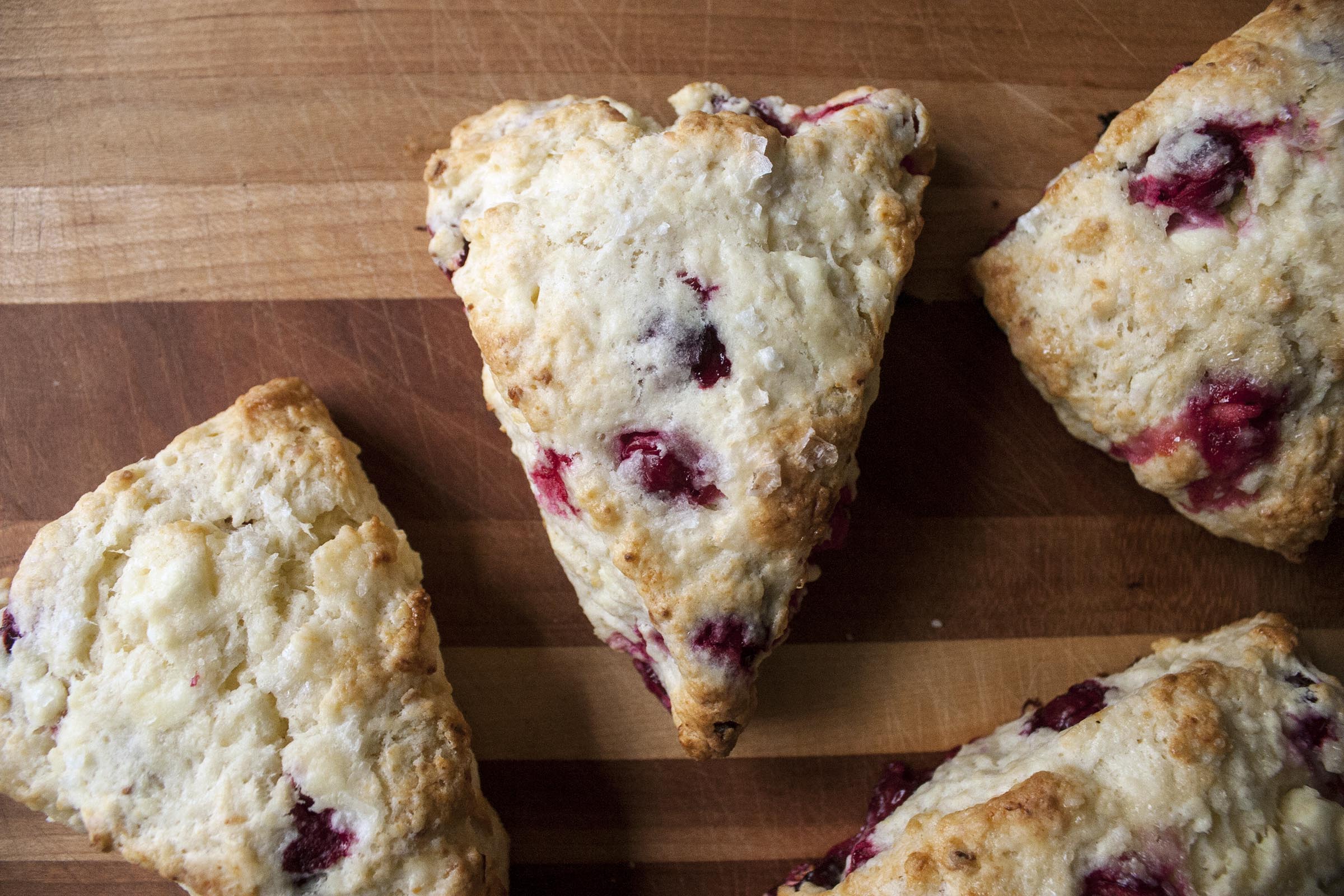 (Fresh) Cranberry Feta Scones
These scones are purposely not very sweet, and are in fact, truly cranberry: very tart. I should mention though that in spite of this, both girls ate their sample pieces with zero issues. That's part of the reason that I only included one cup of cranberries in the recipe — I wanted to give them a good buttery cushion for a contrast of flavors. The sprinkle of turbinado sugar at the end helps, but if you're worried the tartness will be too much for you, you can increase the amount of granulated sugar within the recipe.

These are large bakery-style scones. For smaller scones, to sit amongst other baked goods on a buffet, or to be a part of a brunch spread, form the dough into two smaller rounds (still one inch high) and cut each round into six triangles. Start checking these in the oven at about the 14 minute mark.
What you'll need
½ cup unsalted butter (1 stick)
⅓ cup whole milk, plus more for brushing (about ¼ cup)
1 large egg
2 cups all-purpose flour (240 grams)
¼ cup granulated sugar, divided (56 grams)
1 tablespoon baking powder (12 grams)
¾ teaspoons granulated salt
1 cup fresh cranberries (3.5 ounces), washed and dried
1 cup crumbled feta cheese (5 ounces)
Flaky salt and turbinado sugar, for sprinkling
How you'll make it
Using sharp knife, cube butter into ½-inch squares. Place butter back in the fridge, until needed.
In liquid measuring cup, whisk together ⅓ cup milk and egg. Place measuring cup back in the fridge, until needed.
In large bowl, use a fork to combine flour, baking powder, salt and 3 tablespoons sugar.
In small bowl, add remaining sugar, and one tablespoon flour mixture, to cranberries; toss to coat.
Add cold butter to flour and use your fingertips to coat the butter with flour and break the butter into small pieces, mostly the size of peas, but some will be a bit larger and some will be a bit smaller. Mix in cranberry mixture and feta cheese.
Add milk mixture to flour mixture; stir with a fork, just until combined. Alternatively, start with the fork and use your hands to completely combine. Mix just until the flour disappears—make sure not to overmix.
On a lightly floured surface, gently pat dough into a one-inch high round. Try not to touch the mixture too much, but if you do feel like your edges are looking a bit crumbly, give them a little extra attention.
Using a bench scraper or a sharp knife, quarter dough round; half each quarter, to get 8 large triangles. Transfer scones to a parchment lined baking sheet, using the bench scraper, if necessary, to remove them from the counter, several inches apart.
To bake at a later date: freeze scones two hours. Transfer to a freezer safe bag and freeze up to three months.
To bake the same day: you can bake scones right away. But, if I have any time at all, I prefer to put them in the freezer, or the very least, the fridge for 30 minutes-1 hour, to help chill everything one final time.
When ready to bake:
Heat oven to 400°F, with the rack in the center of the oven. Brush top and all sides of scones with milk; sprinkle very lightly with flaky salt and with a more generous hand, with the turbinado sugar. Bake 18-22 minutes, or until the scones are just golden around the edges and a touch on top. Let sit for a few minutes to firm up; transfer to a cooling rack.
Scones are at their best once they cool down to warm, but are still delicious, for several hours, up until the day they're made. The next day, they'll be passable: a bit dryer and no longer crisp on the outside. You can reheat them gently in a 300°F oven, just until warm.
How to plan ahead
• Cut the butter up to one day ahead of time. If storing the cut butter for longer than it takes to prepare the rest of the recipe, store in a covered container to ensure that the butter does not pick up other scents and flavors from the fridge.
• The flour mixture can be stirred together days ahead of time.
• The entire scone mixture can be assembled, cut and frozen up to three months ahead of time.