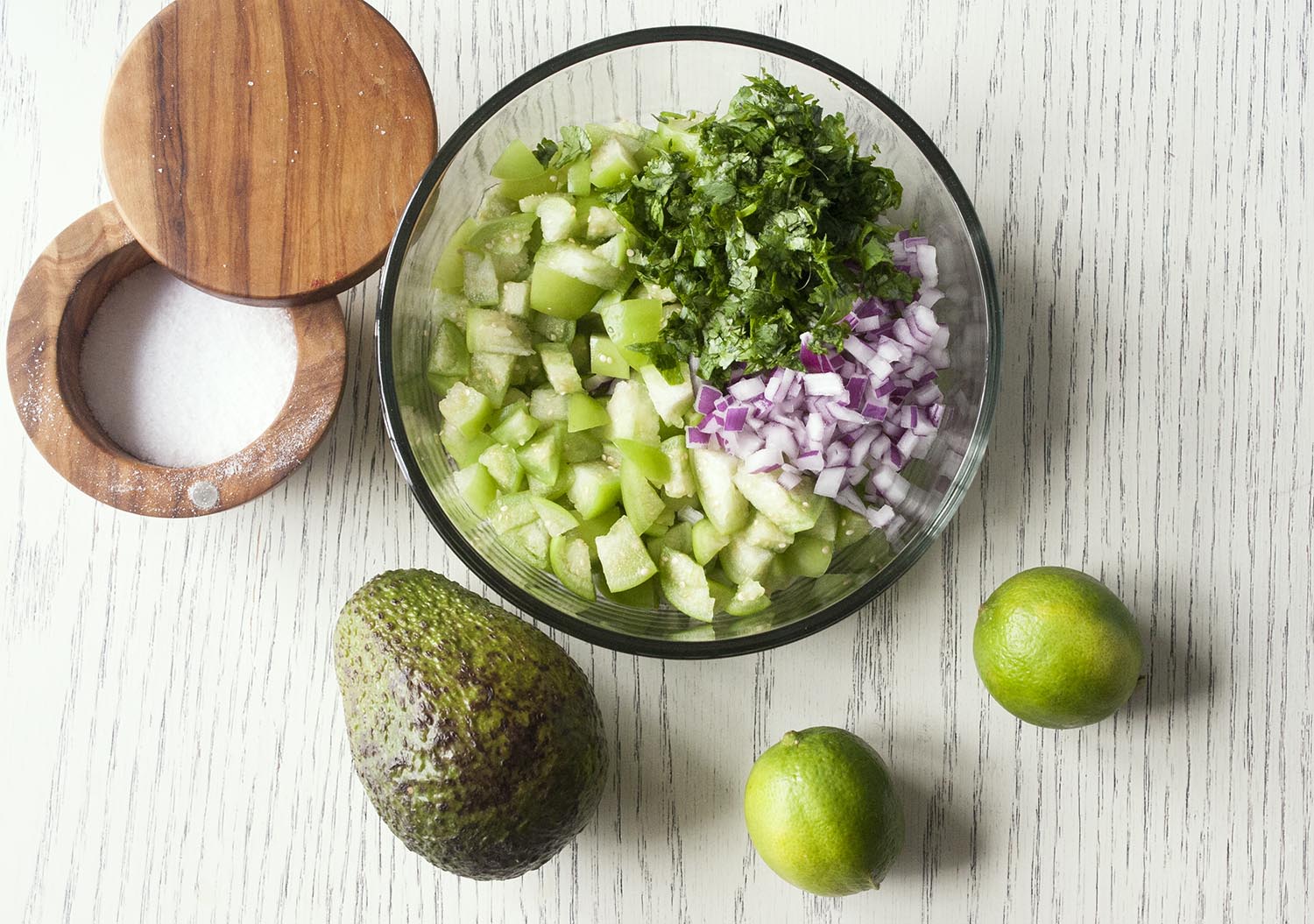 The girls constantly surprise me with what they will and won't eat.
A small (in no way complete) list:
Shrimp, lox and tuna? Yes.
Broccoli, asparagus and cauliflower? Yes.
Tofu, anchovies and aleppo pepper flakes? Yes.
Feta cheese, omelets with seaweed and pickle-flavored almonds? Yes.
Pickles and olives? Yes.
Easton
Really good (store-bought) frozen black bean burgers? No.
Raw kale with dressing? No. (But charred kale with dressing? Yes.)
Sour cream? No.
Marshmallows and hot chocolate? No.
Reeve
Avocado and raw tomatoes? No.
Warm corn and zucchini soup? No (The same soups cold? Yes.)
Hard-cooked eggs? No.
The same turkey kielbasa, pasta, rice and beans or stir fry she ate the night before? No.
***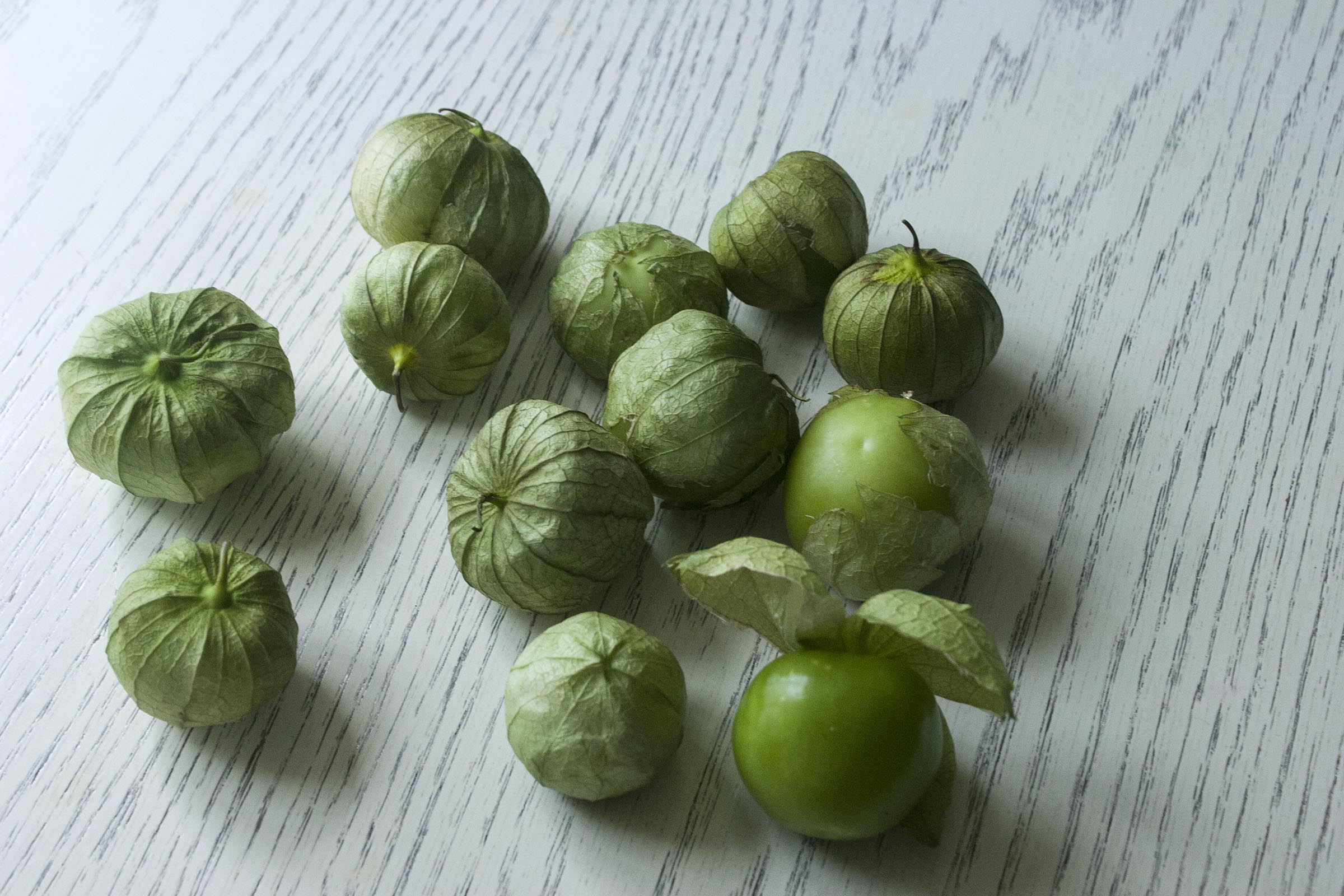 When I spotted fresh tomatillos at the store (they've been surprisingly hard to find), I had two ideas: these green marys that had been floating around in the back of my mind for a while, and a fresh salsa: no cooking, no pureeing, just chopping and mixing. I've mentioned before that I love tomatillos — I'll always opt for the green sauce when it's offered, I love green pozole and will reach first for the green salsa with my chips when its set on the table next to a bowl of red. But in these applications, the tomatillos are usually cooked.
I've been thinking a lot about food that's fresh and cool, probably because it's summer and it's so hot and I'm hesitant to turn on my oven. But, also because it seems to be what I'm craving lately. When I saw the tomatillos, I knew that I wanted them just as they were: cool, juicy, bright and tart. And, I wanted to make sure not to dull their flavor by cooking them, or by combining them with ingredients that were too heavy.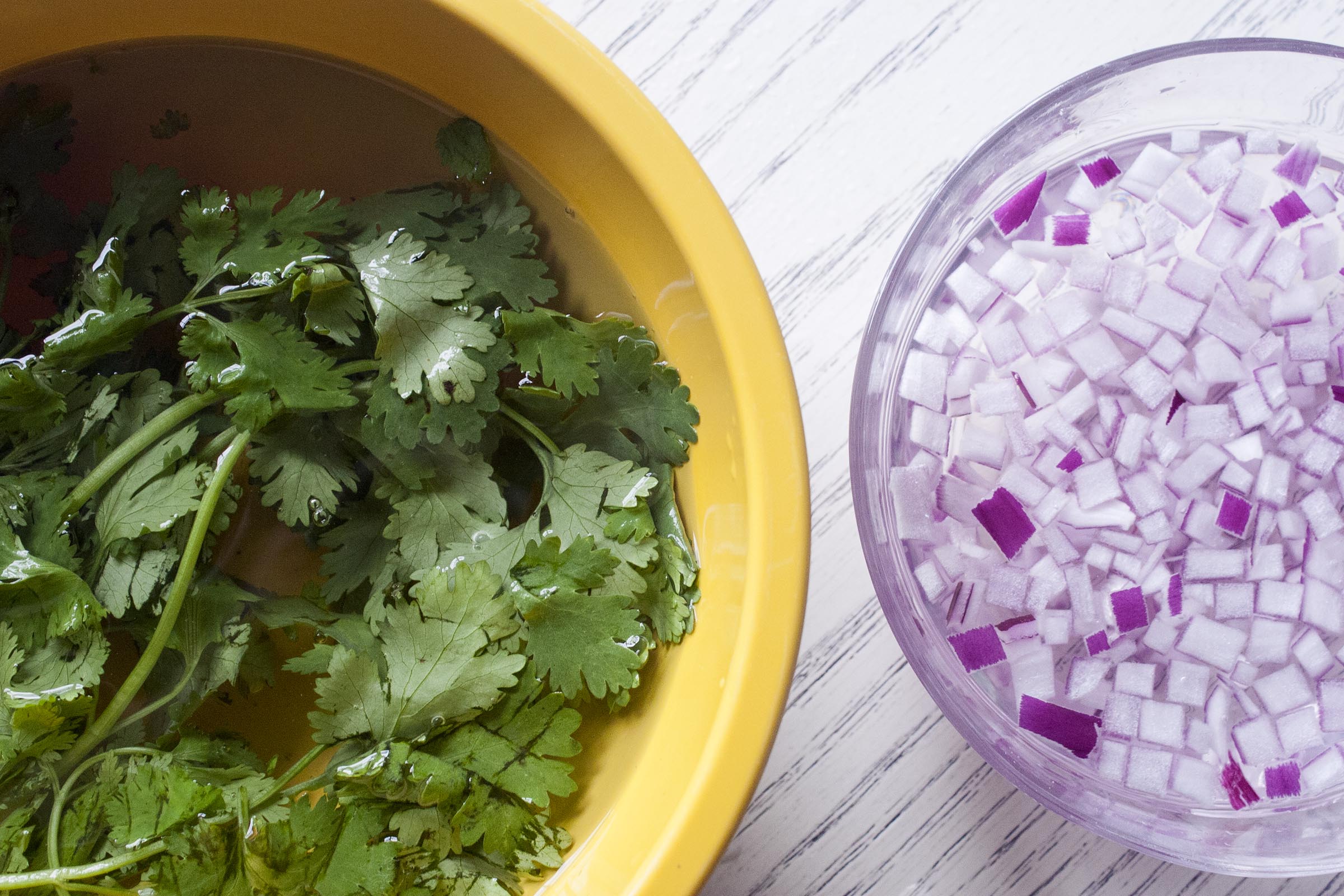 As I soaked the red onions and cilantro, and inspected the tomatillos for lingering stickiness, I considered the different directions our night could go: two girls hating the food put in front of them, one girl objecting (and in the little one's case, angrily swiping the salsa from the tray of her high chair) or both of them kind of dealing. They eat a lot of things, but this? This is all bright flavor, all texture, all green stuff.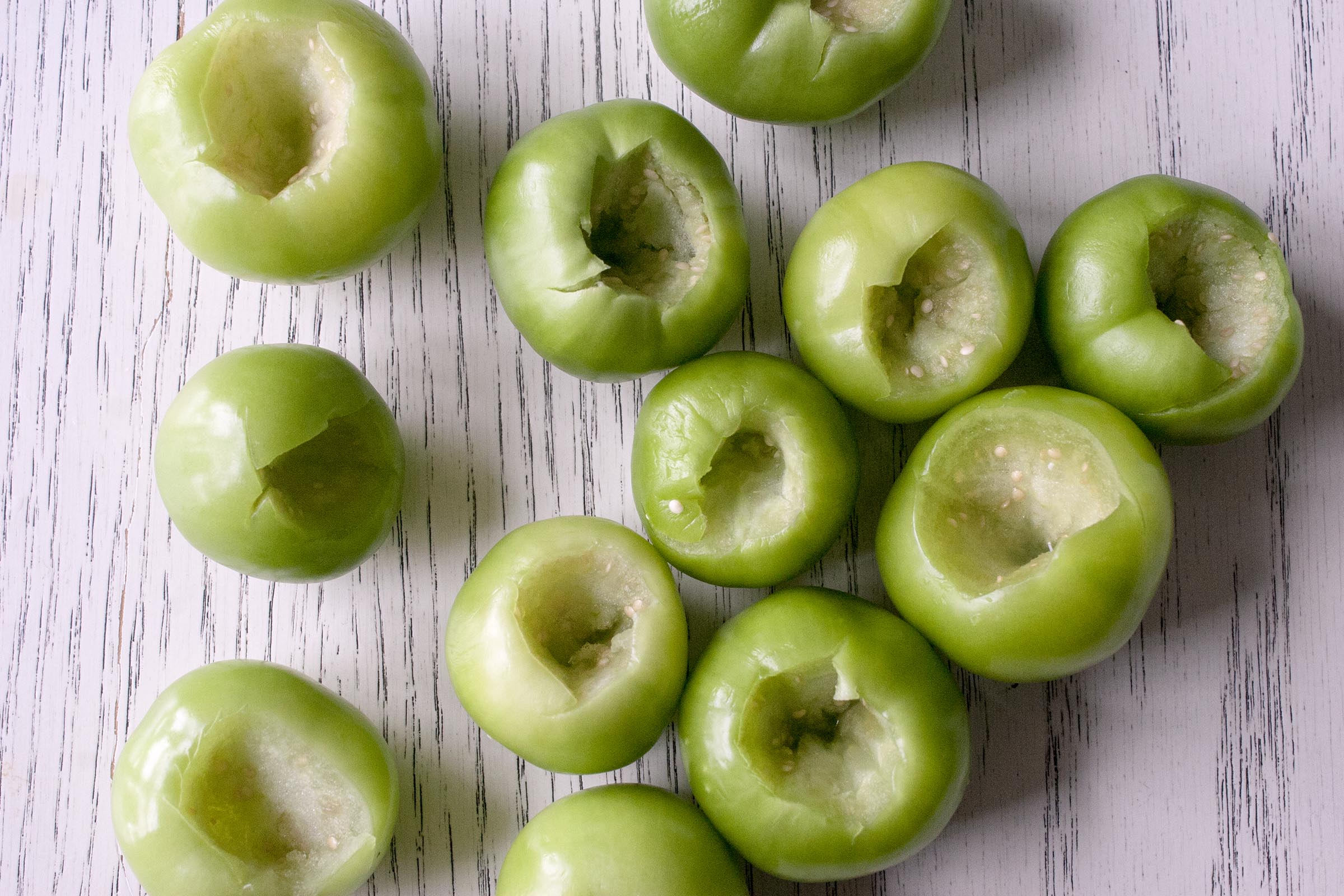 The more I thought about it, the more I decided that this salsa, originally intended to be the base of a yet to be determined dinner, would be a component. We had feta in the fridge, a package of tortillas and a can of black beans — I knew Easton would eat all of those, Reeve would eat the tortillas and feta (she's moody about black beans) and Larry and I would be happy using the late additions as taco garnishes.
That night, as I stirred everything together, Easton begging to help squeeze the limes (I don't even have any cuts on my fingers, Mommy!) and Reeve hugging my legs, I offered them both a bite. Reeve started banging her fists together (her interpretation of the sign for "more") and Easton nodded her head in approval. I was surprised, but have lived enough years with kids enough to know it could be first bite luck. In went the salt, a tiny bit more lime and avocado (Reeve's earliest enemy). They each sampled one more piece of salsa and then, I had to hide the bowl until the table was set.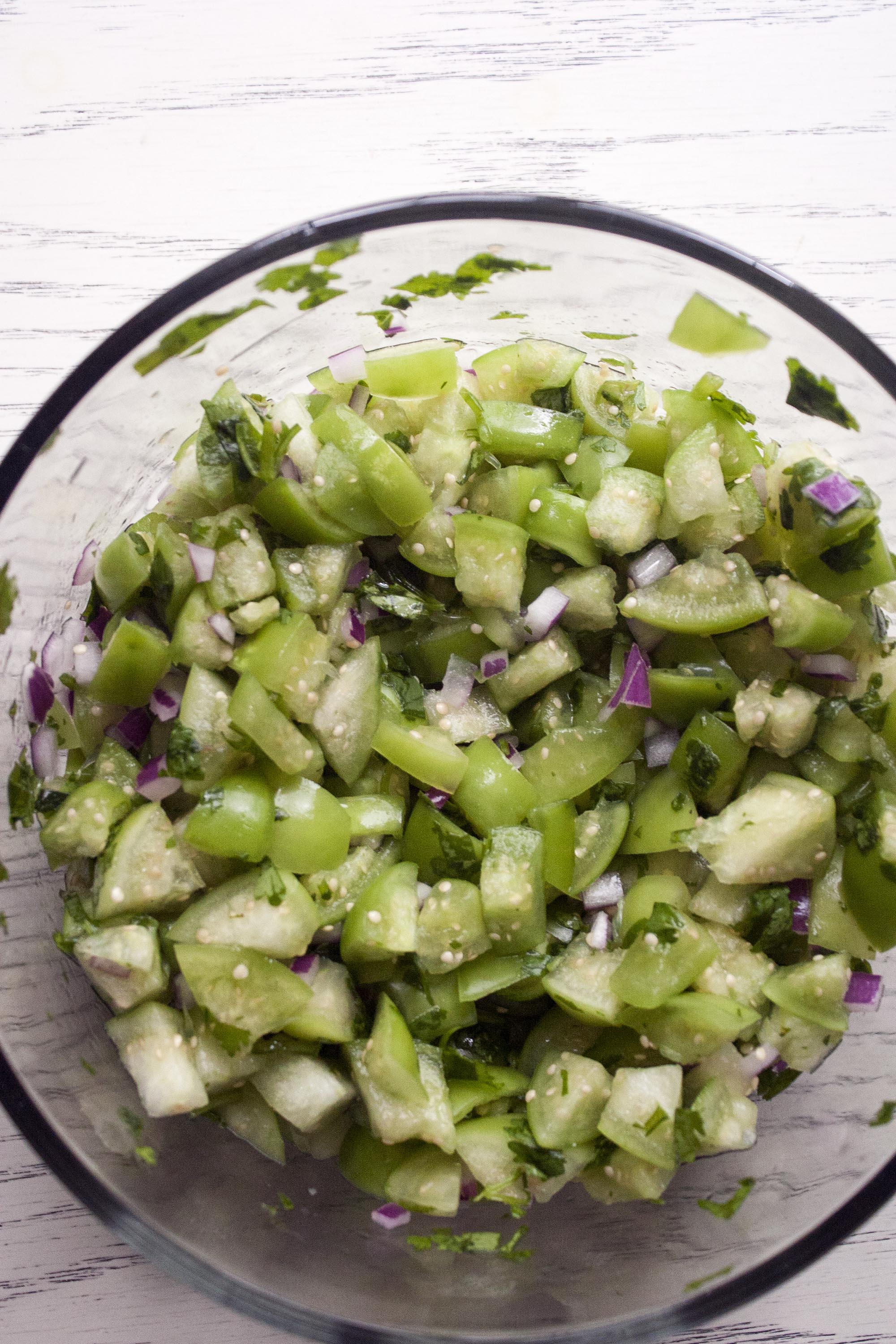 We sat down: warm tortillas, quickly sautéd black beans with corn and red onion, crumbled feta and hot sauce for the older two people at the table. Some of us made tacos. Some of us piled everything into a bowl. Reeve systematically tore her tortilla into tiny bites and then proceeded to push them into her mouth way too quickly. As usual, the beans and the feta were in the kitchen, out of eyesight from the dining room in which we eat (portion control). But the salsa. I put that on the table along with a spoon. And, somehow, during one meal, our family – two adults and two children under five – ate all but about 1/2 cup of that tomatillo & avocado salsa.
I don't want to point fingers, but some people may have lost a little bit of self control around that tomatillo & avocado salsa. Some tiny, unpredictable, big-flavor loving people. (One of whom – don't worry – still managed to skillfully avoid any piece of avocado that landed on her tray.)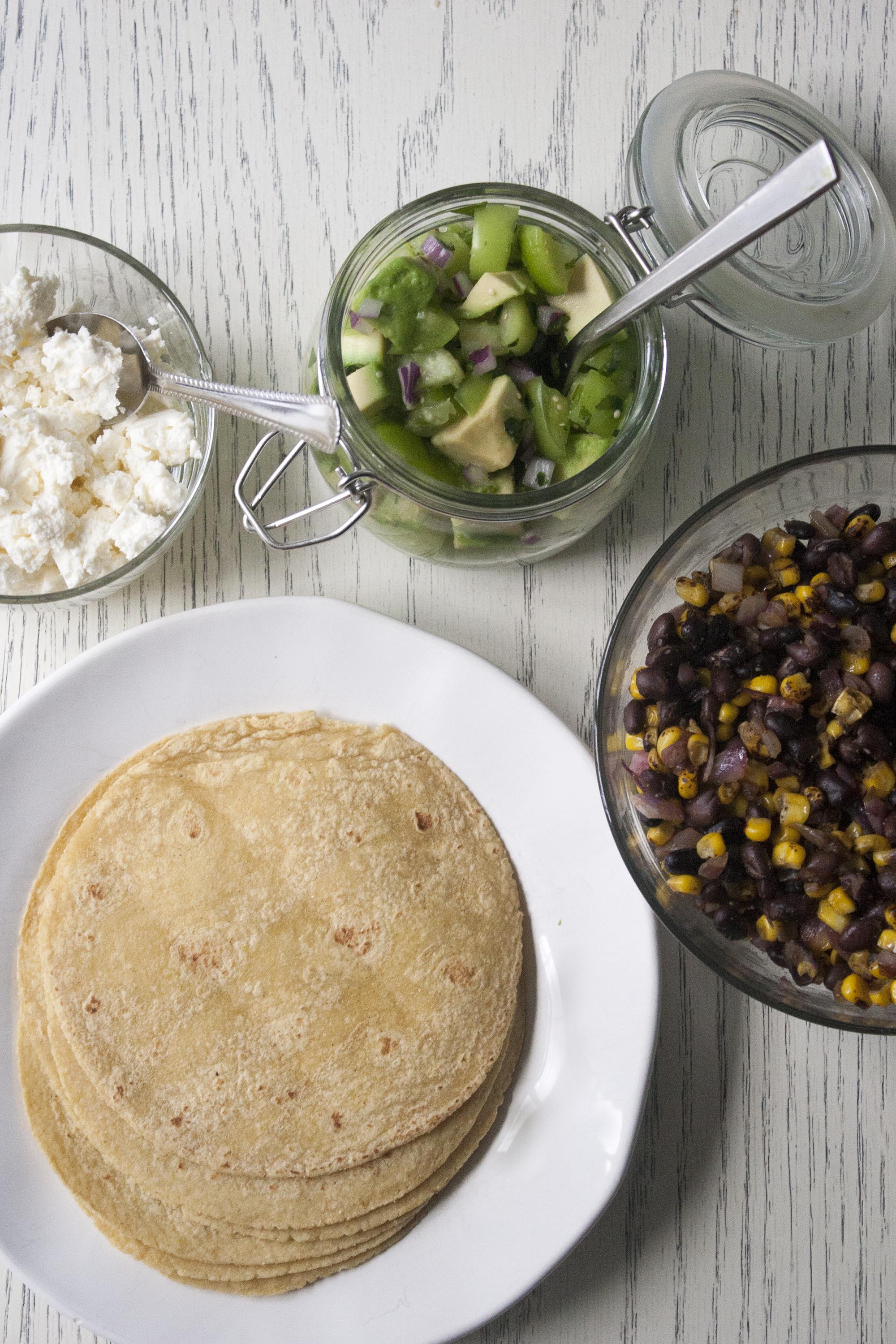 Fresh Tomatillo & Avocado Salsa
I like to soak both raw onions and cilantro before using, for two different reasons. Cold water and a pinch of salt help to eliminate a bit of the sharp, rawness that raw onions can bring to a dish. As for cilantro, the only way I've found to fully eliminate the grit is to soak them whole before drying and using.

This salsa is made with a very small amount of red onion — just enough to add a bit of flavor, but it shouldn't overwhelm everything else. If you prefer a lot more onion, there is no harm in upping the amount.

If you don't think you'll make it through the entire batch in one sitting, I recommend only adding avocado to the amount you plan to use and save the rest for the remainder of the salsa.

We ate these in tacos. It's the perfect salsa to eat with a thick tortilla chip and would be really great in a salad with chilled shrimp. I ate the leftovers the next day, tossed with a can of tuna and there have been many days since that I've remembered that lunch, wishing that that's what I was eating.
What you'll need
¼ small red onion, peeled and cut into ¼-inch dice
1 handful of cilantro sprigs
1 pound fresh tomatillos
1-2 large juicy limes
1 teaspoon kosher salt
¼ teaspoon finely ground black pepper
1 ripe Haas avocado
How you'll make it
Place chopped red onion in one small bowl. Sprinkle with a big pinch of kosher salt. Fill bowl with cold water and swish around. Let sit 20 minutes. Drain water. If you have time, repeat process. Pat onions dry with a paper towel.
Meanwhile, rinse cilantro. Place cilantro in a mixing bowl. Cover with cold water. Swish around. Let sit a minute or two; swish again. Drain water. Repeat process until there is no longer dirt or grit in the bowl (usually this only takes two to three soaks). Dry cilantro; chop leaves and stems.
While the onions and cilantro are soaking, peel husks from tomatillos. Run each tomatillo under cold water until no longer sticky; dry well. Using a small paring knife, remove cores. Discard cores. Using sharp chefs knife, cut tomatillos into ¾-inch pieces.
In bowl, combine tomatillos, onions and cilantro. Add the juice of one lime, salt and pepper; stir to combine. Taste and adjust, adding more lime, salt or pepper, if necessary. Remember you'll be adding the avocado so if it seems a bit too limey or salty at this point, it's OK. Halve avocado; carefully remove pit. Score avocado to cut cubes; gently remove from skin using spoon. Add avocado cubes to tomatillo mixture and stir gently to combine. Taste and adjust seasonings again, if necessary.
How to plan ahead
• The tomatillos can be peeled, rinsed and stored, uncored in the fridge for one day.
• The tomatillos, red onion and cilantro can be combined 6 hours ahead of time.
• The salsa lasts 3-4 days, but the texture of the tomatillos changes and the juiciness increases overnight. It's still good, just different.