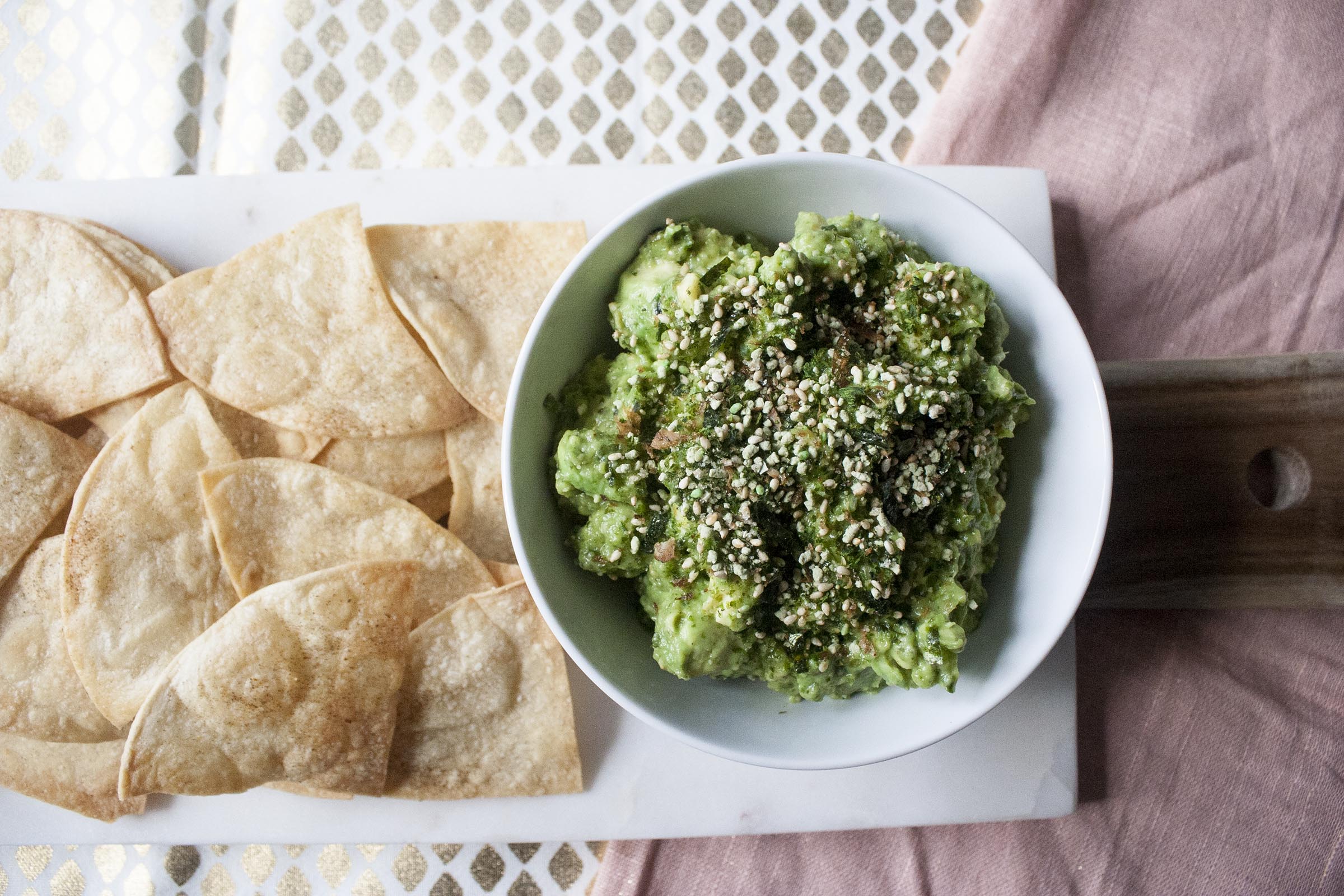 You may think that two furikake recipes in one year is overkill. Personally, I think it's a serious deficit.
Trust me. I'm aware that the foods that top my list of favorites — chicken liver, salmon roe, canned and fresh sardines, really intense cheeses — are easily found on other people's, not-in-a-million-years lists. So, I know that it's tempting to disregard my eagerness to sprinkle furikake, often a mix of sesame seeds, bonito flakes, dried fish or shrimp, dried eggs and spices, over everything. But, believe me when I say, this stuff is magic. And, if you're a fan of Japanese flavors, furikake, so full of salty-sweet umami, will easily find a place in your heart (and in your bowl).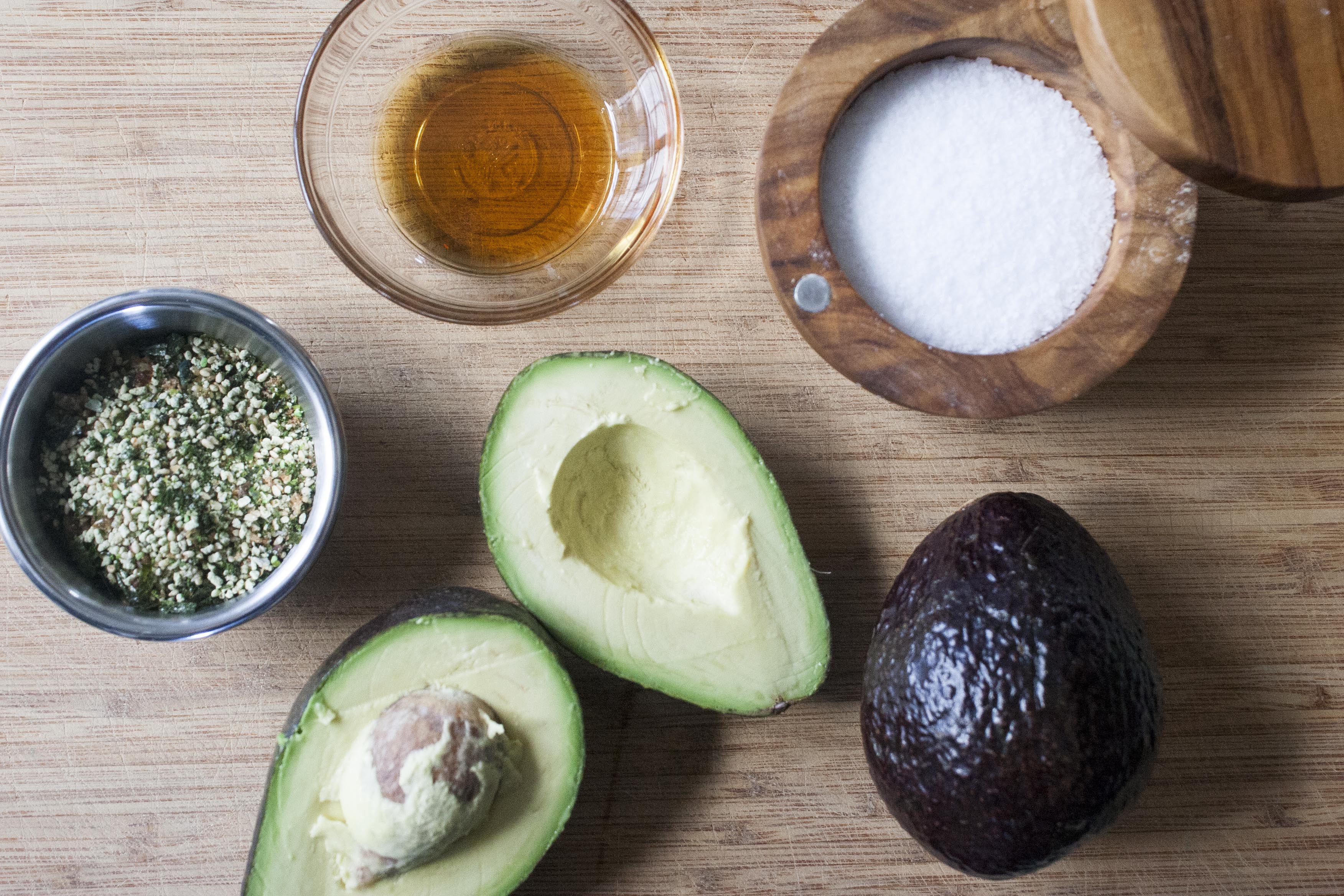 Furikake guacamole came about as a lot of things in my kitchen do: happenstance. One day, I was making avocado toast (Basic. And proud.) and when I reached for the salt, the furikake was right next to it, front and center, since I had used it to dress up popcorn the day before. Instead of mashing the avocado with Dijon and lemon juice as usual, I sprinkled on a bit of furikake, and then a bit more, because that's always the way. Unsurprisingly, since I was combining two of my favorite things, I was instantly sold on the combination.
Throughout the year, as I've continued to slant toward a Japanese-influenced avocado toast, I've become more loyal to the combination — so much so that I purposely don't keep avocados in the house nearly as much as I would like to. But, I've also wondered about it on it's own: without the bread, maybe a little dressed up, maybe a little bit spicy.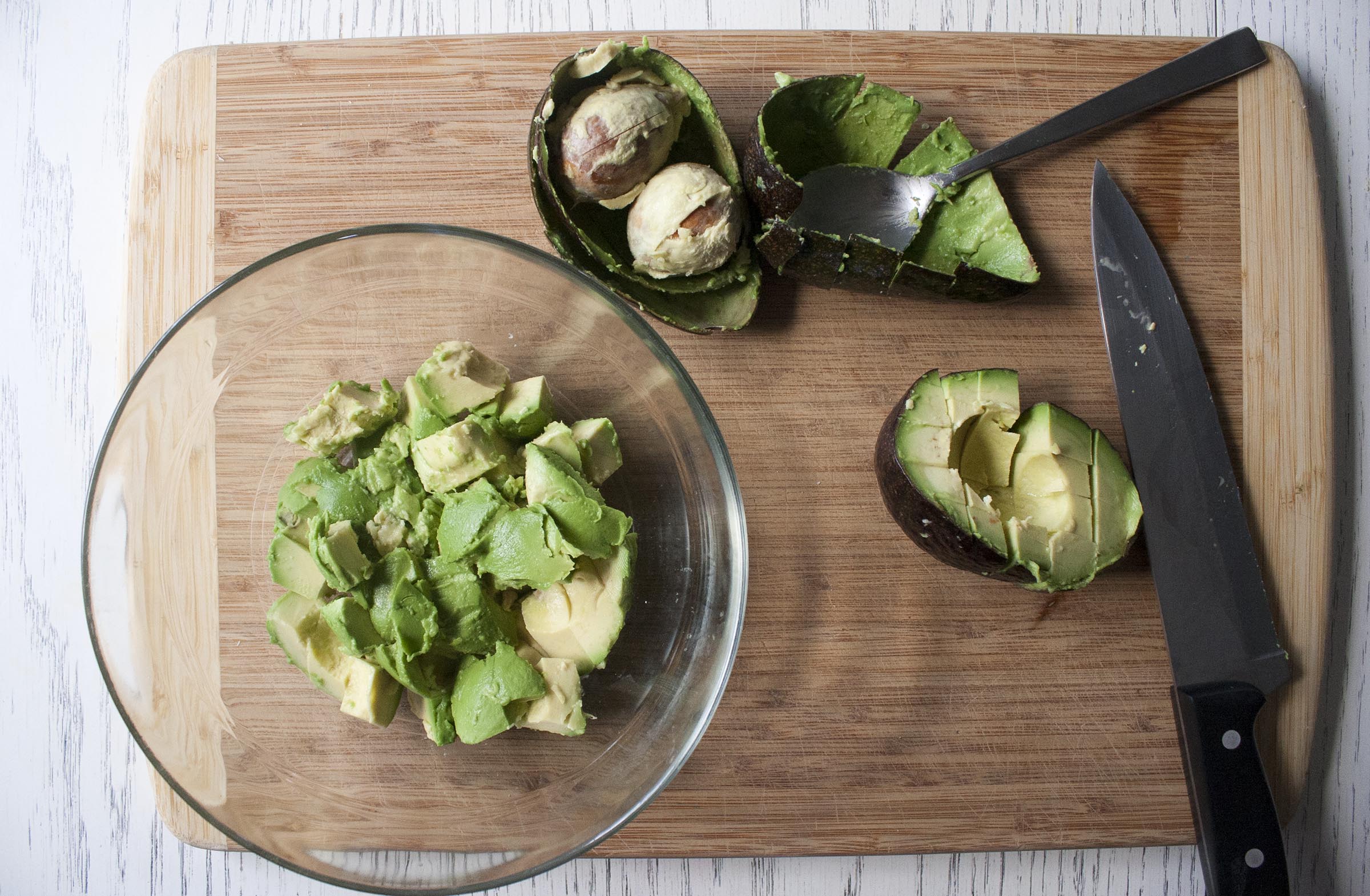 This furikake guacamole is the evolved version of my precious avocado toast. (Important note: precious because of its value to me NOT precious because it's so…precious. While I always work to create pictures of food that look appetizing, my food will never fall into that category.) For the guacamole, I accentuated the toasty flavors, by drizzling in roasted sesame oil and to brighten the bowl, lime juice. I'll admit that I was initially hesitant to add lime, concerned that the ingredient, traditional in traditional guacamole would sway the finished product back to its more familiar Mexican roots. But, it was an unnecessary worry: the furikake and the sesame oil help plant this guacamole's flavor profile squarely where it belonged. Also important to note: I experimented with a little bit of soy sauce, in place of salt, but I was not thrilled with the color or texture of the finished product.
Of course, you're welcome to buy tortilla chips, or really, even, I could imagine furikake guacamole scooped up with very sturdy kettle chips, but I wanted a vessel that would add spice and dimension to the entire bite. The Seven Spice Blend, more formally called Shichimi Togarashi, a mix that usually includes chili peppers, ginger, sesame and orange peel, is spicy, but also finely ground, making it easier to sprinkle evenly onto the chip. I've made these twice, once using just over 1/2 teaspoon to coat all the chips, and a second time more than doubling it. The girls ate the first batch, no problem, but I didn't offer them the second set. If you're spice adverse, just make the chips with just a bit of salt (or not).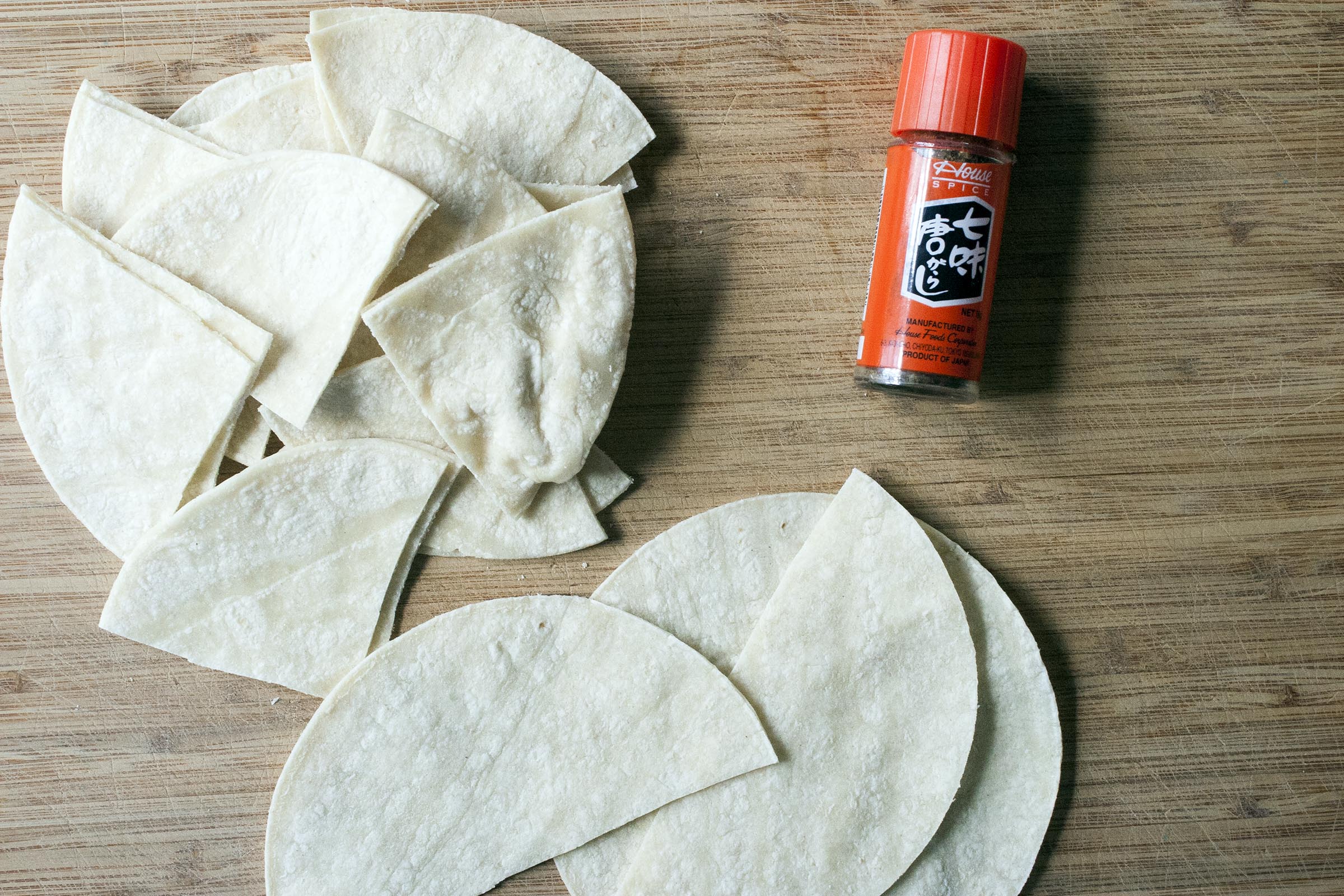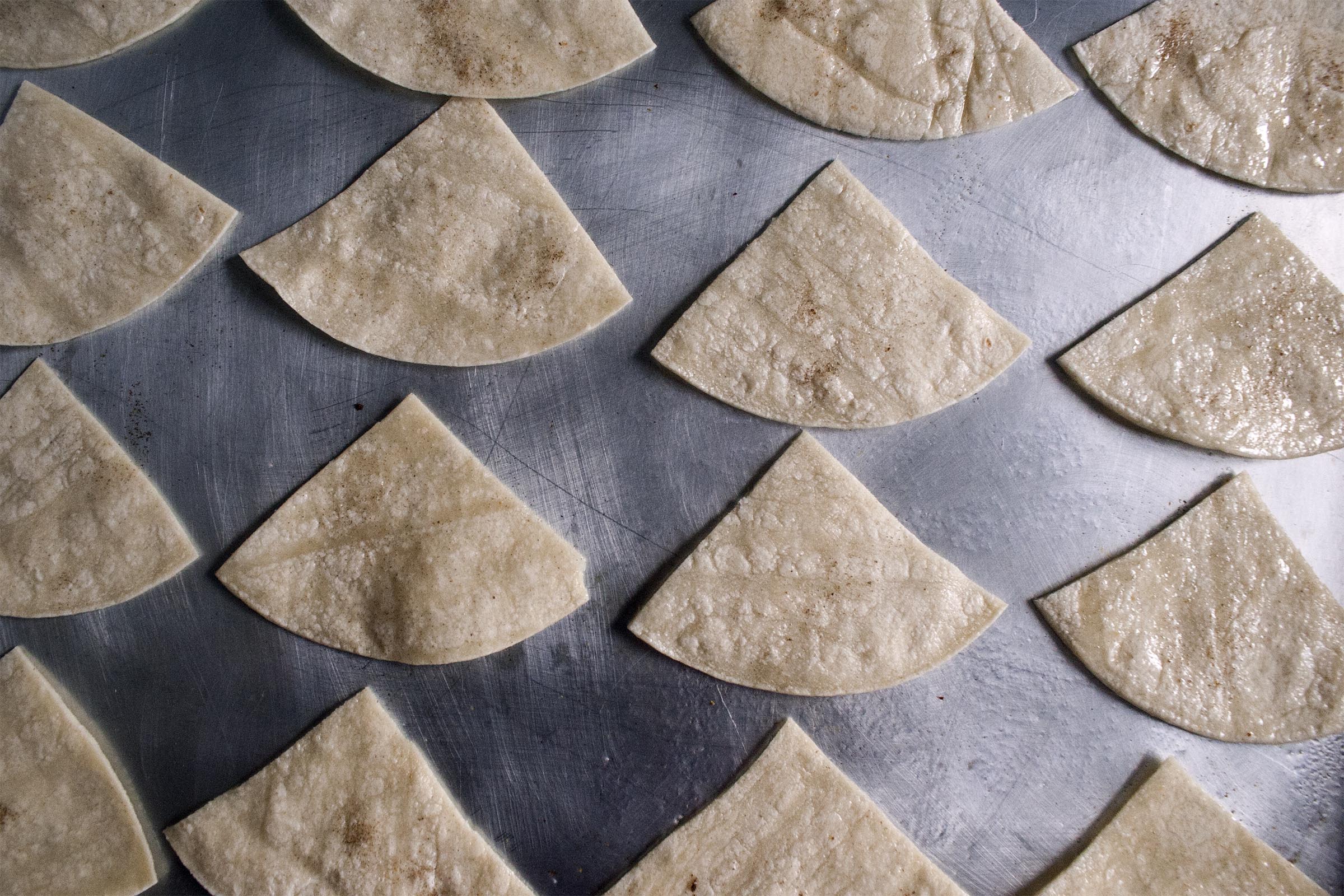 Here's the question: Have I sold you on furikake yet? (Or have you always loved it?) Are you just a little curious? Or do you need more recipes? ('Cause don't worry: I got 'em.)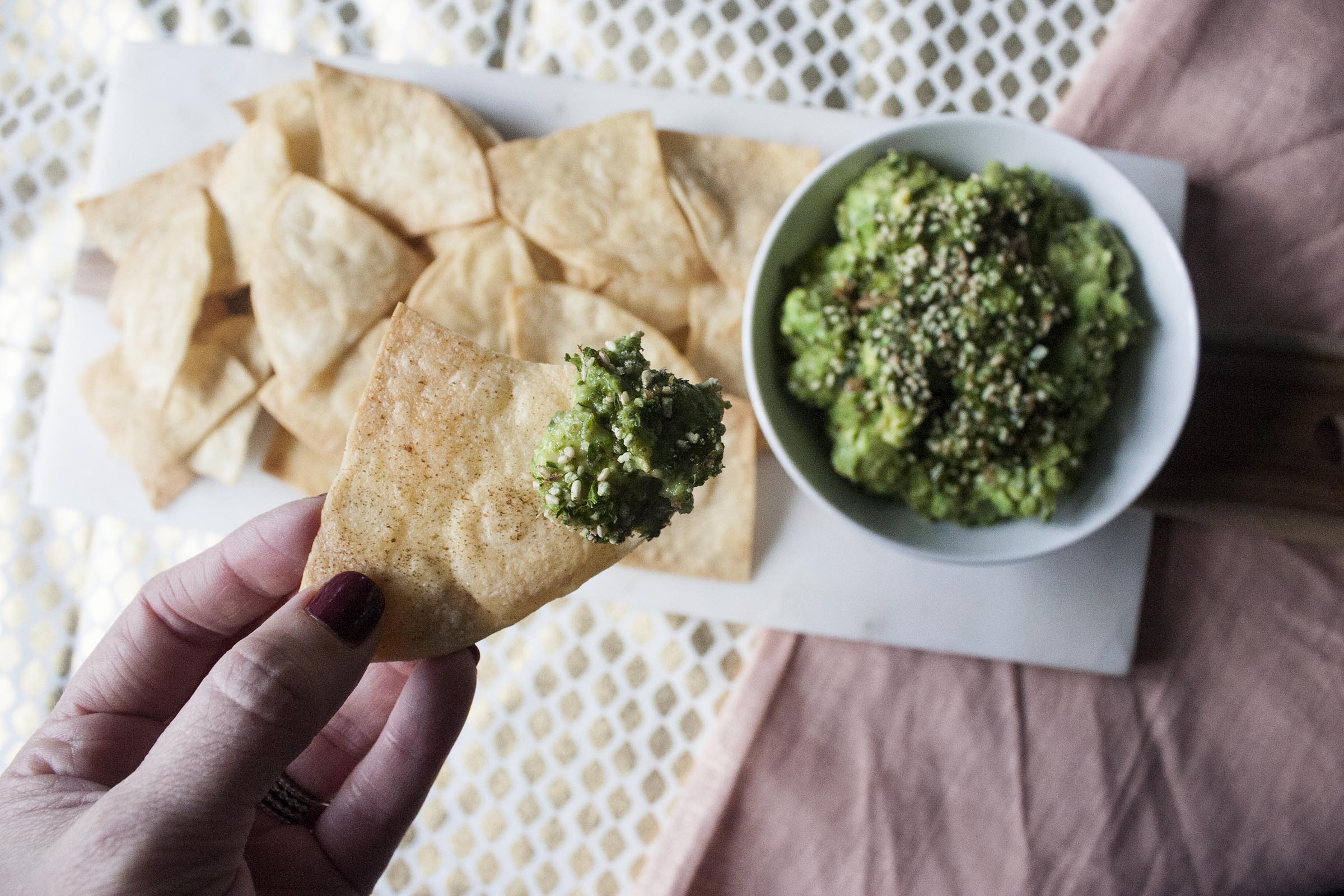 Furikake Guacamole with Japanese 7 Spice Blend Tortilla Chips
Which furikake should you use? I love the
wasabi fumi
, which is just gently spicy, but there are so many varieties to sample, including a
vegetarian blend
. I have not tried all of them, but I will! (I mentioned this last time, but I buy the jars for much cheaper at my supermarket.)
So, now you own furikake and shichimi togarashi. What else can you use them for? Sprinkle furikake over rice (its original intended use), soup or noodles; add to popcorn or, a reminder that you can still make
these potatoes
. The seven spice blend can also be used on all of those things, but is just as lovely sprinkled onto vanilla ice cream, added to flour when breading and sparingly tossed with fruit.
Lastly, like all guacamole, this one does not have to be eaten only with chips. It's very good scooped up with vegetables and I've spread it onto smoked salmon, before rolling the slices up for a bread-free lunch.
What you'll need
10 (6-inch) corn tortillas
½-2 teaspoons shichimi togarashi (Japanese 7 Spice Blend)
2 large ripe avocados, washed
3 tablespoons furikake, plus more for sprinkling
1 large juicy lime, halved
1 tablespoon, plus 1 teaspoon toasted sesame oil (4 teaspoons)
heaping ¼ teaspoon kosher salt, plus more for tortilla chips
How you'll make it
For the Japanese 7 Spice Tortilla Chips
Adjust oven racks to the top and bottom third of the oven. Heat oven to 350°F.
Using kitchen scissors or a sharp knife, quarter each tortilla into large triangles. Using cooking spray or oil in a spray can (I like to use avocado oil), lightly coat two baking sheets. Place tortillas on baking sheet in a single layer and lightly coat with oil. Very lightly sprinkle one side of chips with kosher salt; sprinkle with half Japanese 7 Spice Blend.
Bake 10 minutes. Remove from oven; flip chips. Sprinkle with salt and the remaining 7 Spice Blend. Return chips to the oven, rotating pans, top to bottom and front to back. Bake 6-8 minutes more, or until the chips are golden, and firm. They will crisp up a bit more as they cool, but if they're still flexible in the center, I would put them back in for another minute.
For the Furikake Guacamole
Meanwhile, carefully halve and pit avocados. Using sharp knife, cube avocados, still in their skin (see picture). Use large spoon to scoop the squares from the skin; place in medium mixing bowl. top with furikake. Squeeze all of the lime over the avocado; drizzle with sesame oil. Add generous ¼ teaspoon kosher salt. Using spoon, stir to mix. Depending on how ripe your avocado is, this mixing may be enough to break down the cubes. If they're holding their shape too much, use a fork to minimally mash the avocado. You want the guacamole to be cohesive, but chunky. Taste and adjust seasonings, if necessary.
Transfer guacamole to bowl; sprinkle with extra furikake. Serve with tortilla chips.
How to plan ahead
• The tortilla chips can be made four days ahead of time. Let them cool completely and store in an airtight container.