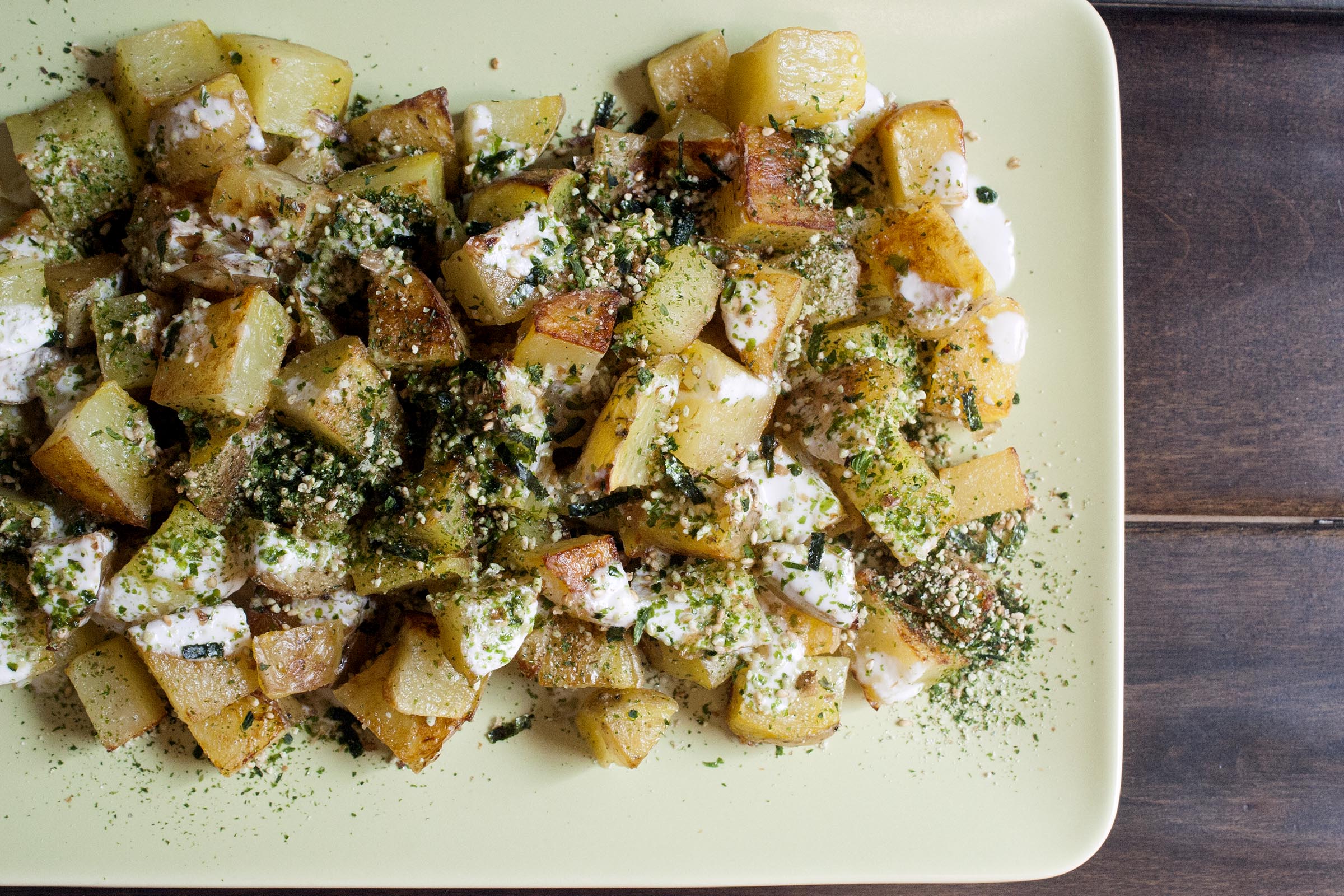 I am obsessed with furikake*. I don't remember how it came into my life, but really, does it matter? What matters is, furikake. For years, I've lived with a little jar in my cabinet, sometimes with pieces of wasabi, like this one, sometimes without the bonito, but always, always on the shelf. I seek excuses to pull it out, sprinkling the flakes on top of rice, rice bowls, miso-flecked noodles. I've mixed them into sushi rice, tossed a bunch with freshly popped popcorn and maybe, dragged spears of asparagus through a pile on the plate.
What is it? Technically, it's a rice seasoning. To me, it's the best of everything you find with sushi: toasted sesame seeds, tiny strips of nori, often little pieces of dried egg yolk, a bit of salt, a bit of sweet, and maybe other additions, depending on which one you pick up. Many of them read the way you want a product to: with all ingredients you know. Others have some funky things in them, MSG, hard to pronounce ingredients. I stay away from those. You can also make your own, which for some reason, even though I am all about kitchen DIY, I never have.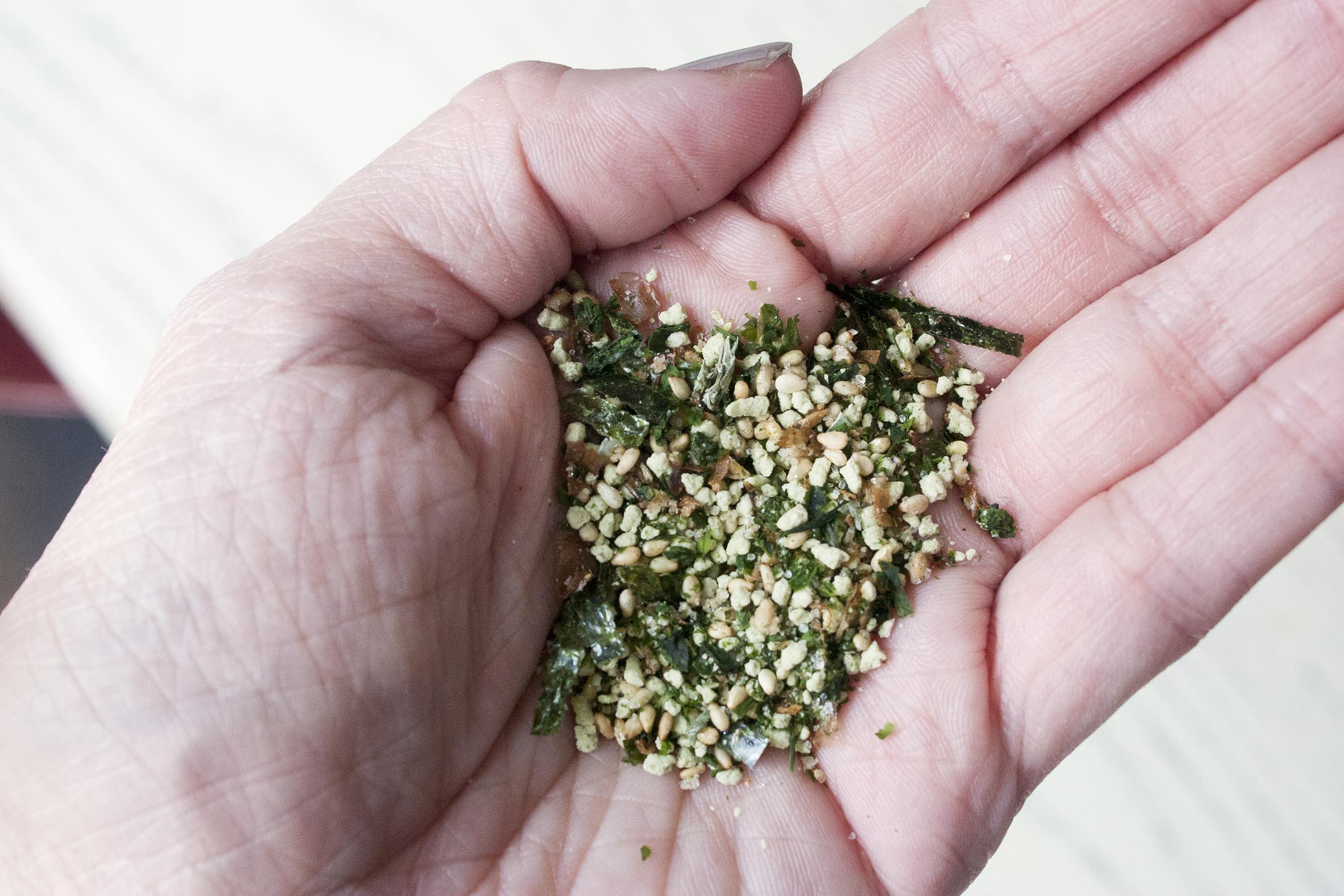 I'm sure that some people could come across furikake, try it, feel neutral about it (or gasp, not like it?), but for me, it's addictive. So much so, that a shake or two is never enough and I find myself adding a little extra bit as I eat through the bowl of food. Last year, I came across a recipe for furikake with french fries and I loved the idea of it: funky, salty with a little something extra. But, I live with a secret hope of seeing furikake fries on a restaurant menu, because I don't generally fry and I never actually make fries (although, I have it on very good authority from someone's whose opinion on food – and french fries – I really trust, that if you bake certain frozen shoestring fries for slightly longer than the package indicates, you will not be disappointed).
But instead of going down the slippery slope of finding out if he's right (and therefore needing to always keep a bag of shoestring fries in my freezers), I opted, here, for the same flavor combination, executed differently: furikake roasted potatoes.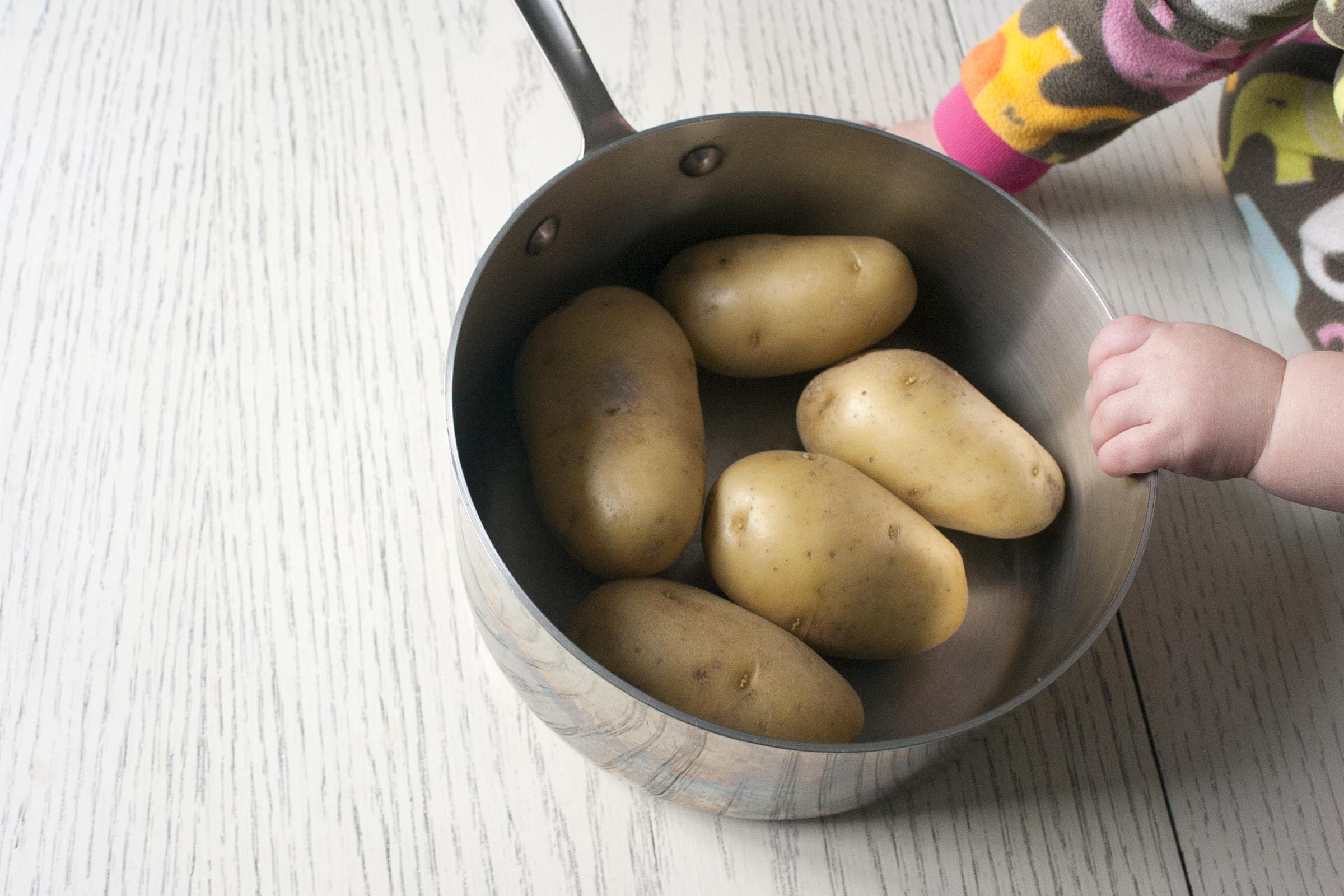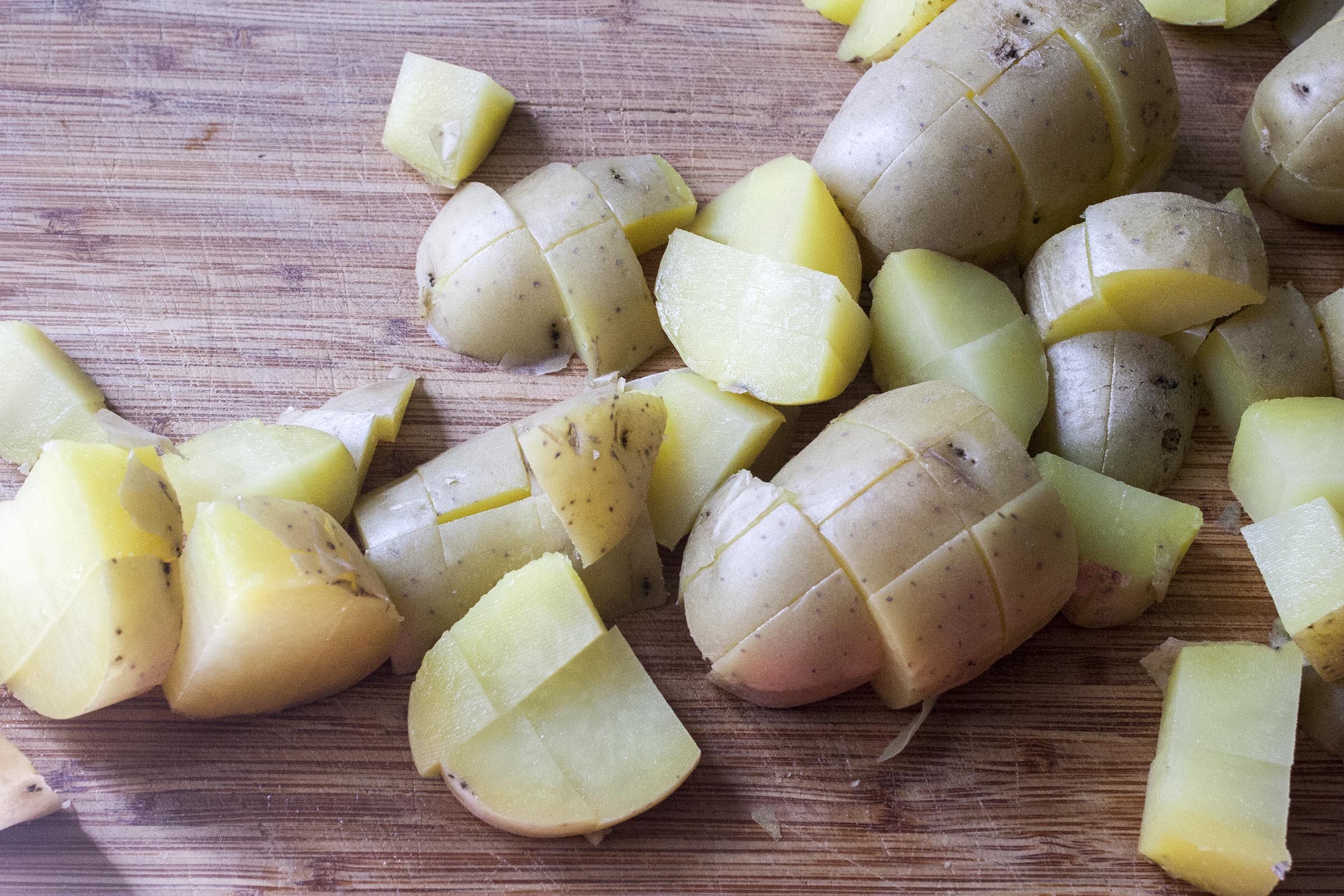 I know what I'm going to say next may be controversial, but I really believe that the best, creamiest, most consistently roasted potatoes, come from potatoes that have been boiled, or par-cooked first. Can you just cut them up and roast them? Absolutely. Will it be OK, yes, sure. But will they be the best (creamy on the inside, crisp on the outside, without burning) in the shortest amount of time? They just won't. Are there times that I do it because I don't want to dirty another pot? Of course.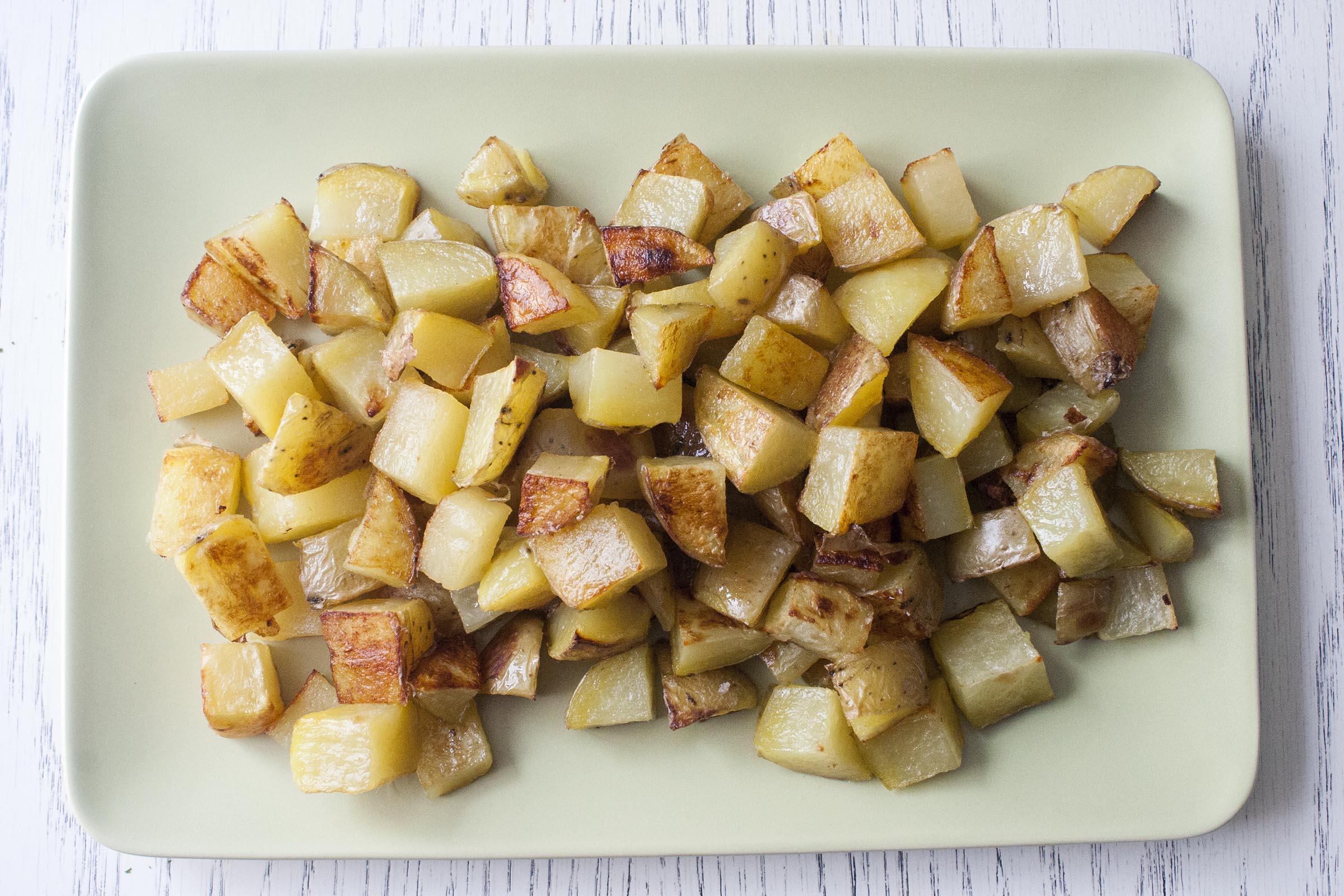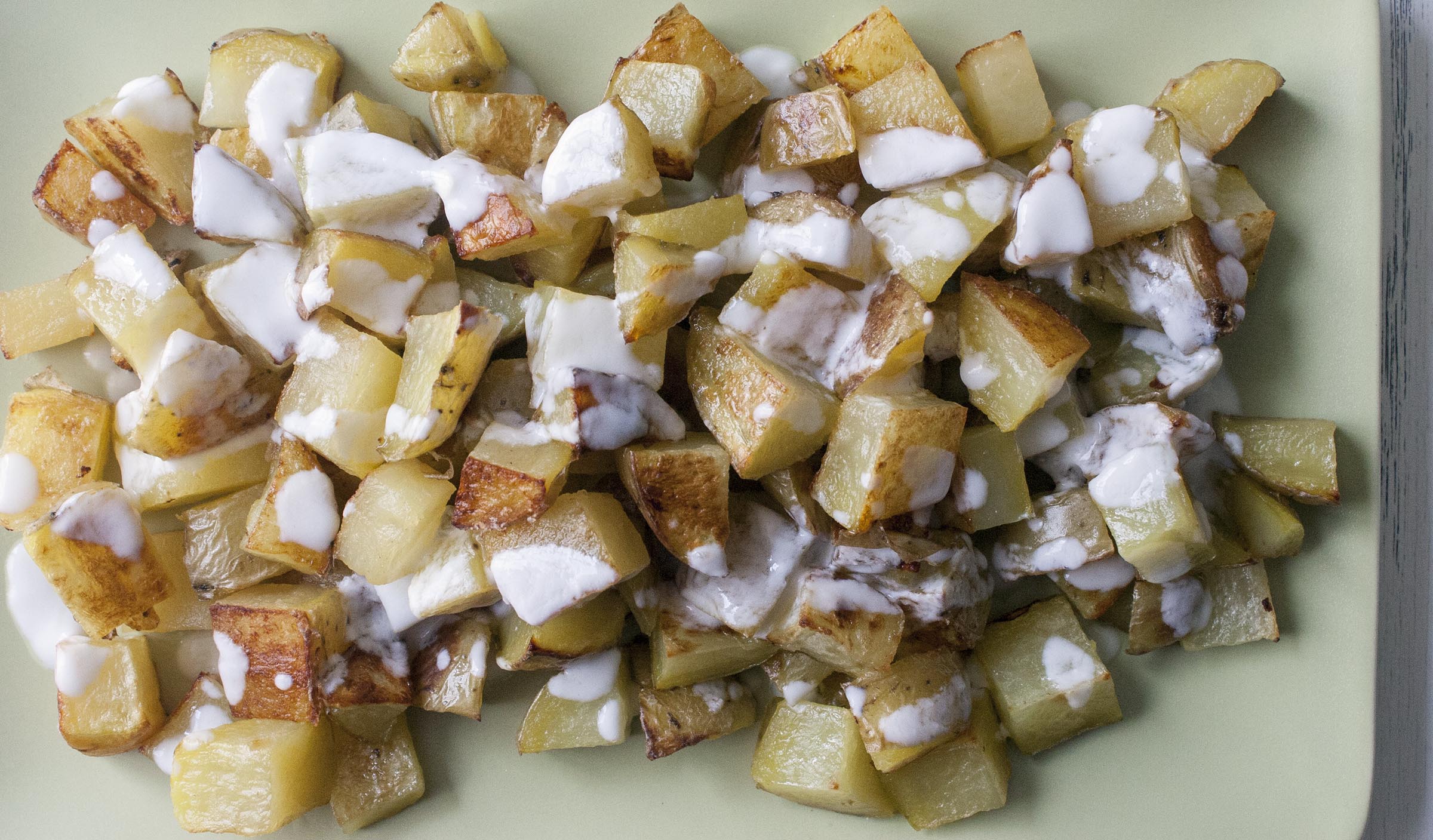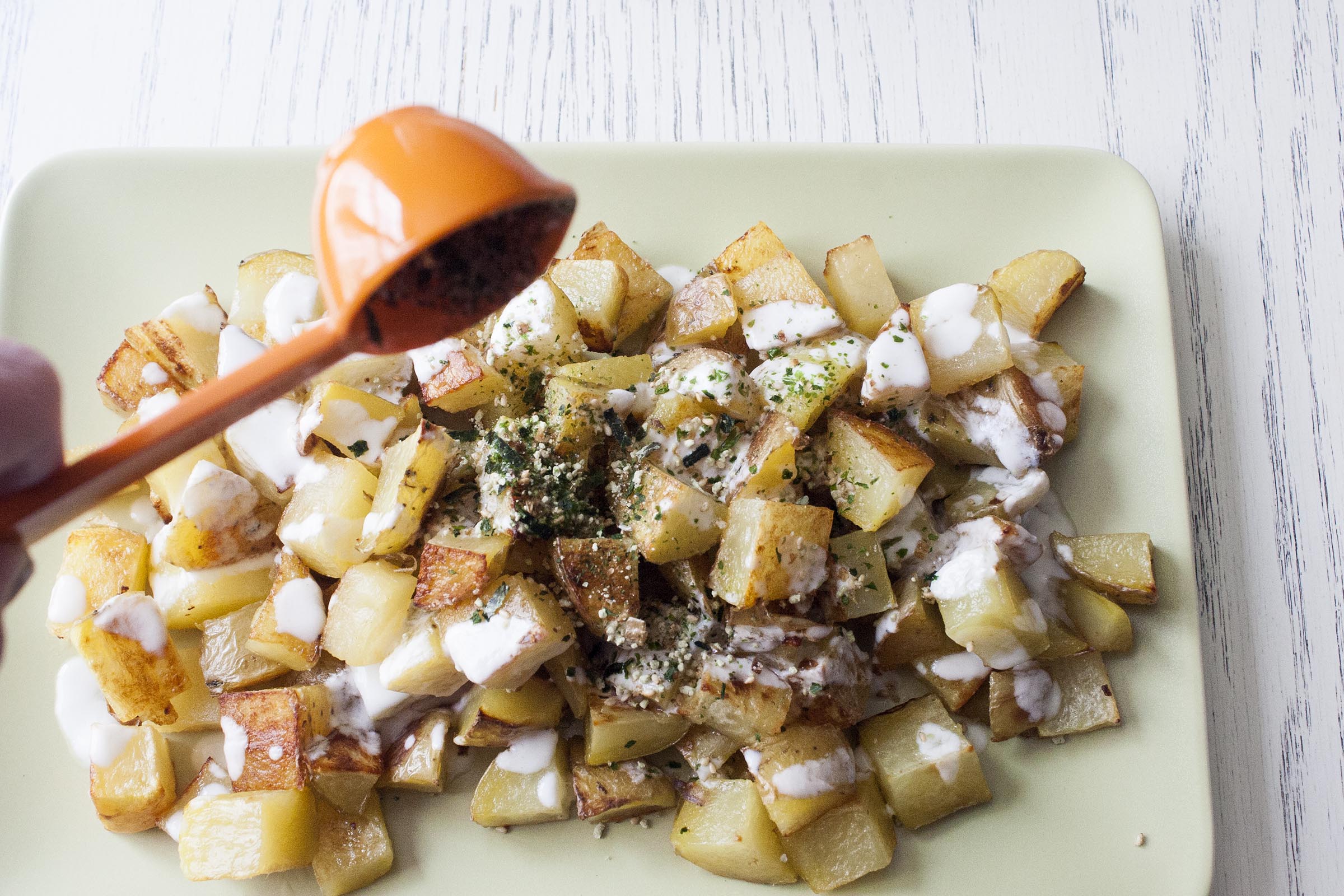 But, the tradeoffs for taking the time to boil the potatoes, besides the best roasted potato, are threefold: no peeling, you can season the potato from the outside, in, by using salted water, and both the ingredient list, and the directions, are quite short. So, if you're willing to dirty your pot now, easy, simple furikake roasted potatoes can be yours about 1 minute after they come out of the oven.
Serve them alongside, well, anything. Or, put a sunny side egg on a plateful and consider it a full-fledged meal. Either way, you'll probably want to serve them with a little furikake on the side, just in case. Because I can't be the only one obsessed, right?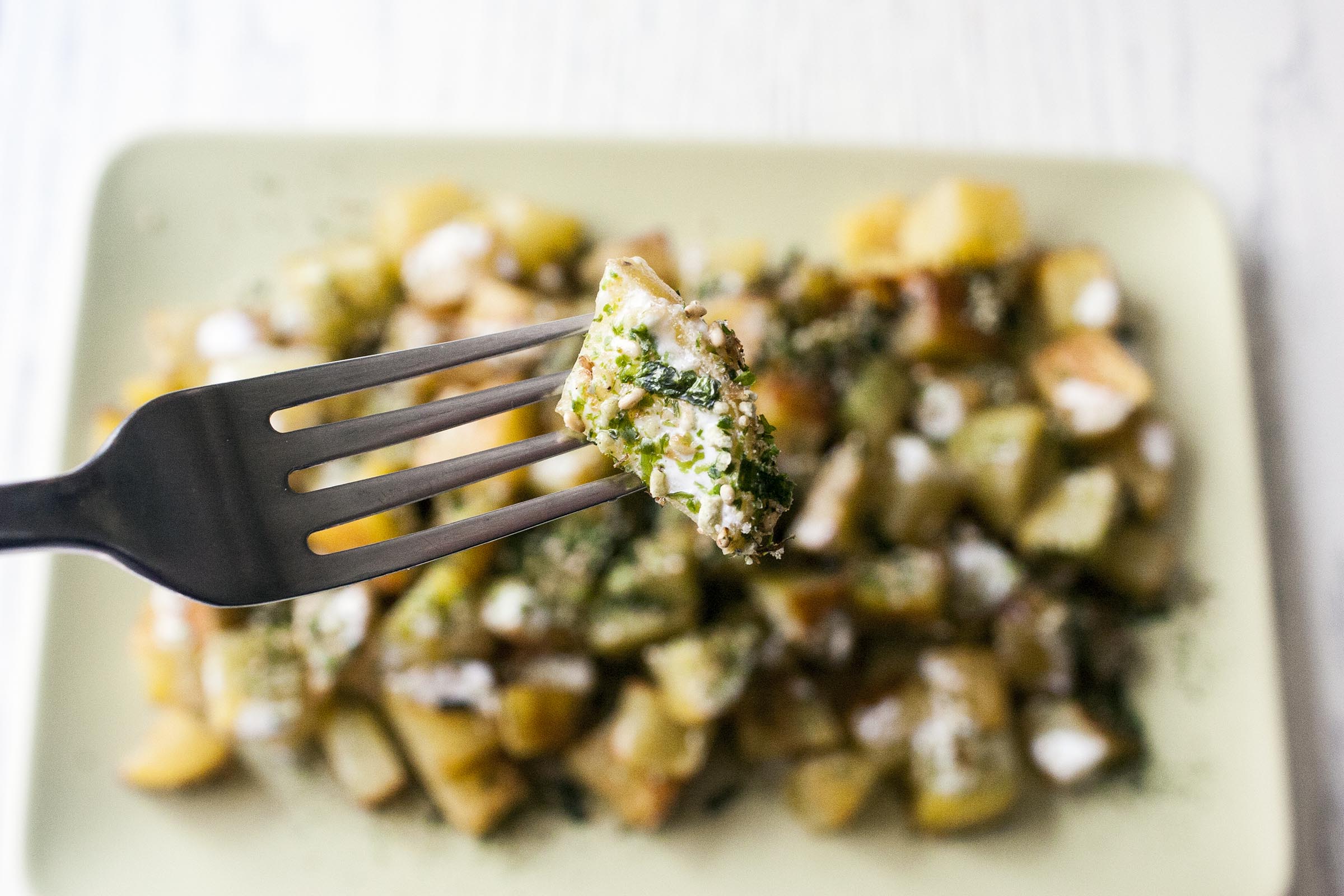 *I always pick up my furikake in the supermarket and I've never encountered it so pricey. It's usually in $3.49-$4.49 range.

Furikake Roasted Potatoes
You'll notice that I've used 2 tablespoons of olive oil for roasting, which is more than I would normally use for a vegetable. The reason: we're not making french fries, but we still want to achieve that crisp, outside layer that makes fries so desirable. If you like your food spicy and keep
Shichimi Togarashi
in the house, a couple gentle shakes are great on top, too.
What you'll need
2 pounds yellow, waxy medium potatoes, rinsed
1 tablespoon kosher salt, divided
2 tablespoons olive oil
½ cup plain yogurt
1 juicy lime
2 tablespoons, or more furikake
How you'll make it
Place potatoes in a medium saucepot; cover with at least 1-inch of water. Set over high heat and bring to a boil; stir in 2 teaspoons kosher salt. Let potatoes cook in boiling water 5 minutes. Drain potatoes. Let sit until cool enough to handle.
Heat oven to 425°F.
Using sharp knife, cut potatoes into ¾-inch pieces. Place on rimmed sheet pan; drizzle with olive oil and remaining kosher salt. Toss to coat and spread potatoes into 1 even layer.
Roast 15 minutes; flip potatoes and cook 15 minutes more, or until golden on the outside and completely creamy in the middle. To test, remove at least three potatoes from different areas of the pan; cut them in half and look inside. Nothing in the center should be white or chalky. Then taste it: you want a really creamy middle.
Meanwhile, while the potatoes are cooking, whisk together yogurt and 1 tablespoon lime juice with a small pinch of kosher salt. Taste and adjust seasonings, if desired.
Transfer potatoes to a small serving plate; drizzle with 3 tablespoons yogurt lime sauce. Sprinkle with furikake. Serve remaining yogurt sauce on the side.