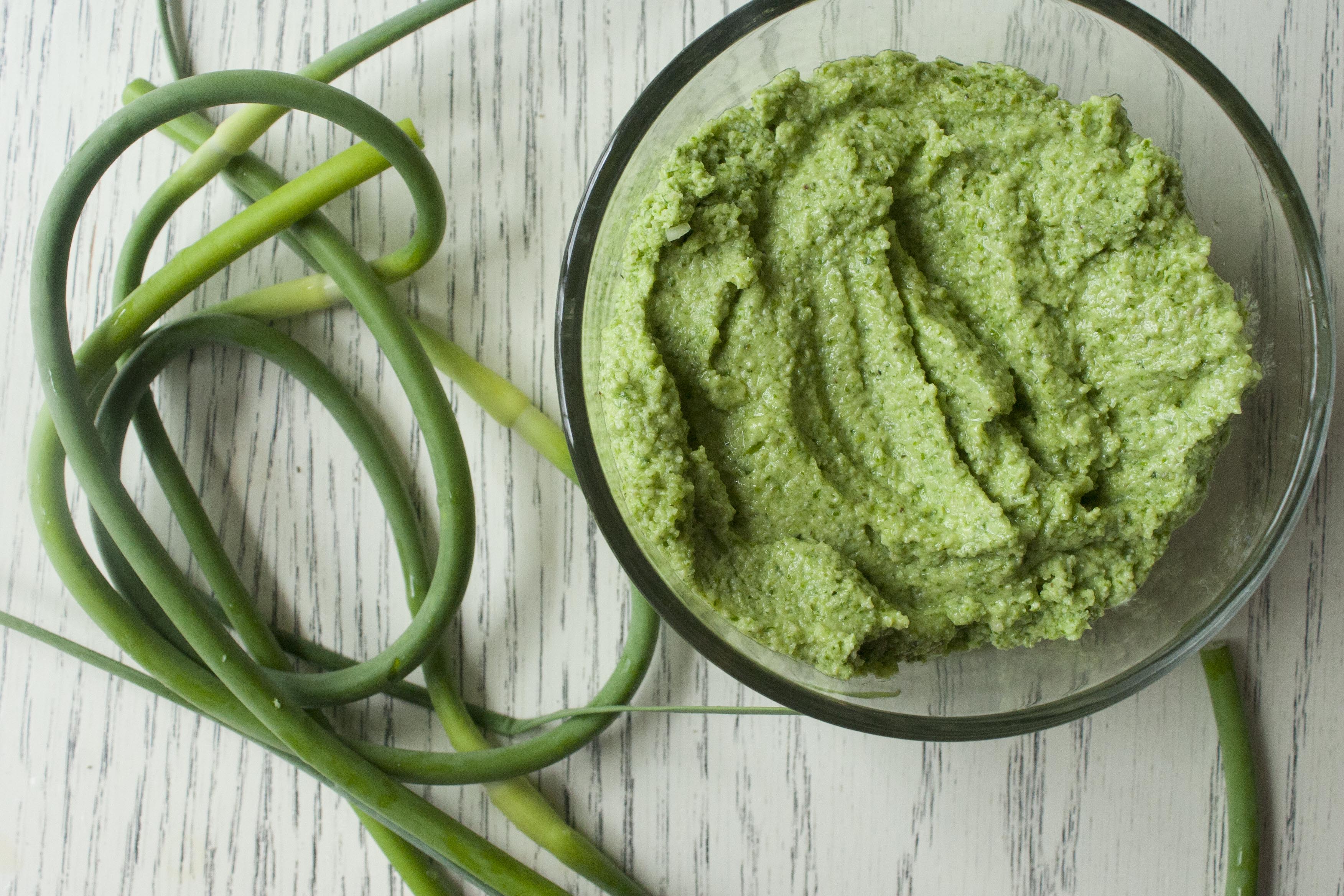 Years ago, before I really understood the ins and outs of food: why growing conditions are important, why purchasing organic may be the preferable choice for certain foods, why it's important to care about the people who grow our food and why shopping local can really make a difference, I caught the farmers market bug.
Obviously, at that point, it wasn't because of the farmers or the organics, although I do remember, sadly, at 28-years-old being really shocked, and excited, to find out how many farms there were nearby. What made me decide that a farmers market was the place to spend my Sunday mornings, was garlic scapes.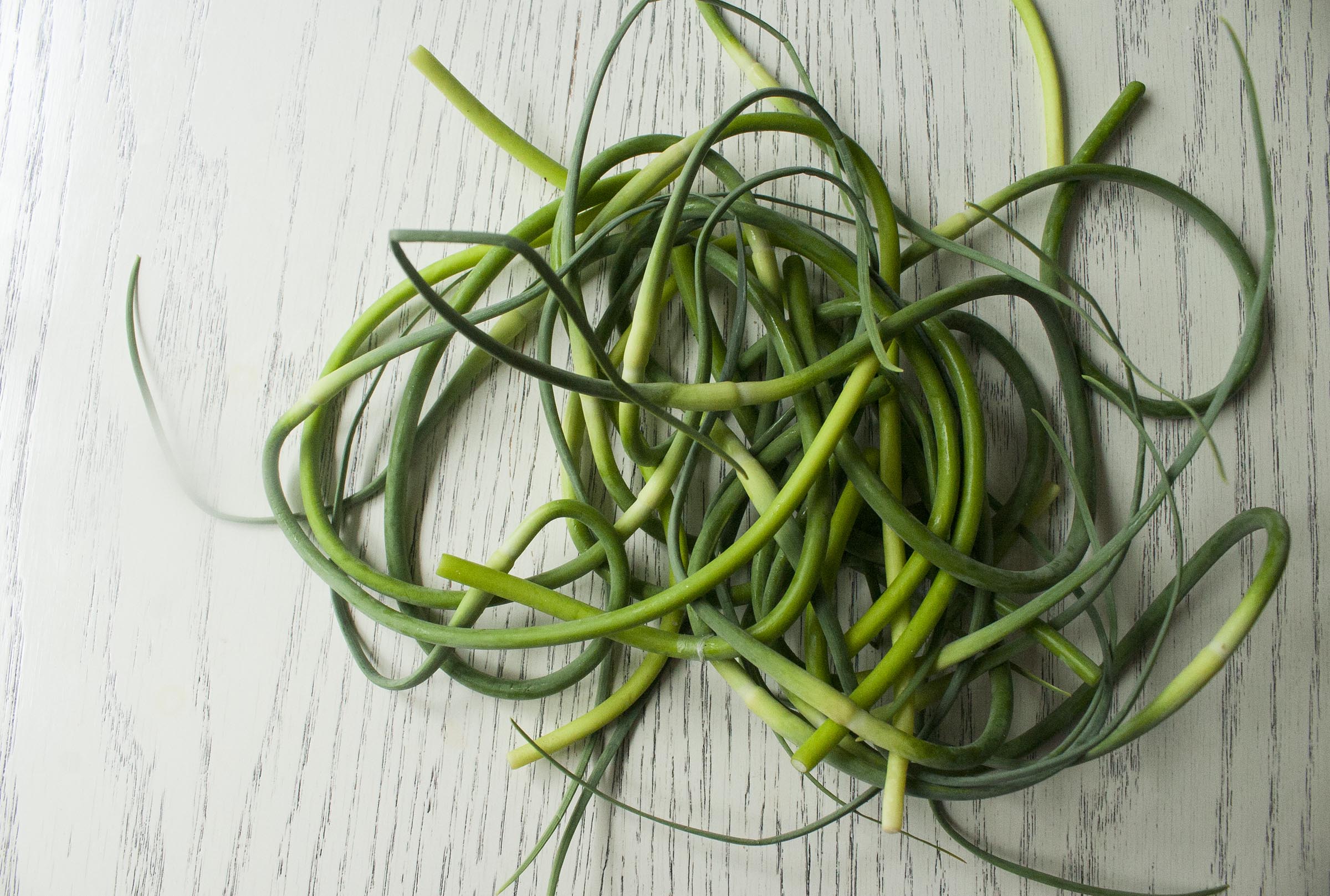 I've always been the person who wants the most unusual thing I can find, something different that I've never experienced before (although it's worth noting that this philosophy typically applies to two things: food and and home decor). A list of items that I've bought without any idea how what to do with them, includes, but is in no way limited to: green almonds, raw olives, pink lemons, dried fava beans (don't do it), teeny, tiny 1-inch crabs, banana flowers, finger limes, dried hibiscus and once, two pounds of some sort of mollusk that I couldn't even identify, but took with the intention of researching once I got them safely home (maybe?).
So, almost ten years ago, when we visited our first farmers market, and saw these long, twisty, twirly shoots, that the farmer told us grew from garlic, I didn't need to hear anything else. I don't remember what we made with the first batch, but over the years, we've grilled them, sautéed them, roasted them and of course, we've made garlic scape pesto.
When we moved into our house seven years ago, one hour from our old farmers market, we needed to find a new one. I was a bit unimpressed: boring vegetables and not much available. But, over the years, my understanding and appreciation of the origin of food has changed significantly, and I'm grateful to have a place for local farmers and vendors, both organic and conventional, to sell their hard work. And, recently, a new farmers market has opened nearby, giving us two options and a wider selection. I love taking Easton, and now Reeve, to the farmers market, to explain where our food comes from and to get them excited about choosing vegetables.
But, I still love finding fun things: last year I know I only bought mushrooms because they were pink and yellow and couldn't believe it when I saw this beautiful young ginger, that did not even need to be peeled. I mean, how can you not be excited when twenty different types of eggplant and tomatoes and okra land at the market? That's why, last week, when I turned the corner and saw garlic scapes, for the first time since we moved here, I may have hopped up and down once or twice.
The amazing thing about garlic scapes is that when cooked, they mellow beautifully and remind me of garlicky asparagus. Raw – they're pure garlic with a green twist. Imagine eating a straight clove of garlic? Scapes are not quite as pungent, but they'll still pack a punch. Garlic scape pesto, made from the raw scapes, is intense, and I learned the hard way (tossing it with cooked pasta), that even in my love for garlic and garlic scapes, straight it's just too much for me.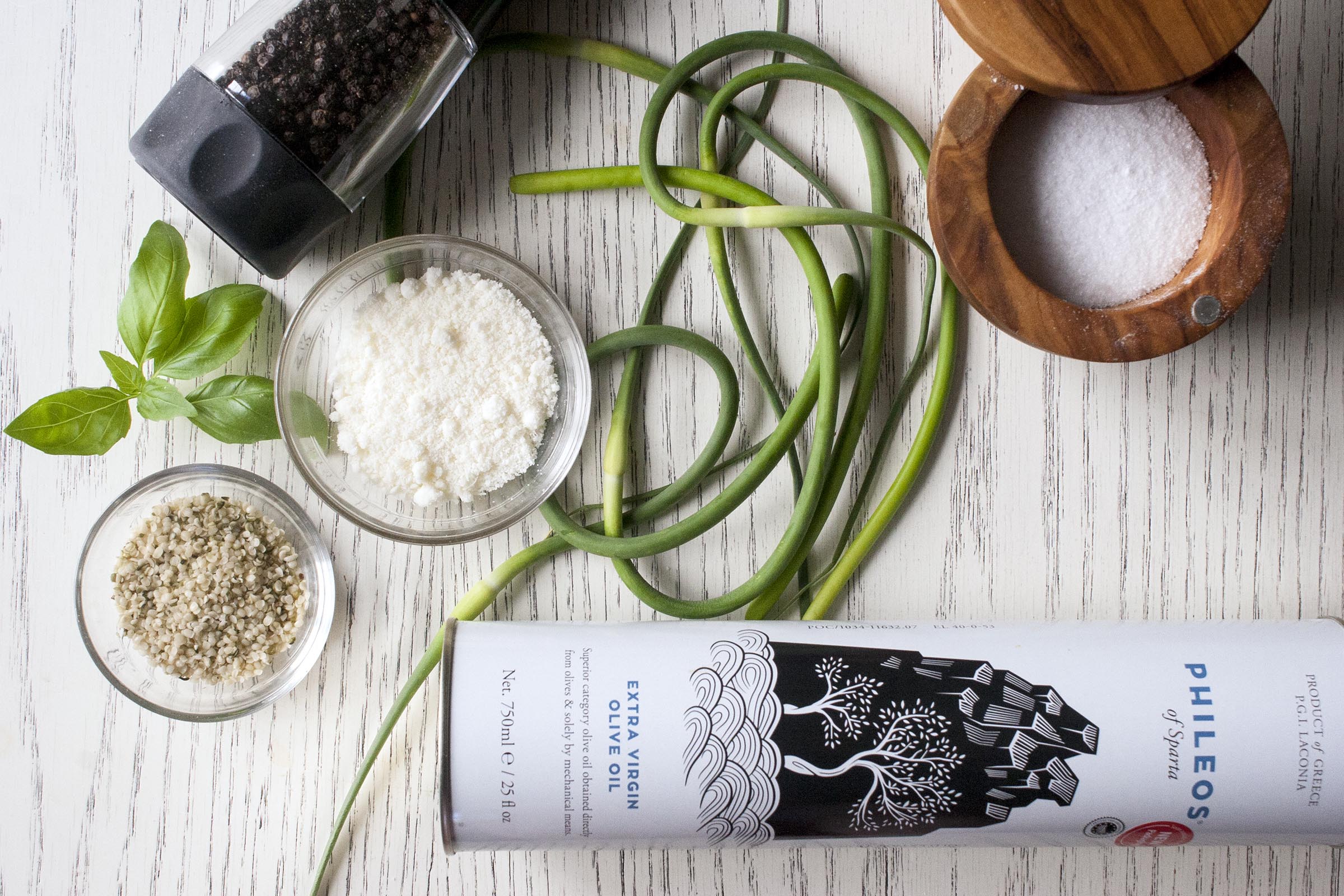 But, still I can't resist. So this bunch, originally destined to be tossed on the grill, instead was tossed into the food processor. I added a small amount of basil, just to bring a different dimension, and instead of the traditional pine nuts, I blended everything with hemp seeds. My reasons were two fold: I barely ever buy pine nuts anymore — they're just too expensive. And, as I've mentioned before, I aim to cook nut-free as much as possible, so that Easton can take leftovers into her nut-free school. I love hemp seeds for their soft texture and nuttiness, which has always reminded me a bit of pine nuts. Here, they mimic them perfectly.
So, what should you do? Well, first, go to your famers markets. And, if you see garlic scapes while you're there, grab them, even if you don't have a plan. Their season is fleeting and they are too good to pass up. And, then, if you decide to make this pesto, I'll have two recipes coming up soon with ways to use it (in the meantime, other ideas: blended into hummus, mixed into ground turkey for burgers and stirred into risotto). Pesto is also extremely freezer friendly, so you can make it now and save it for fall, when you feel like you need a bit of summer back in your life.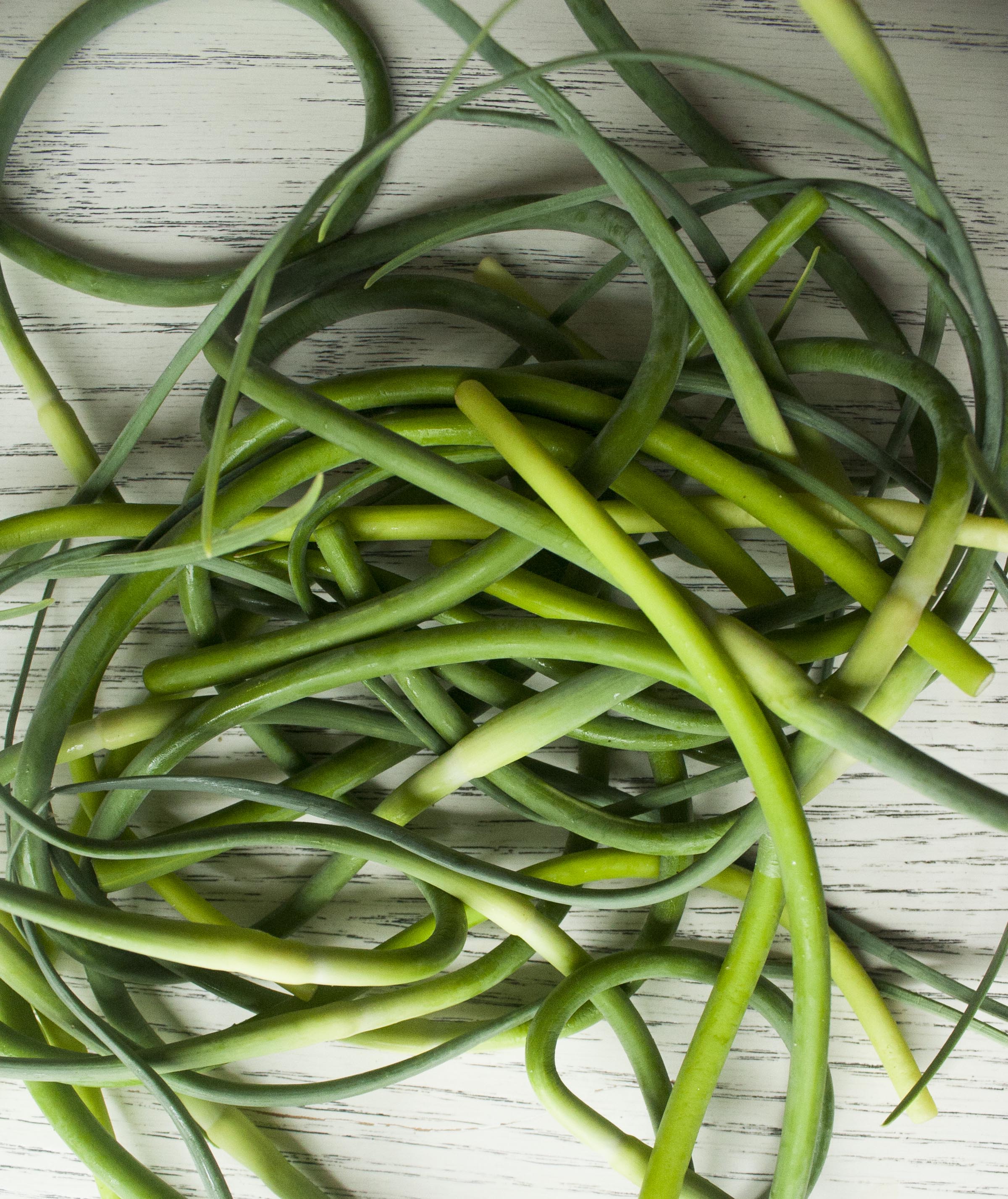 Garlic Scape & Hemp Seed Pesto
I tend to like my pestos more of a spread consistency, meaning I use much less oil than typically recommended. If you prefer a thinner, or more oil-packed luxurious pesto, drizzle in up to 5 tablespoons more.

As I've started navigating my way through using an instant pot (totally unrelated), I've been reminded how daunting it is to use a kitchen appliance that you aren't quite sure how to use. So, for those of you who rarely use your food processor: make sure you've locked your base into place and added your blade before you put your ingredients inside the bowl. Lock in the lid to use. When it's time to drizzle in the olive oil, there is a small cup-shaped piece that sits within the lid. Remove it and drizzle in the oil through that hole.
What you'll need
Garlic Scape Pesto
5 ounces garlic scapes, cut into 1-inch pieces
½ cup fresh basil leaves
2 ounces grated pecorino romano (about ½ cup)
1.75 ounces hemp seeds (about ⅓ cup)
½ teaspoon kosher salt
¼ teaspoon ground black pepper
3 tablespoons olive oil
How you'll make it
In bowl of food processor, combine garlic scapes, basil leaves, pecorino romano, hemp seeds, kosher salt and black pepper; pulse 5-7 times, or until the mixture is chopped and combined, but not a paste.
With the motor running, slowly drizzle in the olive oil. Taste (just a touch!) and adjust seasoning, if desired. Store in a glass container with plastic wrap pressed to the surface, before covering with a lid. Store in the fridge for up to one week or in the freezer for several months.