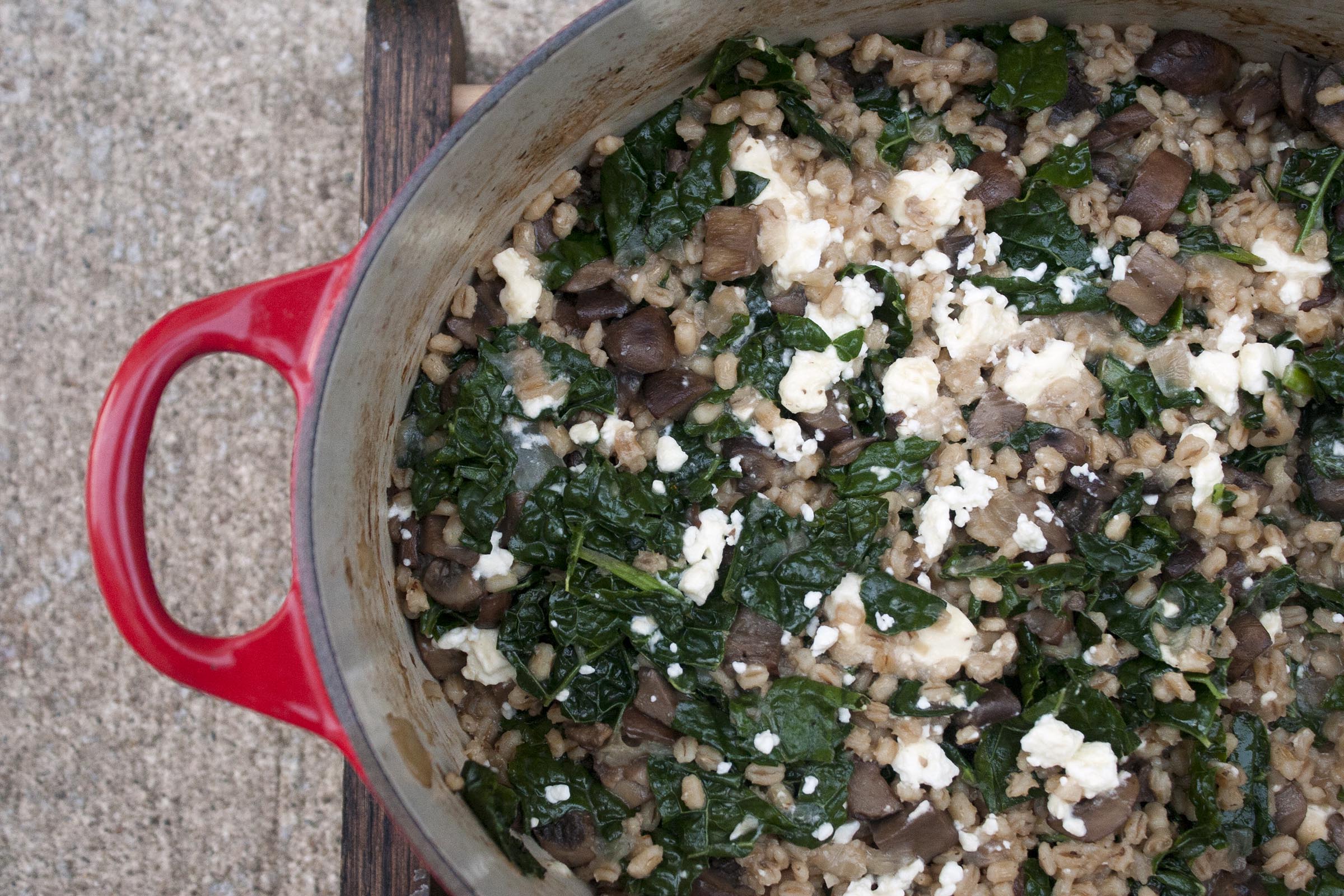 I planned to tell you about this baked barley risotto in November. Actually, if we're being honest, I planned to write about it, from the moment I decided to start this blog. While many recipes are one hit wonders in our house, we've been making a version of this one, a couple times a year, since before Easton was born (in fact, I have a very clear memory of caramelizing the onions, right before going to my mom's house to tell her we were pregnant).
When Easton began transitioning from eating purees to real foods with real textures, a variation of this recipe was one of the first things I made her. And, my sister's daughter, who just turned 22-months has probably eaten her weight's worth of this baked barley risotto as well. We've made it with butternut squash, as the original recipe calls for; I've made it with a million carrots and baby spinach, chopped finely for easy baby eating; I've made it with just peas and extra garlic. And, we've made this version, with mushrooms and kale, a lot.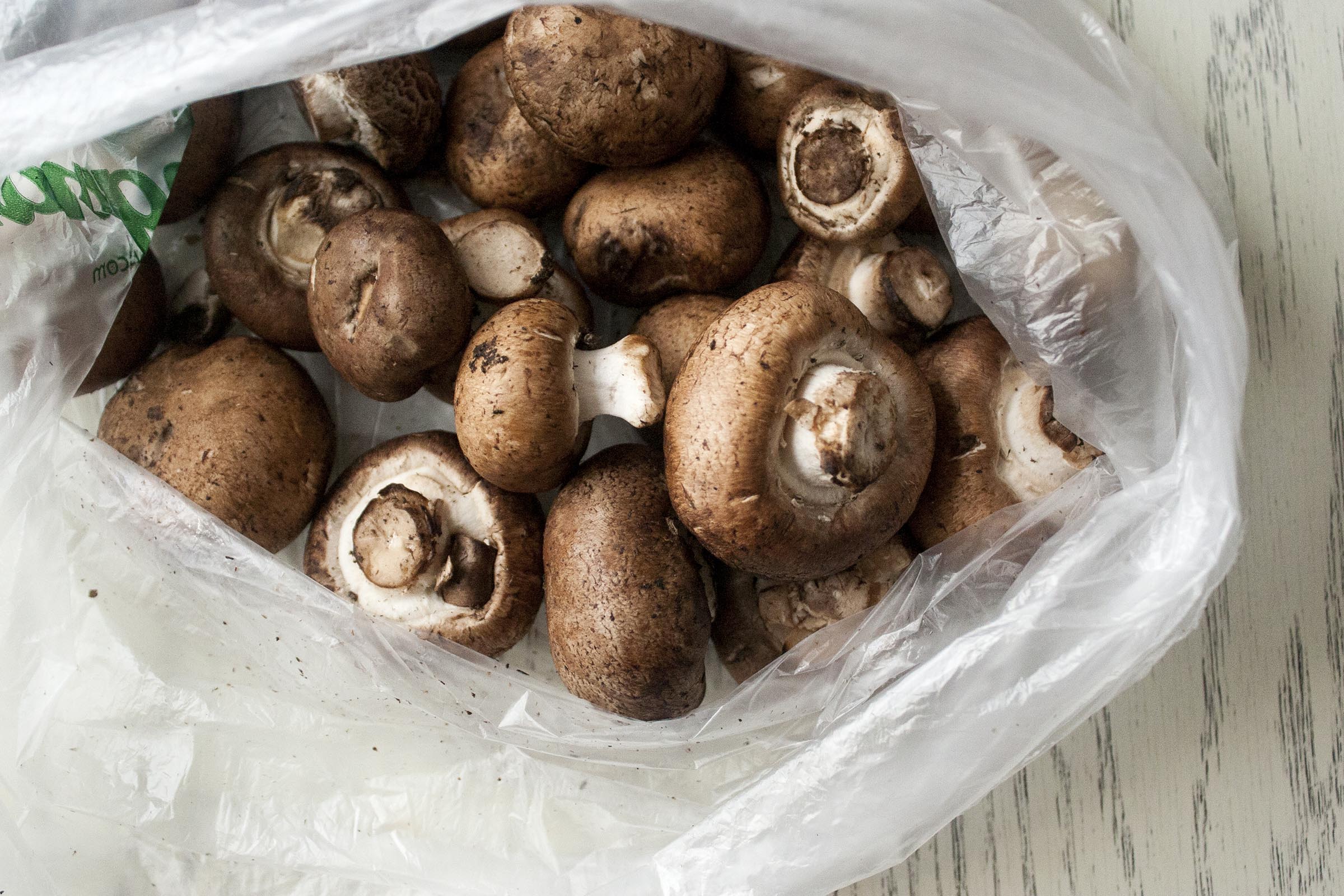 I will admit something to you, right off the bat. While the original version is time saving (baked barley risotto is way faster than stirred), this mushroom and kale version is the most time consuming, because you're dealing with each ingredient to truly develop their flavors. (What can I say? I like to show my cards early on.) But, like most recipes that come out of our kitchen, it can be prepped ahead of time and the entire thing can be baked a few days ahead, reheated as needed. It also can be frozen (in adult portions, or in baby ice cube portions) for easy meals.
Reeve hasn't tried it yet because, truthfully, I made this one in November for Easton, Larry and I. At the time, Reeve's list of foods eaten read something like: avocado, squash, zucchini, sweet potato and pumpkin. But, I made it on November 8. And a couple things happened on November 8:
-We started the day off at the polls – me, Easton and Reeve. I prepped the ingredients, later that morning, while Reeve napped, half keeping an eye on the news. I was annoyed because instead of two bunches of the lacinato kale that I had asked for on the shopping list, I ended up with a bag of greens. I know that I sound ungrateful when someone else shopped for me (my husband), but I can't stand those. They're chopped, yes. But the stem is still there. I really think that going through chopped kale, piece by piece, to remove the inner stem is a near equal time investment to starting with a whole bunch, in which you need to remove the stems, and then wash and cut the leaves.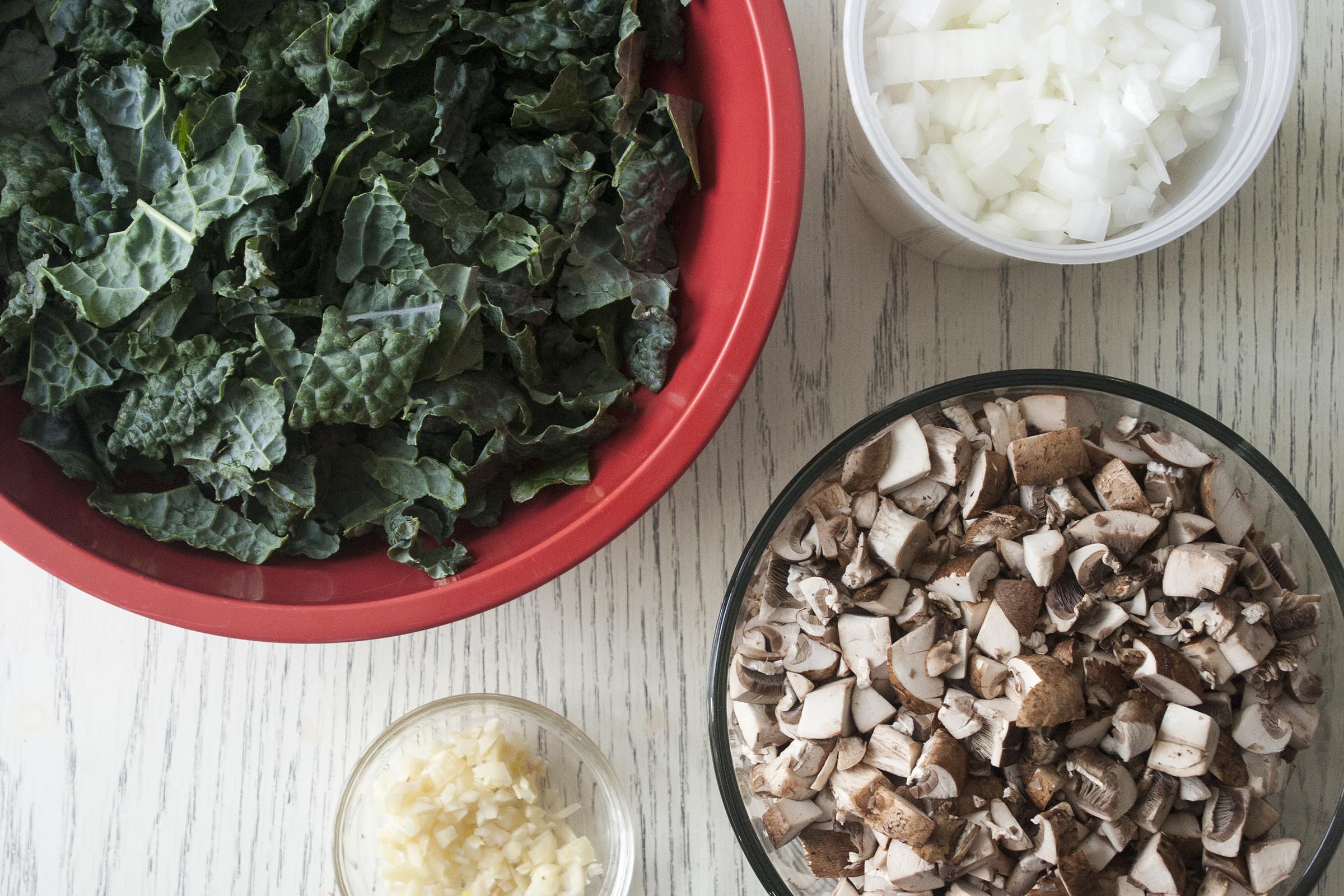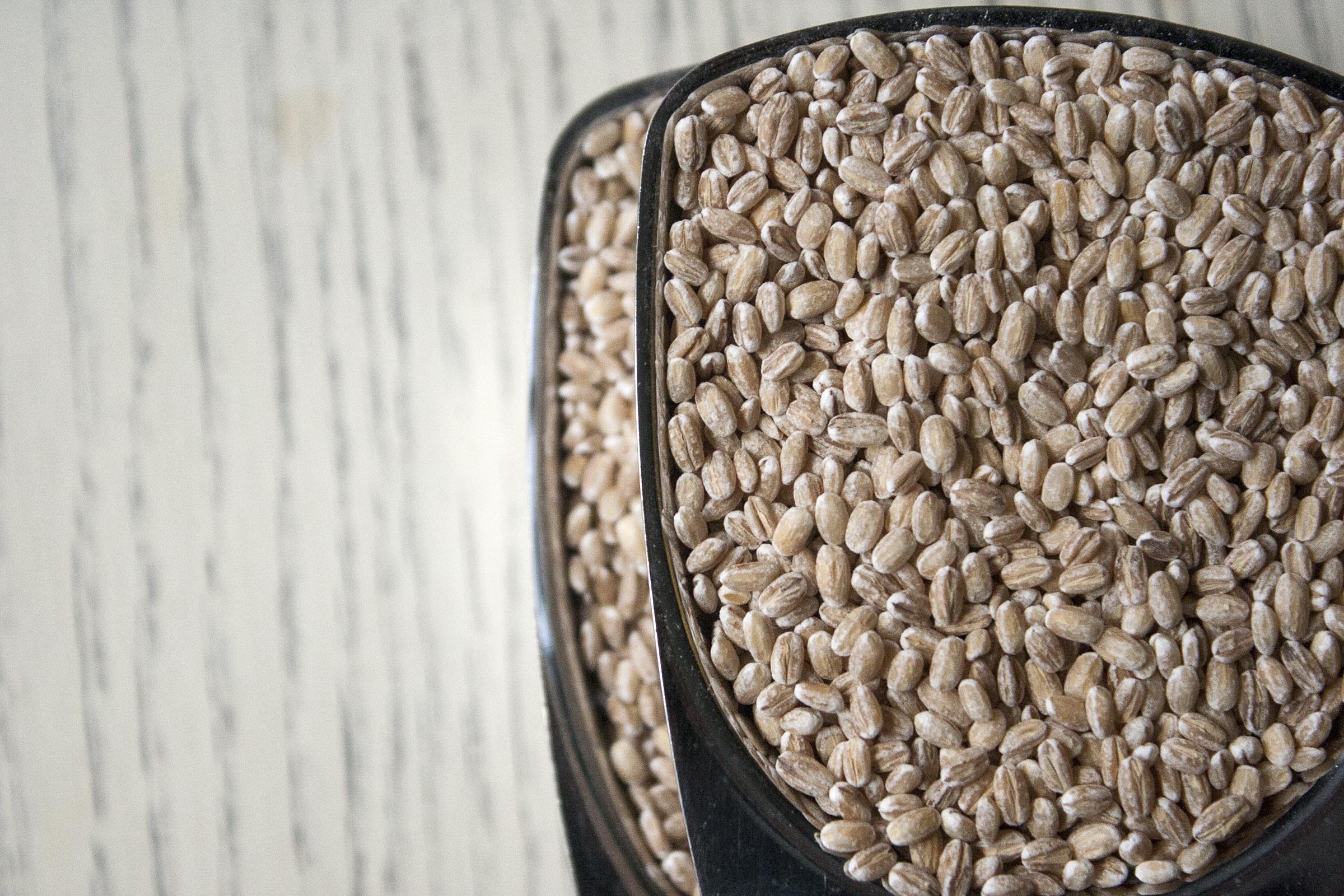 -Later, during her afternoon nap, I began to cook. I started to take pictures, but it was November and by 3:30pm, there was already a dark cast in the dining room. It was cold, but after each step, I ran the ingredients outside to take pictures. I had spent months wondering if my neighbors, who we rarely talk to, were watching me take pictures (in my pajamas, standing on chairs, next to the windowsill, on our walkway, balancing a spatula in one hand and a camera in the other). And, at 4:15, when the light was on its way out for the night, one of them decided that he had to ask. He talked to me about his job. He asked me if I was one of those Instagram Food wannabes (his words), or if he was going to see all of this food on some sort of a cooking show. I stood there talking to him, in socks, with the finished risotto on a trivet, on the sidewalk, watching the sun disappear, finally learning his name after six years of living next door.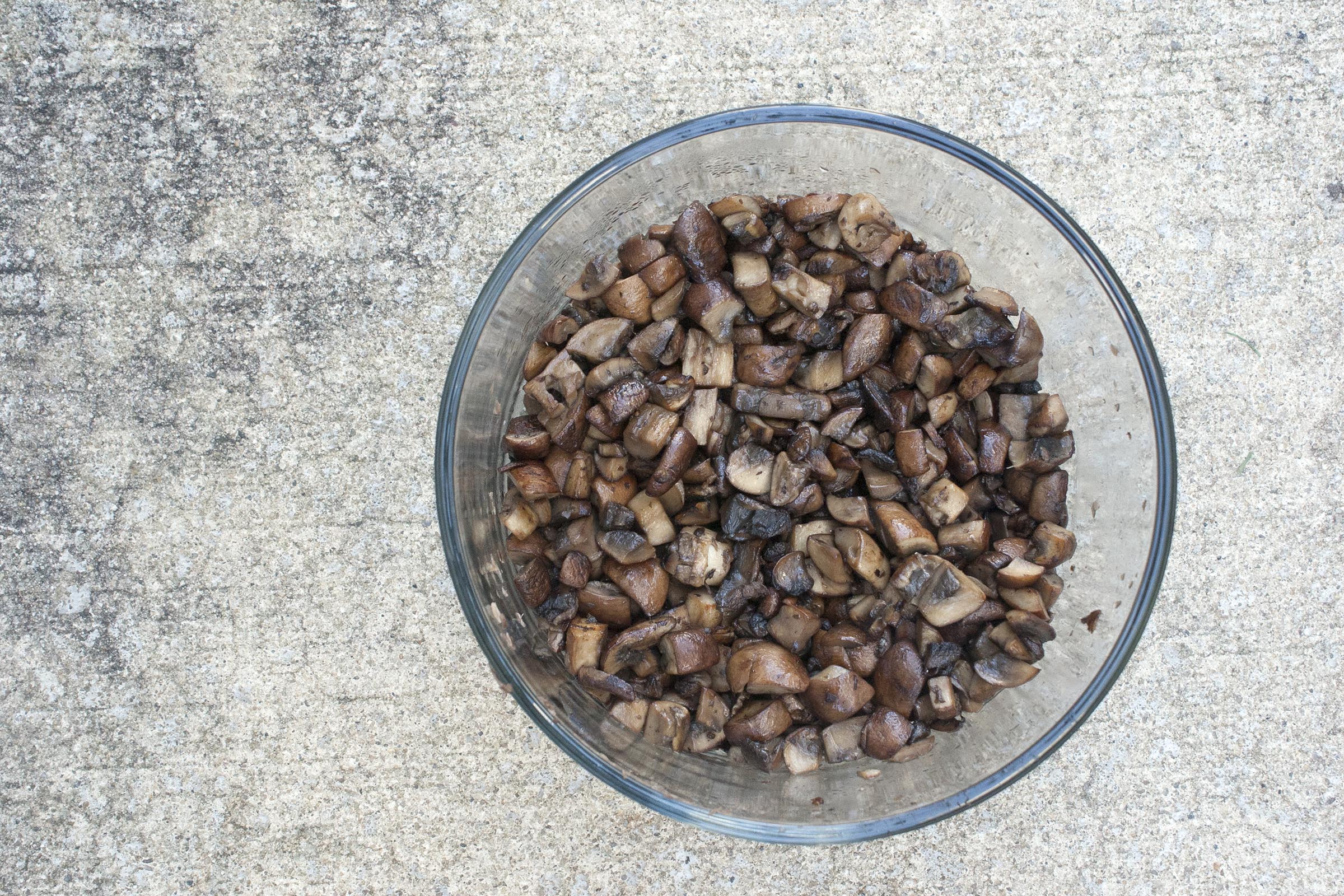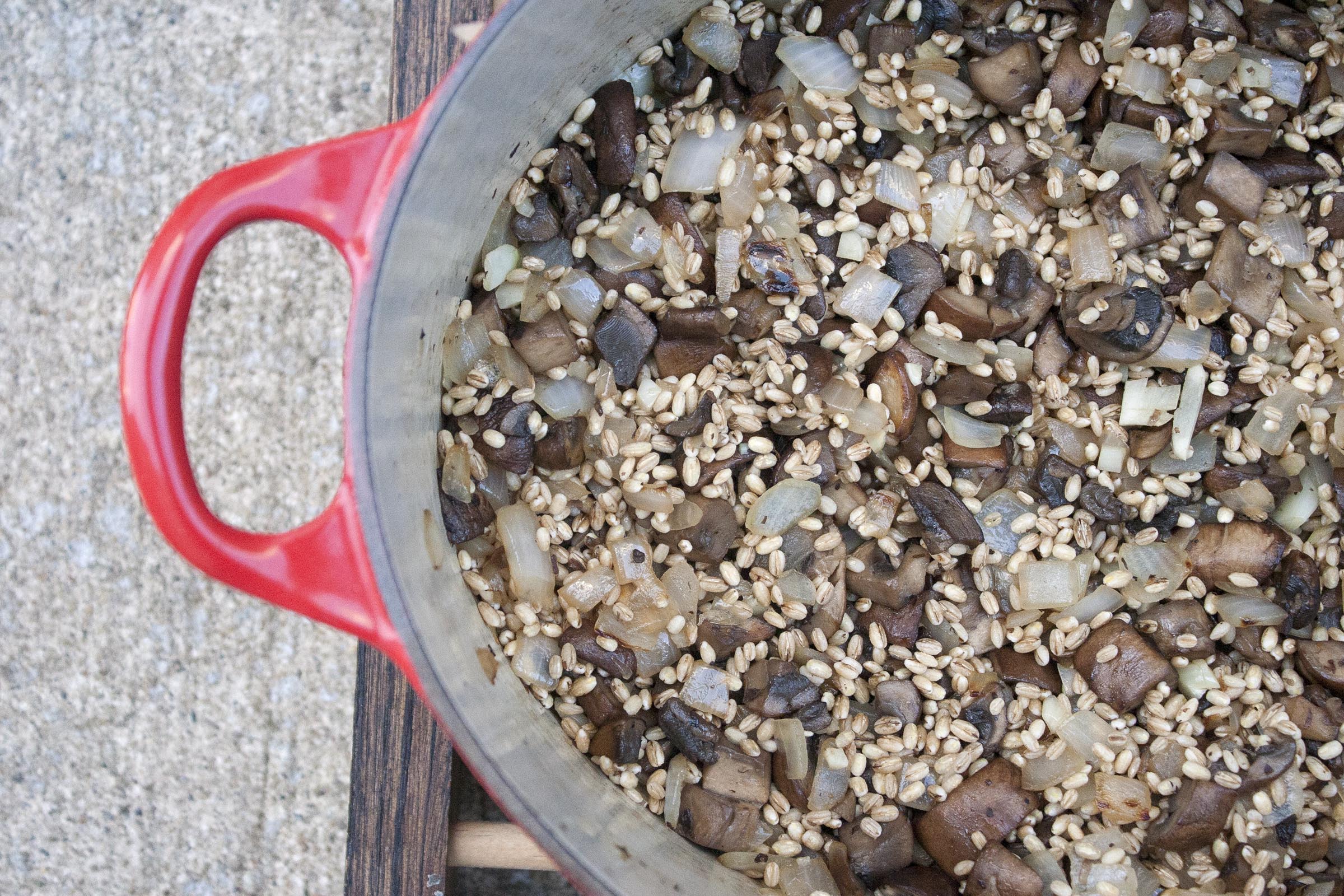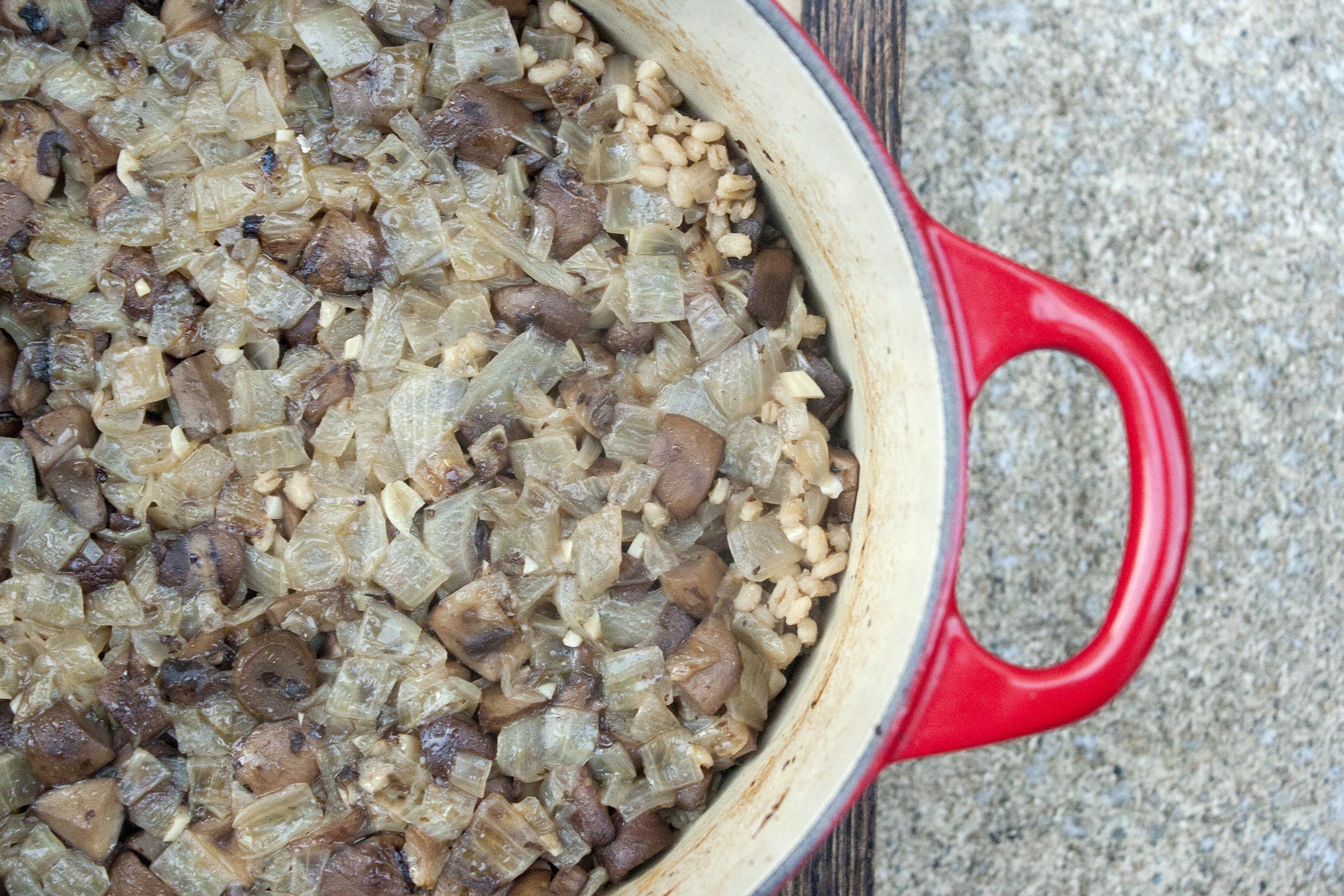 -I took a few halfhearted pictures – something I'm regretting, today. I left to go to Easton's parent-teacher conference, realizing that I would just have to take a finished picture in the morning. That night, after Easton took her second trip to the polls, this time with Larry, she ate a bowl by herself and Larry and I ate later, sitting on the couch, in front of the TV.
-The next day, there were too many other things going on to focus on picture taking. It didn't feel like the time. Our focus had shifted. We ate the leftovers, of course, but pictures were not the priority.*
-So, I forgot about it – the baked barley risotto, the intentions, the one time, dusky conversation with our neighbor.
But, Reeve is eating more and more interesting food and of course, we are going to make her a batch soon. And, that's when I remembered: the risotto. I never did get that final picture, or a picture outside that I love. But, I made it, and I wrote down the recipe.
Whether you choose to keep it simple, sweeter and closer to the original or veer off into the savory, more prep-heavy version, know this: once you get the pot in the oven, you can mostly leave it alone. Wash the dishes, set the table, do your work and let it be. When it's almost done, you'll stir in the kale, feta, a bit of butter, and, I really think you should add a bit of grated pecorino romano, too. Put the lid on, let it finish cooking and stir to bring it all together. It's creamy from the butter and cheese, but toothsome from the barley and just wilted kale. It's very winter-hearty (mushrooms and kale will do that to a dish), but the sherry and feta brighten it up. It's the kind of thing that makes it so easy to be a fan of winter cooking, and winter comfort, which is something we can all use right now.
I think I've talked myself into making a Reeve her first risotto. I'll skip the sherry (I'll probably use a bit more broth), and go light on the salt. I don't say this often, but I know she's going to love it.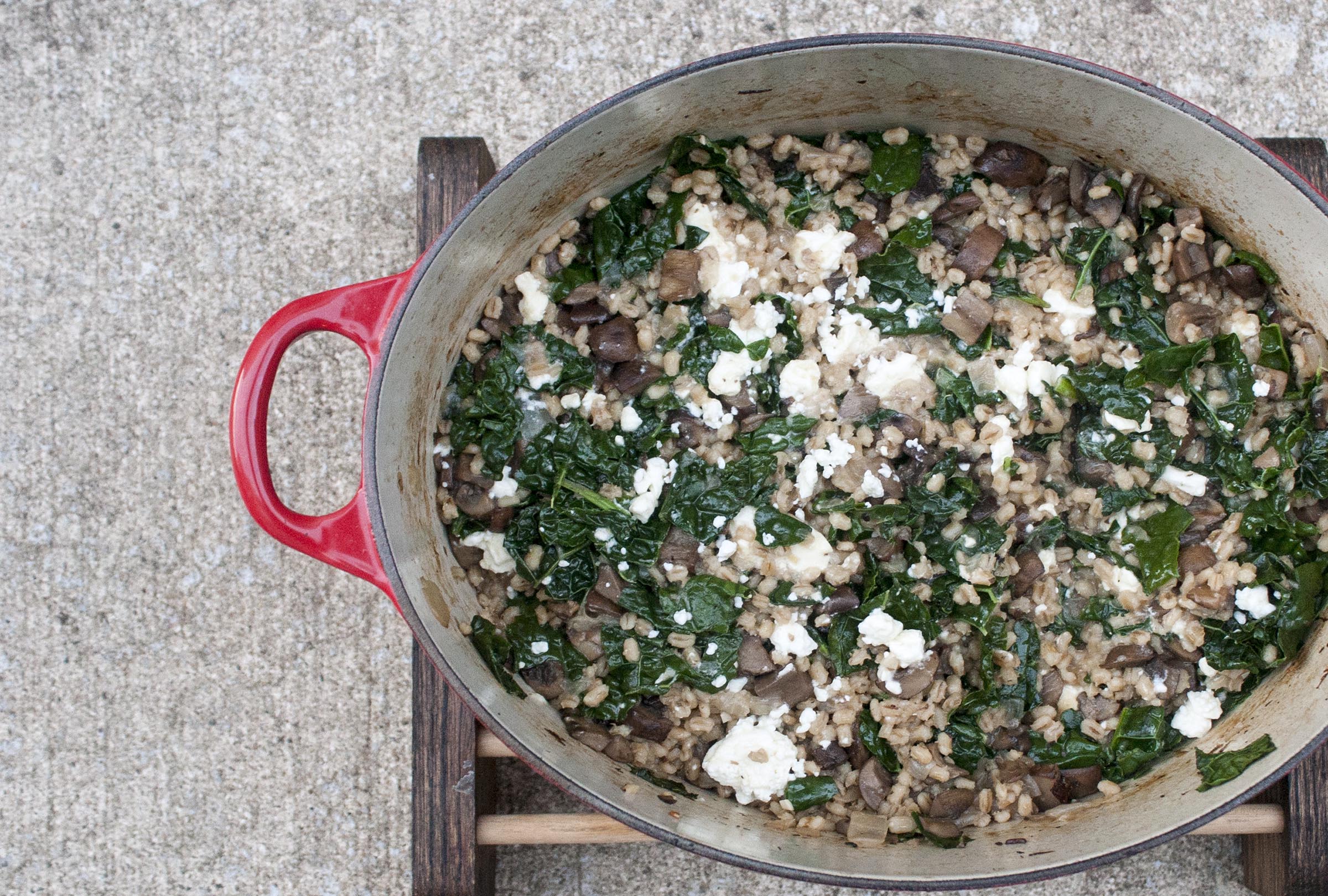 *Not a lot of discussion about this, purposely, because you're here to read about food and our life with kids, right?

Kale & Mushroom Baked Barley Risotto
I like cremini mushrooms because they lend an earthier, deeper flavor than white mushrooms, but they're not hard to find, or bank-breaking, like a lot of the more exotic mushrooms. But, if you can't find them, use white mushrooms and just make sure to get a good sear on them.

To clean mushrooms, just use a damp paper towel to remove the dirt (do not run them under water). I love sherry with mushrooms and kale. Sometimes the ½ cup is enough and sometimes I find a little splash stirred in at the end makes all the flavor difference. If you prefer to use white wine, it will be different, but it will still work. If you want to skip the alcohol completely, you can deglaze with extra broth or water.

Lastly, seasoning really is key with this recipe. There are a lot of strong, earthy flavors in here and if you don't cook the mushrooms and onions deeply, or season well, those earthy flavors will take over.
What you'll need
2 tablespoons, plus 1 teaspoon olive oil, divided
20 ounces cremini mushrooms, cleaned, ends trimmed and cut into ½-inch dice
1 large white onion, peeled, halved and chopped
6 large cloves garlic, peeled and chopped
1 ½ cups pearled barley
½ cup sherry
4 cups low-sodium chicken broth or mushroom stock
½ cup water
1 bunch lacinato kale, stems removed, washed and chopped (about 5 ounces kale leaves when you're finished prepping)
1 cup creamy feta cheese (4 ounces)
1 tablespoon unsalted butter
2-3 ounces grated Pecorino Romano or Parmigiano-Reggiano Cheese
How you'll make it
Heat oven to 400°F.
In large Dutch oven or heavy ovenproof saucepot with lid, heat 2 teaspoons olive oil over high heat. When hot, add half the mushrooms and a sprinkle of black pepper. Cook, stirring occasionally until mushrooms are golden brown, about 10 minutes. (The mushrooms will appear dry, then release their water. As the liquid evaporates, the mushrooms will start to sear.) Transfer to bowl. Repeat with remaining mushrooms, 2 teaspoons oil and pepper. Add second batch of mushrooms to bowl.
Reduce the heat to medium and give the pot a moment to cool down. Add remaining olive oil (1 tablespoon). Add onions and a big pinch of salt. Cook 10-15 minutes, or until onions are tender, translucent and just starting to turn golden. Stir cooked mushrooms and garlic into pot. Season with kosher salt. Cook 1 minute, stirring constantly. Stir barley into pot. Cook 30 seconds.
Increase heat to high; pour in sherry and cook 1-2 minutes, or until almost completely reduced, scraping up anything that has stuck to the bottom of the pot. Add broth and water; bring to a boil.
Cover Dutch oven and carefully transfer to the oven. Cook 30 minutes. Carefully remove the lid and add kale to the top of the pot, stirring it in, in batches, if necessary. Cover pot and return to the oven. Bake 10 minutes more, or until kale and barley are tender. Remove lid, stir in feta, butter and grated cheese, to taste. Carefully taste and season with additional kosher salt and pepper, or an additional splash of sherry, if desired.
Divide amongst bowls; top with additional feta and/or Pecorino Romano, if desired.
*Inspired by Real Simple.
How to plan ahead
• The mushrooms, kale, onions and garlic can all be washed, dried, cut and stored in separate containers, one day ahead of time.
• You can cook the mushrooms, onions and garlic one day ahead of time. Once cooked, remove from heat, let cool down and transfer to an airtight container. If anything is stuck to the bottom of the pan, set the heat to high and use a bit of broth, water or sherry to free it from the bottom. Add the liquid to the vegetables. When you're ready to continue, warm the vegetables back up, stir in the barley and continue with the recipe (reducing the sherry).