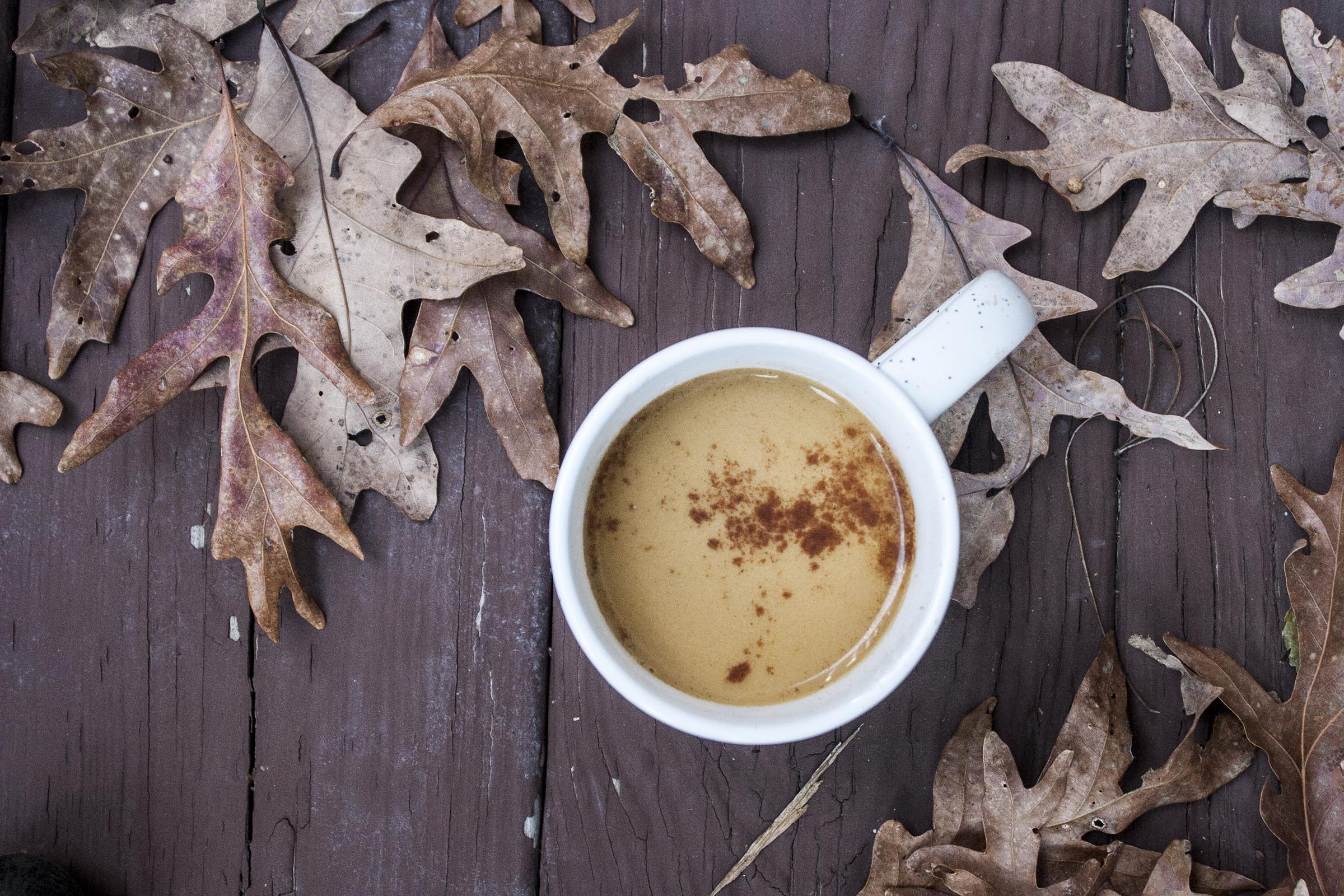 This Pumpkin Pecan Milk is the answer to my 3pm slump. It's too late to drink coffee, too tempting to drink hot chocolate and too not a good idea to eat a handful of chocolate chips. Having a jar of it ready in the fridge takes a bit of planning, but the creamy autumnal payoff is well worth it. Especially if you have a little time to yourself to enjoy it.
I will say right away that I do not always make my own non-dairy milks. It's just not a sustainable or practical habit for us. Years ago, when I first introduced Easton to coconut and almonds, I started in the form of milk, and because I wanted her to only taste those ingredients, I made them myself. I continued that way for a while, ultimately moving to organic boxed versions, once she had been exposed to more. Occasionally now, the mood strikes and I make a batch.
The main issue is this: they last three to four days and we don't typically go through that much in such a short amount of time. Typically, I'm only using it to pour a bit into my coffee or smoothies. But, this Pumpkin Pecan Milk, spiked with cinnamon sticks and vanilla? It never even saw the fourth day. Twice.
Over the past few weeks, as I've been cold or tired, a little sluggish or a little cranky, I started to think hard about hot drinks. Then, recently, when I was tricked into a pantry clean out, and I finally committed to storing our nuts in the freezer, I realized what I had been missing. And, all I could think about was pecans and that can of pureed pumpkin I've been refusing to use, even though there are thousands more at the store.
Several days later, I finally remembered to soak the nuts and a cinnamon stick before bed. The next morning, while Reeve napped, I blended, strained and sampled. And then I waited, because the point was an afternoon pick-me-up, not something to drink alongside my coffee.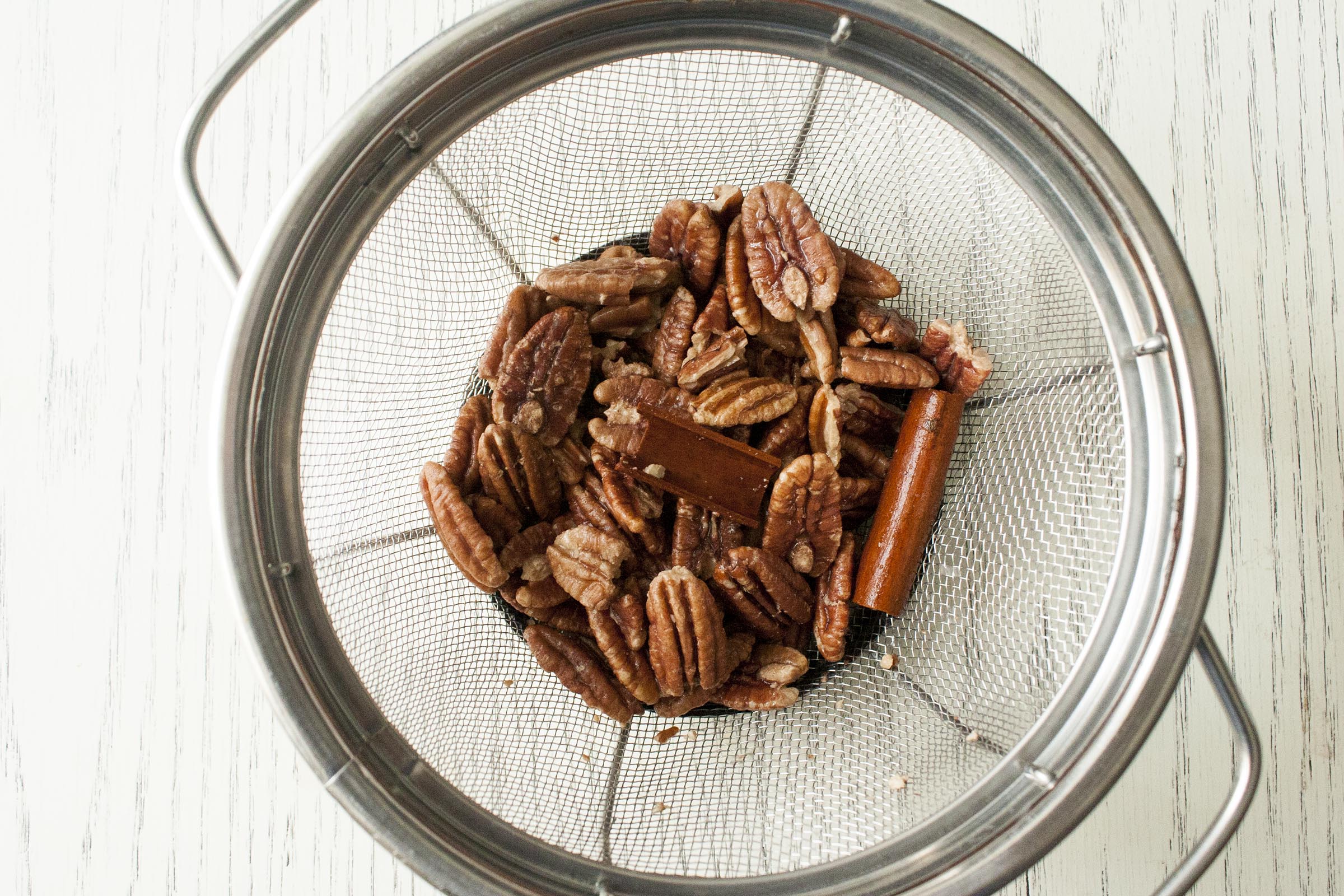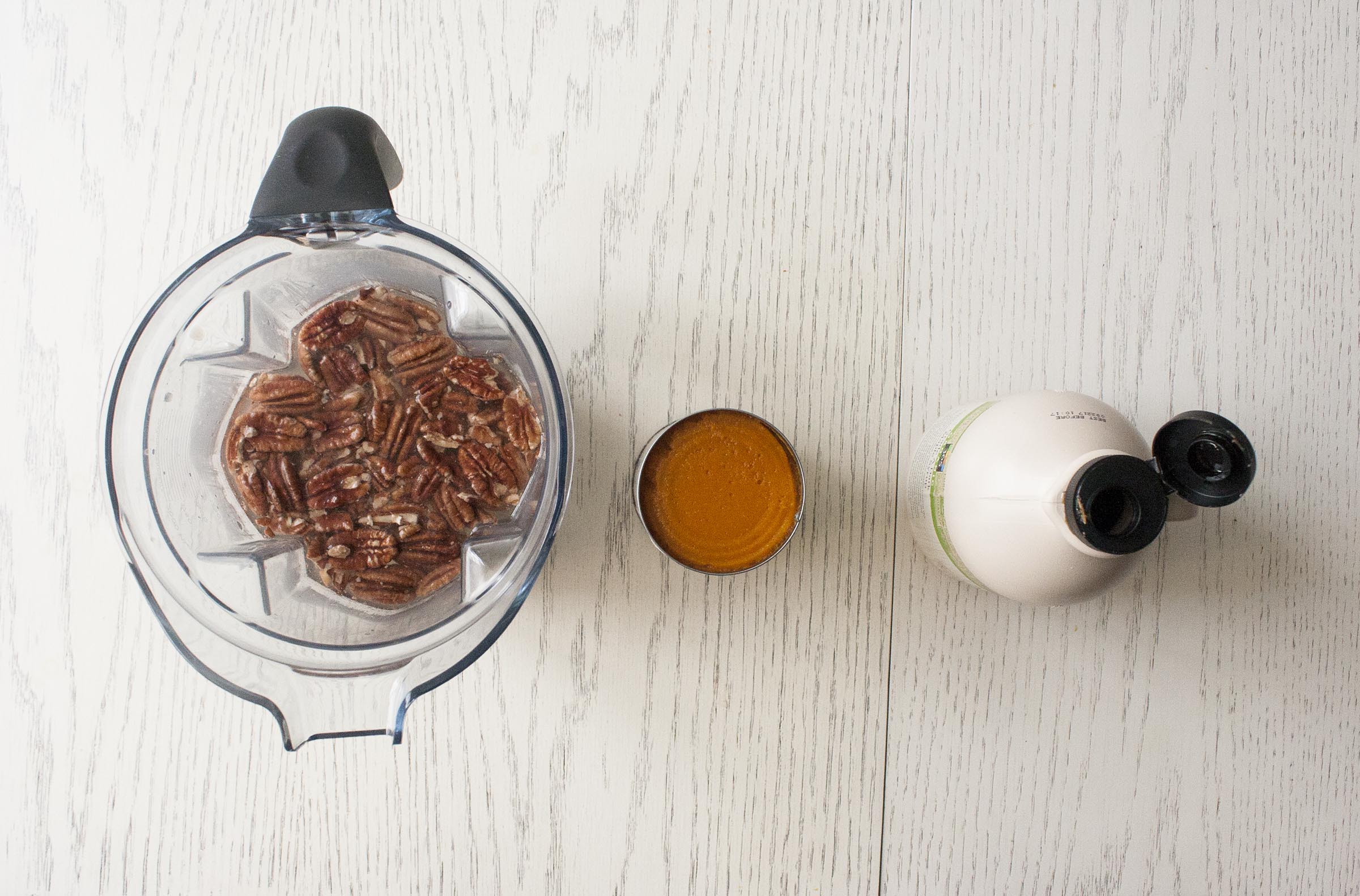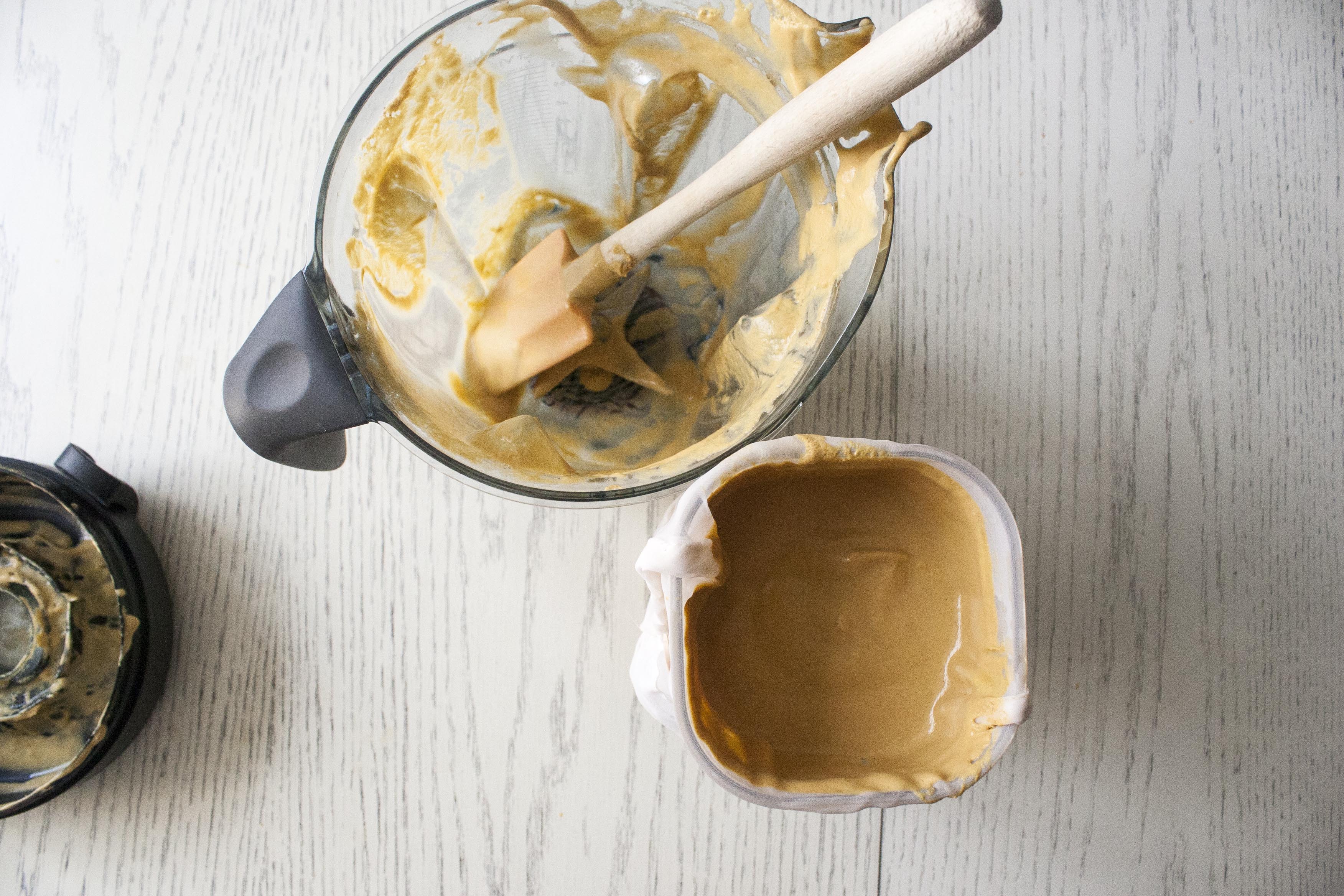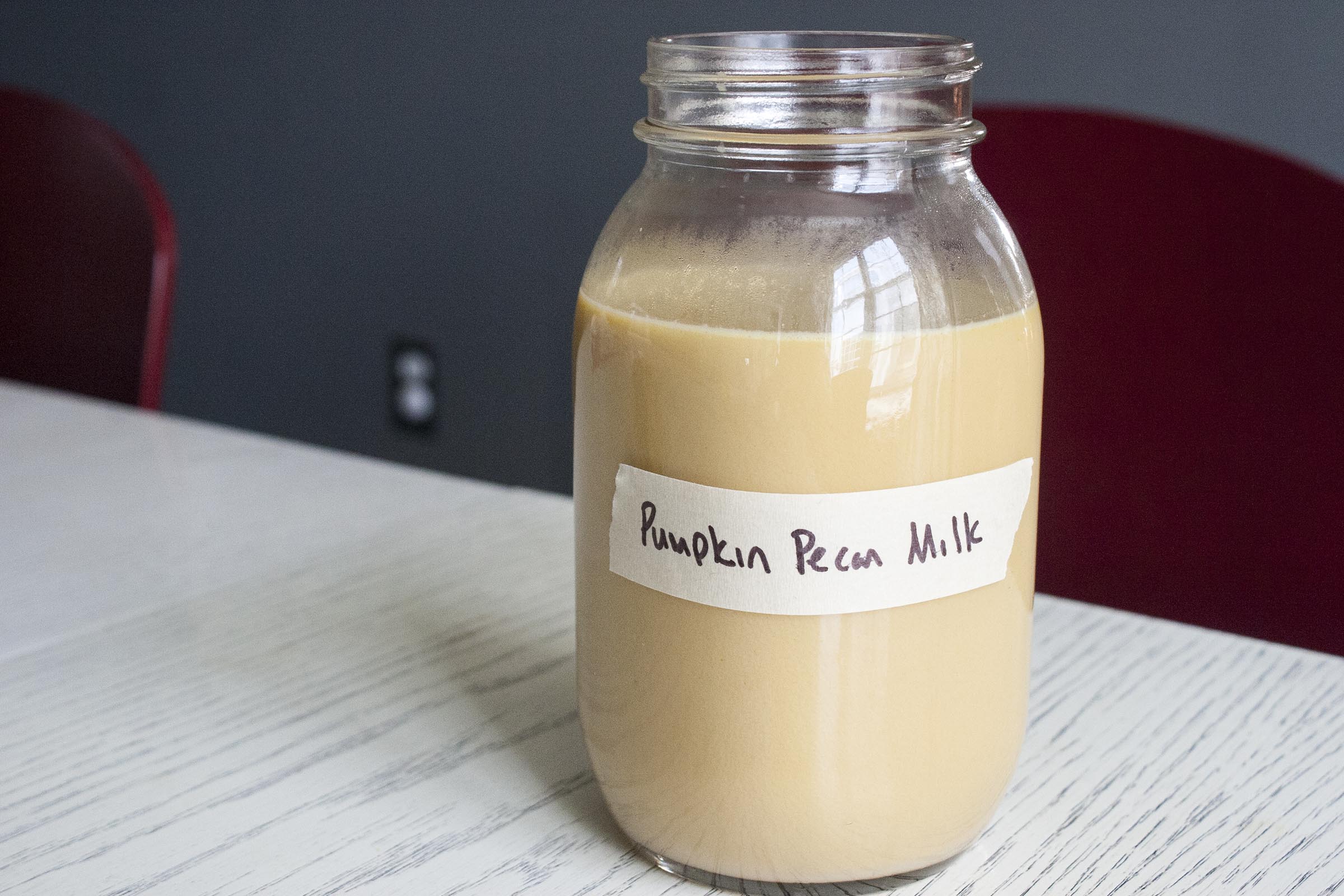 That afternoon, I simmered a bit of the Pumpkin Pecan Milk with a small drip of maple syrup and lit a candle to take a picture. Afterward, I sat on the floor in silence for at least 10 minutes, the baby monitor behind me, my leaf-covered backyard in front of me. I sipped, next to a candle and remembered what quiet and being alone and stepping away from a computer and a cutting board felt like.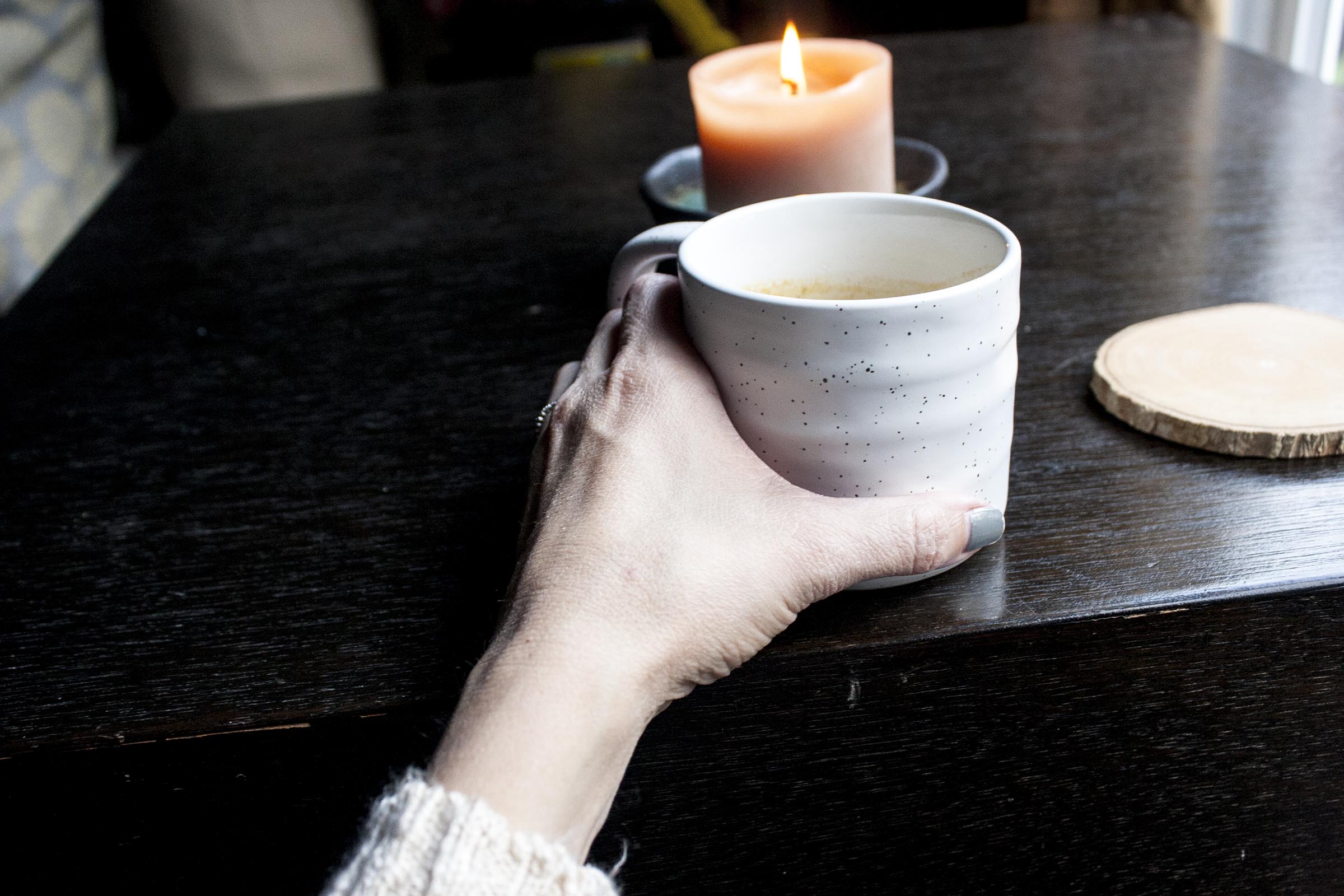 The next day, I hit repeat, but this time on a warm November day, I sat outside, where the sun was shining and the only sounds were rustling leaves and the noise machine from the monitor, with me on the deck.
As I was sitting there, pretending this was my real life, I started to understand. My 3pm slumps are from a lot of things (hunger, missing lunch, general afternoon blahs), but they're also because these are long days. Each morning, the hustle is the same: a constant flow of teeth brushing, hair wrangling, milk cup/pump washing, begging, begging, begging an opinionated threenager to please put on her boots. Mid-mornings, I cook and write from the moment the baby is in her crib, willing away those first whimpers, shocked every time at how quickly two hours fly by. The afternoons are spent silently (and not so silently) pleading with the baby to nap and frantically trying to knock things off my list.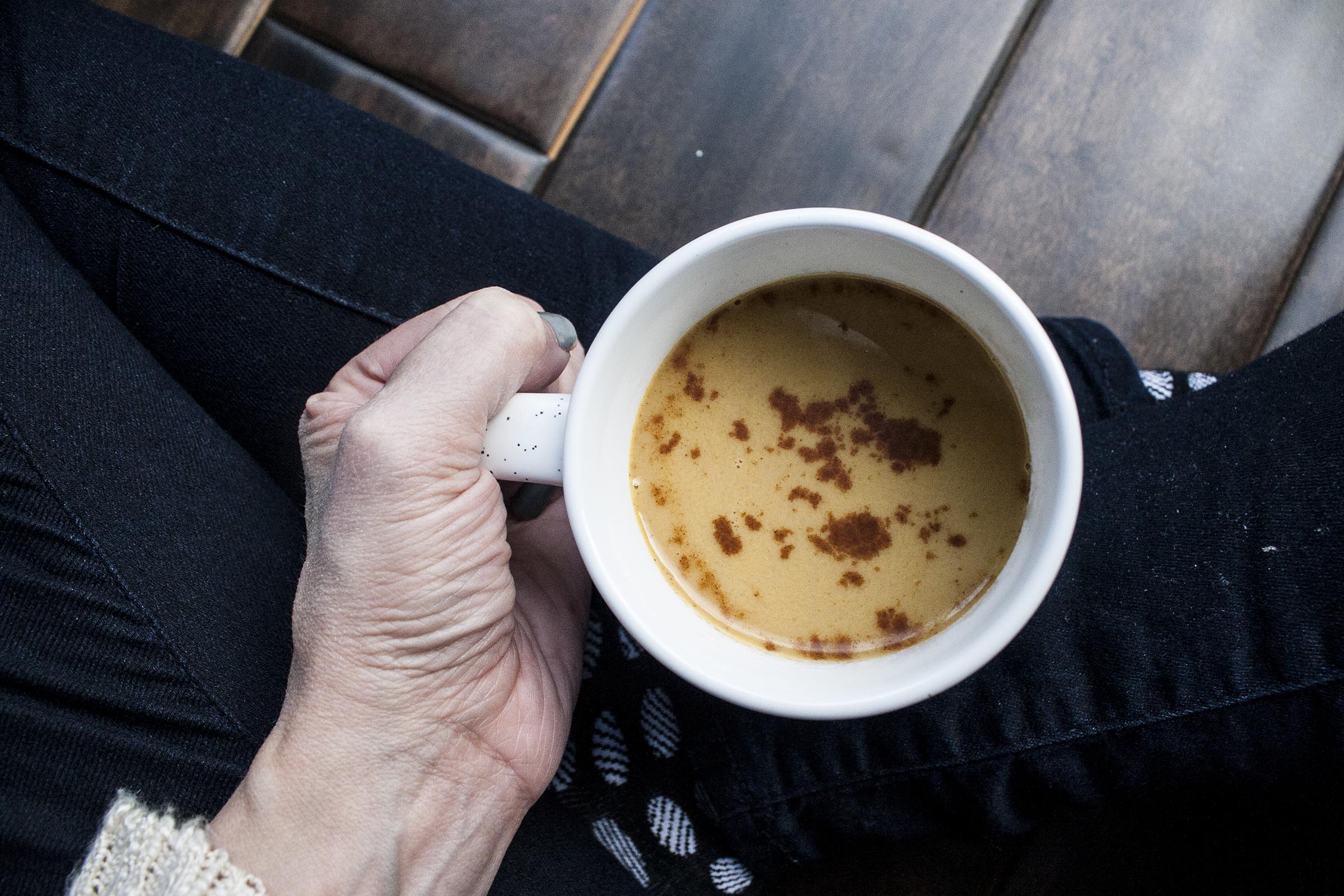 I am no longer working full time. This was what I wanted – to have more time with my children and to finally start freelancing. But, without having something tangible to show for my time, I feel the need to always be active. There isn't a lot of time to relax, but I wouldn't feel so great about it anyway. I should be writing and pitching articles, cooking dinner, getting things ready for school for Easton, working here.
But maybe twenty minutes of selfish quiet isn't such a selfish thing. Maybe it's OK to sit in silence and sip something hot. And, if a cup of pumpkin pecan milk is all it takes to enthusiastically get through our nightly readings of The Day the Crayons Quit and Dragons Love Tacos, then well, I better start soaking the next batch of pecans. Because, nights around here…yeah, I'm not ready to talk about what those look like yet.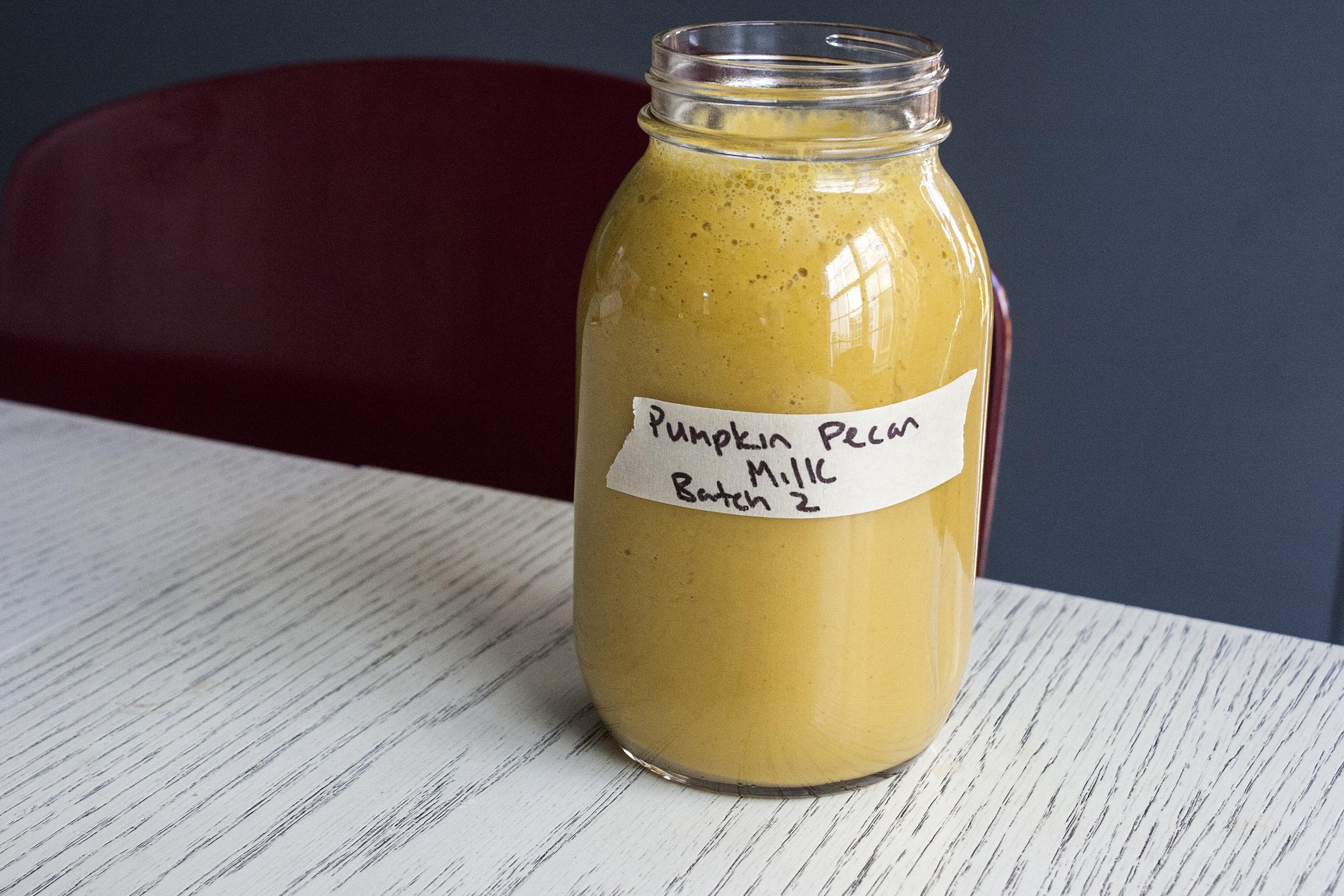 Pumpkin Pecan Milk
I made this two different ways. First I pureed the pumpkin and pecans together, then strained. The second time, I pureed the pumpkin into the strained mixture. While both work, I definitely prefer the version below. Here's why: using this method, the flavor of the first was more well rounded and the texture, smoother. The second method was more pumpkin forward (as you can see in the picture above, also more orange), but oddly, not as flavorful and I found the mouthfeel to be almost too thick. The two disadvantages of blending and straining together: your nut milk bag will be tinged orange and it takes a bit more work to strain the mixture after blending.

You can strain your nut milks in a cheesecloth, but honestly, I really, really discourage it. The cheesecloth makes the process take much longer and it is so much messier. The first time I made almond milk, I swore I'd never do it again. Then, I decided to invest in a nut milk bag and was so glad I gave it a second chance. If your bag doesn't seem secure (and you worry that the weight of the liquid will cause it to fall), use a rubber band around the top - it makes all the difference.

Finally, I left this milk barely sweet, in case you don't intend to drink it straight. It can also be used instead of creamer in your coffee, as the milk for your hot chocolate or to make oatmeal.
What you'll need
1 cup raw pecans
1 cinnamon stick (2-3 inches)
3¼ cups water
½ cup pumpkin puree
1 tablespoon maple syrup
pinch kosher salt
1 teaspoon vanilla extract
How you'll make it
Place pecans and cinnamon stick in bowl. Cover with at least 2 inches cold water. Let sit, uncovered, overnight.
Drain pecans and cinnamon stick. Place in a high-powered blender. Add water, pumpkin puree, maple syrup and salt. Blend on medium to medium-high, depending on your blender's ability, 3 minutes, or until very smooth.
Using a nut milk bag, strain milk into a clean container, using a spatula to gently push the mixture back and forth to help it along. When cool enough to handle, squeeze all remaining liquid into your container. I find that firm, but gentle, squeezes release the extra liquid, without accidentally releasing the pulp.
Stir in vanilla extract. Let cool; store in fridge 3-4 days.
For Hot Pumpkin Milk
Heat 1 cup milk in saucepan over medium heat, until steaming and bubbles just start to form around the edges, stirring occasionally. If you prefer sweeter drinks, stir 1 teaspoon maple syrup, or less, into the mixture. Serve dusted with ground cinnamon.