A continuously updated list of foods that Reeve has eaten, how to prepare them and her (interpreted) feelings about each one. Please note, I've listed the foods, within each category, in the order that she's eaten them. This means that although something might say it's appropriate to eat at 6 months, we may not have given it to her until 7, 8 or 9 months, which is why a few might appear out of order.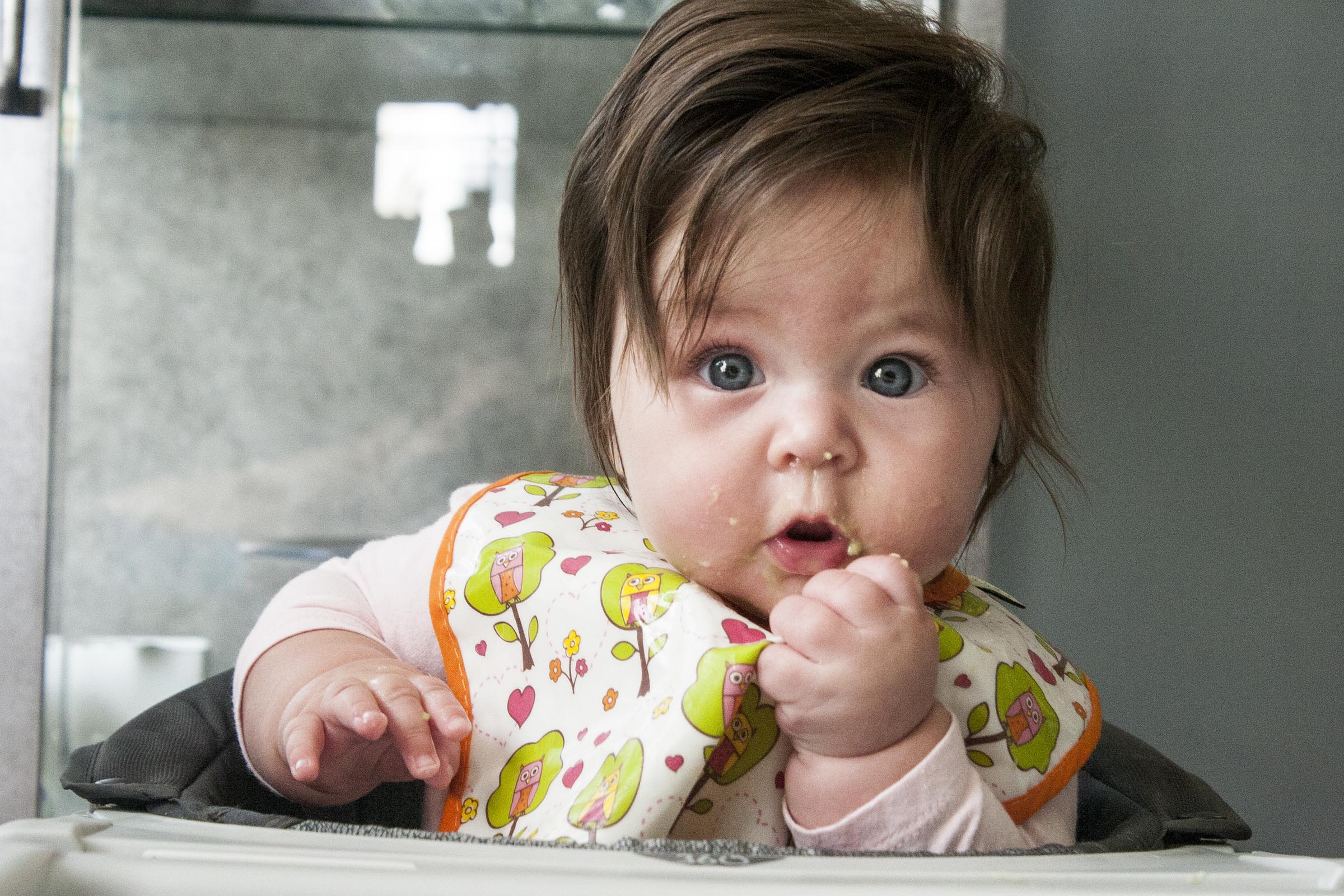 Vegetables
Avocado (6+)
Place half small very ripe avocado into the bowl of a mini food processor; add 1-2 tablespoons breast milk, formula or water and blend until completely smooth. Transfer a small amount to a bowl; cover the surface of the remaining avocado mixture with plastic wrap.
Reeve's verdict Why do you think I would eat this weird stuff when I'm wearing a delicious bib?
Butternut Squash (6+)
Recipe here.
Reeve's verdict I could probably get down with this, when I'm more used to eating.
Peas (6+)
Only make as much as you will need for 3-4 days, since the frozen pea puree cannot be refrozen. In steamer, or heatproof strainer set over a pot of boiling water, add frozen peas. Steam 8-10 minutes, or until completely tender, but still bright green. Transfer to a food processor or blender and add a couple tablespoons breast milk, formula or water. Blend until completely smooth, adding more liquid, if necessary.
Reeve's verdict Why are you torturing me with this?
Zucchini (6+)
Choosing organic is a completely personal choice. I try to buy organic when I know I will be using the outer layer of the fruit or vegetable, or if it's an item that has an easily penetrable surface. For me, zucchini is one of those vegetables.
Wash and dry 3 large zucchini. Trim ends. Cut unpeeled zucchini into a 3/4-inch dice. Place in large saucepan; add about 1-inch water. Bring to a boil; reduce heat and cook 15 minutes or until completely tender. Using slotted spoon, transfer zucchini to the blender. Blend 30 seconds, or until completely pureed. Transfer to an ice cube tray and let cool completely. Freeze at least 2 hours, or until firm. Transfer to freezer bag; freeze up to 3 months.
Reeve's verdict Zucchini, where have you been all my life?
Sweet Potato (6+)
While I was roasting a sweet potato for our dinner, I tossed an extra one in the oven. Heat oven to 400°F. Wash sweet potato well; prick all over with a fork. Wrap in aluminum foil. Roast 1 hour-1 hour 20 minutes, or until completely tender. Let cool; peel. (Use the skins to make these.) Place sweet potato in the blender with 2 inches water (you can also use breast milk or formula, but using water lets you use the cubes for yourself, too, if your baby tires of them). Puree for 1 minute, or until completely smooth, adding more water, if necessary. Transfer to two ice cube trays and let cool completely. Freeze at least 2 hours, or until firm. Transfer to freezer bag; freeze up to 3 months.
Reeve's verdict Sweet potato is everything.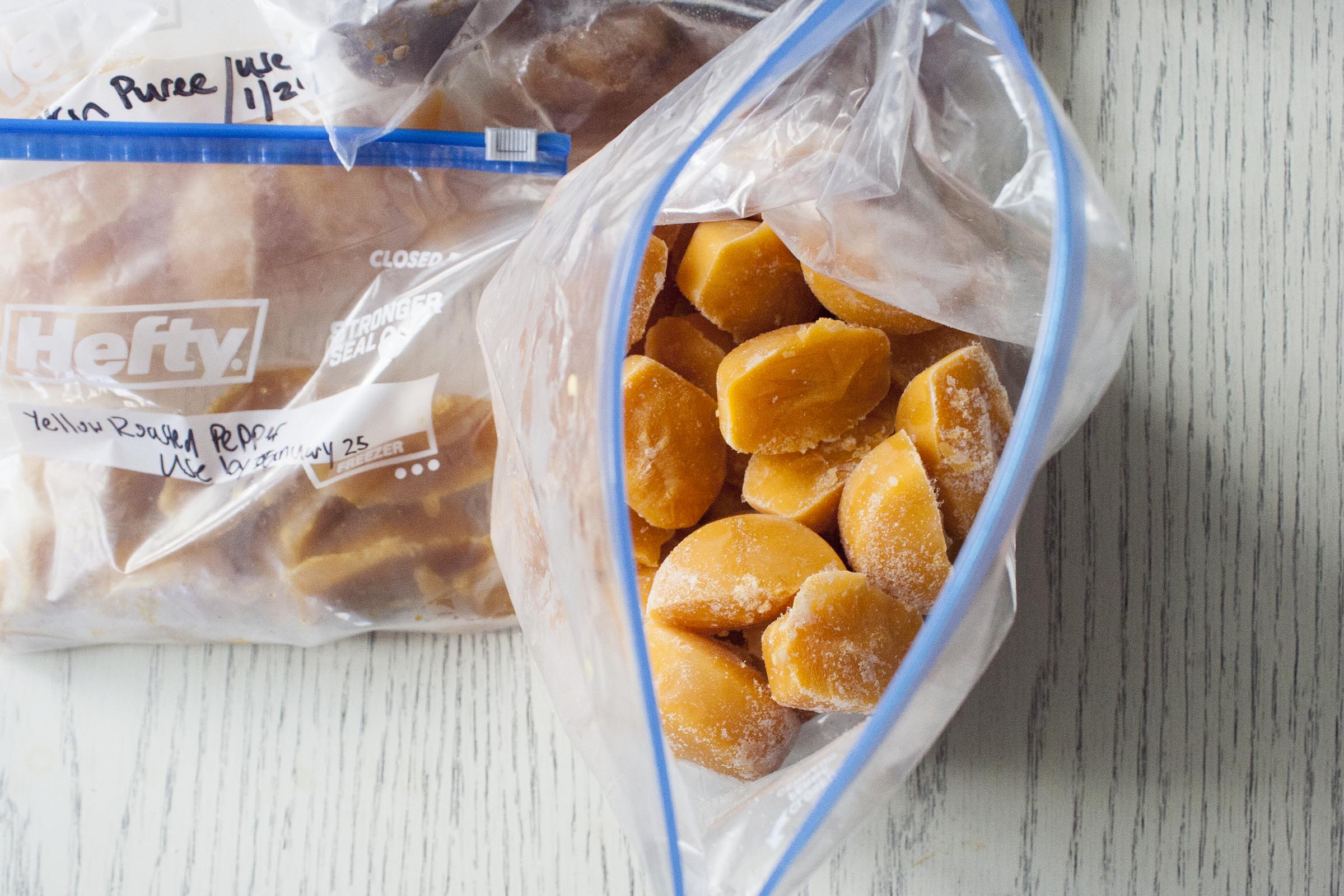 Roasted Yellow Peppers (6+)
I am not the biggest fan of roasted peppers, but I think I'm in the minority. I'm also a big advocate of getting my kids to eat the things that I'm not crazy about. To make them: clean 2-4 bells peppers. Set the whole pepper on an aluminum foil-lined pan, six inches from the broiler set to high, or set them directly on top of your stovetop grates. Either way, cook them until they begin to char, rotating often with tongs until the entire pepper is charred. Place peppers in a clean paper bag; close top tightly and let steam for 15 minutes. Remove from bag and peel away the charred skin, using a paper towel, your hands or as a last resort, a bit of water. Remove the stem and the inside seeds. To puree, place peppers in a blender with a small splash of water. Blend until pureed. Divide amongst ice cube trays; let cool completely. Freeze at least 2 hours, or until firm. Transfer to freezer bag; freeze up to 3 months. Alternatively, cut into small pieces.
Reeve's verdict Mom is crazy. Roasted Peppers are so good.
Artichokes (6+)
This may seem like an odd first food, but it was a hit with both girls, early on. I buy frozen artichokes for many reasons (time, seasonality, convenience). Because you don't want to refreeze the artichokes once thawed, I only make enough for a couple days, or prepare all of them and use the rest to make a dish for us. Here's how I do it: simmer until tender according to package directions. Transfer to a blender with water (about a 4:1 ration, artichokes to water). Process until as smooth as possible.
Reeve's verdict I seriously cannot believe you tried to give me peas again instead of these. Artichokes are awesome.
Parsnips
Recipe here.
Reeve's verdict Every time I eat these, I will bang my fist on the table and throw my head back. I LOVE parsnips!
Potatoes (6+)
Potatoes are bland, not exactly packed with nutrients and not something we eat a ton of around here, so they weren't exactly on the top of my list. In fact, I don't think Easton had a potato for a very long time. But, I also remember feeding Easton a puree of kale and thinking it was a bit intense, plus the bright green kale ended up everywhere. I wanted Reeve to have a mix-in food that would allow her to get to know the flavor of kale (and other strong foods), without covering it up. Mashed potatoes felt like the perfect introduction.
I peeled one potato (and roasted the peels with a little bit of olive oil, salt and pepper, for me), cut it into 1/2-inch dice and pot it into a medium saucepot. Then, I covered them with cold water, brought them to a boil, covered the pot and cooked them about 20 minutes, or until the were completely soft (no resistance when pierced with a knife and exactly the same color on the inside as the outside). Then I used my very neglected ricer to mash them before dividing among the ice cube tray and freezing.
Reeve's verdict Eh.
Leeks (7+)
I wanted to introduce the onion family to Reeve since most of our meals start with an onion itself, if not a shallot, chives or scallions. Recently, I was sautéing leeks for matzo ball soup for us, and I realized they would be an ideal first food. Once cooked, they're soft, sweet and just slightly golden. I always have to stop myself from eating them straight out of the pan.
To do: remove the dark grey parts of the leeks, leaving only the white and light green part remaining (use the tops of the leeks to make stock!). Vertically halve leeks, then place flat side down on cutting board and slice into half moons. Place leeks in a strainer. Rinse well. Place strainer into a bowl and fill with water. Swish around a few times and let sit for a couple minutes. Drain and repeat two more times, or until no dirt remains. Heat olive oil in a sauce pan over medium heat (if your child has already had olive oil), add leeks (if they're still wet, that's fine – just add them to the pan with caution to avoid splattering). Cook 2 minutes, stirring often. Reduce heat to medium-low and cook 20 minutes more, or until softened and almost melted together, stirring occasionally.
Reeve's verdict She's down.
Carrots (8+ for Homemade)
The recommendation for carrots is this: use store-bought or wait until your child is 8-months-old before giving them homemade. The reasoning is nitrates, which may be in found the homemade variety, but are eliminated during processing in commercial brands. For Easton, I boiled and pureed them, but I worried that I was leaving all of the carrot nutrients behind. This time, I used this method from Merrill of Food52, because she's already had olive oil and garlic (I skipped the salt). I drained most of the garlic (reserving it for another use), and, because I'm trying to introduce her to a bit of texture at this point, I mashed them.
Reeve's verdict Really not sure. Plus, not a big fan of textures, yet. Can now handle textures and love them.
Cauliflower (8+)
We eat a ton of cauliflower, so I wanted to get Reeve on board early, but I also didn't want to mess with her delicate stomach too quickly. Like a lot of potentially stomach-distressing foods, I waited until 8 months to introduce them. For the cauliflower, I went with the most basic, delicious approach: roasting.
To do: heat oven to 425°F. Remove outside leaves from 1 head cauliflower; wash and dry. Using a sharp knife, remove the inner core from the bottom of the cauliflower. Cut into florets, approximately 1-inch in size. Toss with olive oil (assuming your child has already successfully tried olive oil) and place on baking sheet. You want the florets to be in a single layer, not touching (or at the very least barely touching). If this isn't possible, divide amongst two baking sheets and place your oven racks on the top and bottom thirds of the oven. Roast 12 minutes; flip cauliflower and if using two baking sheets, reverse the pans when you place them back in the oven. Roast 8-12 minutes more, or until tender and caramelized. 
Reeve's verdict She is a complete roasted cauliflower fiend who recently tried to throw herself out of my arms to get to cauliflower intended for our dinner.

Broccoli (8+)
I'm honestly not sure why I didn't roast the broccoli. I tried a sauté, steam method that didn't quite work, except for the fact that in the end, it was cooked and tender. Definitely not what I would recommend.
Reeve's verdict It's OK. Much better when mixed with applesauce.
Spinach (8+ for homemade)
A lot of my smoothies start with spinach, so a "smoothie bowl" felt like a good way to introduce baby spinach to Reeve, once she was over 8 months old. By now, she's crazy about yogurt, so I put one 4 ounce baby container into a mini blender with a large, packed handful of spinach and a couple of these roasted apples, then I blended until mostly smooth. I put one third into the bowl for her to eat that morning and divided the rest among two other containers, which she ate for breakfast the next two days. To be fair, she might not exactly know what spinach tastes like, but I know that her belly can handle the raw green.
Reeve's verdict I'll eat anything if yogurt is involved.
Kale (8+ for homemade)
If there's anything babies teach you, it's to not know what to expect. Reeve has been an eager eater, but she has also perfected the face of disgust, which I was pretty sure she was going to give with kale. But, we eat a good amount of kale (for a long time, Easton referred to any green, from arugula to basil as kale), and I want to at least know her body can handle it.
To do: stem and wash kale. Stack as many leaves on top of each other as possible and roll into a tight cigar shape. Using a sharp knife, cut into 1/4-inch pieces. In skillet, heat a bit of olive oil (if your child has already had olive oil) over medium heat. Add kale and cook for a couple minutes, stirring occasionally. Add water (about 3/4 cup), stir around, cover and let cook 5 minutes. Uncover and taste – it should be tender and softened (at this point, it's usually good for me, but probably not soft enough for Reeve). If it needs to cook a bit longer, add more water (if necessary), cover and cook for a couple minutes more. Uncover; add 1 large cloves garlic, chopped and stir until it's sautéed and the water is evaporated. Transfer to cutting board and chop into small pieces.
Reeve's verdict I live to surprise you. Give me all the kale.
Tomatoes (8+ months)
Most kids are able to eat tomatoes – pizza and bowls of pasta are stales of their diets, right? But for some reason, I was really fearful to give Reeve tomatoes. However, she handled them well, which now means she can at probably 50% of what we cook in this house. I stirred a simple sauce into whatever she was eating for a couple days: cauliflower, quinoa, scrambled eggs.
Reeve's verdict Everything definitely tastes better with marinara.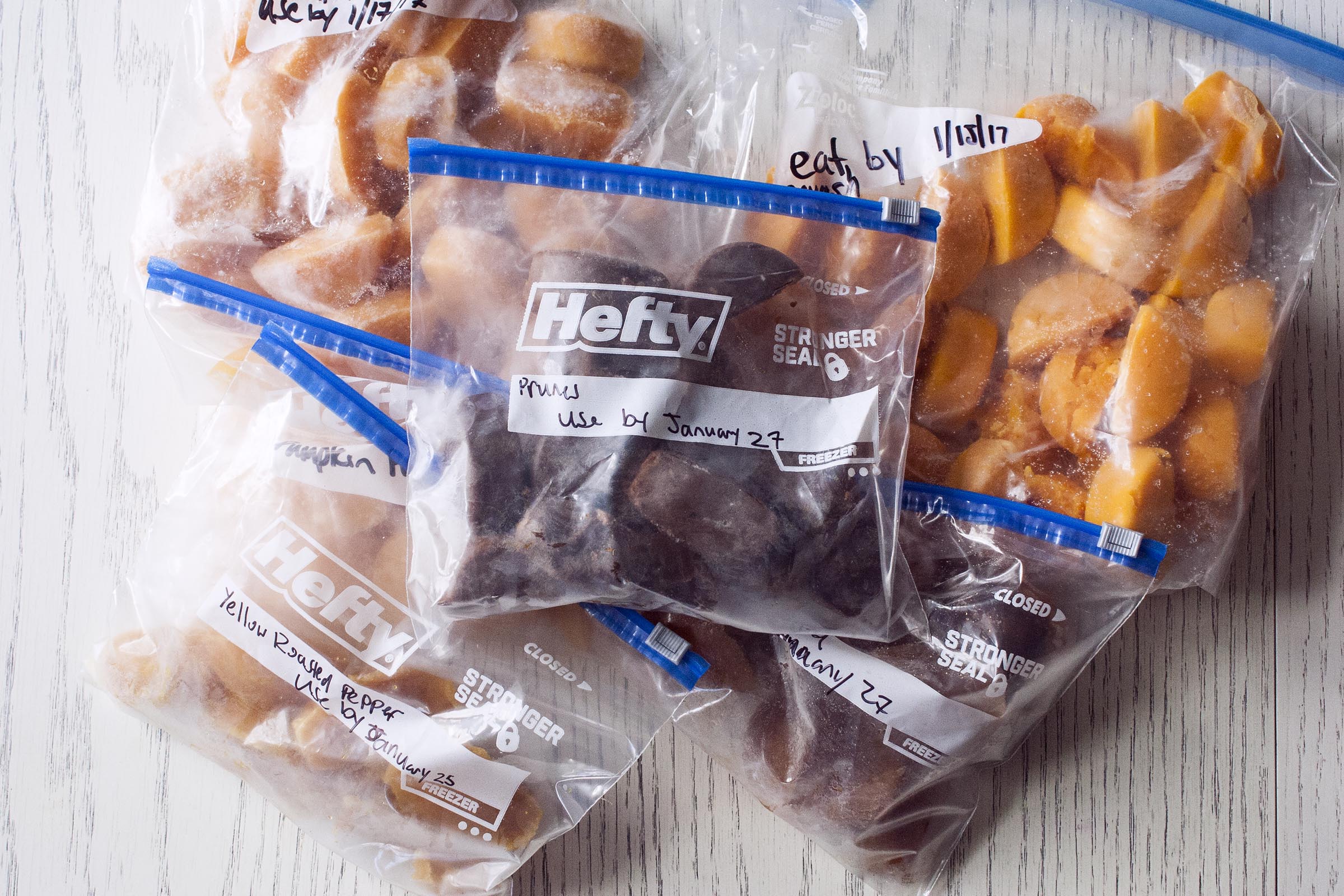 Fruits
I chose to introduce fruits, both times, after the girls had tried several vegetables. I'm not sure if there is truth to children only wanting fruit, if they start with fruit, but I opted not to question it.
Prunes (6+)
I think it's important to introduce prunes on the earlier side, so the you have them in your back pocket – and stashed in your freezer. Here's what I do: Place prunes in a small to medium saucepot, quickly checking each one to make sure the pits have been removed, and cover with water. Over medium-high heat, bring the mixture to a boil; reduce heat and let simmer 15 minutes, or until very soft. Using a slotted spoon, transfer prunes to a blender. Add a couple splashes of the cooking liquid. Blend until completely smooth. Divide among cube trays and let cool completely. Freeze 4 hours, or until firm. Transfer to freezer bag; freeze up to 3 months.
I also like to freeze the boiling liquid in cubes. Then, I can use them instead of water, if needed.
Reeve's verdict This is so, so messy – how did I get prunes on my back? But, it's great, really great.
Pumpkin (6+)
Every season has good reasons to start eating. In the fall, pumpkins and winter squash are on the top of the list. Here's how I prepared (very similar to the butternut squash): Halve a small pumpkin (mine weight about 1.25 pounds). Scoop out the seeds and stringy innards; roast seeds or discard. Place squash cut side down in a baking dish; add about 1 inches water. Roast in a 400°F oven 30-40 minutes, or until a knife inserts easily into the flesh. When cool enough to handle, remove flesh, place in food processor or blender with a bit of water, breast milk or formula. Process until smooth. Divide among cube trays and let cool completely. Freeze 4 hours, or until firm. Transfer to freezer bag; freeze up to 3 months.
Reeve's Verdict OK, I'll eat this.
Bananas (6+)
Once your kids has successfully eaten bananas, you are set – easy, portable and ready to be mashed. How to prepare: if your baby has not eaten any texture, you can toss the banana into the blender with a bit of water, formula or breast milk and puree. For Reeve, I used an extremely ripe banana and mashed it very well with a fork. With Easton, I used to mash a couple at a time, divide among ice cube trays and freeze, just so that they were ready to go, in small amounts when I wanted to add one to oatmeal or yogurt. An honest moment? You may want to make sure that you have prunes in the freezer, just in case.
Reeve's verdict I will smack my lips the entire time I'm eating and cry when there isn't any left.
Apples (6+)
As I was about to peel Reeve's apples, short on time and patience, I decided to chance it. They were organic, so I scrubbed them well, cored them and cubed them. The four apples went into a medium saucepot, with a splash of water and turned the heat to medium-high to bring to a simmer. Once they were bubbling, I reduced the heat to medium and let them cook, stirring occasionally until very soft, about 25 minutes. Once cooled enough, I transferred the entire pot's contents to the blender, and pureed until smooth. The peels made the apple sauce just slightly pink, it saved me time and I'm happy about the extra fiber on the fruit.
Reeve's verdict Love! We should have started with these.
Pears (6+)
The pears were so soft that I was seriously considering just pureeing them as is. But then! I remembered why I didn't want to do that: they would oxidize and turn brown. So, based on the success of the unpeeled apples, I took exactly the same stance, but for the pears, kept them covered so that they would release their juices when cooking. Then, because the finished pears were so soft and juicy on their own, I used a slotted spoon to transfer the pears to the blender. (Reserve the strained juice for drinking or baking.)
Reeve's verdict I need to get used to the grittiness, but the flavor, I can get behind.
Grapes (6+)
Honestly, I'm not sure how we got to 10 months, a couple nut butters, artichokes and kale, before grapes, but sometimes things just fall this way. At this point, I cut Easton's grapes in half, vertically (or quarters as she sometimes insists). I forgot, until I cut a grape for Reeve how many pieces a grape can be cut into. Seriously, I'm pretty sure that the first one she ate was 20 pieces, but somehow, it didn't feel ridiculous.
Reeve's verdict These are so natural to eat, I will give you zero reaction. But don't ever stop giving them to me.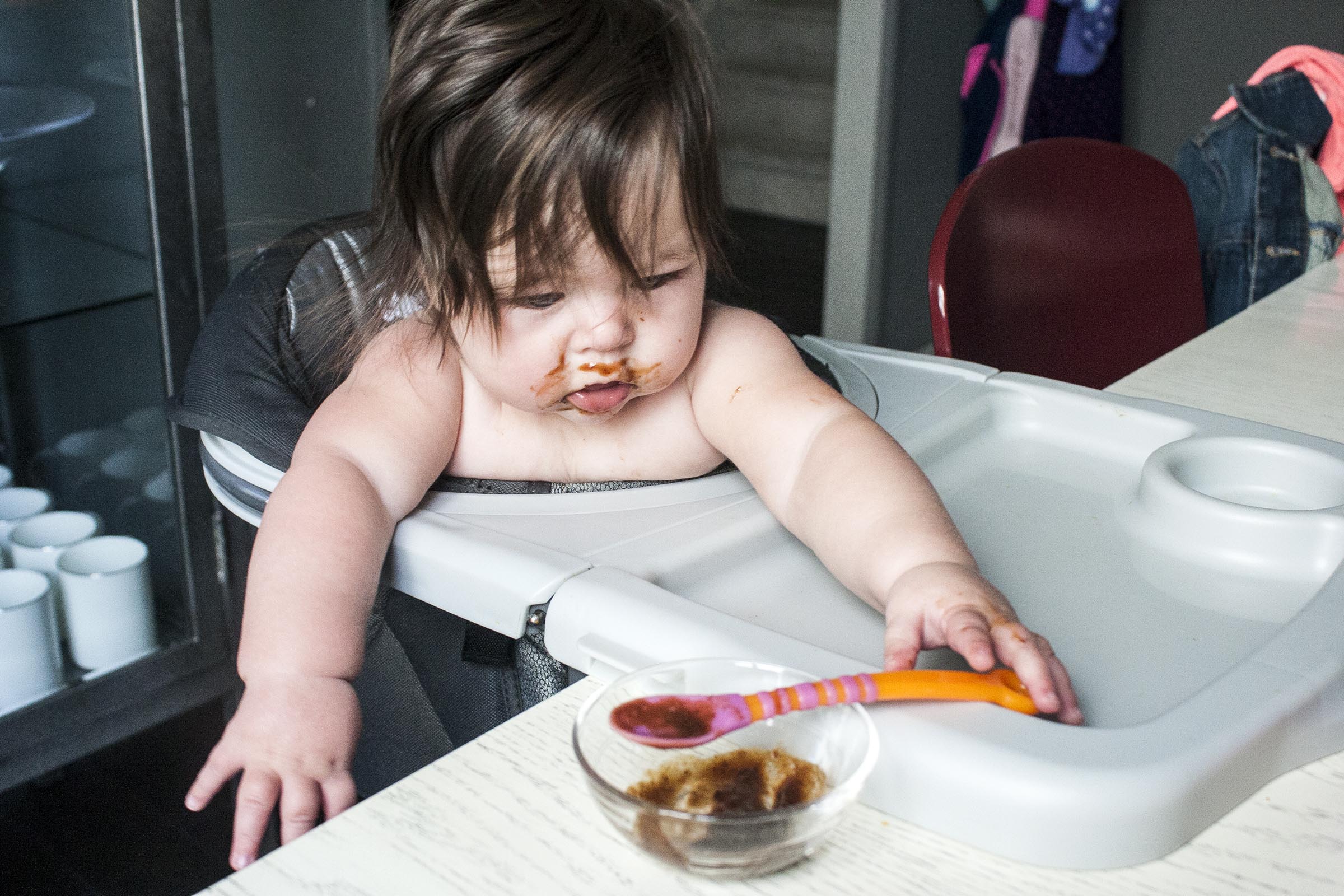 Grains/Seeds, Beans and Wheat
Lentils (7+)
Beans, nuts and grains that are sprouted are easier to digest, so when I was giving Reeve her first bean-type food, I went with sprouted brown, which also tend to breakdown a bit better.
Here's how we did it: put 1 cup in a colander and run them under water until the water runs clear. Check lentils for rocks or anything else foreign that may have found their way into the bag. Bring 4 cups water and the lentils to a boil; reduce to a brisk simmer. Cook 15-25 minutes, or until the lentils are completely tender (this depends on the age of your lentils and the heat of your burner). Either mash with a potato masher or blend in the food processor, with a bit of cooking liquid, depending upon how much texture your baby can handle. Save enough for three days of eating; transfer remaining to cube containers and let cool completely. Freeze at least 4 hours; remove and seal in a freezer safe bag, dated three months from today.
Reeve's verdict Dramatic gagging. The second day, after they were pureed, they were much tastier.
White Beans (7+)
One of Larry's impulse buys recently was a package of Rancho Gordo Beans from Food52 – they're of the most awesome kind of impulse buys. We cooked a pot to make this for the rest of us (which by the way is a repeat recipe for us and is amazing), and I pulled out a cup for Reeve. I mashed them with a potato masher, adding a bit of olive oil and the sautéed leeks from above.
Reeve's verdict I'll eat it, I guess.
Quinoa (6+)
I love the idea of bringing quinoa into their lives early: it's a small, easy to swallow food that packs a nutritional punch. With Easton, I made the mistake of introducing quinoa and texture into her life at the same time, so with Reeve, I took a different approach. Once the quinoa was rinsed and cooked, according to package directions, I pureed half with water and kept the other part as separate seeds. I froze both so that once she could handle texture, the whole quinoa was waiting. I need to warn you: the pureed quinoa is pretty gummy (but she doesn't seem to mind). When I reheat it, I add a splash of water or some of the saved prune juice to help break it down.
Reeve's verdict Not bad. Very good with cinnamon.
Pasta (6+)
Wheat is at the base of so many foods, so it was important to me to introduce it and eliminate the worry. Also, I knew that once she successfully ate wheat, it would be a gateway to other things: letting her gnaw on a piece of bread in a restaurant, try a cracker, snack on a mini bagel for two hours, etc. Pasta seemed like the safest, softest way to begin, so we cooked a pot without the salt. I grew up eating pastina and started both girls with it. The only thing: those itty, bitty stars are a mess. They get everywhere (the floor, the high chair, under their shirts, in their eyes). This time, I had an epiphany right before giving her her first spoonful and stirred it into a vegetable puree. The mess was contained, my sanity was save and Reeve was happy. Since then, she has tried small pieces of bread, which has been great for us.
Oatmeal (6+)
I know that a lot of kids start with oatmeal, but it took us a while to get to this point. The first time that I made oatmeal for Easton, she was a lot younger and I blended the oats before cooking to make it easier to eat. For Reeve, I took the chance and left them whole and she did OK. I cooked rolled oats according to package directions and then added a mashed banana to the pot for sweetness and interest. You can divide this up among ice cube trays too, to have it ready faster in the mornings.
Reeve's verdict I should have been eating this all along.

Farro (6+)
I love farro, but to be fair, I think everyone loves farro. Because Reeve has already had wheat in other forms, I was not hugely concerned about allergies, but I still paid attention after feeding her. Recently, I made a pot for us and pulled out a cup of cooked farro for her ahead of time. She is doing really well with textures at this point, and the farro was tender, so I mixed a spoonful into a defrosted cube of butternut squash, for moisture. If she was not eating textures yet, I would have pureed them with water. 
Reeve's verdict I love farro, too.
Polenta (6+)
With Easton, I discovered what a great food polenta is for babies. It's soft and flavorful, plus really easy to manipulate with flavor (one of Easton's favorites was polenta with goat cheese and figs). Reeve has not been as excited about it as I would have hoped, but I also made the mistake of using a medium grain ground corn, so I'm choosing the blame the texture and will try again.
Reeve's verdict Definitely better with veggies, fruit, spices, cheese, or anything, than just plain polenta. 
Nuts and Seeds
Sesame (7+)
We eat a lot of sesame and it is one of the foods that has made me very nervous to have constantly in use in the house. We spend a lot of time talking to Easton about washing her hands after eating and before touching Reeve, but it's an uphill battle. Giving Reeve sesame was obviously, to introduce her to it, but also to give myself peace of mind (after we introduced Easton to sesame, I learned that it is the number eight food allergy amongst children). For a couple of days, I added small spoonfuls of well-stirred tahini to whatever else she was eating and kept a close eye.
Peanuts (6+)
When Easton was a baby, they were still saying to wait until after she turned 1-year-old to introduce peanuts, but since then, as we all know, the recommendation has changed. Our pediatrician recommended starting with a very small amount, but definitely, introducing it. I melted about 1/4 teaspoon in a glass bowl and stirred it into her yogurt. We did this for a couple days, successfully. The last time I made oatmeal for all of us (our first official meal that we all ate together), I stirred peanut butter into the cooked oats and she handled the bowl, well.
Spices and Condiments
When Easton was a baby, I introduced spices regularly – usually it would be her only new food that day, but I didn't apply the four day rule, like with other foods. But, my niece had a slight reaction to cinnamon the first couple times that she ate it and it made me realize that I should be treating spices as I would any new food. So far, she's done great with all of them, and I think it has helped in her enjoyment of other potential bland foods. There haven't been that many, but we're working on it:
Cinnamon
Cardamom
Cumin
Garam Masala (I realize that this tackled a couple at a time…desperate measures)

Olive Oil
So many vegetables taste their best roasted and it really helps to have oil to achieve that caramelized flavor. I first gave Reeve oil, but stirring a couple small drops into her purees, making sure she seemed ok with it, before cooking anything for her with it.

Garlic
Like onions, we eat a lot of garlic and I wanted her to try garlic as one of her building blocks. Instead of chopping and sautéing it, the first time I opted to roast a head (who doesn't like roasted garlic?). To do: heat oven to 400°F. Trim the top off of one head of garlic to expose the tops of most of garlic cloves. (Because I am (intense? nuts? something?), I like to remove the garlic from the trimmed pieces and kept them for another use. Drizzle very lightly with olive oil (if you're using the garlic for yourself, at this point, you can also sprinkle with a bit of kosher salt and black pepper, too). Wrap tightly with aluminum foil and place in oven, on baking sheet, with the cut side facing up. Roast 1 hour. Remove from oven and when cool enough to handle, squeeze garlic from skins. (Discard skins.)
Dairy
Yogurt/Cow's Milk (7+)
I struggle with digesting cow's milk in yogurt and milk form, so this was another worry of mine for the girls. Both times, I started with yogurt (baby Organic Stonyfield Farm, like I think everyone does?). Easton was not so impressed at first, but for Reeve it was love at first taste. They both seem to handle the dairy without a problem.
(I recently bought an Instant Pot and had high hopes of making my own yogurt for the girls. But, due to a lack of thorough reading, I bought the one that was (on sale) and does not have a yogurt maker, because I didn't realize that there were any that didn't have a yogurt function. Insert sad/I'm-an-idiot face here.)
Cow's Milk Cheese (7+)
Once I knew that Reeve was OK with yogurt, I started giving her pieces of cheese to snack on, or to mix into her food. She's been happy with mozzarella (not fresh), provolone, Swiss, cheddar and most recently cow's milk feta.
Sheep's Milk Cheese (7+)
We almost always buy Pecorino Romano to sprinkle over our food, so sheep's milk was important here. I sprinkled it over polenta and veggies. She seemed to simultaneously love it and not quite know how to reconcile with the flavor. But she ate it all.
Eggs (8+)
I grew up with a serious egg allergy that I managed to outgrow by the time I started college. But allergies can be hereditary, so I had my worries with the girls. Our pediatrician's recommendation was to introduce it in a small way. With Easton, it was a little bit later (I think she was 11 months old), so I gave her pancakes made with only one egg. For Reeve, I decided to let two new things at once: latkes (!!!) and eggs. The ones that I made for Hanukkah happened to feature all ingredients that she had already had (with the exception of eggs) – flour, carrots, parsnips, potatoes and onion – so it felt like a sign. I monitored like a hawk, and she seemed to do OK. Soon, we'll try scrambled eggs. She tried them. She says, eh.