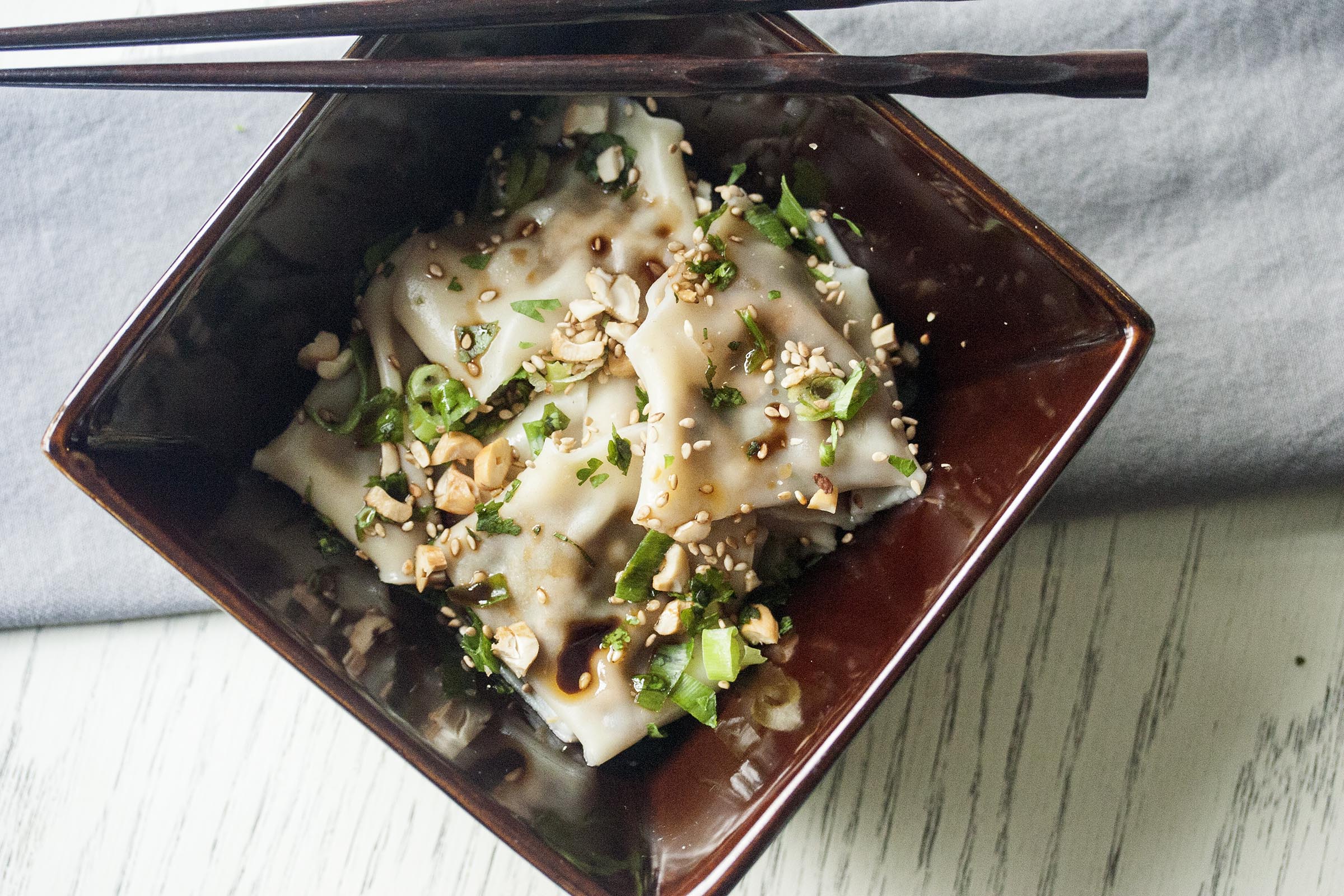 At first glance, homemade wontons do not seem like the answer to an easy dinner. You have to make a filling, divide it amongst the wrappers, then fold and seal each one. And, you still have to cook them. I'm really selling these things, aren't I?
But, you will LOVE yourself when you don't know what to make one night and you remember that these are in the freezer. Larry and I discuss this a lot – a little stress up front, a lot of payoff down the line. And, for me, that's a big part of cooking for a family.
I'm a bit of a sucker for any kind of dumpling, especially steamed or boiled: tender wrappers (even when they're store bought), a savory filling and of course, the sauces and toppings. Once a year, on Christmas Day, we go out for Dim Sum. I am always eyeing up the carts, looking for as many little silver pots as we can fit onto the table (to be fair, I'm also always actively searching for those red bean-stuffed fried sesame balls, too).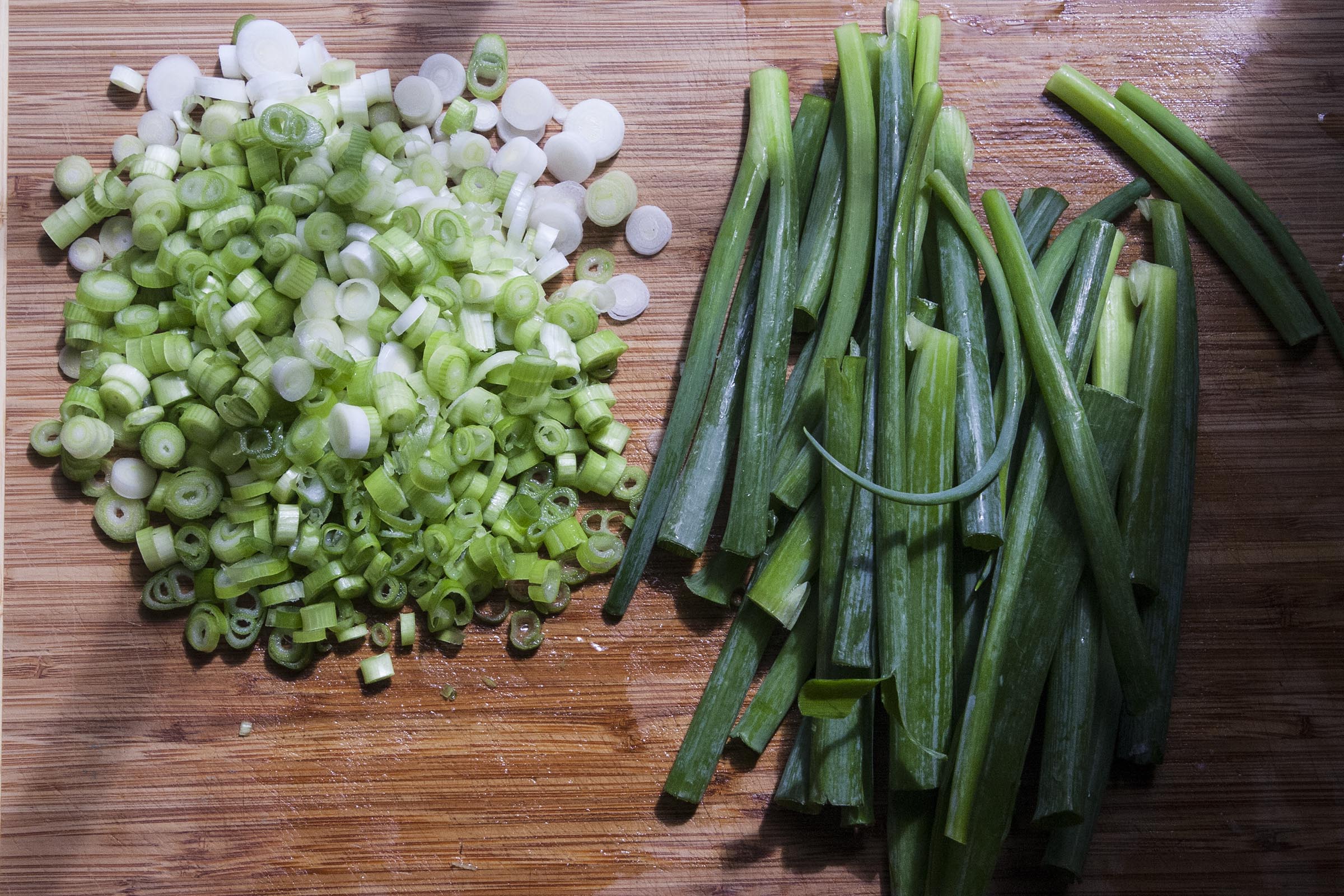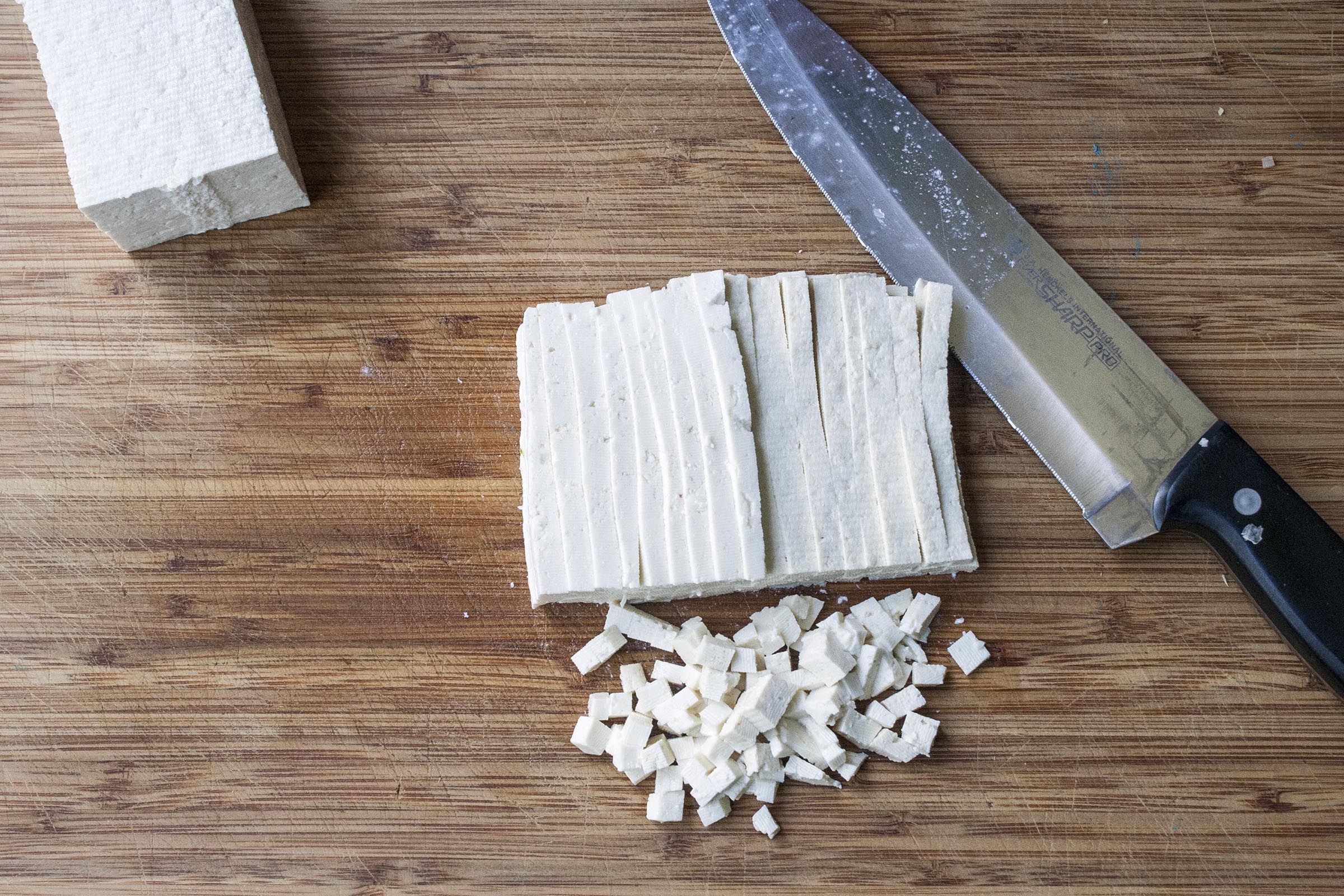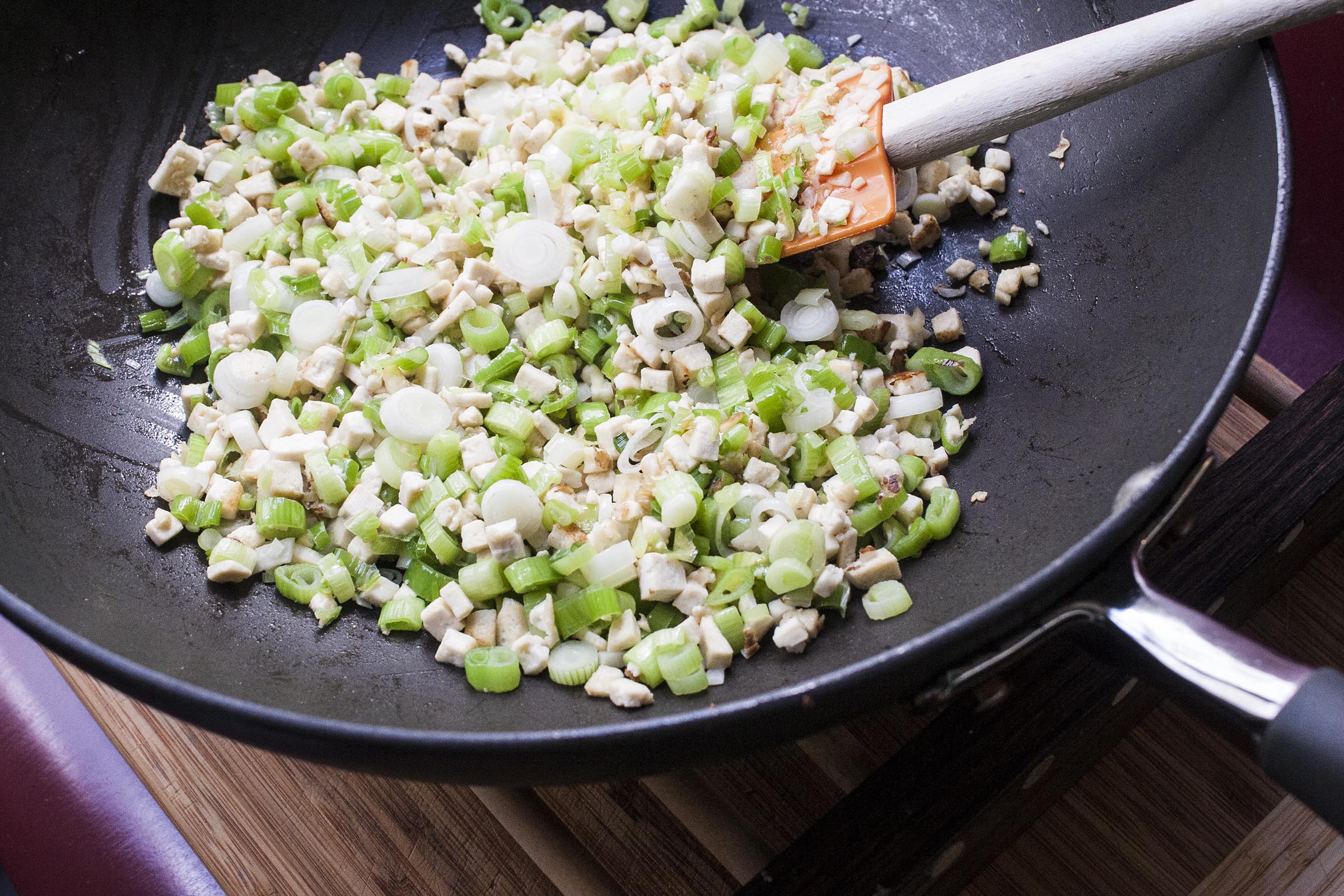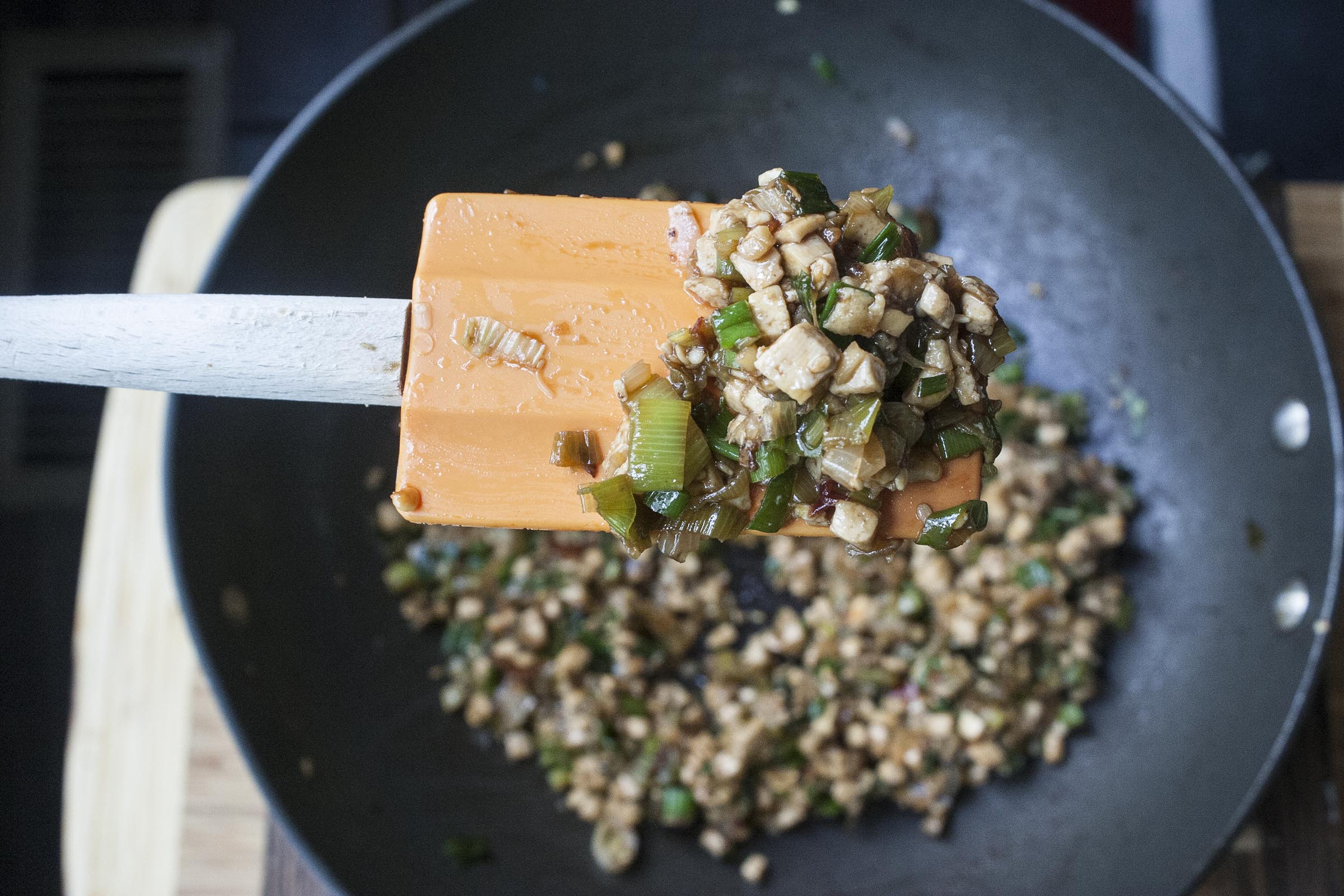 We always have a bag of store bought dumplings in the freezer. But, making them yourself allows for quality control: you can use the ingredients you want and leave out the ones you don't. For these, I originally wanted to go all scallion, but decided that if they were going to be a meal, I needed at least a bit of protein. Turns out, the tofu is perfect. It, along with the sesame seeds, gives the filling a bit of heft and texture, that I would otherwise miss. And, cutting it into a small dice, ensures that the wontons are not lumpy once folded.
Another reason to make them? They're a great way to zone out, which is lovely when you're alone and so needed when you're surrounded by constant noise. Set up your filling, wrappers, bowl of water and sheet pan. Pull up a chair if it makes the whole process seem more appealing. And, then, go for it: fill, wet, fold and seal; fill, wet, fold and seal. It's surprisingly calming. (Unless, of course, you also have teeny people in your house who love to help. Then, good luck.)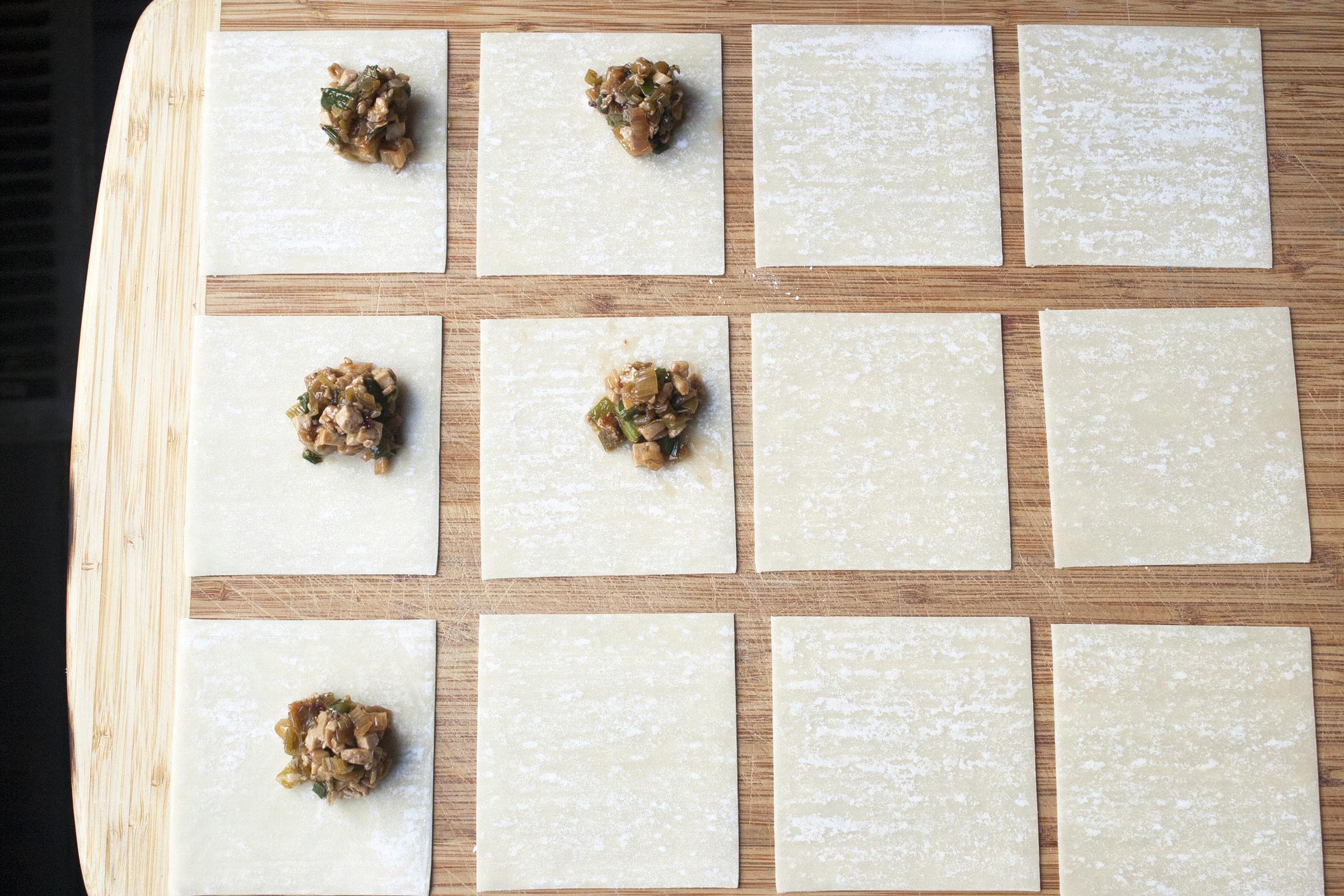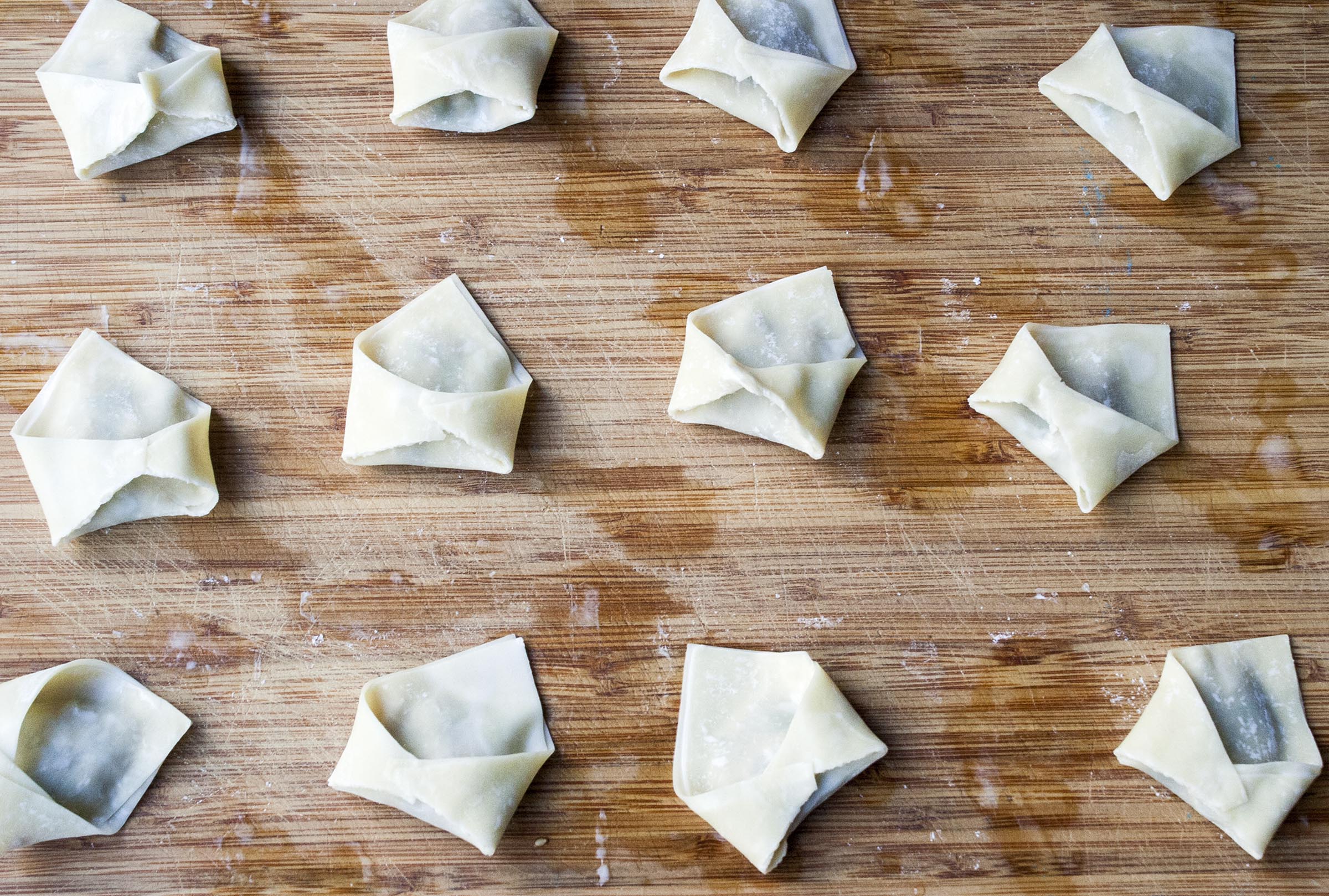 Over the years, I've learned that I prefer to cook dumplings and wontons that have been frozen first. I think they maintain their structure better – and once folded and frozen, they're just waiting for you to eat, simmer and serve in broth for a fuller meal or pile them on top of each other in a bowl. You may want to just place them individually on a plate, but I don't recommend it unless you want to feel like you're eating an appetizer. Don't skip the sauces: soy, sesame oil (toasted or spicy), and additional sesame seeds. Those are the other things that help take these from an appetizer to dinner.
There's a chance that when you've finished all of your wonton making, you may be thrilled that you're done. That's OK. Because I have a feeling that once you've casually pulled these from the freezer, oh-no-big-deal and eaten a completely homemade dinner in about 10 minutes, you'll consider double-batching it next time. You know, a little stress up front, big payoff down the line.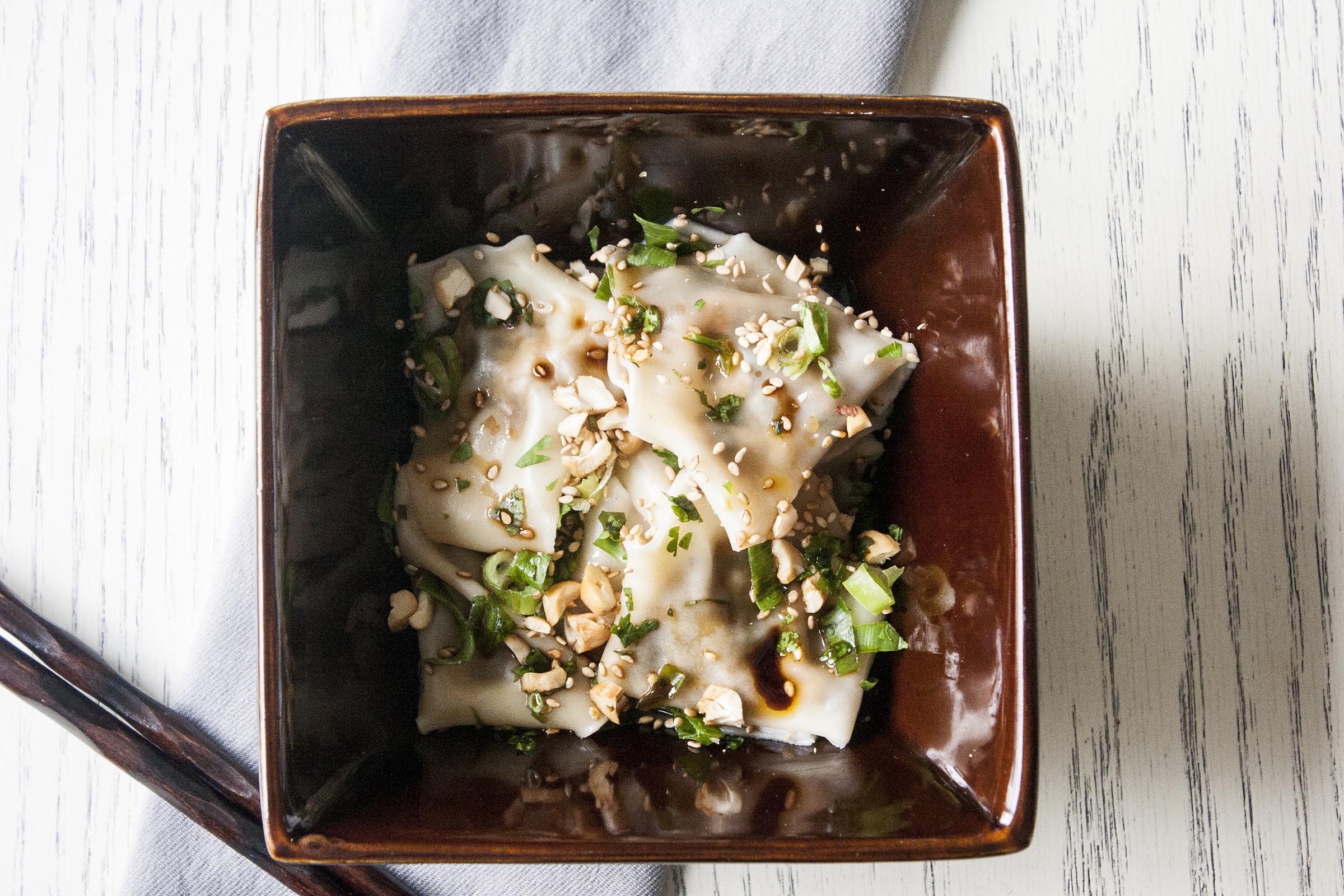 Scallion & Tofu Wontons
You can cook these as soon as you've made them (just reduce the cooking time by a minute or two), but they always feel sturdier to me, and less likely to break open, when frozen first.

To make it more of a meal, serve in broth. I would still cook them in water, then add them to the hot soup to ensure that your soup is not cloudy.

You can easily double the recipe is you want to use all of tofu. If you don't, simply slice up the leftover tofu and pan fry or bake to add to your salads or rice during the week.
What you'll need
8 ounces firm tofu
1 tablespoon grapeseed oil, divided
2 bunches scallions, trimmed
3 large cloves garlic, peeled and finely chopped
1½-inch piece ginger, peeled and finely chopped
2 tablespoons low-sodium soy sauce
2 tablespoons mirin
2 tablespoons oyster sauce
1 teaspoon sesame oil
1 teaspoon sambal olek
2 teaspoons roasted sesame seeds
1 package square wonton wrappers
FOR SERVING reserved sliced scallions, chopped cilantro, chopped roasted cashews, roasted sesame seeds, sesame oil or spicy sesame oil (use sparingly), soy sauce
How you'll make it
Dry tofu with paper towels and finely dice.
Thinly slice scallions, separating the white and light green, from the dark green.
In large nonstick skillet over medium-high heat, warm 1.5 teaspoons oil until shimmering. Add tofu. Cook 7-10 minutes, or until the tofu is beginning to turn golden, gently tossing often.
Add remaining grapeseed oil, white and light green scallions, garlic and ginger. Season very lightly with kosher salt. Cook 5 minutes, or until scallions are tender, stirring often.
Add dark green scallions, soy sauce, mirin, oyster sauce, sesame oil and sambal olek. Cook 2 minutes more, stirring often. Remove from heat: stir in sesame seeds. Set aside; let cool.
Set out a small bowl of water. Place 6-9 wonton wrappers on clean work surface, depending on how quickly you feel comfortable working. Keep the rest covered. Place 1 teaspoon tofu mixture off center on the wrappers. Using your finger or small pastry brush, wet exposed areas of wrappers. Working one at a time, fold diagonally to form a triangle, pressing to remove air bubbles; seal well. Wet the two corners of the long side and bring together to seal, taking an extra second to make sure they're really closed. Repeat with remaining eight. Place in a single layer on a lined sheet pan and place in the freezer. Repeat with remaining wontons. Let all freeze at least 2 hours. Transfer to freezer bag.
When you're ready to eat, bring a large pot of lightly salted water to a boil. Gently add wontons: cook 9-10 minutes, or until the noodle is tender, gently stirring occasionally. Drain well.
Divide among bowls; top with garnishes.
How to plan ahead
• Cut your scallions, garlic and ginger up to a day before you plan to make the filling.
• Stir the soy sauce, mirin, oyster sauce, sesame oil and sambal olek together up to a day before you plan to make the filling.
• Cook, cool and store your filling for up to one day ahead of time.
• Make the wontons a couple hours, up to a couple months ahead of time. Store in the freezer.