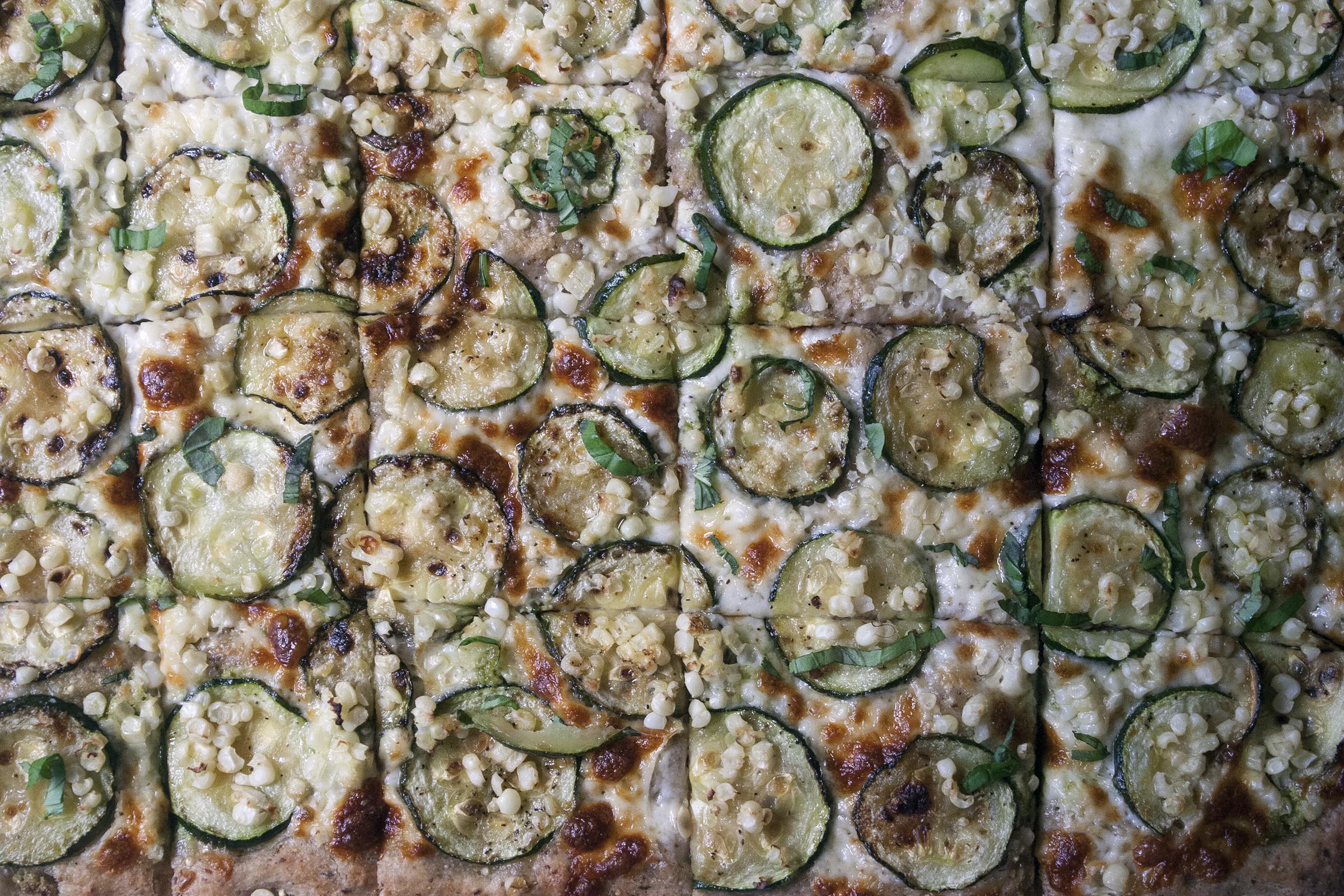 Mommy, has Reeve had chicken yet? 
This is a common question in our house. Easton, ferociously in love with her baby sister, lives to touch her at all times. Early on, we had to start saying: When you're finished eating those blueberries, you have to wash your hands before you do anything else. Your sister hasn't tried them yet. After you're done with your peanut butter and jelly, please wash your hands because your sister hasn't tried peanut butter yet. And sometimes, unfortunately: Don't touch your sister! You just touched all of those sesame seeds and your sister hasn't eaten sesame yet! 
Asking if Reeve has had chicken is not so strange. Although we encourage hand washing after every meal, and not sharing bits of food from plate to plate, Easton typically asks us about most things we're about to eat, to know where she, and her sister, stand. So, when she asked, I said, yes, she's had chicken. But, we weren't eating chicken. I had just set a plate in front of her with lentils, tomato and cucumber. So, I turned to look back and I there I saw it: Easton handing her sister a plastic whole chicken from her set of play food.
***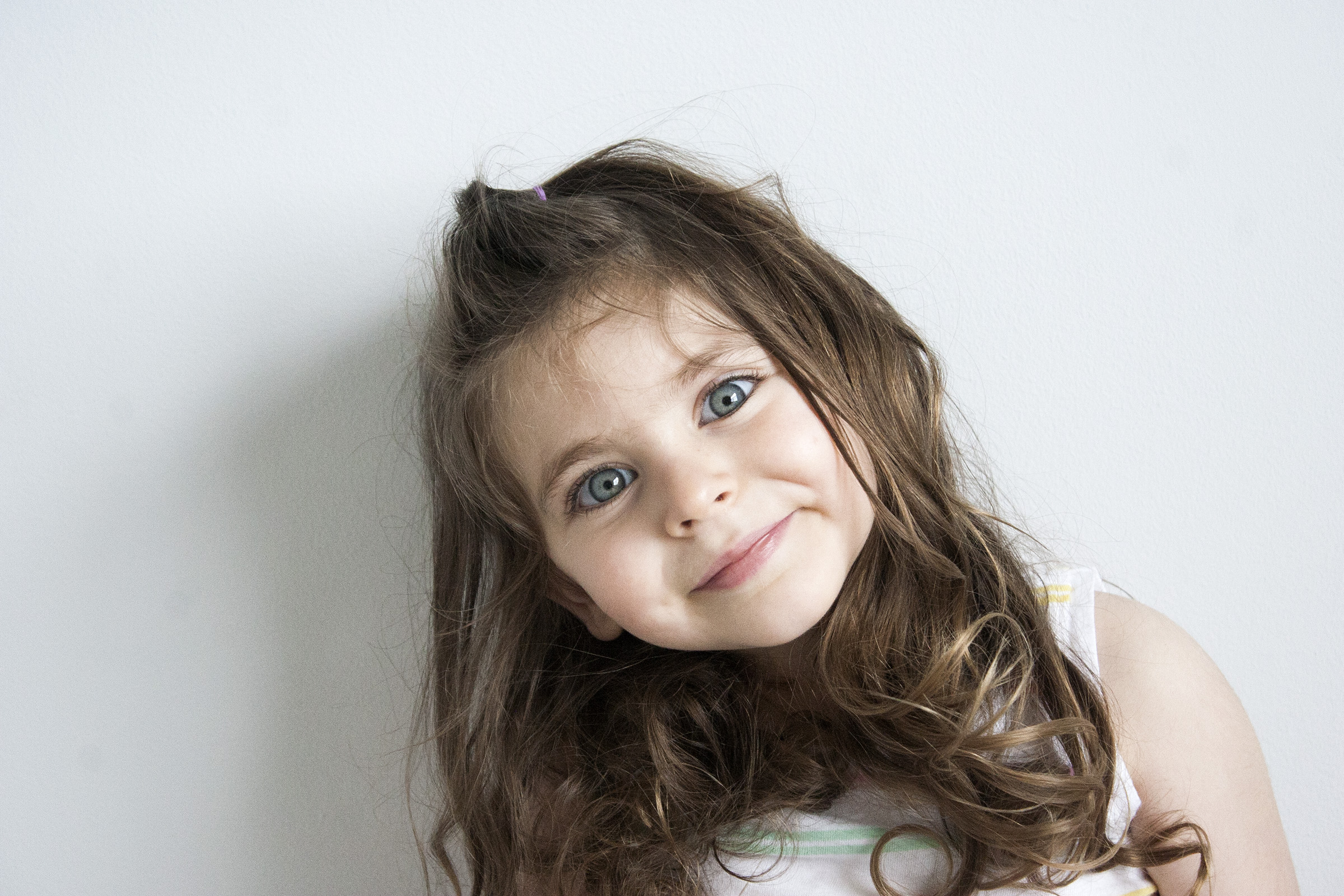 Easton turned four on Thursday. When I was 39-weeks pregnant, walking into the hospital, petrified about my impending induction, labor and motherhood, I had no idea what four would like like. I didn't know that four was a person, a real, walking, talking, opinionated, sassy, cuddly, amazing, tiresome, person.
I didn't know that at four, our daughter would spell her name, and her friend's names, know our phone number, struggle to remember the town that we live in, but be able to recall that there were purple M&M's on her third birthday cake. I didn't know that our four year old, would see absolutely everything, taking in life around her constantly, but still be shocked to find out that the door next to her bedroom, opens and holds all of our extra towels and sheets. I didn't know that she would be unbelievably excited every single time she spots a school bus, a truck or the moon, that she loves to find worms on the driveway, jump in muddy puddles and collect twigs, sticks and leaves.
I didn't know that at four, it wouldn't matter how much I wasn't into characters, Disney or pink. She loves little more than her Peppa Pig pajamas, Daniel Tiger doll and spotting Mickey or Minnie Mouse everywhere. Her toothpaste container has Elsa on it and the tissue box next to her bed, spots Moana (someone I didn't even know existed, until recently). I didn't know that she would declare pink her favorite color, every single day and look me in the eye, earnestly, telling me that from now on, she needs to wear only pink socks. I didn't know the drama we would live, every day that it is cool outside, and I insist that she wears pants, instead of a dress (which must have the ability to spin). I didn't know the drama I would be faced with if I believed I was doing a good thing by putting her in a dress, only to find out that it is not "spinny" enough.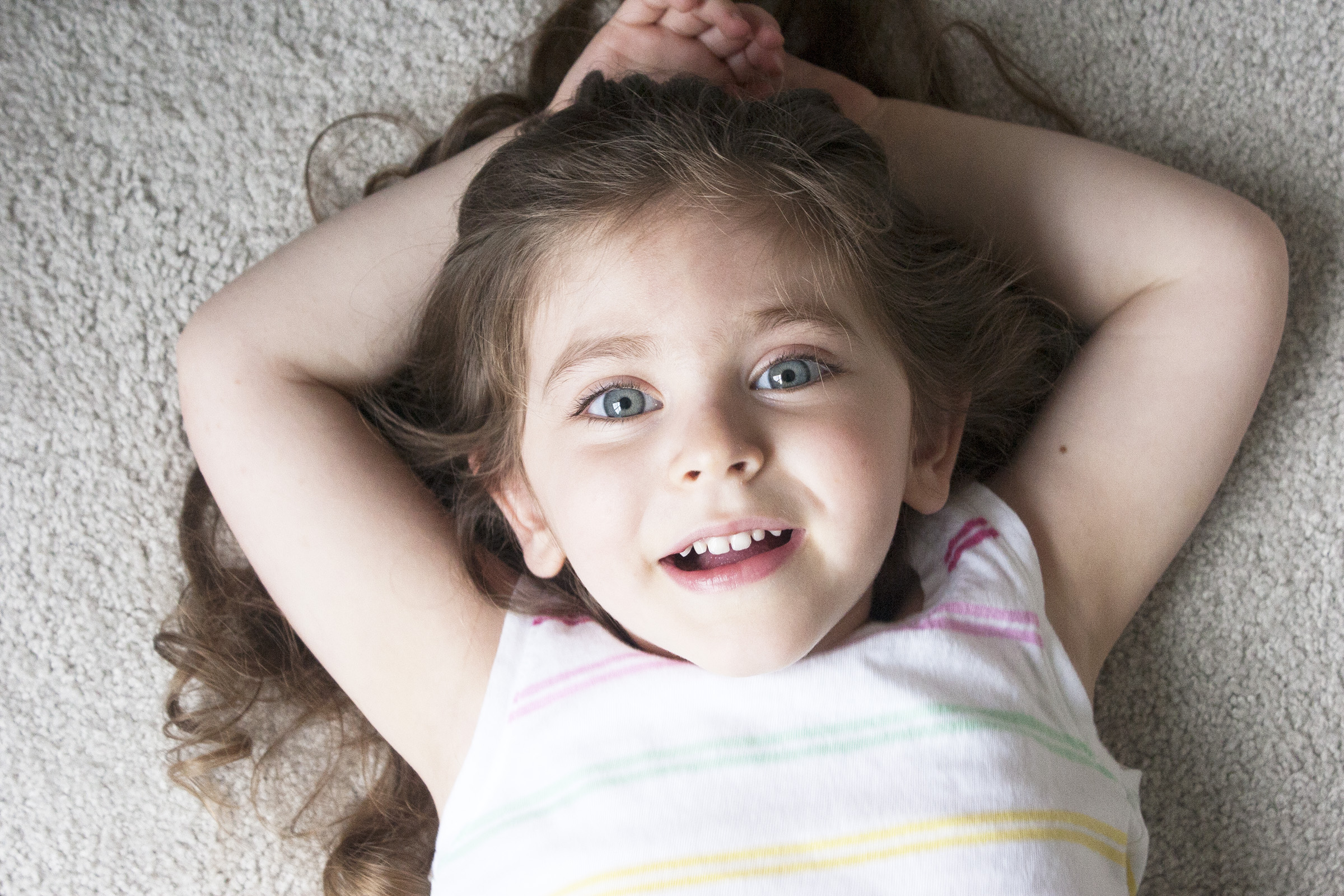 I didn't know that she would be really wise, someone who could tell me, recently, when Reeve was refusing to eat her dinner and shoving all the pieces of tomato into her bib, to give her a minute. I didn't know that she'd be able to look at my phone and tell me the weather for the day, that she'd be able to talk about patterns, the scientific explanation for caterpillars turning into butterflies or that she'd be able to identify the spine and title page of a book (thank you amazing teachers at school). I didn't know that she'd understand how to be funny, that she'd turn taking her sister's shoes off when we got home into her own job and that she'd tell me when I almost left the grocery store without buying bananas.
I didn't know that she would be so serious about coloring, asking to color every night after dinner and working really hard to stay within the lines. I didn't realize that she would be a person, who could tell us that her eczema is acting up and that she needs extra lotion before bed, or that she would independently run and grab Reeve's diaper and pajamas from the drawer when it's time to give Reeve a bath. I didn't know that she would love her sister so much, that she would lay her head on my shoulder, one inch from Reeve's face, the entire time the baby nursed, just to be near her, often rubbing her back, too.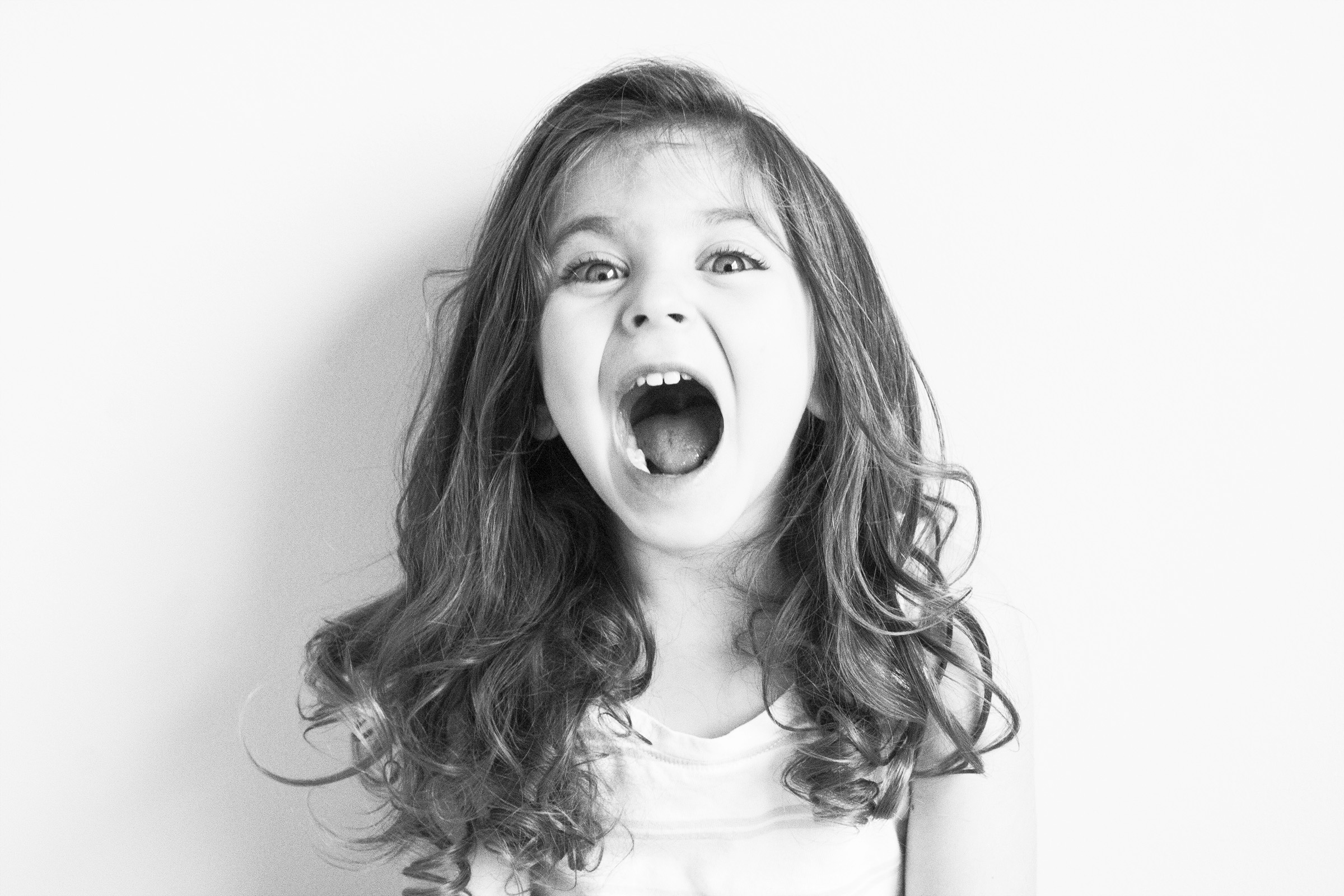 I didn't know that she could be challenging, defiant and infuriating one minute and so fun to be around the next. I didn't know that she would one day, two days, before her fourth birthday, break down in tears, when I told her that she wouldn't be able to put her shirt on, over her backpack.
I didn't know that at four, she would really be my competent sous chef – cracking eggs, whisking, mixing, measuring dry ingredients, baking cookies, scooping avocado. I didn't know that she'd say to me, I like kale, but I'm not in the mood for it today or that she'd be so willing to eat almost everything put in front of her. I also didn't know that she'd freak out if her sauces were not on the side, I cut her sandwich the wrong way or she didn't get exactly the same amount of shrimp on the plate as me and Larry. I didn't know that I would be sheepishly asking our pediatrician when she can start eating sushi because she's started to notice that while she's eating an avocado roll, we're eating raw salmon and she wants in.
But, here's what I really didn't know. I didn't know how differently I would see things. I didn't know that I'd spot snowflake or ABC pasta on the shelves at the store and buy it, because Easton would love seeing them in her bowl. I didn't know that I would use our pancake pen, which I bought with the purpose of efficiency, to make Es in the pan to surprise her at breakfast. I didn't know that I would actually use my heart cookie cutter that came with a set, but always stayed in the drawer, or that I would make her birthday cake pink, just to see her eyes light up. And, I didn't know how important it would be to me, to create traditions that she and her sister would grow up to remember.
I've read a lot over the past couple years about the ways different families work: here a meal plan for the modern age, here a Friday night meatball tradition and countless others. Many people make Friday night a family night and, over the summer, when we were still very much in the toddler and newborn age and I was adjusting, I thought that might be a good night for us, too. We started Friday night pizza night, which I hope to one day, when the girls are a little older, turn into Friday night pizza and movie night. (It's funny because until just now, when I pulled up that Gluten Free Girl post, I didn't remember that Friday night was their pizza night, too.)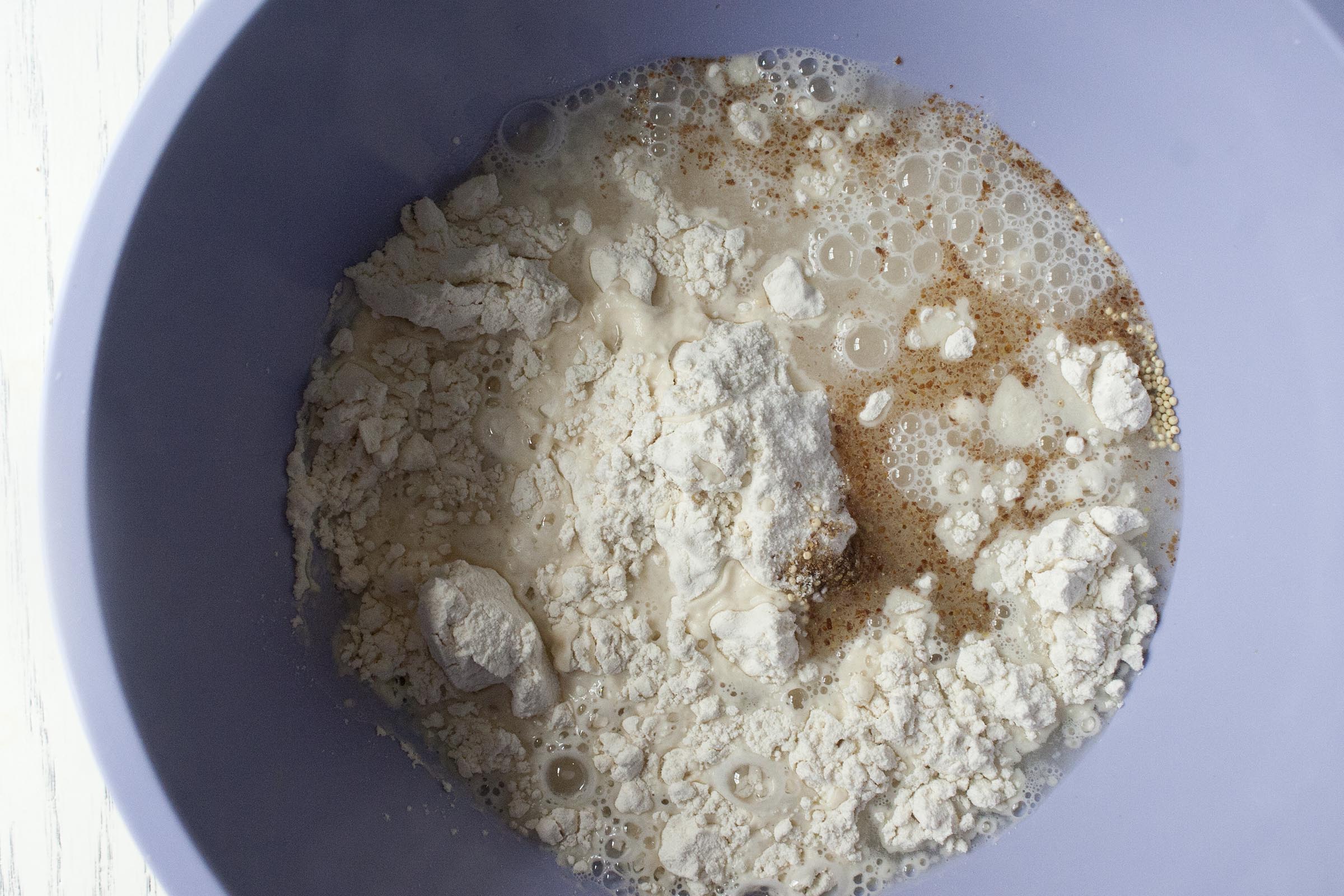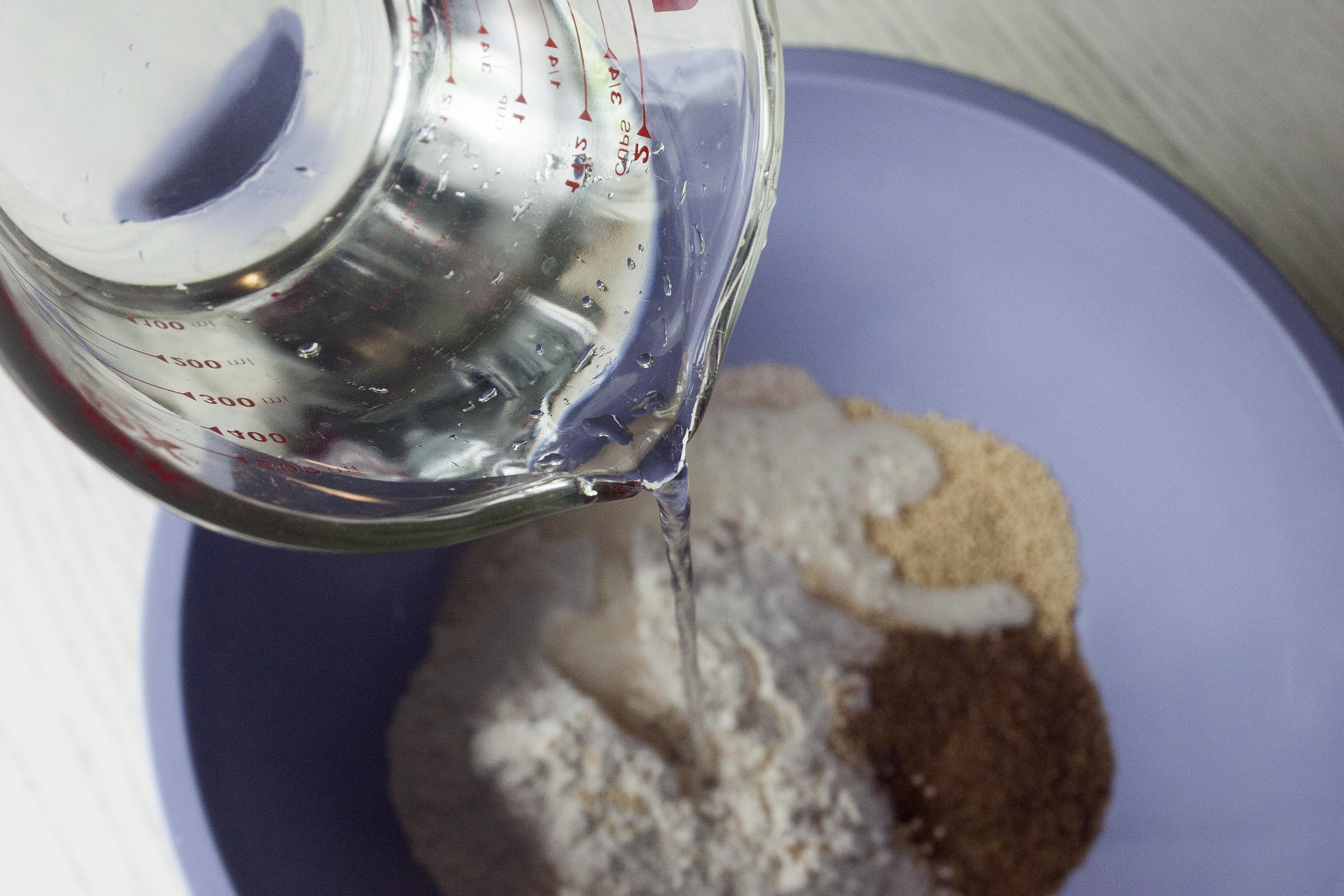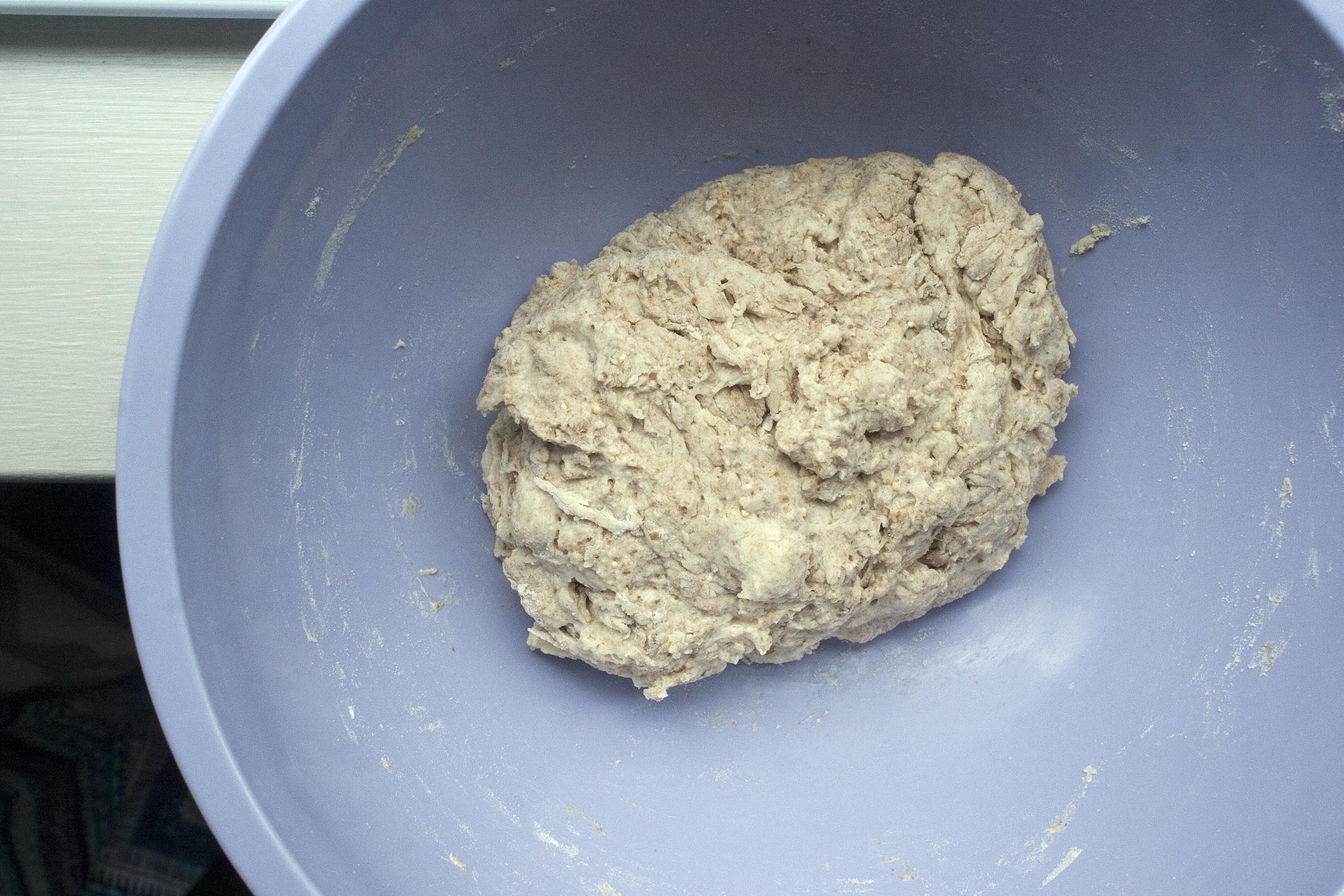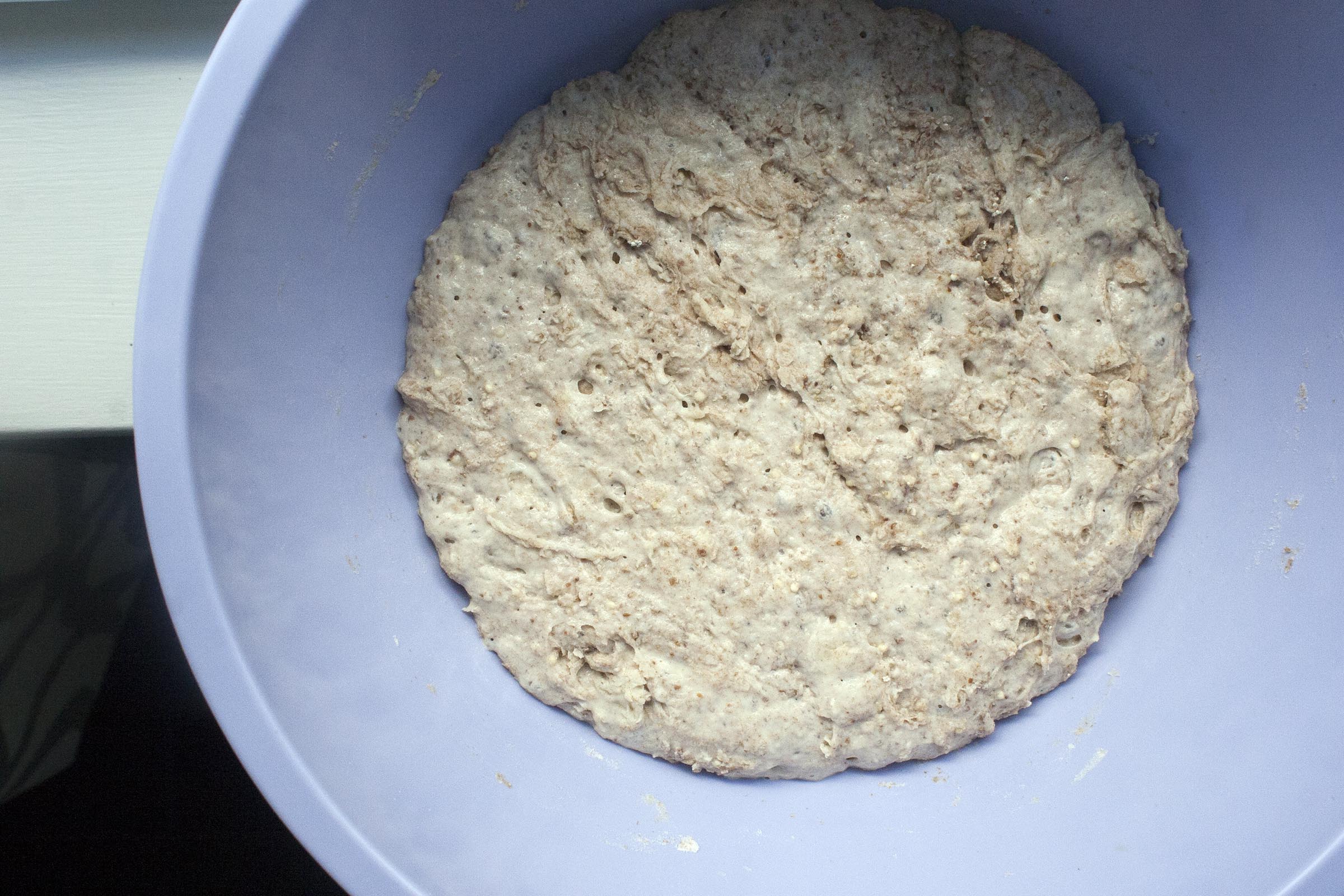 I'll admit that while I strive to make the pizza, it doesn't always go down that way. Often, I do, stirring together the dough early in the day. Other times, when I can almost get myself to go homemade, but remember too late in the day, I buy the dough. And, there are times that suddenly it's 5:30 and we order the pizza. But, a couple months ago, when I told Easton it was Friday and she said, Friday night pizza night! I decided that regardless how it gets on the table (and even if it doesn't actually happen every single Friday), we're forming a tradition.
I've made so many different doughs over the years, but since we've started this new practice, I've settled on a variation from Smitten Kitchen's quick no-knead dough. Typically, I use a combination of whole wheat and all-purpose, and I stir in toasted millet and ground flax seed, too.
Before Friday night pizza night began, if I made pizza, I would spend a lot of time considering my topping options. But, the liberating thing about making the same thing every week is that there's always another opportunity. Wish you went with your gut and made that clam pizza instead of the eggplant one? Make clam next week. Feel like you skimped on the olive oil and the clam pizza was dry? Next week, you have a shot to try again. As someone who takes most meals a little too seriously, Friday night pizza night has been really freeing.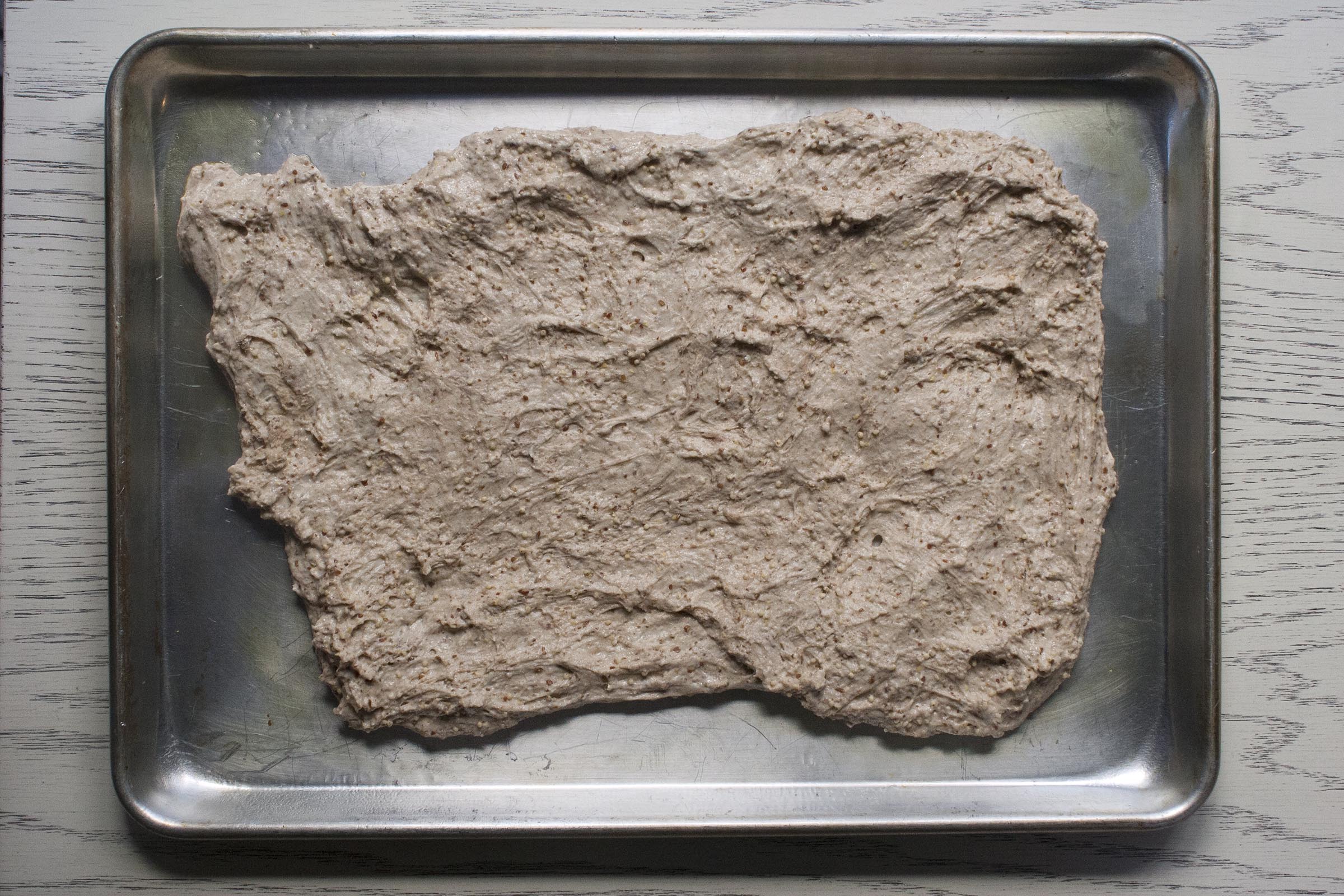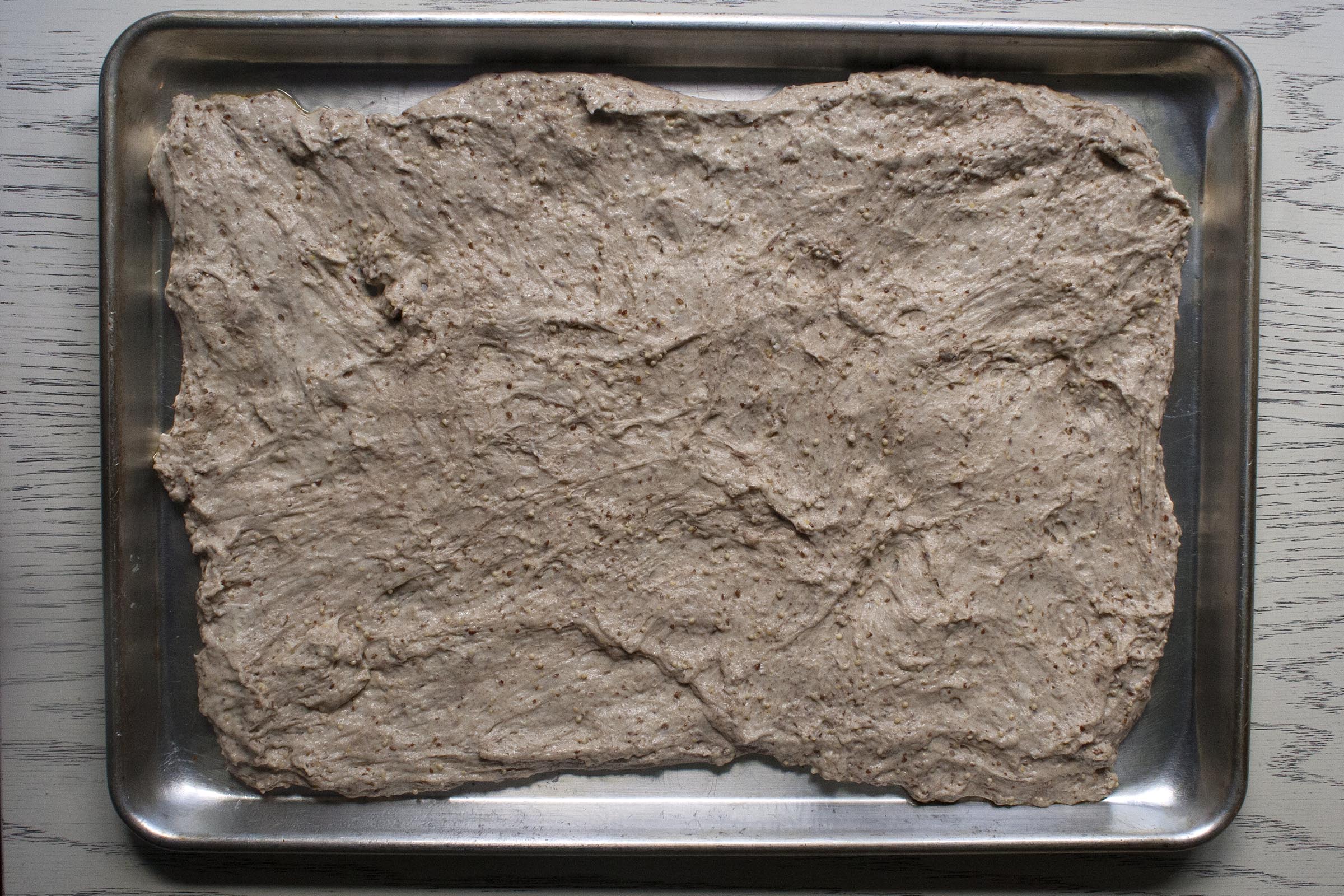 I make all of our pizzas on one rimmed baking sheet, and then cut into squares to serve. This one, I made, using the garlic scape pesto, mozzarella, zucchini and corn, for a pizza that felt very summery, in a time when it feels like we're just finding summer again. Although it added another step, I opted to sauté the zucchini briefly first, to eliminate excess water that would otherwise make the pizza soggy. I loved the combination of the slightly charred zucchini and corn, on top of the really garlicky base, and luckily, everyone felt the same.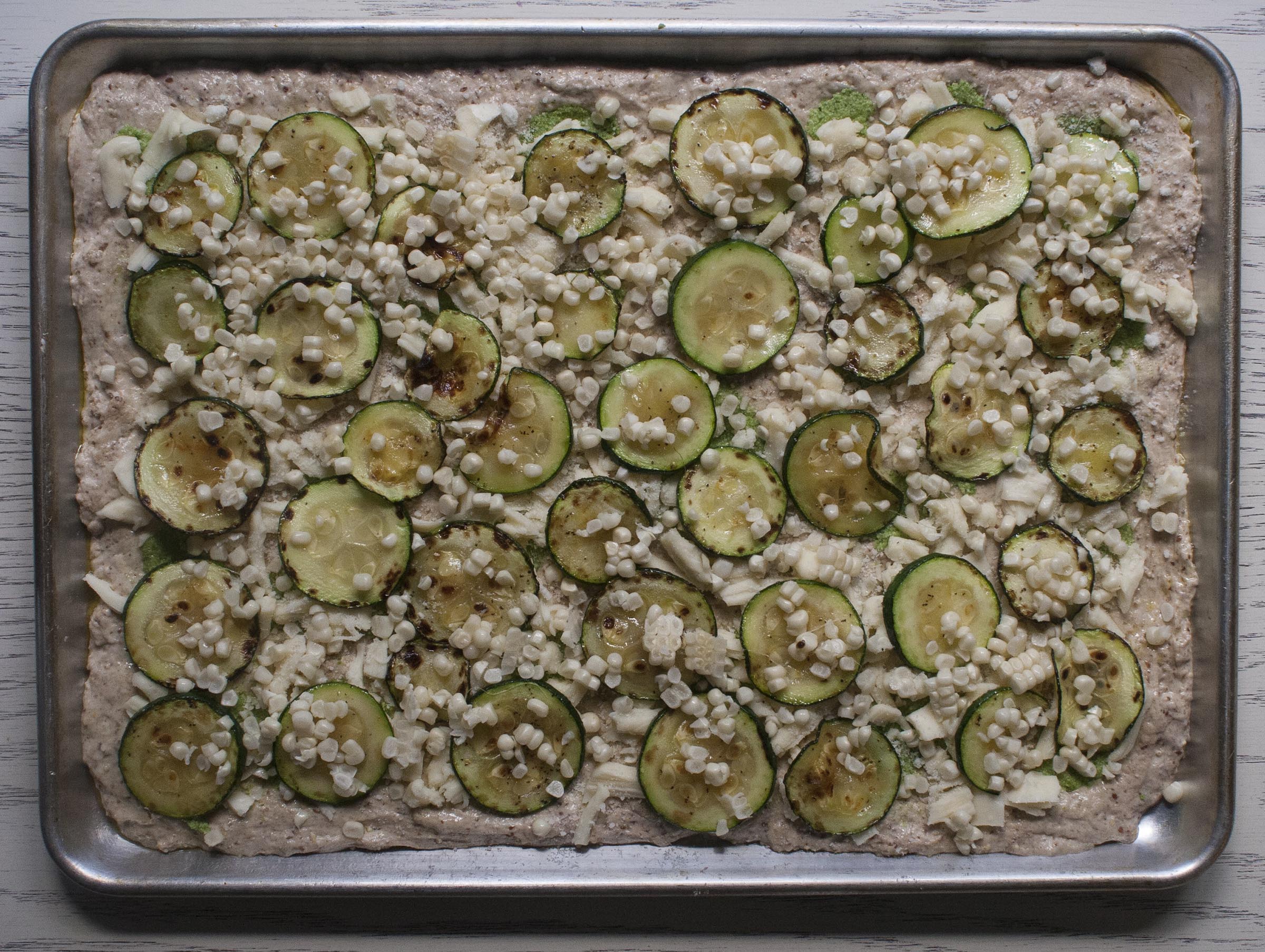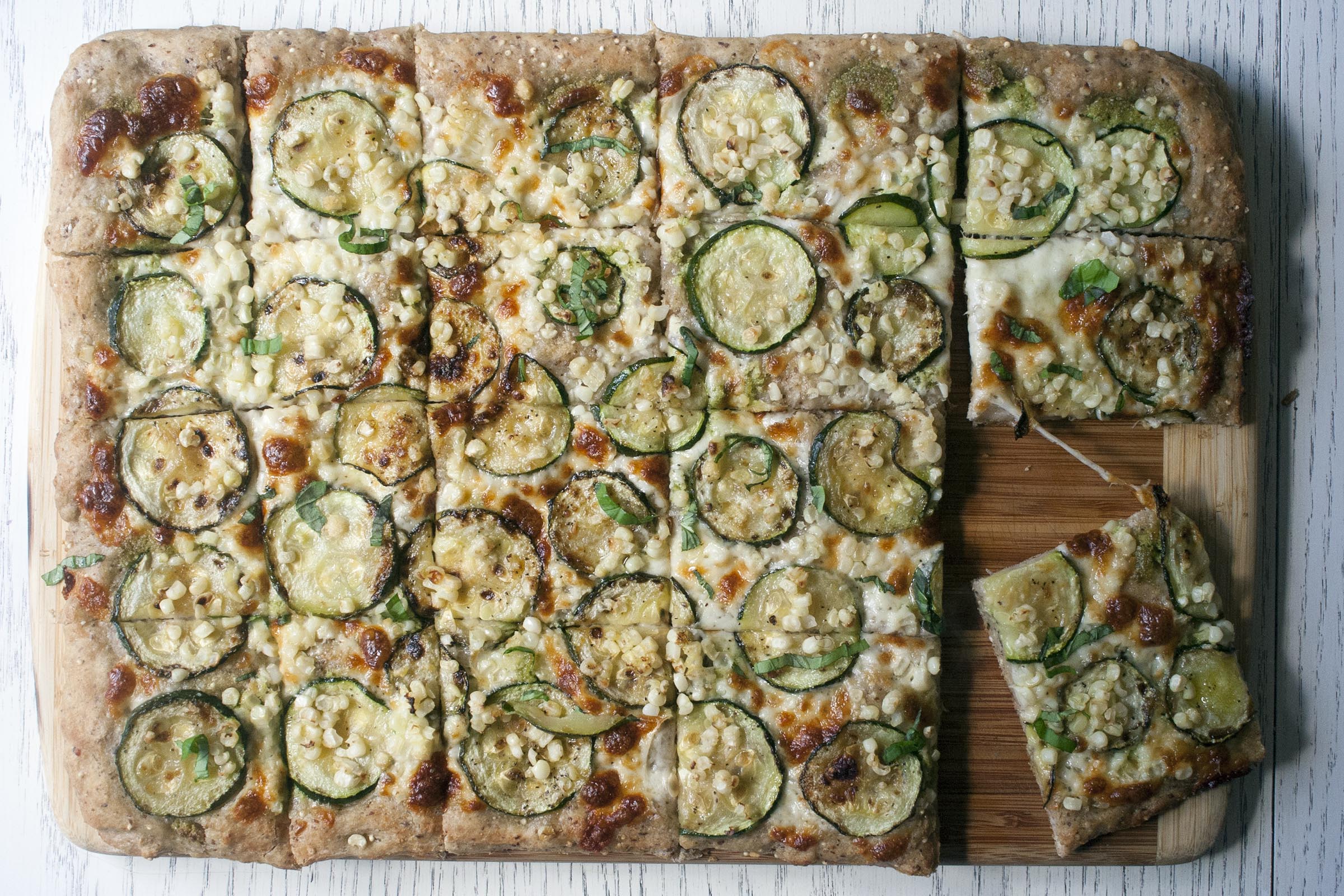 I didn't know, four years ago, that I would have a daughter who would inspire me to start yelling out random things I see while driving (It's a bus! Look at that pink car!) or who would keep a whisk in the car, just to hold. I didn't know that I would look forward so much to weekend mornings, when Larry gets her from her room and she comes running into our bed, usually tackling me in the process. I didn't know that I'd surrender in an argument, when she insists that reindeer rhymes with rain, because I believe it's my job to teach her, but also, we all have our limits.
I didn't know that I'd constantly question every decision I make, hoping that I'm steering her in the correct direction.
I didn't know that I'd be able to write a blog post, five times the size of this one, with all the things I've learned in four years, like how even though she can color inside the lines, sings Friday night pizza night around the house and recently sliced the mushrooms for a traditional red pie, she could still be really, only four, believing that potential chicken allergies = plastic chicken allergies.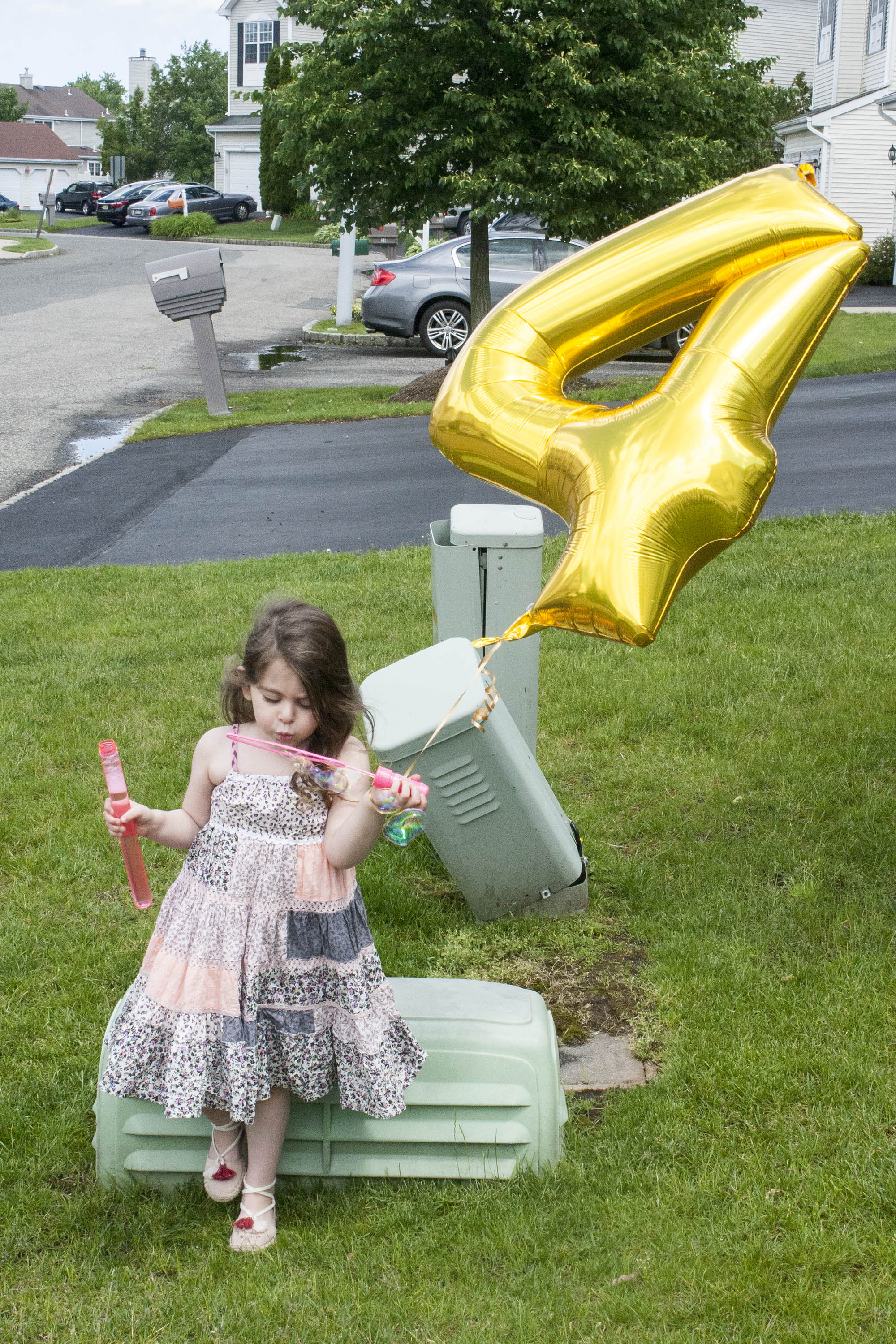 Seeded Whole Wheat Pizza with Garlic Scape Pesto, Zucchini and Corn
I always make pizza dough using a scale. While I have never had an issue with this dough, I find yeast to be temperamental enough that I do not want to create a possible issue by measuring with cups.

I have made this dough completely with white flour, but usually whole wheat and with everything from 100 grams of whole wheat flour, like I did here, up to 185 grams. I'm sure there is science that says otherwise, but I've found that as long as I get to 375 grams combined between whole wheat flour and all-purpose flour, I'm OK.

I love the texture from the millet and the flax seed, but if it's not for you, leave it out. I've made it without them and it's been fine.

Lastly, in the garlic scape pesto post, I mentioned that you can up the oil if you prefer a more traditional pesto. If you have done that, I advise using less (it will cover the pizza more like a sauce) and know that the final pizza will be more oily than with the pesto as written in the recipe.
What you'll need
Whole Wheat, Millet & Flax Pizza Dough*
2 tablespoons millet seeds
100 grams whole wheat flour
275 grams all-purpose flour
2 tablespoons ground flax seeds
1½ teaspoons kosher salt
heaping ½ teaspoon active dry yeast
1¼ cups (or more) room temperature water



Garlic Scape Pesto Pizza with Corn & Zucchini
Proofed Whole Wheat, Millet and Flax Pizza Dough
1 large zucchini (about 12 ounces), sliced into ¼-inch slices
2 teaspoons olive oil or olive oil cooking spray
8 ounces low-moisture mozzarella cheese, torn into small pieces
1 cup corn kernels (about 4 ounces, from 2 large ears of corn)
2 tablespoons grated pecorino romano (about 2 ounces)
6 large basil leaves
How you'll make it
Whole Wheat, Millet & Flax Pizza Dough
Add millet to medium skillet; set over a flame set to medium to medium-low on your stovetop, depending on how hot your burner runs. Toast about 5 minutes, gently shaking the pan occasionally, until the millet changes from white to golden. Transfer to a small bowl to stop the cooking process; let cool.
In large bowl, combine the whole wheat and all-purpose flours, flax seeds, salt, yeast and cooled millet. Add water; stir to combine. Depending on a lot of things - the weather, how accurately I measure every ingredient - sometimes I find I need another tablespoon or two for it to come together. Other times, like this time 1¼ cups is exactly enough for the mixture to form a dough that is cohesive.
Cover bowl tightly with plastic wrap; place on the counter and let sit about 6 hours. (I usually make the dough about 11:30 to have it ready to start stretching at about 5:30.) Your dough should have nearly doubled in size.
Garlic Scape Pesto Pizza with Corn & Zucchini
Heat oven to 500-525°F, depending on your oven.
Coat a rimmed baking sheet (18" x 13") with cooking spray. Spray your hands as well. (Alternatively, use a thin coat of olive oil to coat the baking pan and your hands.)
Gently stretch the dough as much as you can, in your hands, before placing it on the pan. Place in the pan and continue to nudge and gently stretch the dough to fill the pan, until it starts to fight back. At this point, I like to cover it with greased plastic wrap and start working on the toppings. Ten minutes usually gives the dough enough time to relax; then you can start gently nudging the dough toward the edge again. If it starts to fight back again, let it be.
Over medium-high heat, warm your largest pan or skillet coated with cooking spray (or olive oil if you prefer). Add zucchini slices in a single layer; sprinkle lightly with kosher salt and black pepper. Cook about 2 minutes, or until zucchini starts to brown. Flip each zucchini piece and cook 1-2 minutes, more, or until just started to brown. Remove from pan to cool.
Drop pesto onto dough by the spoonful. Using the spoon, or clean hands, press the pesto, firmly into the dough to spread (it will not cover all of the dough). Cover pizza with mozzarella cheese. Top with zucchini slices; add corn kernels. Sprinkle with grated pecorino romano. Bake 15-17 minutes, or until the crust is cooked through, firm and golden on the bottom and the cheese is melted and bubbly. Stack basil leaves and roll into a cigar shape; thinly slice. Sprinkle over pizza. Carefully transfer pizza to a wooden cutting board, if desired (I believe it makes it easier - and safer - to cut and serve). Using a sharp pizza cutter, cut pizza and serve.
*Dough recipe adapted from Smitten Kitchen.
How to plan ahead
• The pesto can be made up to one week ahead, sealed tightly and stored in the fridge.
• The millet can be cooled and toasted a couple days ahead of time.
• The flours, millet, flax seeds and salt can be combined a couple days ahead of time. Mix in the yeast and stir in the water 6 hours before you plan to prepare the pizza.
• The zucchini can be sliced, corn cut from the cob and mozzarella torn into pieces one day ahead of time. Store each separately in sealed containers.