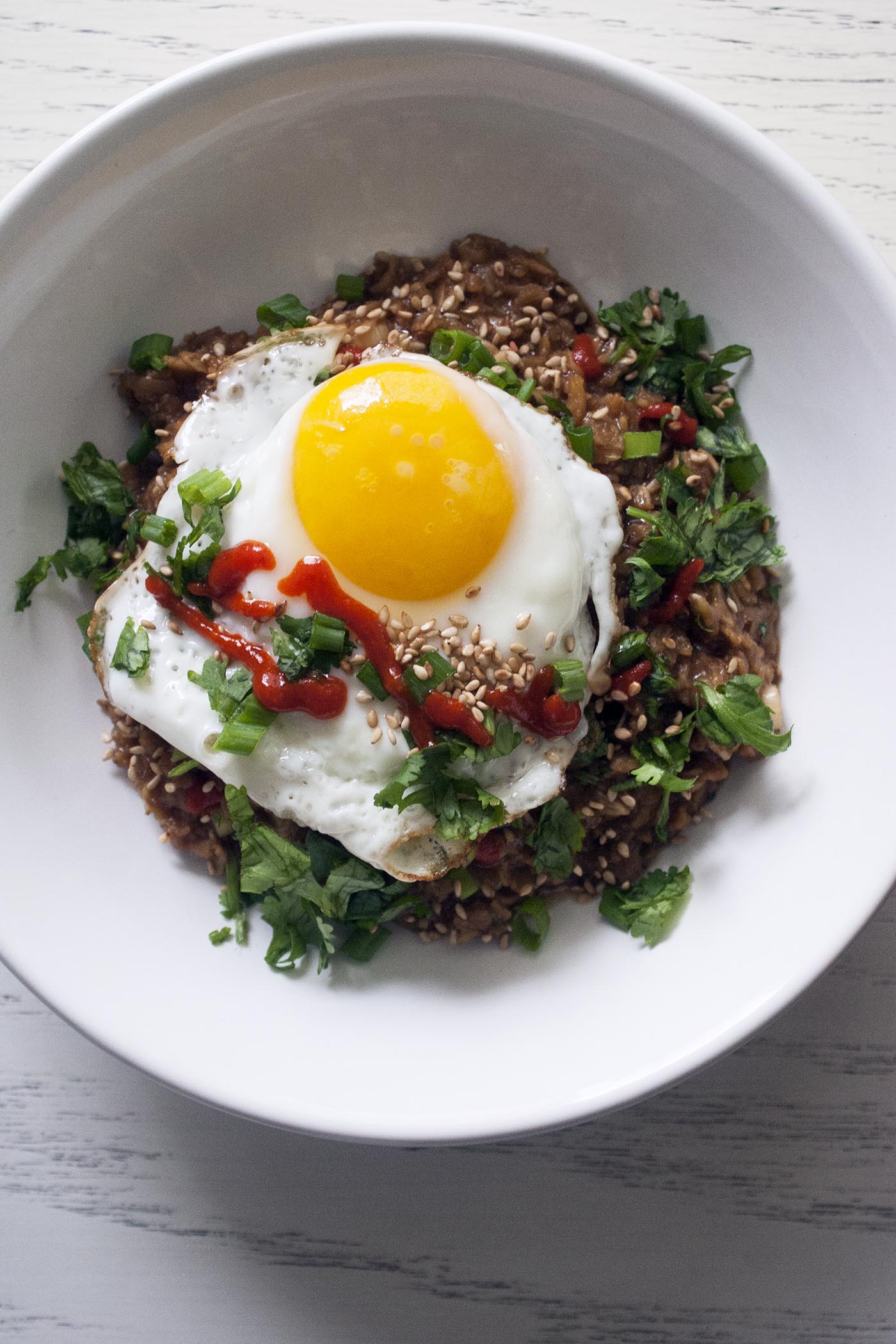 Reeve was strategically seeking out pieces of banana and carefully avoiding cubes of avocado, when what was happening, really registered. It was a Thursday morning, we had just dropped Easton off at school and Reeve was navigating her way through breakfast. I was making a mental list of my plans for the day: work during her naps, make the whipped ganache to fill her birthday cake for Saturday's party, bring platters to the restaurant for them to build the food on our plates, visit my niece on her second birthday, make dinner and hopefully, bake one batch of cookies for the party.
It had been a blurry few weeks. Reeve's first birthday, preparing for her party, so much work (a freelancers dream, normally), persistent facial pain from either allergies or a sinus infection (you know the kind that hurts if you bend your face downward?) and an inability to sleep. Dinners were spotty. One night, in desperation, I took leftover quinoa and broccoli from making these, and sautéed the two together with garlic and cheese. It was delicious, but there was only enough for Easton and Reeve. I think Larry and I ate peanut butter and jelly that night after the girls went to bed.
A few days later, I finally managed to make the matzo brei pancake I had been plotting, in effort to pitch a new article, but even with Easton's help, it took so long that I had to feed Easton and Reeve random things for dinner (prompting Easton to ask – the next day, mind you – why she didn't eat that matzoh thing we made). It wasn't that great, I didn't have time to remake it and I never pitched the article. In my cabinet, I have an unopened box of matzoh for regular old matzoh brei I intended to make one morning during Passover, and an unopened canister of matzoh meal, intended for matzoh balls. The seltzer, also purchased with matzoh balls in mind, was served during Reeve's party.
We knew planning Reeve's birthday party for the day before Easter was risky, but we didn't realize how risky. Fifty percent of our guest list, it turned out, was out of town. We don't have the best party house anyway, so Larry assured me that Reeve wouldn't remember and this way, if the weather wasn't great, everyone would fit, inside, easily. Then, the week of the party, we had to change our catering plans, I found out that the plates I ordered were backordered, I printed out all the pictures for her first year banner in the wrong size and continuing the theme of serious, real problems: the party store called to tell me they never received their Es, and in turn, could not make the Reeve Is One balloon banner that I ordered (RV IS ON). I wanted to celebrate Reeve's birthday, but I couldn't escape the nagging feeling that there was a streak of bad luck running through the event.
And, then, there I was, two days before Reeve's party, coaxing her to try avocado again, when I couldn't deny what I was hearing: there was an animal in our house. I texted Larry, I know I sound crazy, but I think there's an animal stuck in the wall. Even as I was saying, it, I thought I maybe was exaggerating. But, then I recorded a video to send to him, and that's when I knew I was decidedly not crazy — what I was, was freaked out.
To say that I may have lost my mind from 9:30am to maybe, the next afternoon, is fair. I frantically called animal control, then every possible number that I could find, leaving messages, trying not to yell at the poor, very calm people who told me they could come on Saturday afternoon, listening to the sound of what I was positive was a massive animal, most likely caught in between the wall of our downstairs bathroom and basement, but also, very possibly, just stuck in the basement, waiting to jump out at me if I were to open the basement door. In the middle calling around my entire county, the restaurant called because I was supposed to pay for the food that morning and I may have yelled something along the lines of, There's an animal in my wall! I don't even know if I can have a party anymore! She told me, nicely, that I had until 3pm to decide.
After pacing during Reeve's nap, we left the house for hours, only to return and hang out on a blanket, in our front yard, waiting for the one team that could come out that day, to arrive. I was sure that when he came, the sound would be gone, but nope, it was as loud and frantic as it had been in the morning.
A squirrel or a bird. He told me he'd have someone out the next morning to remove it and, yes, there would be a hole in our wall, but we would be fine. Don't cancel the party, he said. I was slightly calmer because someone else heard the animal; slightly more worried because, it was confirmed. Reeve and I left again, and when I came home later that night, I ran her upstairs. The next morning, I decided to wait to assemble and frost the cakes, which Easton and I had made and frozen the weekend before. I had serious images of the removed animal escaping and jumping into a bowl of ganache, or landing on the cake. So we waited. I didn't make Reeve's personal cake. I didn't frost anything. They were one hour late, then two. I tried to work, but mostly sat on my hands, trying to quiet my beyond nervous energy. And, then I remembered. To Larry who was home, to prepare for the party: Um, I can't believe I forgot this, but you know, um, animal in the wall, and everything. The guy who came yesterday to look for the animal? He said he thinks we have a gas leak. 
We called three gas companies before remembering which one was ours (this is totally my fault — I pay our gas bill). They managed to make it to our house before the animal retrievers and it turns out, we had a gas leak. It is our love for Reeve, our belief that everyone deserves a first birthday party and the twenty-plus guests who were coming, that made us push through. Because, really. My work, my headache, my unfrosted cakes, the animal in the wall, the gas leak, RV IS ON — I was done.
—
Ultimately, here's how it went down. Finally around 2pm, when Reeve's personal pumpkin-banana-whole wheat cake was cooling, because I had to do something, and Larry was out taking care of party things (including buying cookies and not dropping off platters at the caterers — something had to give), two interesting men showed up. They talked for a long time and then finally, pinpointed the location of the animal, with a little scope and a magnifying glass, and after determining that it was a small, but very loud bird, who was sadly stuck, they opened up the wall, gently removed him and set him free. For a small fortune, of course.
At 3:30, I finally started making frostings and assembling the cakes. Beaten down enough by the day, I opted to only decorate the three layers of eight inch cakes, and take a chance, skipping the two-layer 9-inch cake, but only after I had already made a ridiculous amount of frosting, of course. It was a risk, that ultimately paid off, thanks to strategic cutting the next night. Reeve's cake — a refined sugar-free, whole wheat-based, apple cream cheese frosting-finished (frosting inspired by this recipe) 3-inch stacked cake that was not so bad, but not so fun either — was somehow much more challenging to frost.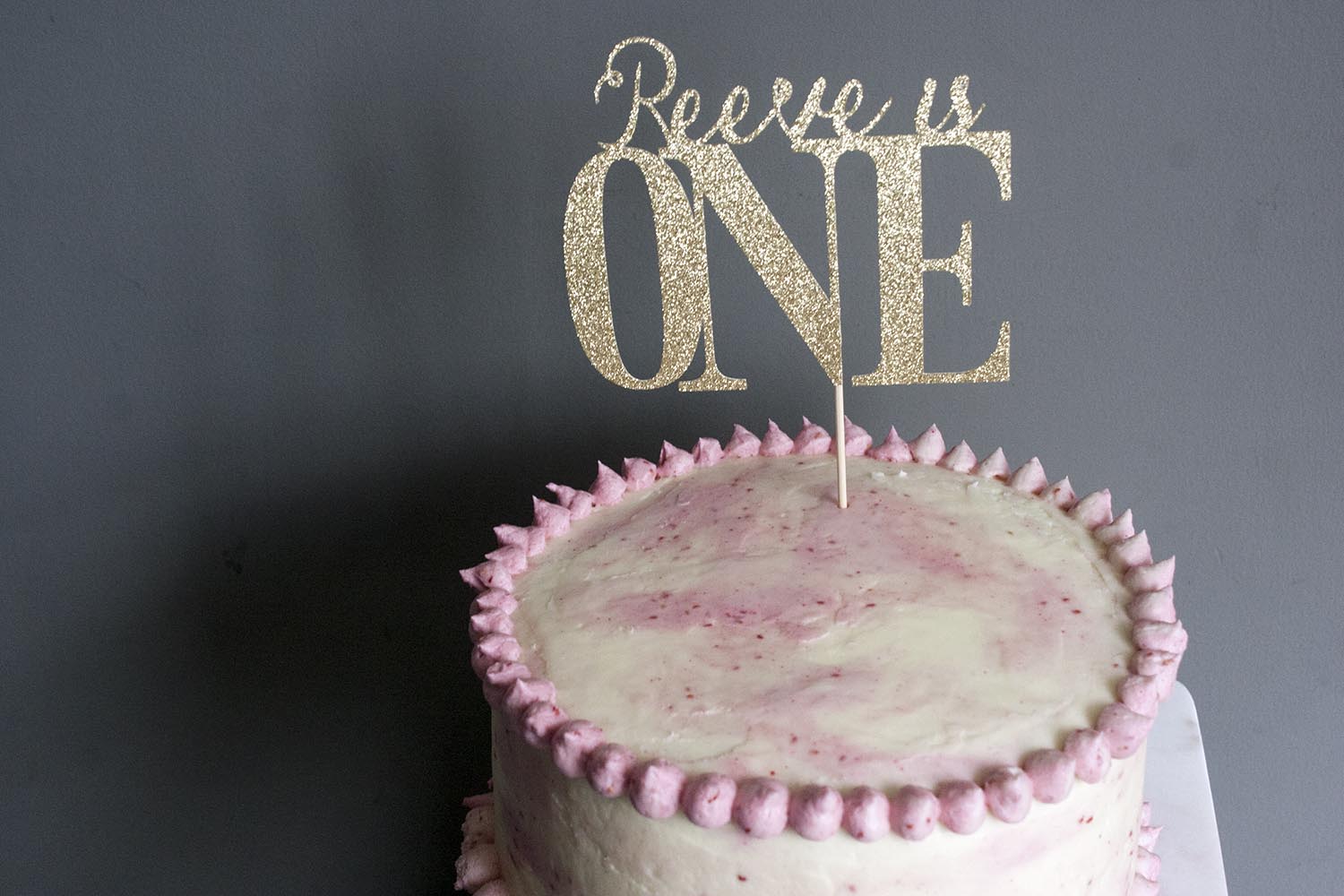 There was frosting everywhere when I offered Easton a really funny, silly dinner: cereal, which luckily was novel enough as a nighttime meal, that she happily accepted it.
Reeve had a first birthday party that, if I'm being honest, may have scared her more than she actually enjoyed it. But, it was casual and wonderful for her to be celebrated by her family and close friends, who were treated to Easton showing off the spot where a bird used to be. There was food, on black plastic platters, that I'm sure bothered me way more than anyone else noticed, Reeve figured out how to completely lift her 3-inch square cake from the plate and nibbled on it in delight, while everyone else ate an assembled chocolate cake, filled with whipped ganache and raspberry jam, and finished with my favorite cream cheese frosting.
And, the next night, when I finally seriously let myself consider that I had a sinus infection that needed to be treated, I thought about getting our life back on track, and about family dinners. I've always been able to keep a bit of a grasp on them, but somehow over the past few weeks, we had taken a terrible slide. I followed zero of my rules, mostly because there wasn't time, but the result was this: every day I was frantically trying to figure out what to send Easton to school because we didn't have leftovers for lunches or fruit in the house, except for a bunch of whole apples, unroasted. I worried that I couldn't really remember what Reeve had eaten for the past few weeks and I missed having a meal plans going into each day. Also, there's this. I have back pocket meals, like these Savory Oats with Soy, Miso & Sesame, that take 15 minutes, tops. But, in my frenetic state, I lost my footing. I should have at least made an omelet…or maybe I did?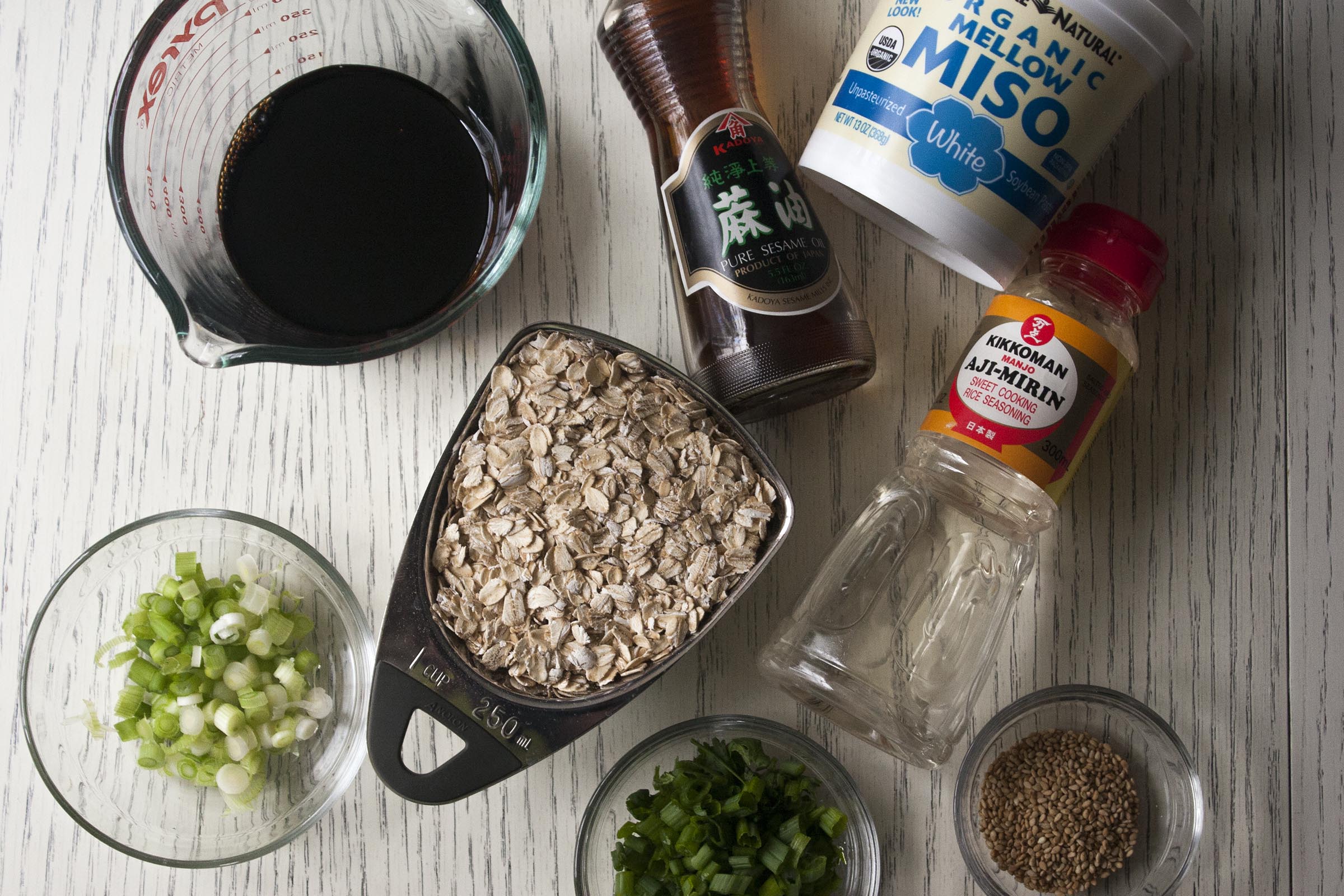 I'm trying to move on from the animal/gas leak/first birthday situation, while not completely forgetting it, because the point of this blog is planning, eating and feeding a family. I need to remember weeks like this, when I couldn't even muster up the memory to make something as simple as oatmeal, simmered with soy sauce instead of milk and topped with scallions and sesame seeds, instead of nuts and berries. Because we all have times likes this. Sometimes it feels like they stretch on forever, and sometimes, we can look back a bit faster. And, it's important that we figure out how to make it better for ourselves next time. I know that Reeve and Easton noticed nothing (in terms of the kind of food they were eating), but every night I was dragging myself into bed, just to lay there, beating myself up over all of it.
I have two goals for next time: remember recipes like this. Fast, filling, flavorful recipes that require little more work than pouring and stirring. And, keep in mind what I said here: sometimes, even if the only issue you're facing is that it's been a long day, takeout, and admitting that you need help, has to be OK.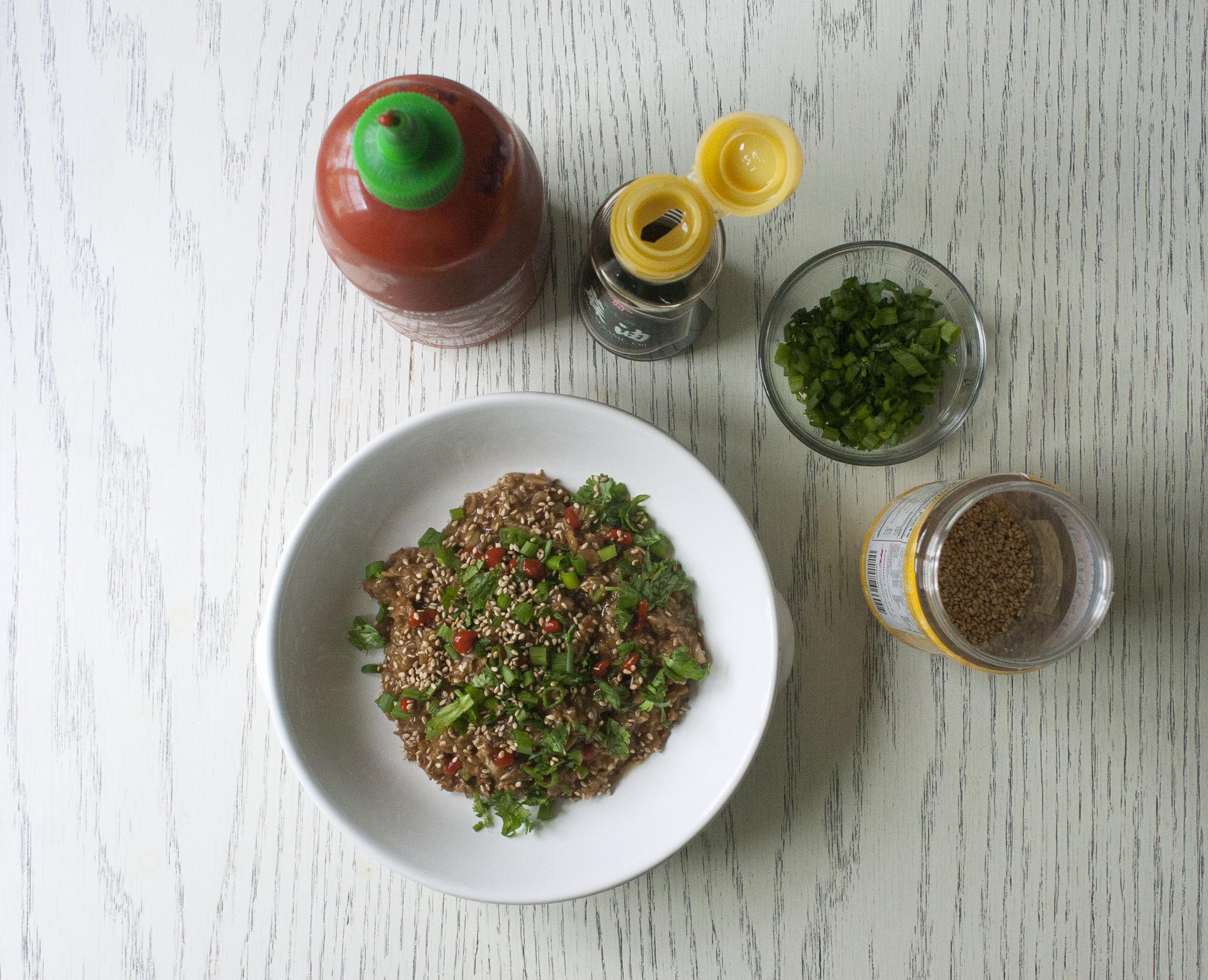 Savory Soy, Miso & Sesame Oats
This is a salty - in the best soy sauce-miso kind of way - savory, oatmeal dinner that you can make when you need something f-a-s-t. I'll admit there have been times that I been too lazy to chop the scallions, but I really think that they, along with a bit of spicy stuff, really help bring the whole thing together.

Larry and Easton always like everything with an egg on top, including this oatmeal. I am usually fine skipping it, but I will admit that I ate that bowl up there after I took the picture, and it was pretty good. So try it, if you're an egg on top kind of person, skip it if you don't need it. (I'll be honest though: if I'm in the position that I can barely get the savory oats on the table, I'm probably not so interested in dirtying another pan to cook eggs.)

Lastly, I have made a version of this with steel cut oats, adjusting the liquids accordingly, which has been very good. But, that kind of changes the last minute kind of dinner vibe of this whole thing, you know?
What you'll need
2 tablespoons white or yellow miso paste
1 tablespoon mirin
1½ teaspoons toasted or plain sesame oil
½ cup low-sodium soy sauce
water
2 cups old-fashioned rolled oats
4 thin or 2 thick scallions, cleaned, trimmed and thinly sliced, white and green parts separated
For serving: green scallion tops, chopped cilantro leaves, sesame oil, sesame seeds, sriracha, gochuchang or spicy sesame oil and/or a fried egg
How you'll make it
In small bowl, stir or whisk together miso paste, mirin and sesame oil.
Place soy sauce in a liquid measuring cup. Add enough water to get to 3⅓ cups of total liquid. Place in large sauce pot. Bring to a boil.
When the mixture come to a boil, carefully remove 1 tablespoon and stir it into the miso paste mixture. Set the bowl aside.
Stir oats into saucepot. Reduce heat to medium, to medium-low, depending upon the strength of your stovetop. You want active small bubbles. Cook 5-6 minutes, or until the mixture is thickened and the oats are tender (keep in mind that oatmeal does firm up a bit off the heat). Remove from heat; stir in scallion whites and miso mixture.
Divide amongst bowls and serve topped with scallion greens, chopped cilantro, sesame seeds, sesame oil, a spicy sauce, if desired, and/or a fried egg.
How to plan ahead
• These savory oats make great leftovers. Reheat in the microwave, or on the stovetop.